A real-life Willy Wonka chocolate factory is coming to Amsterdam
June 19, 2020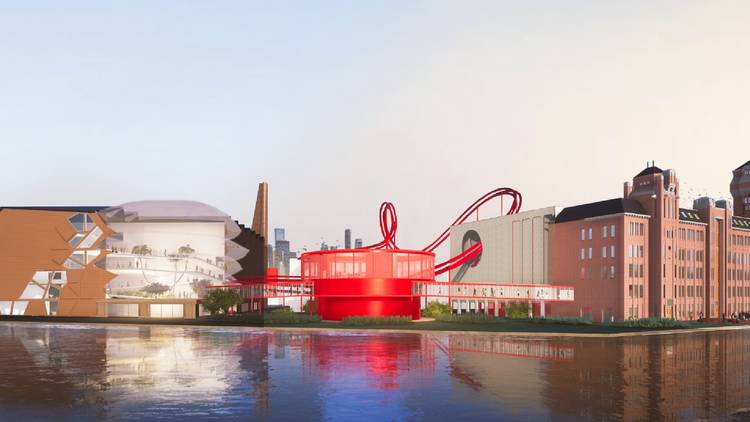 As if we needed another excuse to visit Amsterdam, Tony's Chocolonely is building a brand new chocolate factory in Zaandam, a small city on the outskirts of Amsterdam. Called "Tony's Chocolonely Chocolate Circus," we can't help thinking that it'll be just like the one run by Willy Wonka in Charlie and the Chocolate Factory.
Founded in 2005, Tony's Chocolonely's long-term goal was to end the inequalities that have always plagued the cocoa industry and to "make slave-free the norm in chocolates." Since then, they've been voted the most sustainable brand in the Netherlands for the third year in a row.
Tony's Chocolonely Chocolate Circus
The Tony's Chocolonely Chocolate Circus will feature three buildings with a high-speed roller coaster in the centremost building. Upon entry, visitors will see a projection of a flowing chocolate fountain which will be replaced with imagery of cocoa farms. This begins the educational aspect of the tour which highlights the importance of sustainable cocoa production in an industry characterised by modern slavery and illegal child labour.
The next segment of the tour displays the chocolate factory, allowing visitors to view the assembly line from a window, as cocoa beans are turned into Tony's Chocolonely chocolate bars. After viewing the factory, visitors can board "Tony's Factory Express", a roller coaster that simulates cocoa beans as they are roasted, pressed, mixed, moulded, and wrapped. In the rendering, it appears that this ride will even feature a loop.
Opening in 2024
In January 2020, initial plans for the Chocolate Circus were green-lighted by the Zaandam municipality and final planning began. However, the ongoing COVID-19 pandemic has forced the company to take a temporary hiatus in its planning and building process. The overall project is projected to finish in 2024 and will cost an estimated €100 million to build.
Until then, chocolate-lovers around the world can look forward to their very own Willy Wonka-esque factory! But rest-assured… there won't be any Oompa-Loompas around.