Sail the Mediterranean in a Superyacht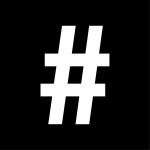 By: Elky Siu
June 30, 2017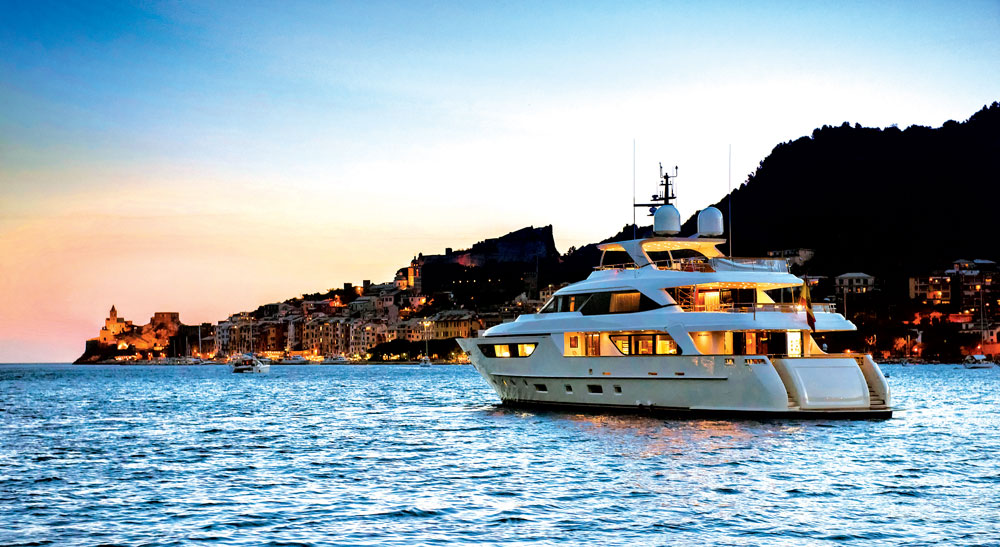 There are yachts – and there are superyachts. Come aboard in Sanlorenzo and sail the Mediterranean in the ultimate lap of luxury
Standing on the open flybridge of a three-deck Sanlorenzo yacht while cruising in the middle of the Ligurian Sea, I was basking in the sun, with the sea breeze gently caressing my face and ruffling my hair. I tell you, there's no better way to appreciate the silhouette of the intoxicating outlines of Portovenere.
Seeing the impeccable outline of the made-in-Italy yacht for the first time, I expected the interior would be nothing less than spectacular. The vessel didn't disappoint when I boarded for a closer look. Sanlorenzo was the first in the industry to combine interior design with boat design about a decade ago, in an era when they were distinctly separate. The shipyard has enlisted some of the most prestigious names in the Italian interior design scene, including Rodolfo Dordoni, Antonio Citterio and Piero Lissoni. As an atelier that provides made-to-measure yachts in small quantities, Sanlorenzo's mantra is to craft each customer's vision via numerous personal meetings and discussions.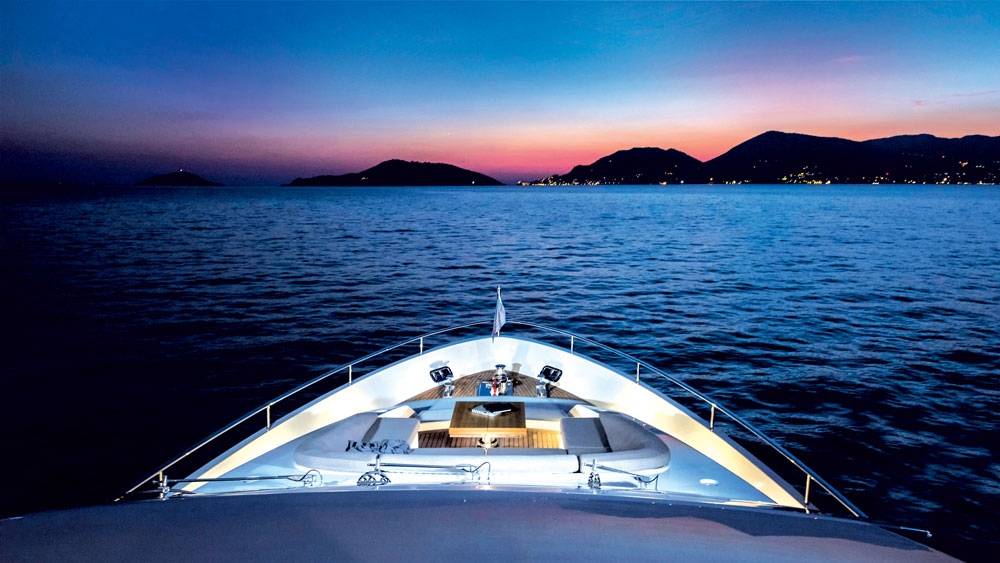 When asked if there are limits to the level of customisation, Mario Gornati, Sanlorenzo's marketing manager, replies: "There is virtually no limitation to the interior. It's a project we do together with our customers. It's just the exterior lines that we cannot change, as we would like to keep Sanlorenzo's yachts recognisable, elegant and timeless." From the overall layout, number, size and types of cabins to the use of each piece of fabric and material for the upholstery of the furniture, floors, ceilings and walls, everything can be customised to the smallest detail according to the customer's whim. Clients are guided through the process, from preliminary specification to sea acceptance trials.
Maybe that is the real superyacht experience, an unrivalled sense of freedom from before the design process starts to eventually setting sail. Imagine you've just sailed to Ibiza and partied at Pacha until 6am. After getting on board and sleeping until you've had enough, you wake up in the afternoon and turn on the engine. Ninety minutes and around 40 kilometres later, you're on another beautiful island, Formentera, catching the sunset in a completely different setting. It's the freedom and flexibility that only yachting can offer. There isn't even a need to pack and unpack, and you can change your guests and your vacation plans whenever you feel like it.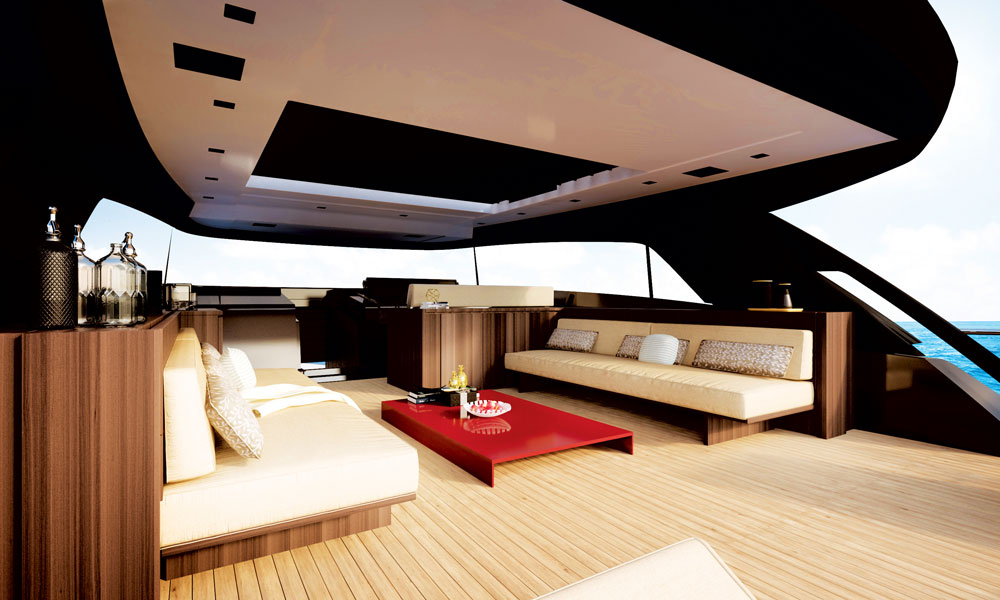 If it wasn't for the otherworldly scenery that kept changing constantly as the yacht sailed, the comfort level almost made me forget I was on a boat and not a home.
I closed my eyes and among the only sensations I felt were the warmth of the sunlight touching my skin and a rhythmic, yet minor, swinging sensation, as if Mother Nature was tucking me into bed. I heard the wind whistling and blowing, the sounds from the hull cutting through water, but barely a peep from the engine. Who needs a flotation tank in order to relax and enhance mental clarity when you can board a moving castle and unplug yourself from the hustle and bustle of the ever-pulsating world? Comfortably tucked in, there was a sensation I might drift off into a heaven on Earth.
It wasn't until the next day I discovered the origin of all this comfort. In Sanlorenzo's shipyard at La Spezia, where its superyachts are built, great works don't happen by chance. The superior sailing performance of Sanlorenzo yachts is due to the hard work involved – 900 pairs of hands working together in three of its shipyards located at Ameglia, Viareggio and La Spezia.
The last was purchased by the company just a year ago but already has four superyachts under construction on the site.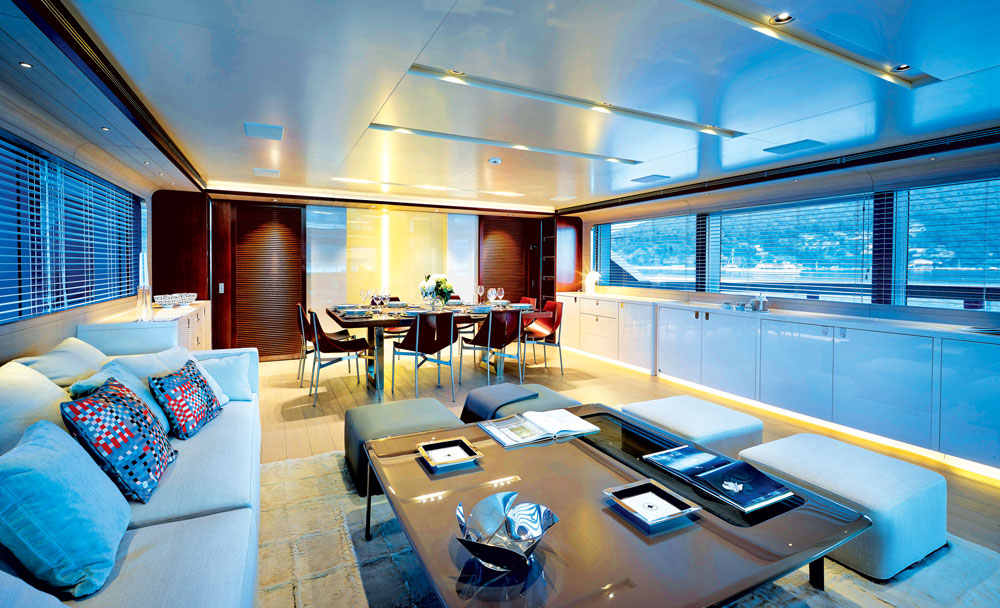 Apart from staying faithful to the traditional elements of the brand – such as its distinctive Z-shaped exterior, accentuated by the dark lines of the windows that allow sumptuous light to enter the cabins – innovation is what keeps Sanlorenzo's yachts up-to-date, improving with time while remaining timeless. Sailing comfort is largely attributed to the innovative design in the floating floor and ceiling, as well as an infusion of high-tech resin in both the hull and superstructure to reduce noise and vibration. "Almost all yachts look good when we see them," says Massimo Perotti, the chairman of Sanlorenzo. "But it's only after we try it that we can tell the difference."
To compare it with a car, a Sanlorenzo yacht is no yellow Lamborghini screaming for attention, but a classic Rolls-Royce that is seamlessly beautiful, with subdued elegance. For an average price of €25 million a superyacht, the brand doesn't make vessels smaller than 24 metres. About 80 per cent of Sanlorenzo's clients are repeat buyers, suggesting that these yachts are an addictive experience. Repeat buyers are always owners of smaller yachts who want to trade up to a bigger size, but never vice-versa.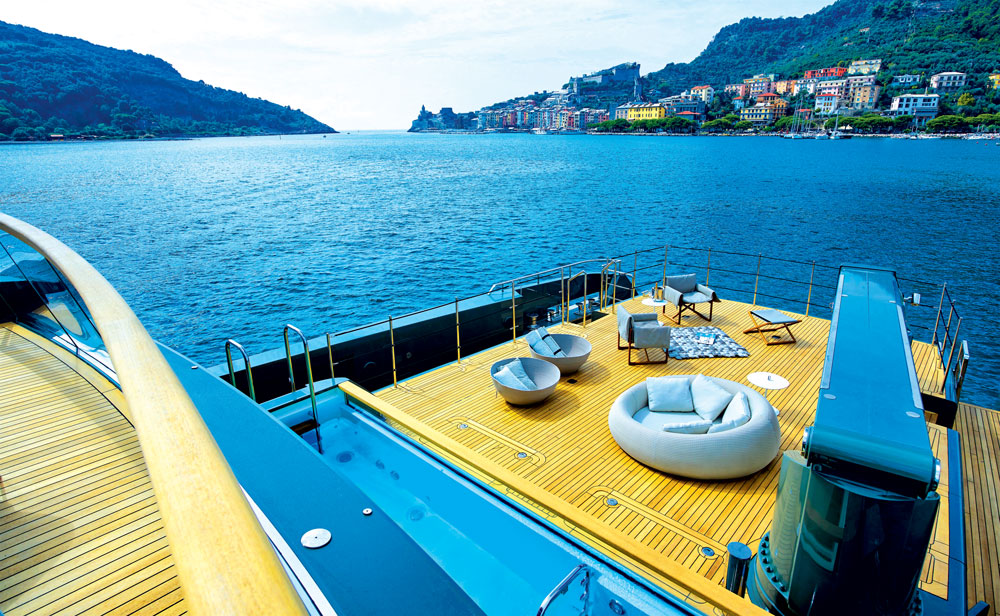 Among its clientele, apart from the established markets in Europe and a mature market in North America, Asia is a fast-growing market for Sanlorenzo. "We really think the Asia-Pacific region will be the future of boating in the next 10 years," says Perotti. "Within the region, Hong Kong is the most thriving market, with a couple of generations already having started to buy yachts." His comment hints at the fact that there's no lack of connoisseurs, both experienced sailors and novices, who don't buy a yacht just to display their wealth. To cater to these consumers, Sanlorenzo has just unveiled the SX88, a crossover between the brand's existing semi-displacement and Explorer lines. The new model offers a range of 5,000 nautical miles, meaning one doesn't need to refuel for the round trip between London and New York.
In the long term, the Italian atelier wants to start a Sanlorenzo academy in La Spezia where it can train professional crew members, as it believes a good crew is important to a safe and pleasant live-aboard experience. It is proposed students will learn sailing's technical elements, such as engineering and electronics, arts de la table, culinary skills and several languages so they can communicate effectively with owners.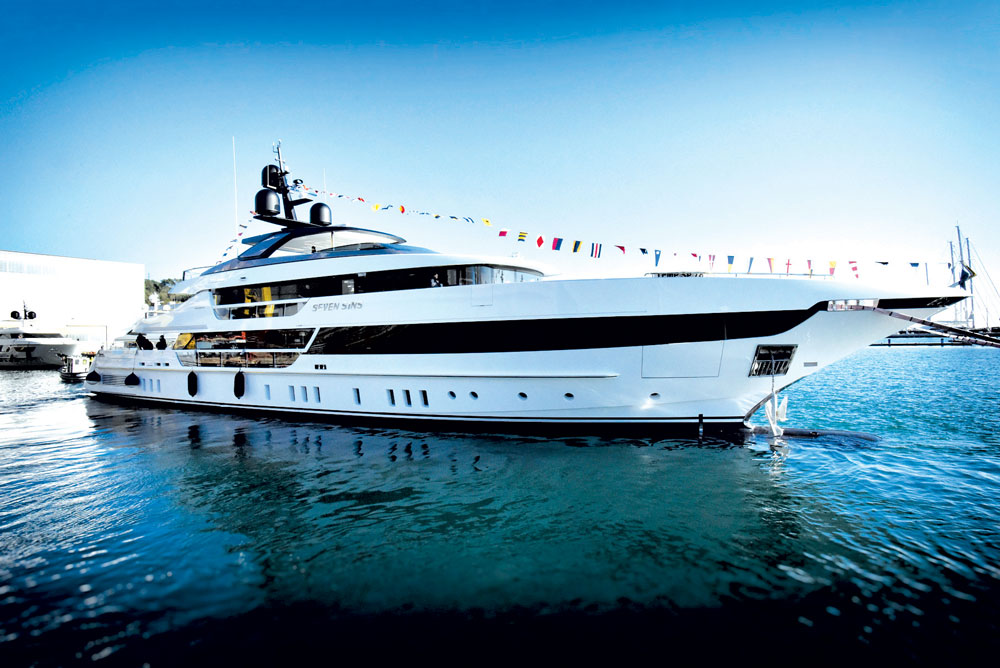 From the beginning, sailing was driven by basic desires; to travel to new lands and discover the unknown. In the early 19th century, Charles Darwin sailed around the world on the HMS Beagle for five years, during which he wrote The Voyage of the Beagle, a book that led to his theories of evolution and natural selection. Through time, humans too have evolved. Sailing is no longer a necessity but it is still driven by an instinct to feel more alive. Former United States President John F. Kennedy knew why we are drawn to it. "It is an interesting biological fact that all of us have in our veins the exact same percentage of salt in our blood that exists in the ocean, and, therefore, we have salt in our blood, in our sweat, in our tears. We are tied to the ocean."
This article originally appeared in the July 2017 issue of #legend magazine.