An Otherworldly Phuket Resort Like You've Never Seen
February 29, 2016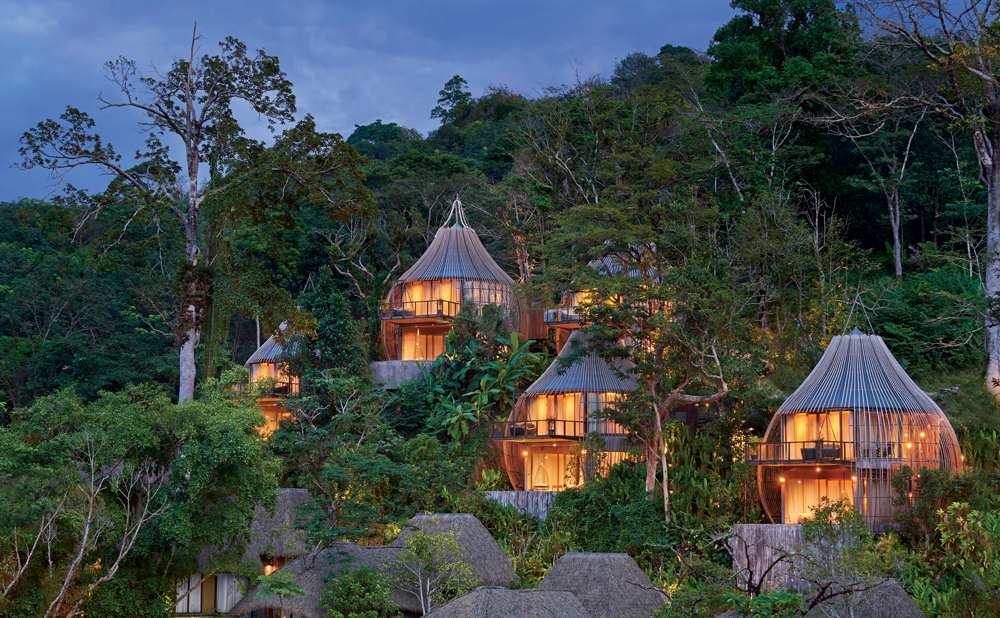 Only minutes from Kamala Beach, on Phuket's flashy west coast, is a new resort offering the unique sensation of falling down a rabbit hole into an entirely different realm. At Keemala, guests are greeted by the other-worldly sight of five enormous pillars topped with wooden pods silhouetted against the bright blue sky like a knot of giant lotus bulbs. Lush, flower-filled gardens tumble down the hillside, a swirly freeform swimming pool twinkling at their centre, while a winding stone path leads to what appears to be a small hobbit village.
Providing some sense of place are the welcoming Thai staff who, you will soon discover, are always on hand with a cold towel, a warm greeting or a glass of iced lemongrass tea. They also appear from nowhere with skewers of chilled fruit and bowls of zingy passion fruit ice-cream when you hang by the pool.
After a seamless check-in and much Instagramming, a personal butler accompanies you to your accommodation. Your butler prefers to be known by the more inclusive handle of villa host and has possibly been tempted away from another celebrated chain such as the Six Senses Hotel Resorts Spas or Aman Resorts.
A collection of 38 fairy tale-like private villas awaits. There are four different and uniquely appealing categories, which makes decision-making a tough call. Try the safari-ish zip-up Tent Pool Villa, complete with al fresco living room and sea view tub. Maybe go for a cute Clay Pool Cottage, considered perfect for those flying solo. There's the option of one of those teardrop-shaped Tree Pool Houses, which sprawl over two levels and come with a sexy half-moon infinity pool.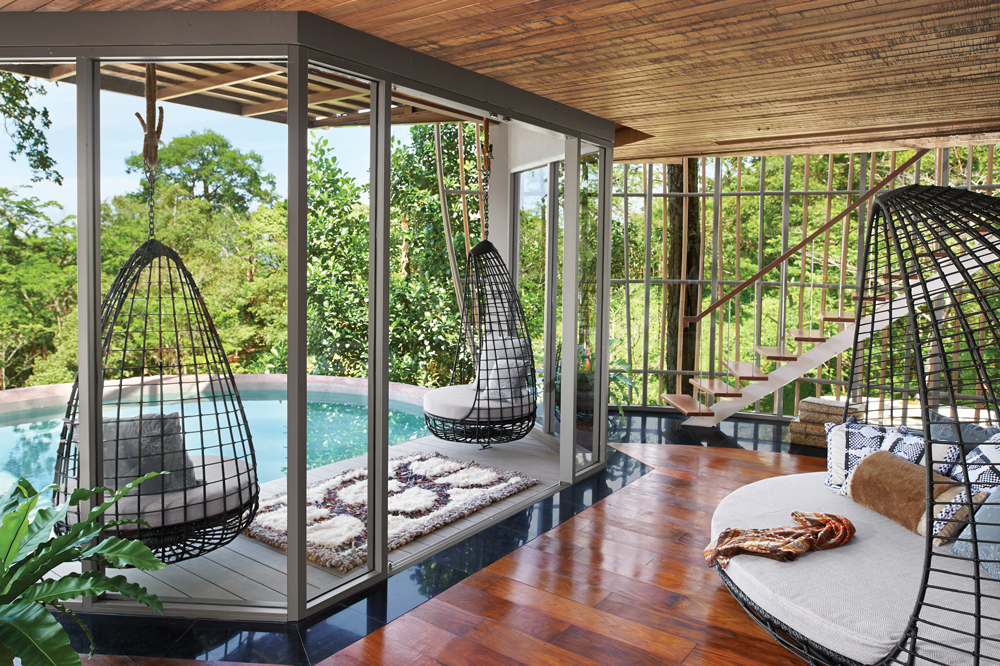 The final category is one of the cool, cavernous Bird's Nest Pool Villas, of which there are eight.
I couldn't decide and split my time between a Clay Pool Villa and Tree Pool House. Whichever you opt for, you'll find designer interiors and comforts fit for royalty. All the villas come with a pool, ranging from the plunge variety in the smaller cottages to beauties big enough to swim laps in at the other end of the scale.
The beds are vast, puffy affairs wrapped in delicate net curtains. Particularly ravishing are the grand gothic platforms in the bird's nests. The bathrooms, too, are decadent, with striking mosaic floors, giant stone tubs, separate showers (sometimes indoors, sometimes out) and amenities from artisanal skincare specialist Siam Botanicals. Help yourself to the free movies on the widescreen televisions and the complimentary juice and coconut water in the minibar. Something to look forward to is the nightly turn-down service, which heralds a delivery of brightly coloured Thai cakes and pots of herbal tea.
While Keemala isn't positioning itself as a spa resort, the wellness offerings are certainly worth travelling for. Scattered along the hillside, the Mala Spa is made up of eight treatment rooms, each with private steam, sauna, and bathing facilities, all housed in bell-shaped bamboo huts.
There's a carefully curated menu, overseen by the former spa manager of Kamalaya Koh Samui, a frequently awarded Thai wellness institution. The Mala offers exceptionally luxurious treatments, ranging from traditional herbal hot compress massages to deeply moisturising Voya seaweed facials that left me with dewy skin, to vegan-friendly mani-pedis.
Alternative therapies are also available, including Reiki and healing bodywork sessions with Thai holistic therapist Cholate "Nok" Intachak, who hones in on your individual physical and mental needs using a combination of hands, wooden hammer and chisel wielded in a northern Thai technique, bamboo poles, crystals and intense breathing techniques. Adding an extra dimension to the proceedings is a rota of visiting practitioners. The extraordinary Phil Davies of the Hong Kong healing centre The Sanctuary was in-house during my visit, resetting auras and tuning rogue energies.
With so much choice, the enthusiast might consider one of the spa's four holistic living retreats, which are available as three-night or six-night packages. These include Purify, a cleansing programme packed with fragrant steams, detoxing herbal baths and warming body wraps, together with guided meditation sessions which work to purge the mind as well as the body. The focus of the Energise package is on strength, a fitness programme paired with pampering post-workout massages, and diet. Unwind offers a gentler, more cosseting syllabus: tai chi, sweet-smelling body polishes, four-hand massages and the enchanting-sounding raindrop healing. Rejuvenate is meant to peel back the years, both mentally and physically, with 72-hour or 144-hour one-to-one yoga sessions, pampering hot stone massages, moisturising hand and feet rituals, dreamy hair and scalp treatments and aromatic anti-ageing facials.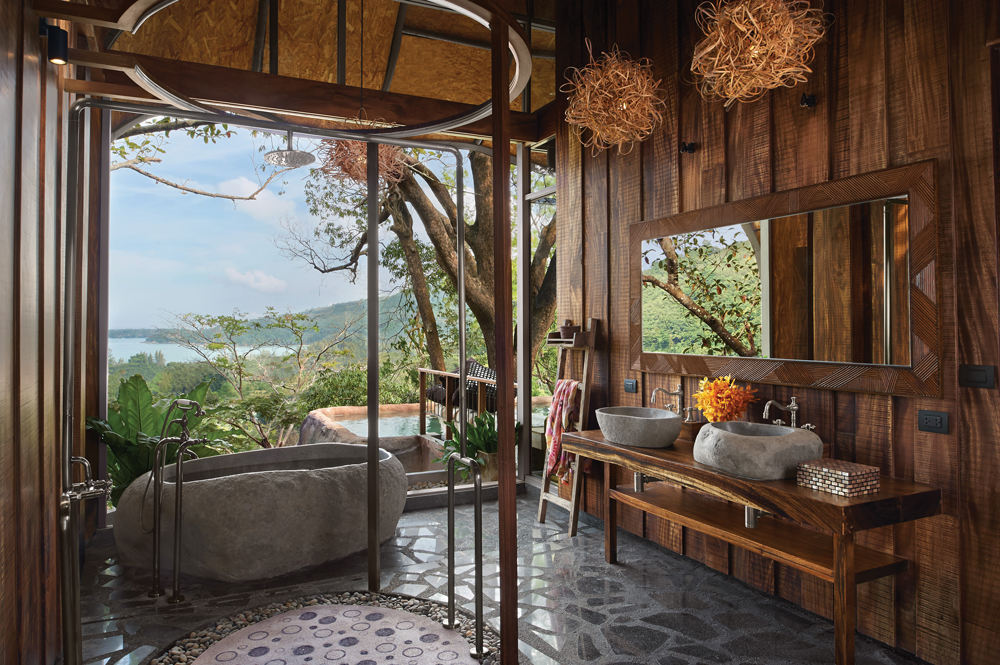 Retreat guests are also served delicious spa cuisine and specially blended tonics. In the morning, a probiotic honey drink, wheatgrass shot and an almond milk smoothie bowl gets you going. Lunch may be yum tua plu, a refreshing salad made with wing beans, roasted coconut, fried shallots, peanuts and chili paste, served poolside in a coconut shell. Dinners feature delights such as black spring chicken soup, vegetable rice-paper rolls and freshly-caught sea bass served with gingery bok choy, washed down with a juice of beetroot, apple and ginger.
At both ends of your stay, guests receive an in-depth consultation and a take-home wellness plan, which means the hard work you've put in at the spa will not evaporate the moment the aircraft wheels leave the ground. But do save some room in your baggage allowance: the all-natural, handmade Siam Botanicals products are worth taking home.
If you're not on retreat, there's still plenty to see, do, eat and drink. The hotel has a single restaurant, the bright and breezy Su-Tha, but it serves a broad choice of Thai, international and Indian cuisines. The menu was a refreshing change from the Italian line-up commonly found along this stretch of the coastline. Also to note, the neon-bright cocktails at the swim-up bar and destination dining that can be arranged in exotic locations such as a mountain cave or hidden beach.
Keemala's got a winning location that means active types can keep busy. A complimentary shuttle bus service is available on request to whizz guests to the broad, sugary sands of Kamala beach, five minutes away. The swanky lifestyle clubs, buzzy restaurants and fashionable boutiques of Surin, Bang Tao and Layan beaches are close enough.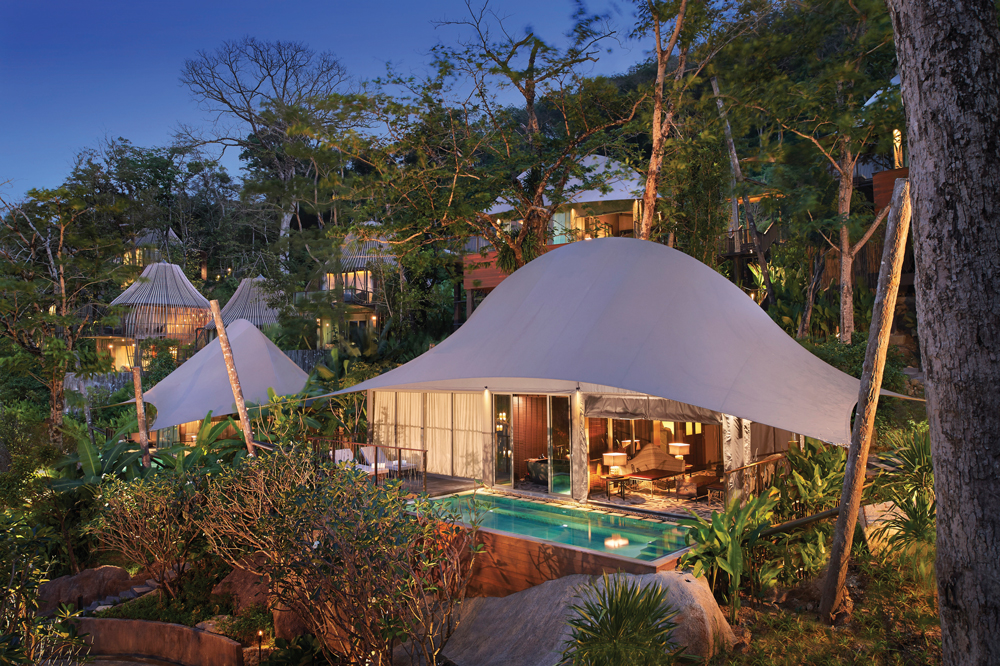 Grander adventures can be arranged by your villa host. You name it, they can arrange it.
Suggestions from the staff included a photography tour of the pastel-painted Sino-Portuguese shop houses of Old Phuket Town, diving or snorkelling expeditions to see the green turtles that inhabit the crystalline water and white sand beaches of the Similan Islands, and a family day rock-climbing on limestone karsts and zip-wiring through the jungle canopy.
Smaller in size than some of its neighbours but exceedingly beautiful, Keemala is an exemplary addition to the Phuket scene. 
It can be whatever you want it to be: honeymoon heaven, a wellness sanctuary, a nature retreat, a simple, solid base. It's a place of pure fantasy.