Lasting impressions: An unforgettable trip with Lamborghini in Italy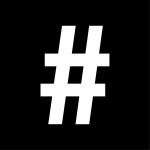 By: Gordon Lam
December 6, 2019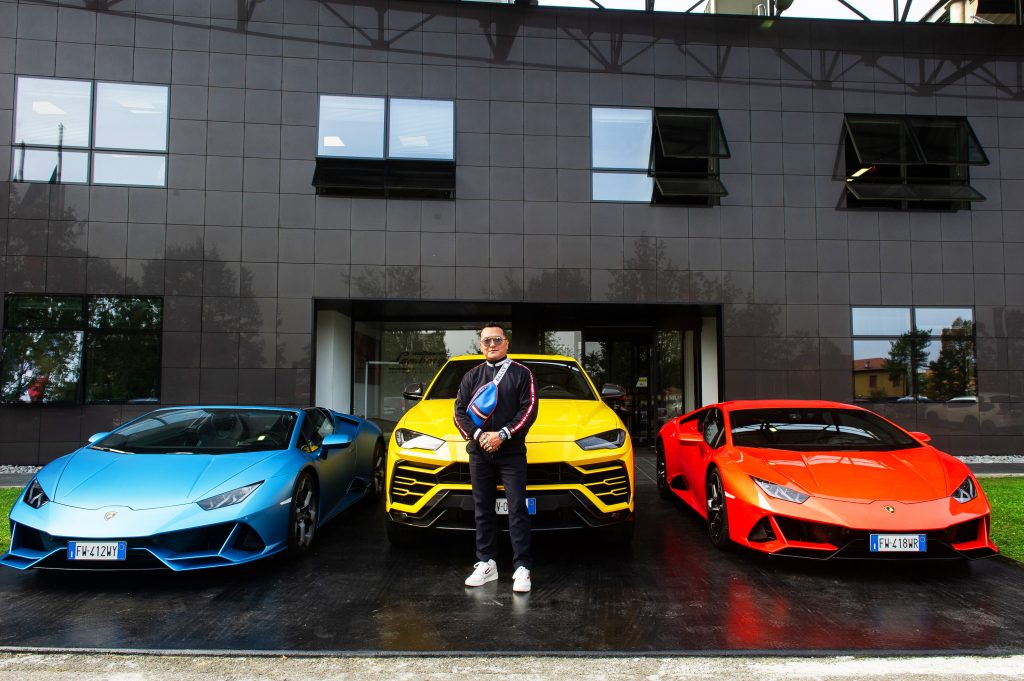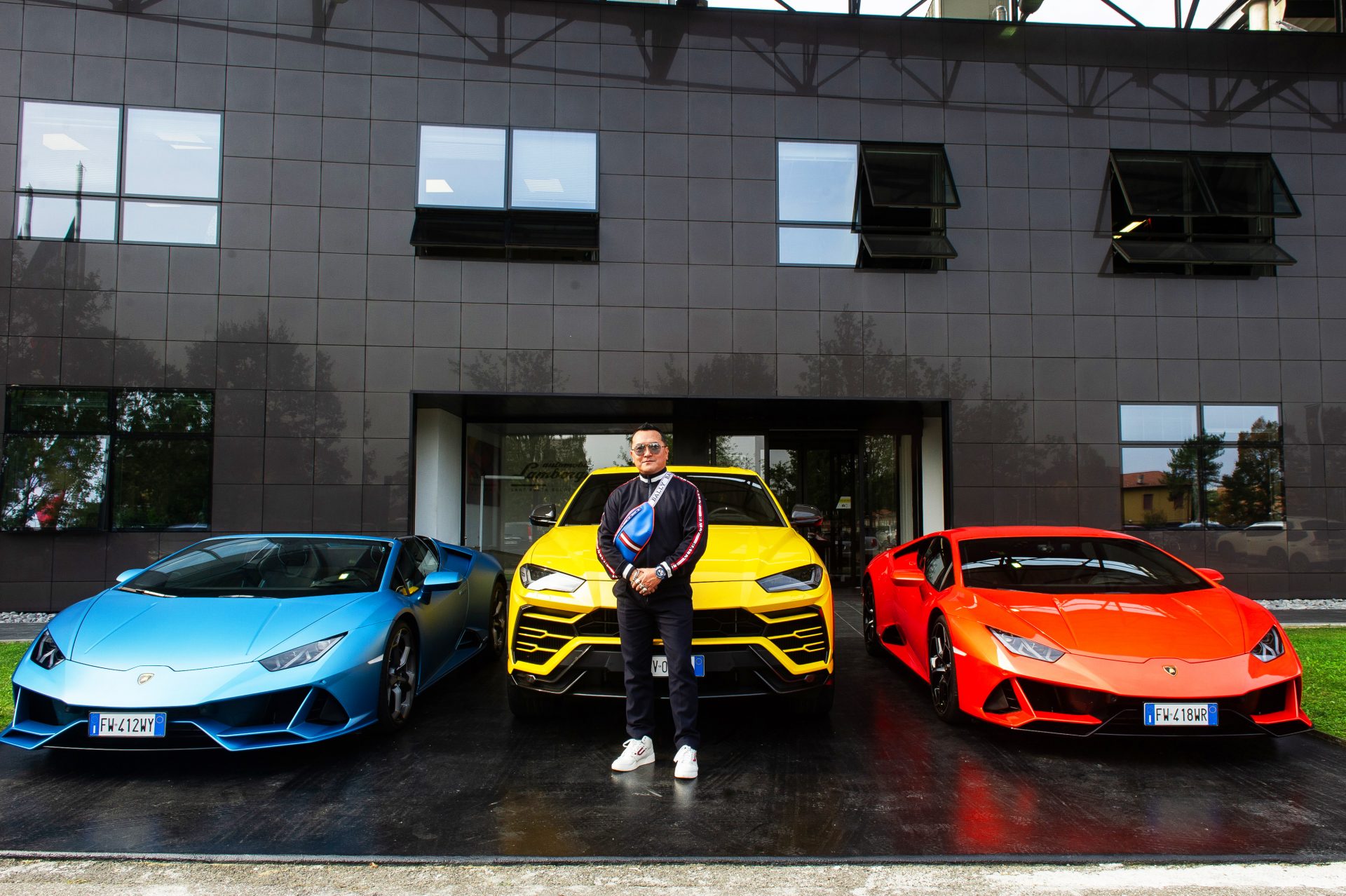 When Lamborghini Hong Kong first contacted me about its "Lamborghini Influencer Days" in Italy, I had absolutely no idea what kind of a press trip this would turn out to be.
It was all very hush-hush and no one had the detailed rundown for the four days we were going to spend in Italy. All we knew is that it would start off with a factory visit, then possibly a drive from Sant'Agata Bolognese to Lake Como, where we would spend a night and then drive again to finish our journey in Milan.
But really, what did I have to lose? At the very least, I'd get a chance to visit Lake Como, even if I wasn't lucky enough to get behind the wheel of one of the brand's models. One thing Lamborghini guaranteed was that we would have plenty of time to take many photos with the cars during our trip, with Lake Como serving as the backdrop.
With this scant information in mind, I started to prep for my trip like a real influencer. But where should I even start? I've never been called an "influencer" before, so it was a rather strange invite from that perspective. I called up some top fashion brands and borrowed some looks for the four-day trip, as well as some renowned international watchmakers to complete my full influencer style.
There was no indication of how many influencers Lamborghini had invited for this particular trip – so the battle was on! Anyway, if I didn't manage to drive the cars during my trip, at least I'd look damn good next to them in the photos.
So I headed to the airport. My first stop was in Bologna, where I spent the first day at the I Portici Hotel… and not a Lamborghini sign in sight! I seriously thought I was at the wrong hotel, but the receptionist reassured me that my room was booked under Lamborghini, so I shouldn't worry too much.
I had arrived super-early in the morning and our agenda for the day was to meet at 8pm for dinner at one of the hotel's renowned restaurants, Ex Ghiacciaia. I ventured down to the lobby expecting to see some familiar faces from Lamborghini with official badges around their necks – but still, no one resembled any hospitality staff from HQ.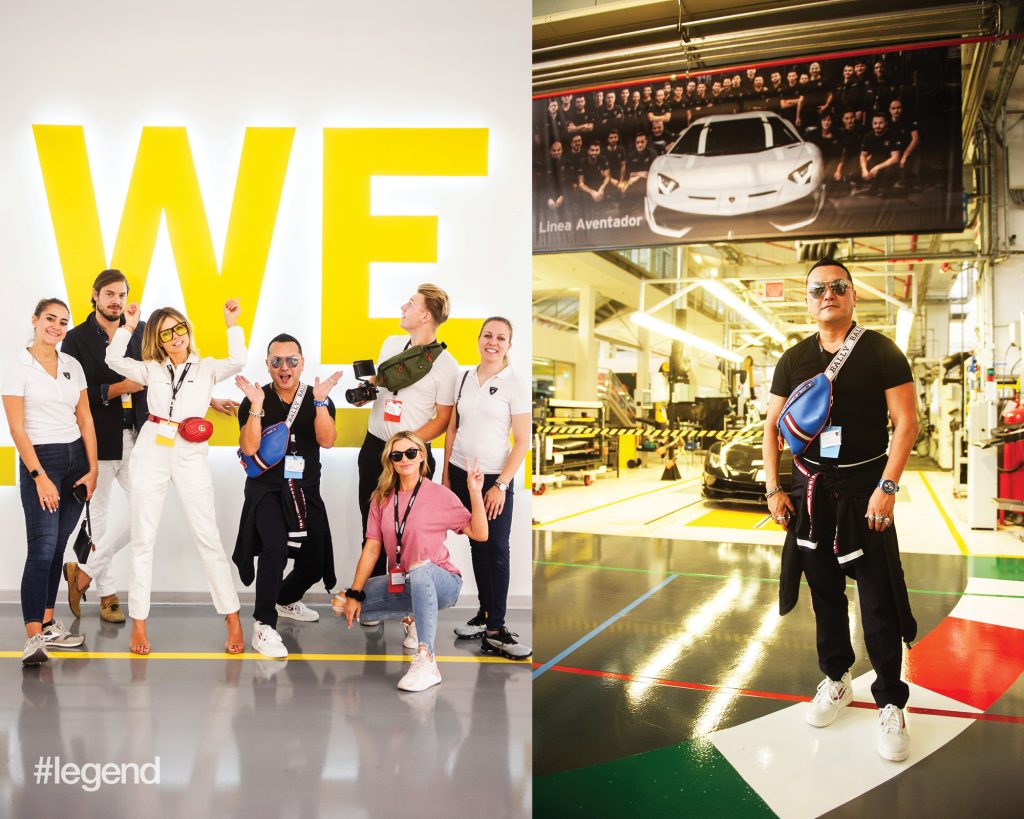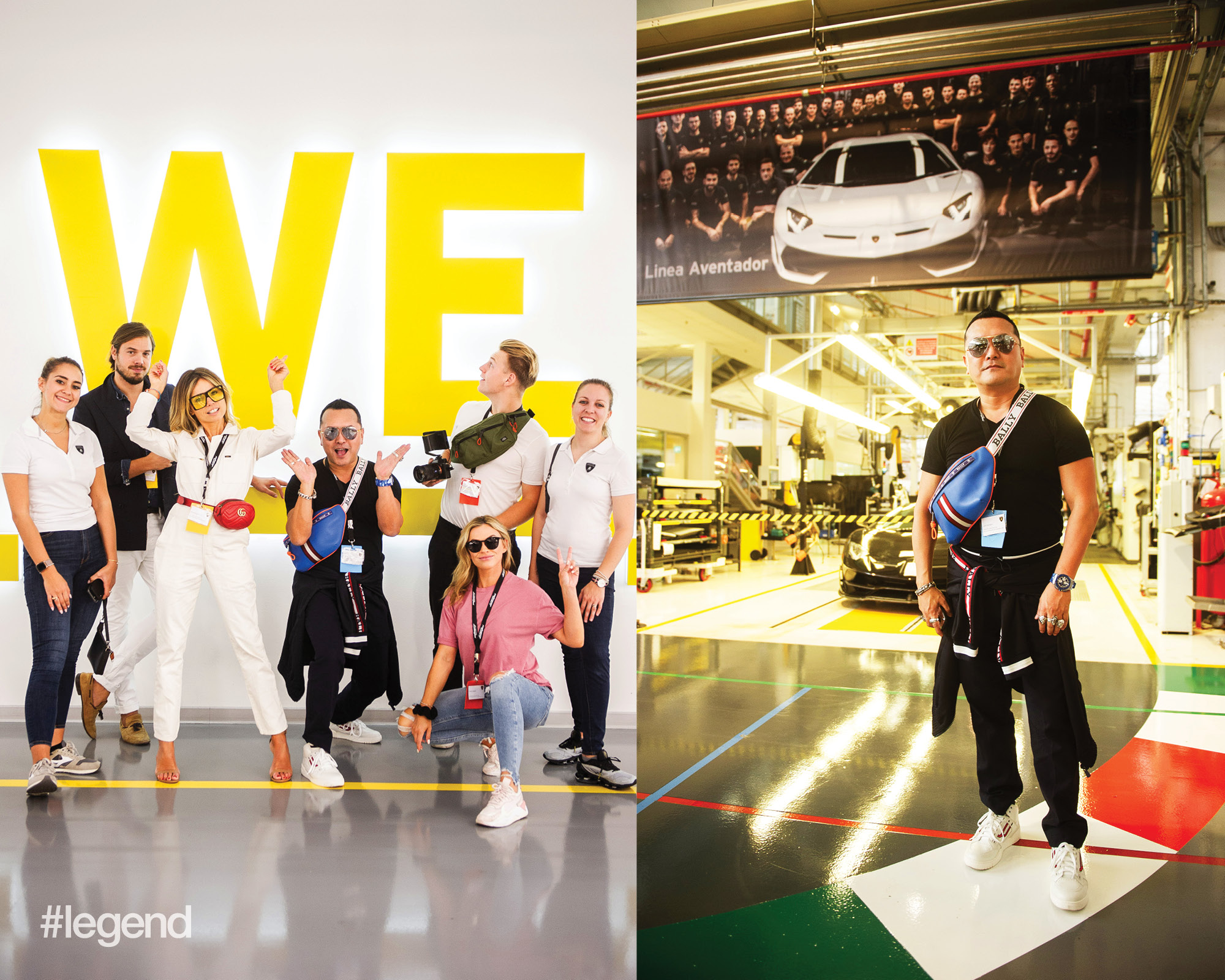 All of a sudden, I was approached by a pair of representatives from Lamborghini's marketing and communications team, Liliya Dovbenchuk and Chiara Sandoni, who came up and introduced themselves. After a quick chat, we headed to the secret restaurant within the hotel and waited for the rest of the group. An igloo-like entrance led us into a dome-shaped transparent glass floor area, which looked right through to the bottom part of the wine cellar. The table was set for seven, and I was wondering where all the other press or influencers from around the world were.
At the intimate dinner, we were joined by famed London-based racing driver/YouTuber/presenter Emma Walsh alongside her filmmaker/photographer Charlie Lower, as well as Gerald Kahlke, Lamborghini's head of communications. There was one more guest – my own personal photographer for this trip, Marco Erba, who was kindly arranged by Lamborghini's team just to take photos for me during the first part of the journey. What a great surprise!
The surprises didn't end there. During dinner, I discovered that this "Lamborghini Impressions" trip was the first such event organised by Lamborghini HQ for super-exclusive influencers around the world to get behind the wheel and drive some of the latest models. Just five lucky people were carefully hand-picked for this, based on their backgrounds and merits – it was like a golden ticket in the film Charlie and the Chocolate Factory, but even better in the grown-up world, since it was an exclusive ticket to the Lamborghini Factory.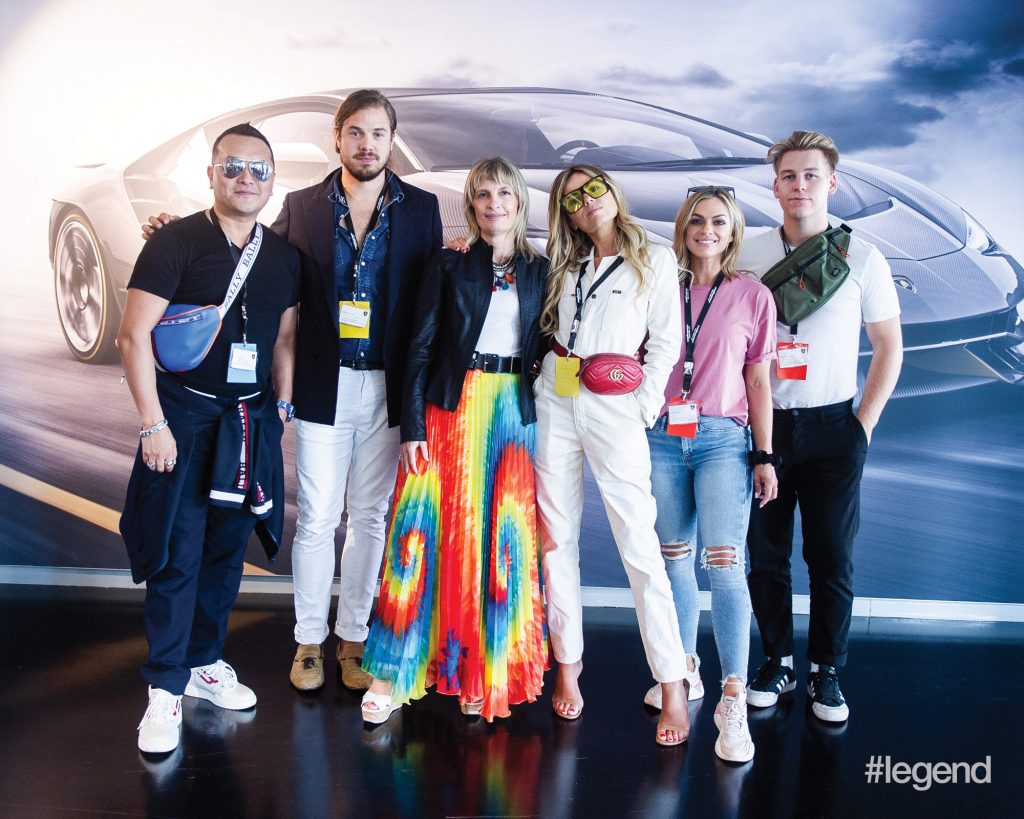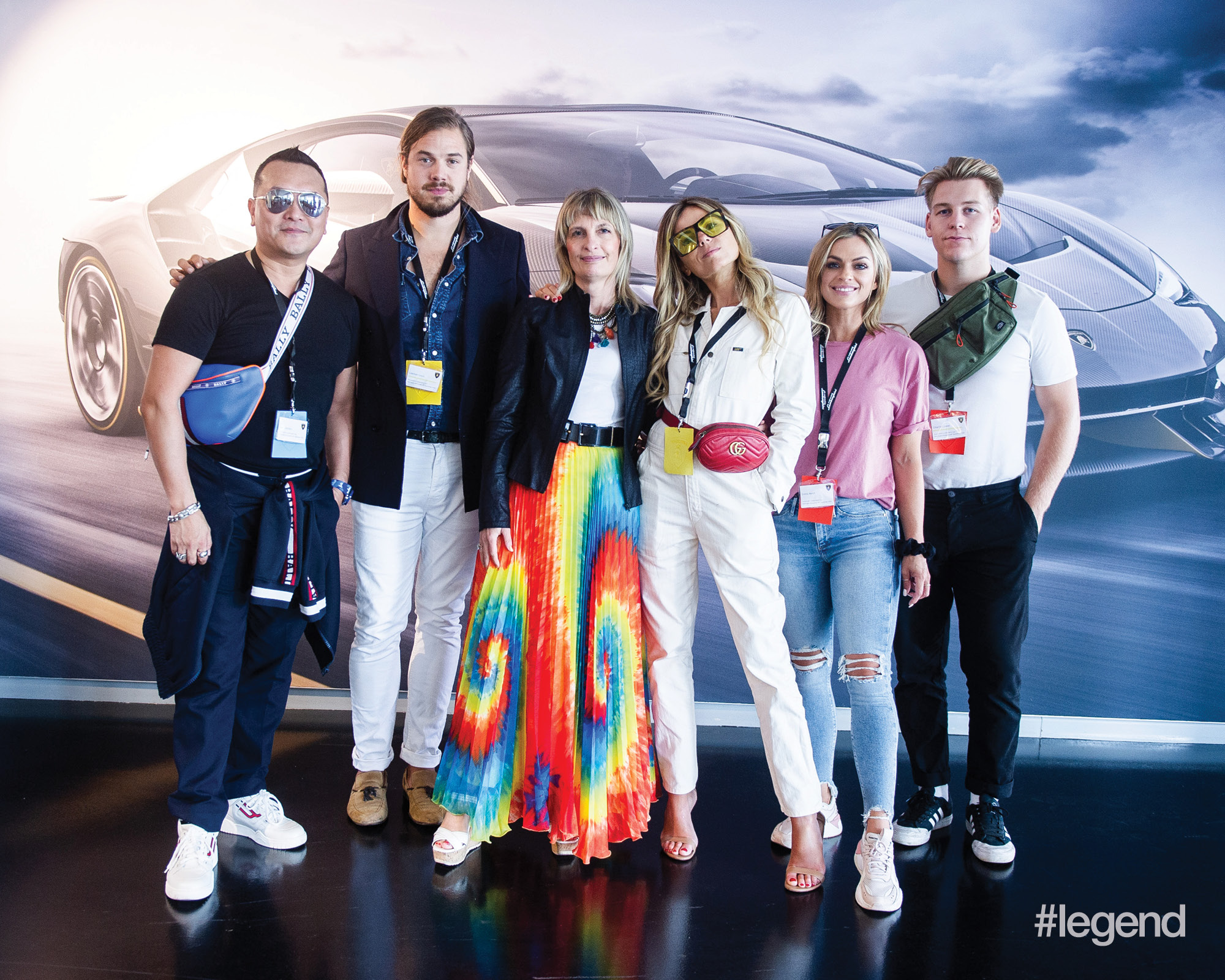 The next morning, we ventured from Bologna to Sant'Agata Bolognese (where Lamborghini is situated), where we were joined by the final lucky couple: internationally renowned fashion influencer/stylist Erica Pelosini and her sports car fanatic husband, shoe designer Louis Leeman. After a quick registration at the reception, we were greeted by our two chaperones for this trip, Liliya and Chiara, who welcomed us with a quick refreshment before we started our factory tour.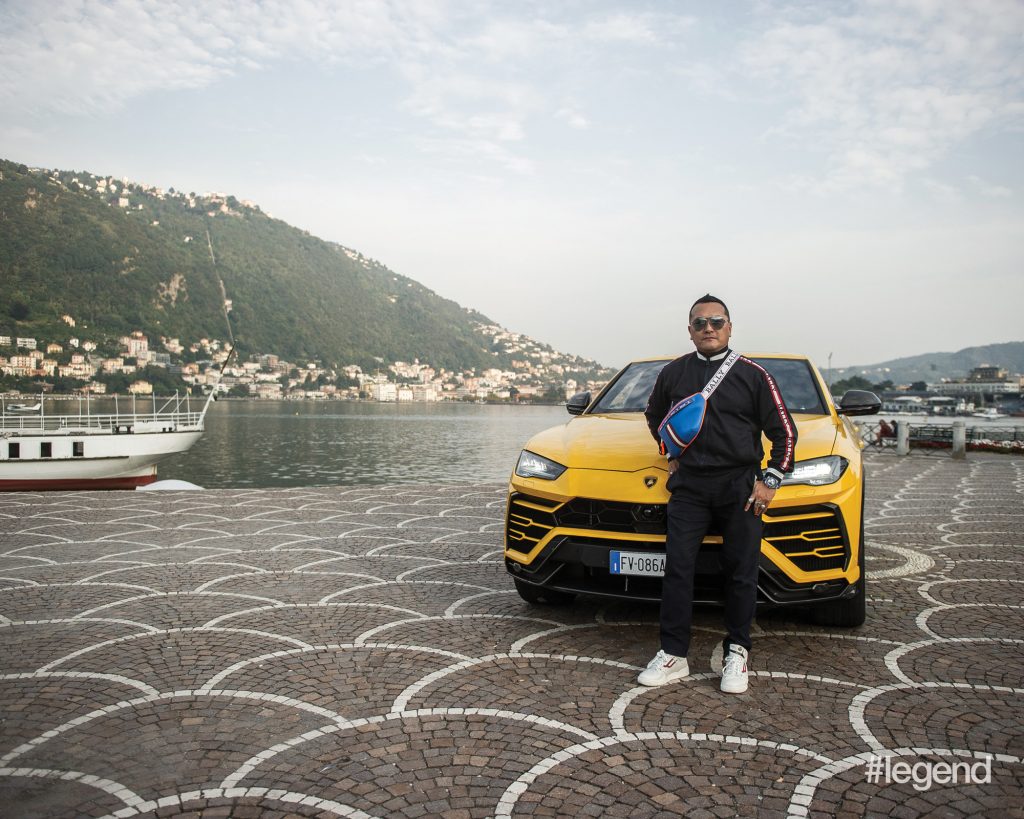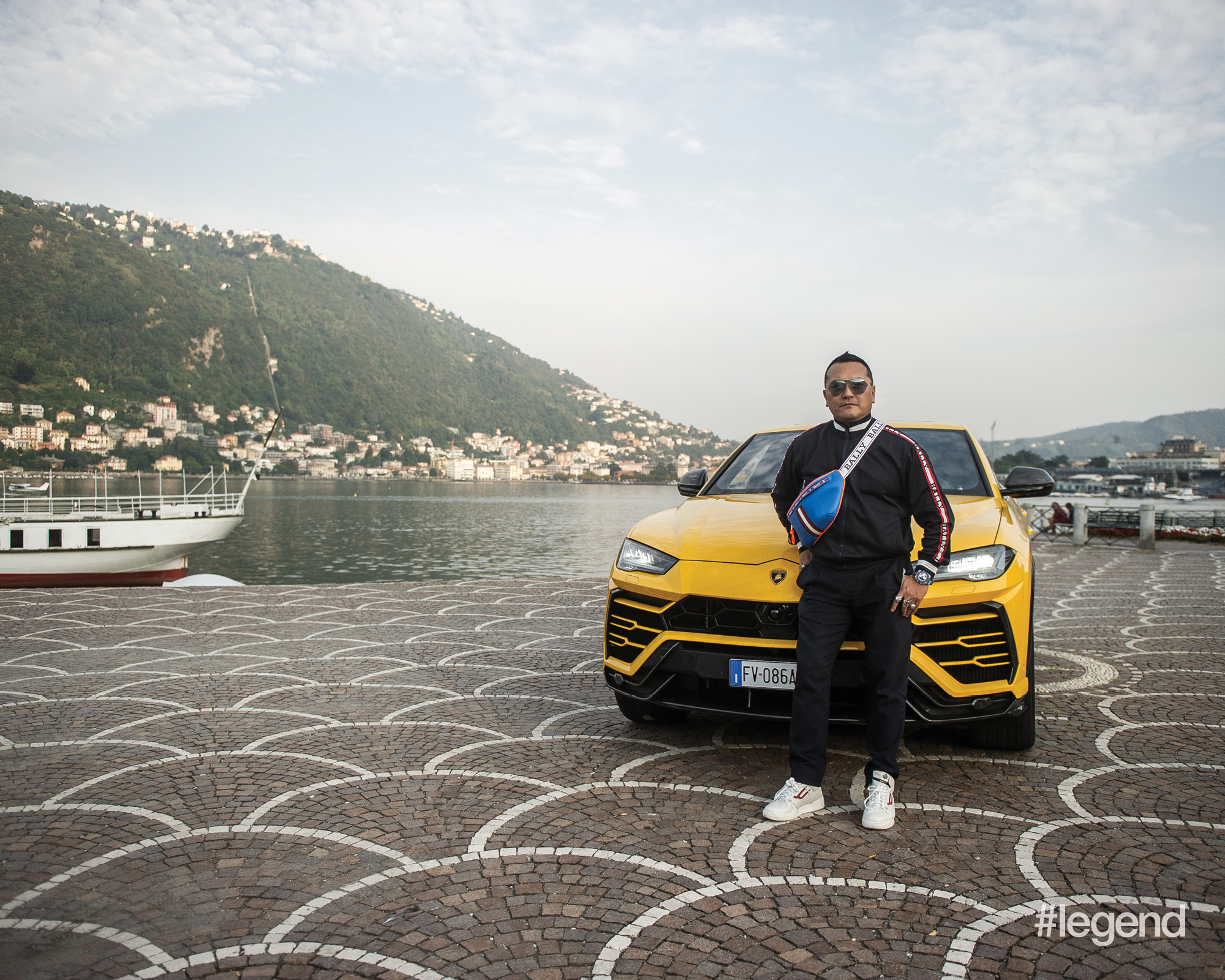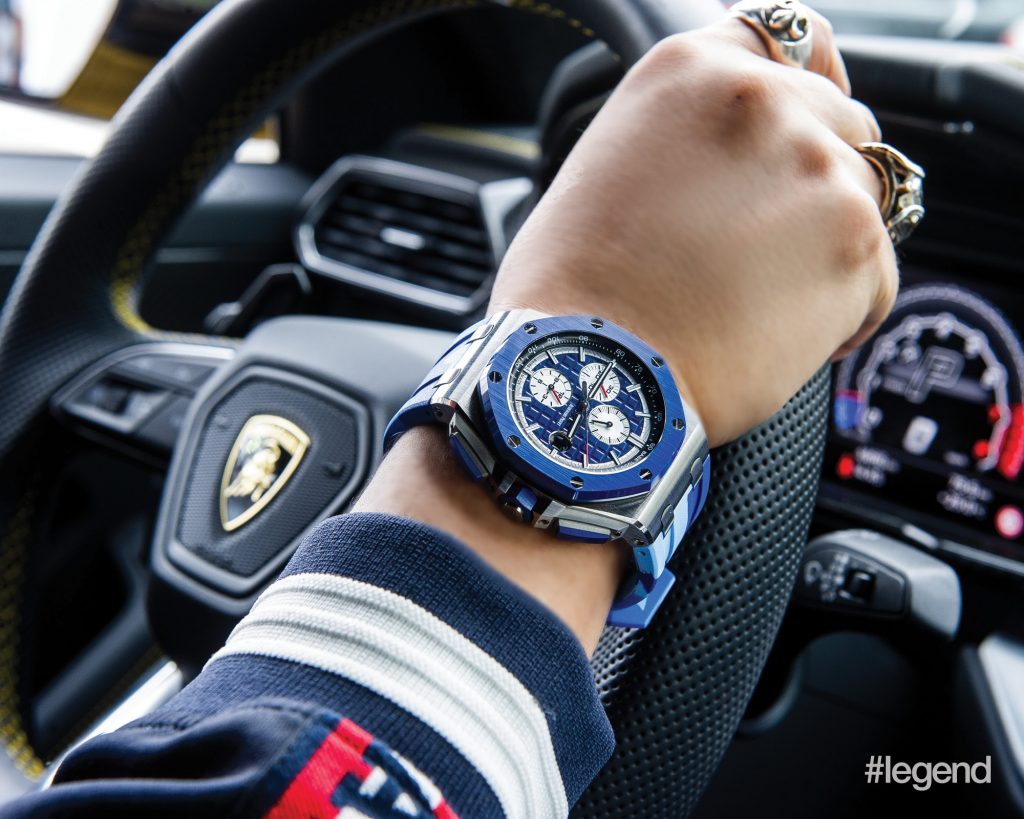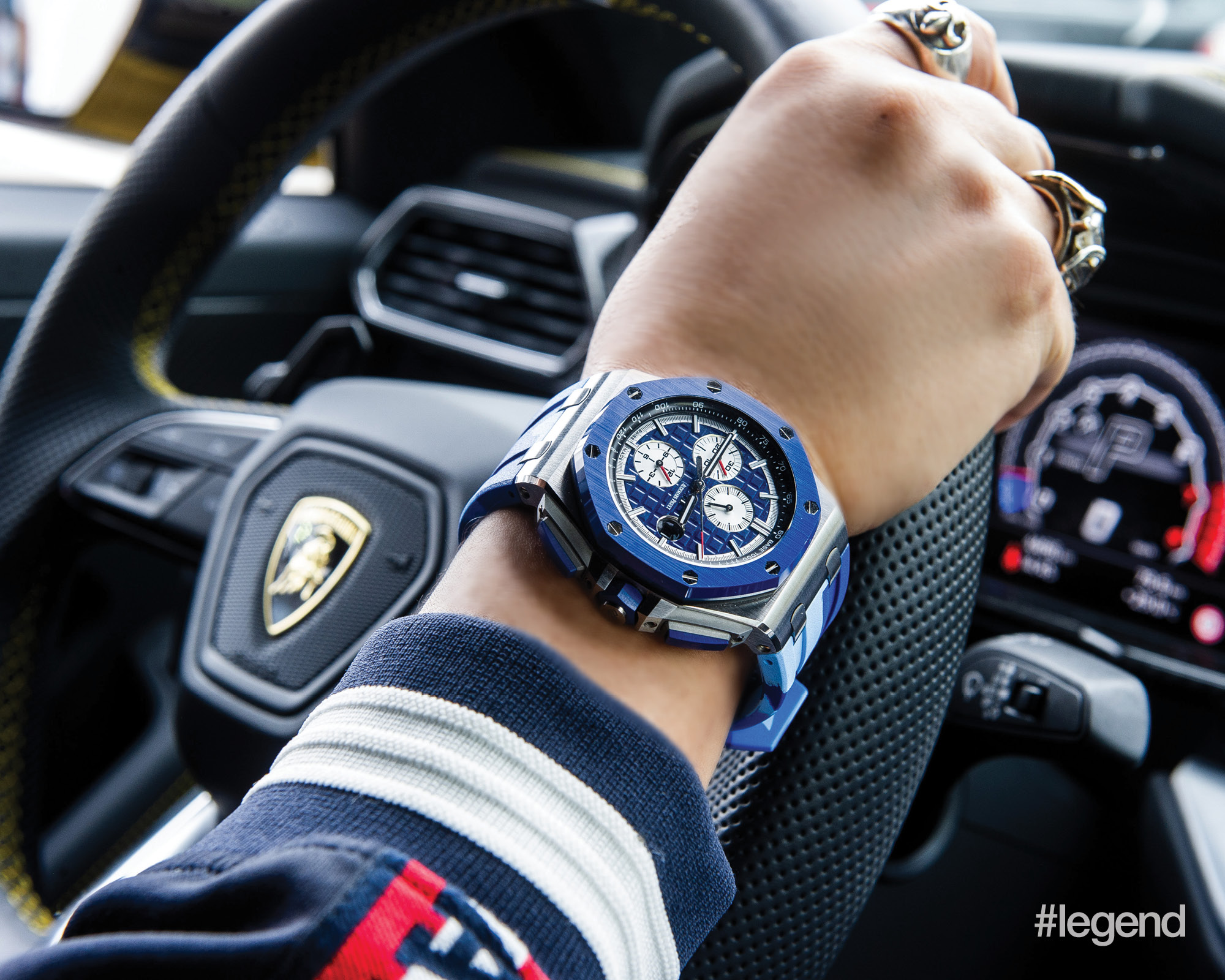 The Lamborghini factory was an eye-opener for all of us, to say the least. It's a modernised, systematic production line that ensures the best quality assembly in every way. Most models, such as the Aventador and the Huracán, shares the same factory; the Urus, however, has its own standalone factory, with state-of-the-art robots that deliver and transfer parts and unfinished cars to the designated location when needed.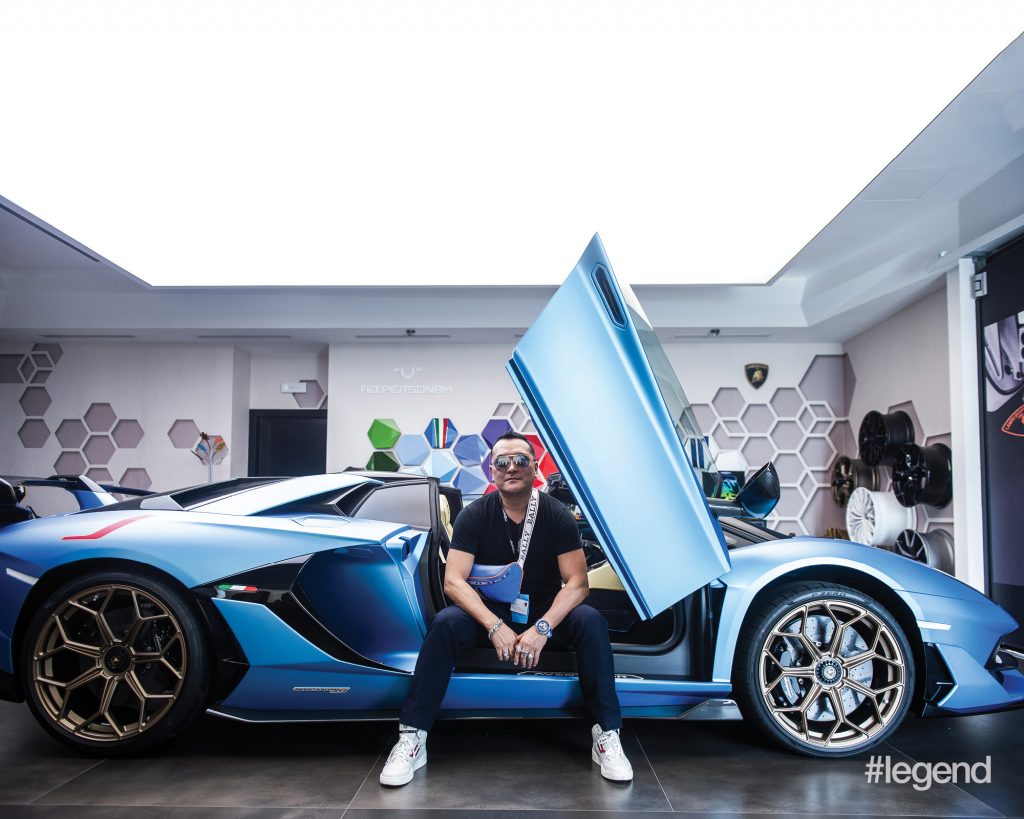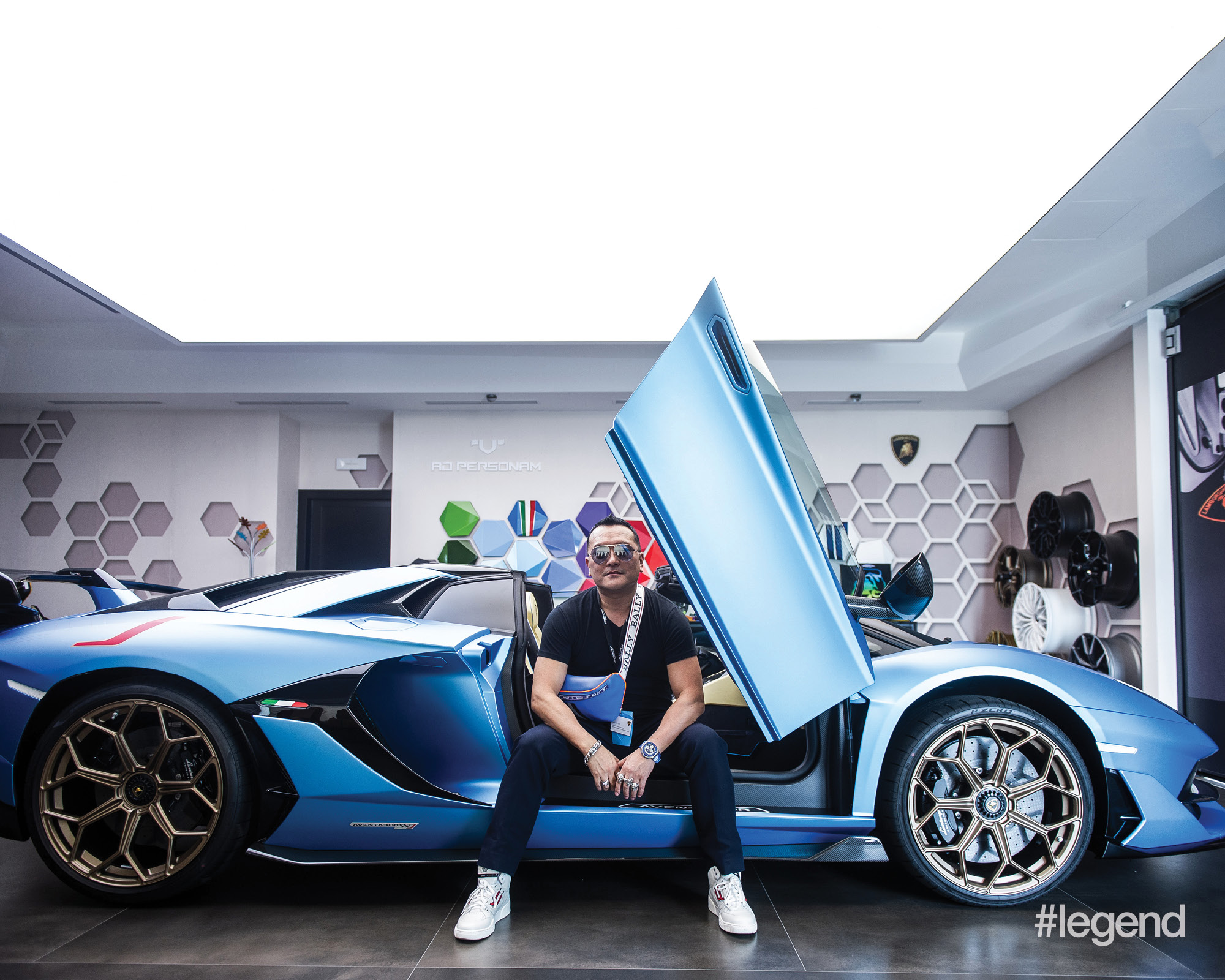 At our next stop, we were greeted by Vittorio Gabba, Lamborghini's head of product marketing for the Ad Personam programme – its special customisation department. Vittorio talked us through the importance of personalisation for Lamborghini customers and the different ways of creating your one-of-a-kind dream car. When you've got the means to purchase an Aventador SVJ, you certainly don't want to look like all the rest.
Afterward, we were greeted by Miguel Soares of Lamborghini's business development and sales department. We got to look through all the Lamborghini merchandise, including ready-to-wear collections and children's wear, all kinds of lifestyle products, miniature electric cars, collectable car models, sneakers and much more. Katia Bassi, Lamborghini's chief marketing and communications officer, was kind enough to drop by and say hello to us at the shop and take a quick group photo before we started the first leg of our exciting driving journey to Lake Como.
We were divided into groups of two, with a trio of Lamborghinis awaiting us: a yellow Urus, an orange Huracán Evo Coupe and a blue Huracán Evo Spyder. My first ride was in the Urus, which I was lucky enough to have test-driven before in Hong Kong – but driving it on a highway from Sant'Agata to Lake Como was a totally different experience. The two-hour journey was exhilarating yet relaxing due to Urus's spacious and comfortable interior design.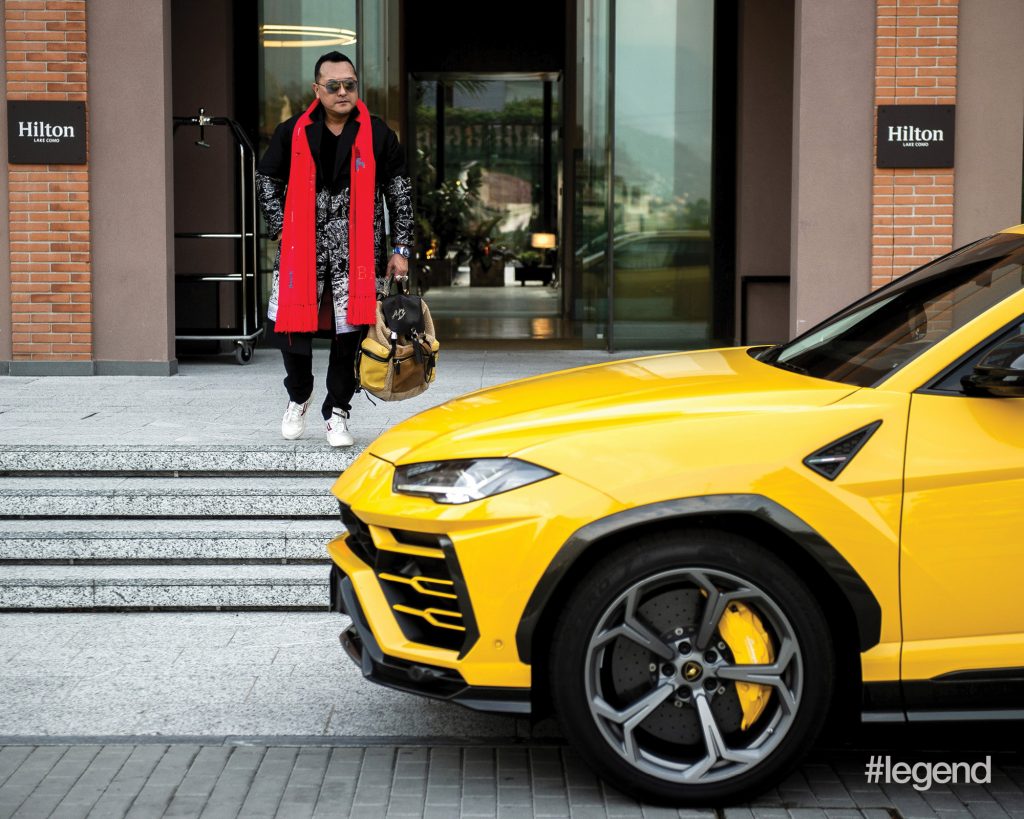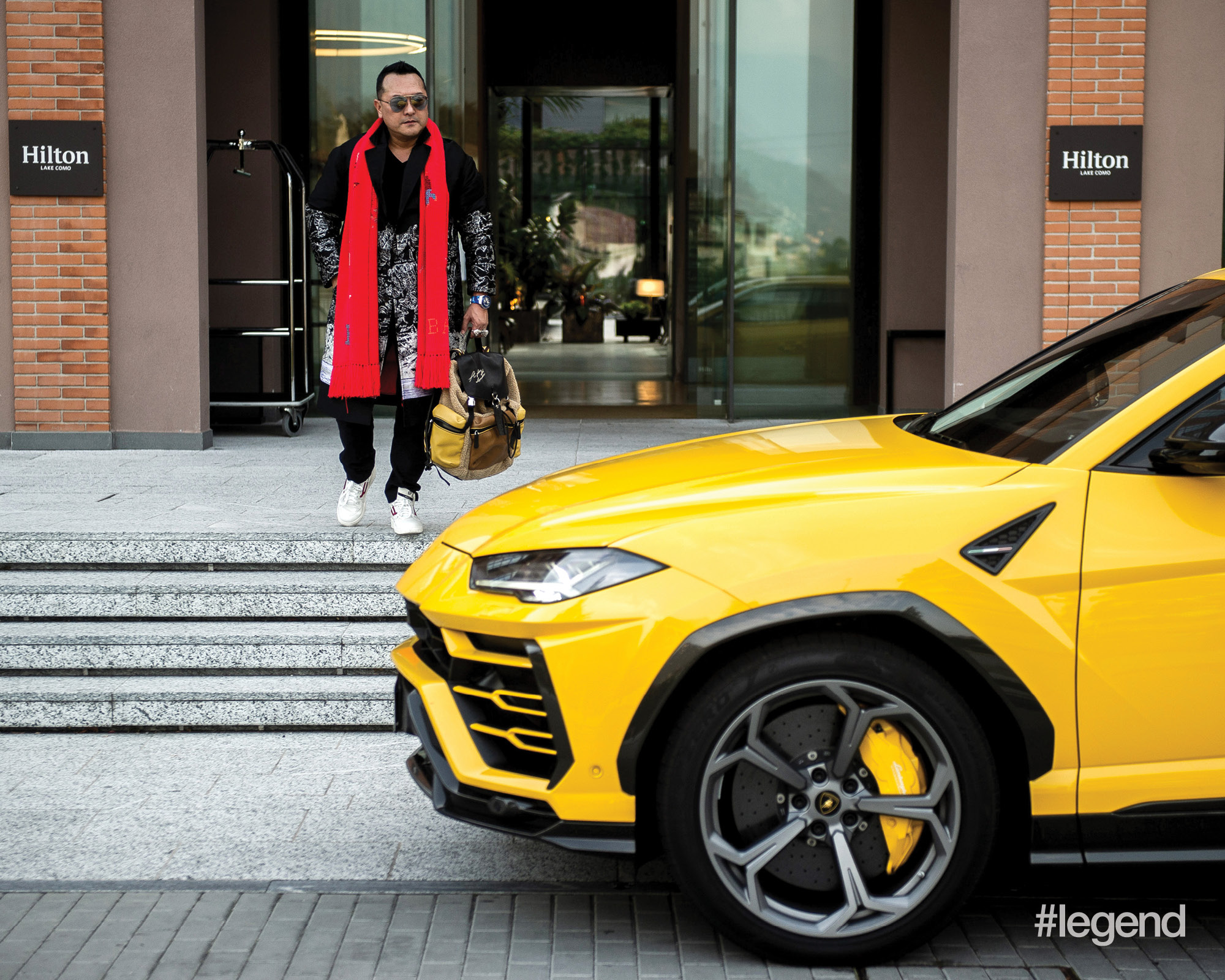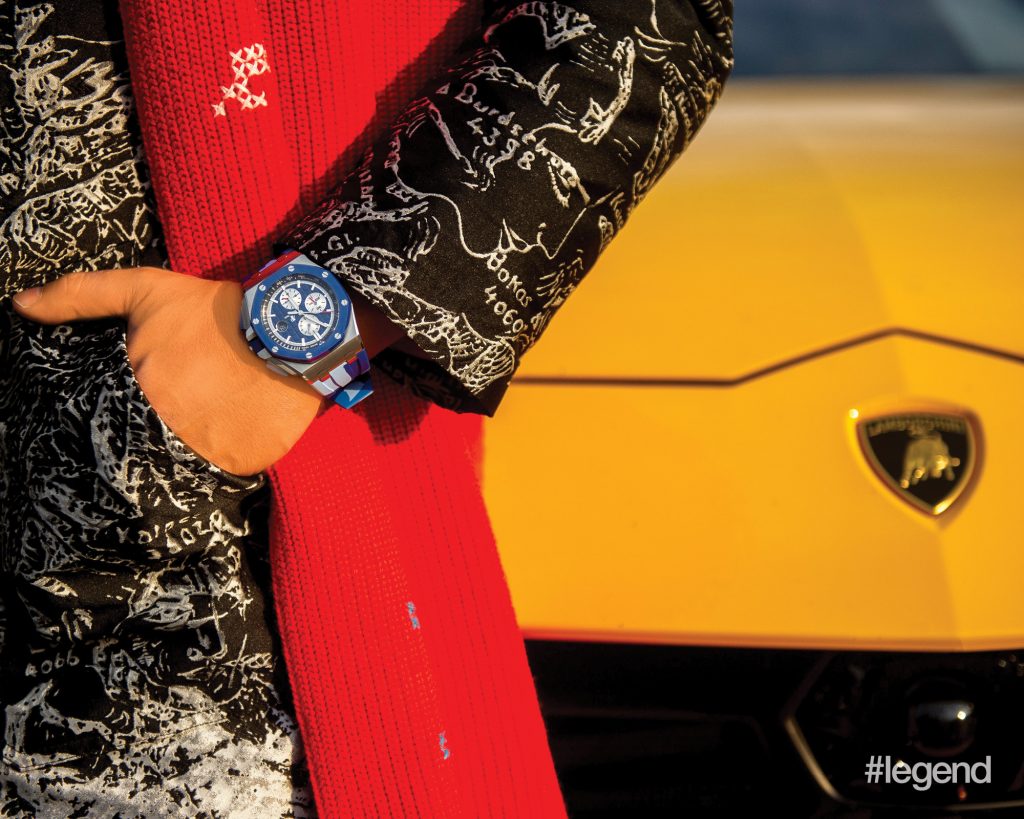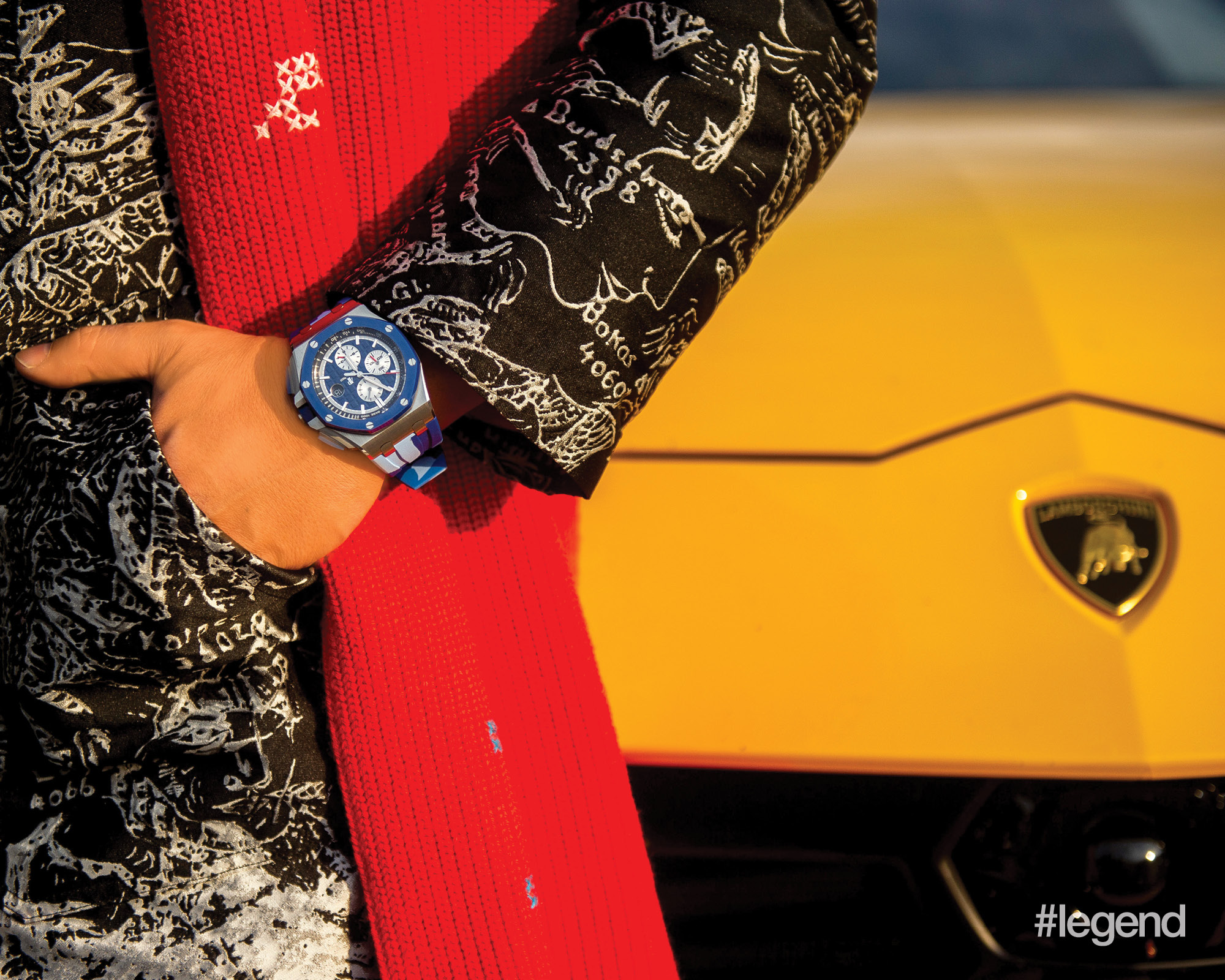 Surprisingly, I found myself to be the first to arrive at the Hilton Lake Como Hotel. My photographer and I decided to venture into a nearby lake to take some nice scenic shots with the fashion looks I had prepared for my trip. The weather in Lake Como was around 28 degrees Celsius, but all the clothes I brought along were from the autumn/winter 2019 collections – no wonder everywhere I went to take photos, passers-by in shorts and T-shirts looked puzzled, trying to figure out why on earth I was wearing outfits that were more suitable for minus-28 degrees instead. I was seriously boiling and dripping. I guess this is the price I'd have to pay if I were a professional fashion influencer – which I'm not!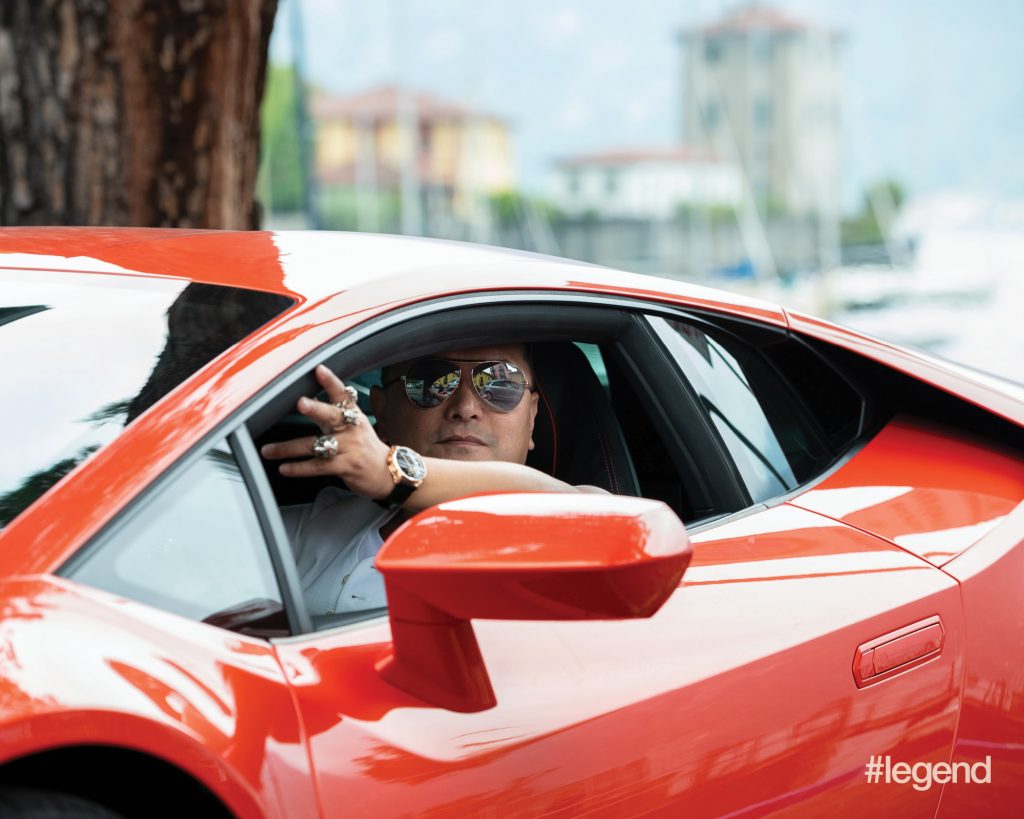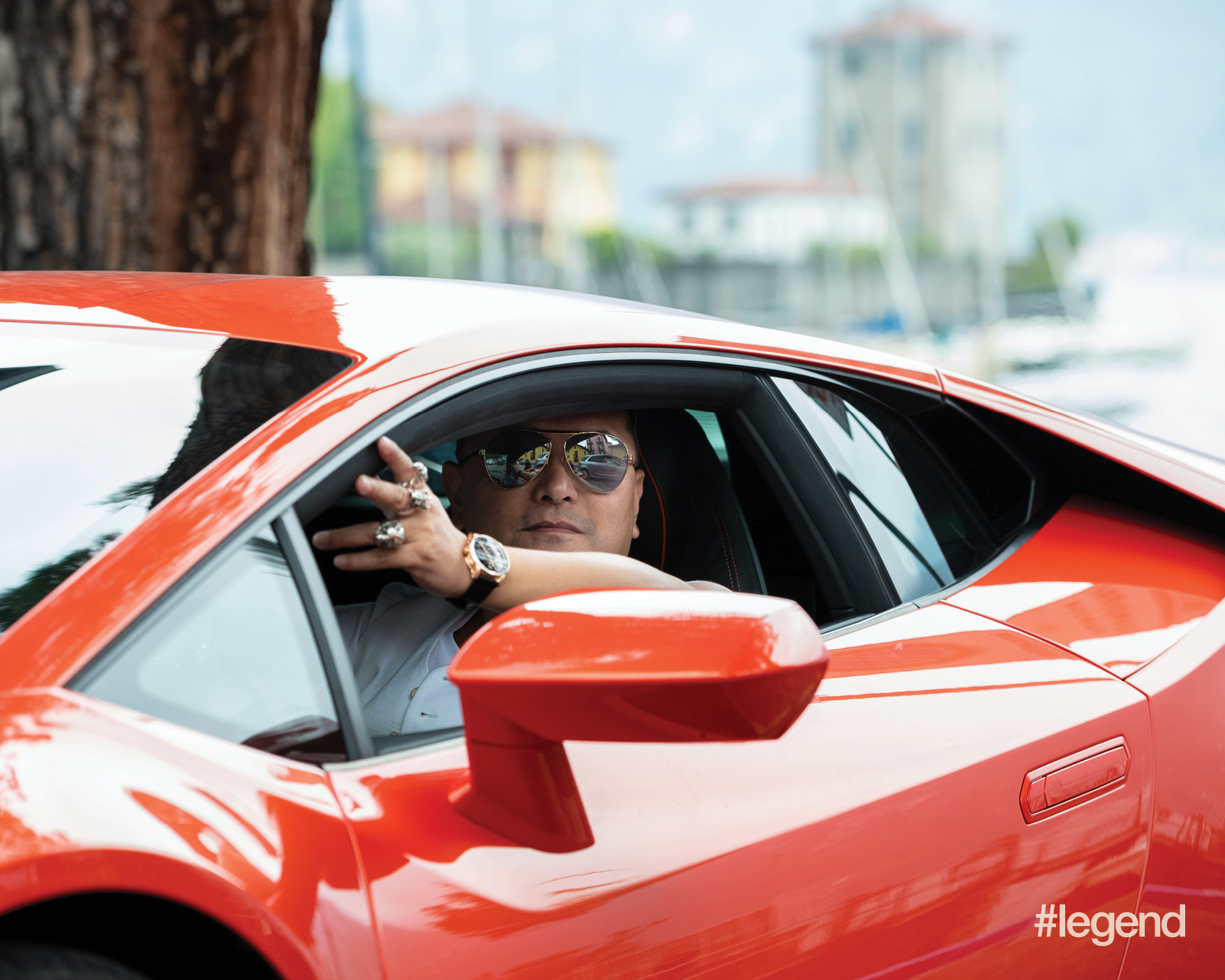 The following morning, we gathered once again to swap cars with each other for our journey onward from Lake Como to I Giardini di Villa Melzi. This time, I drove the orange Huracán Evo Coupe along the narrow country lanes, up the hills and down to the lake. Our destination was a beautiful privately owned garden and villa that's open to the general public, with the best, most magnificent views of Lake Como. This set the perfect backdrop for all three Lamborghinis, parked in front of the villa for yet another priceless photo-op – and with more fashion changes for me.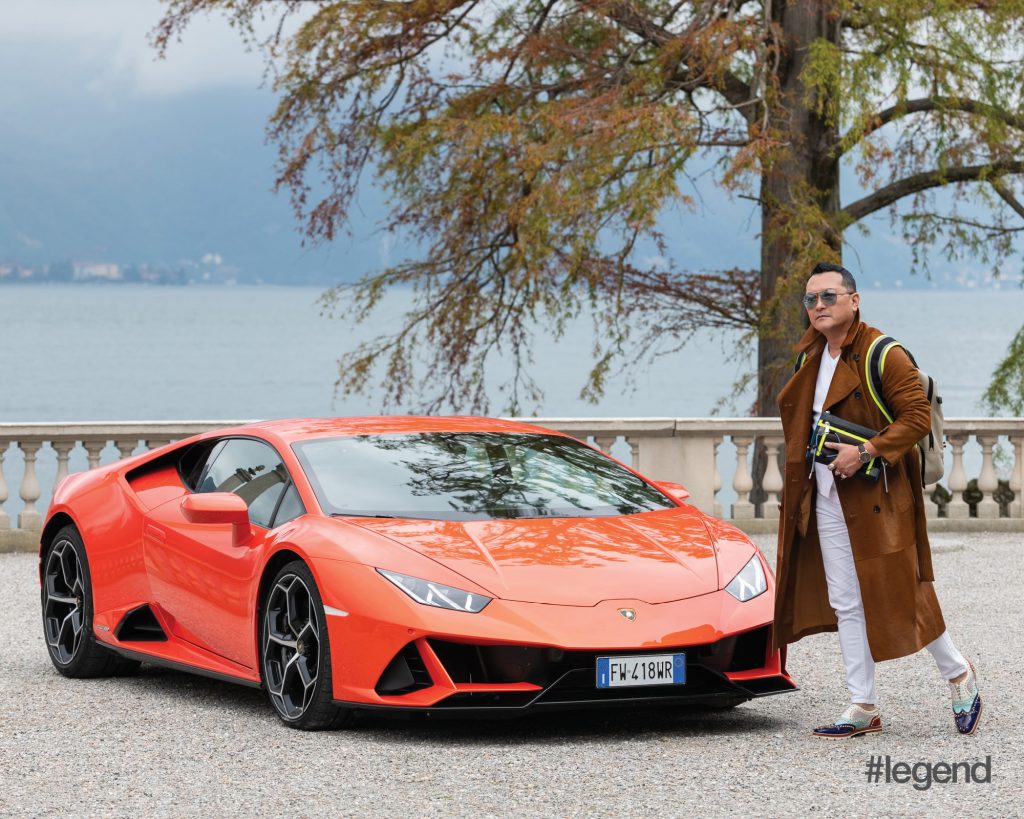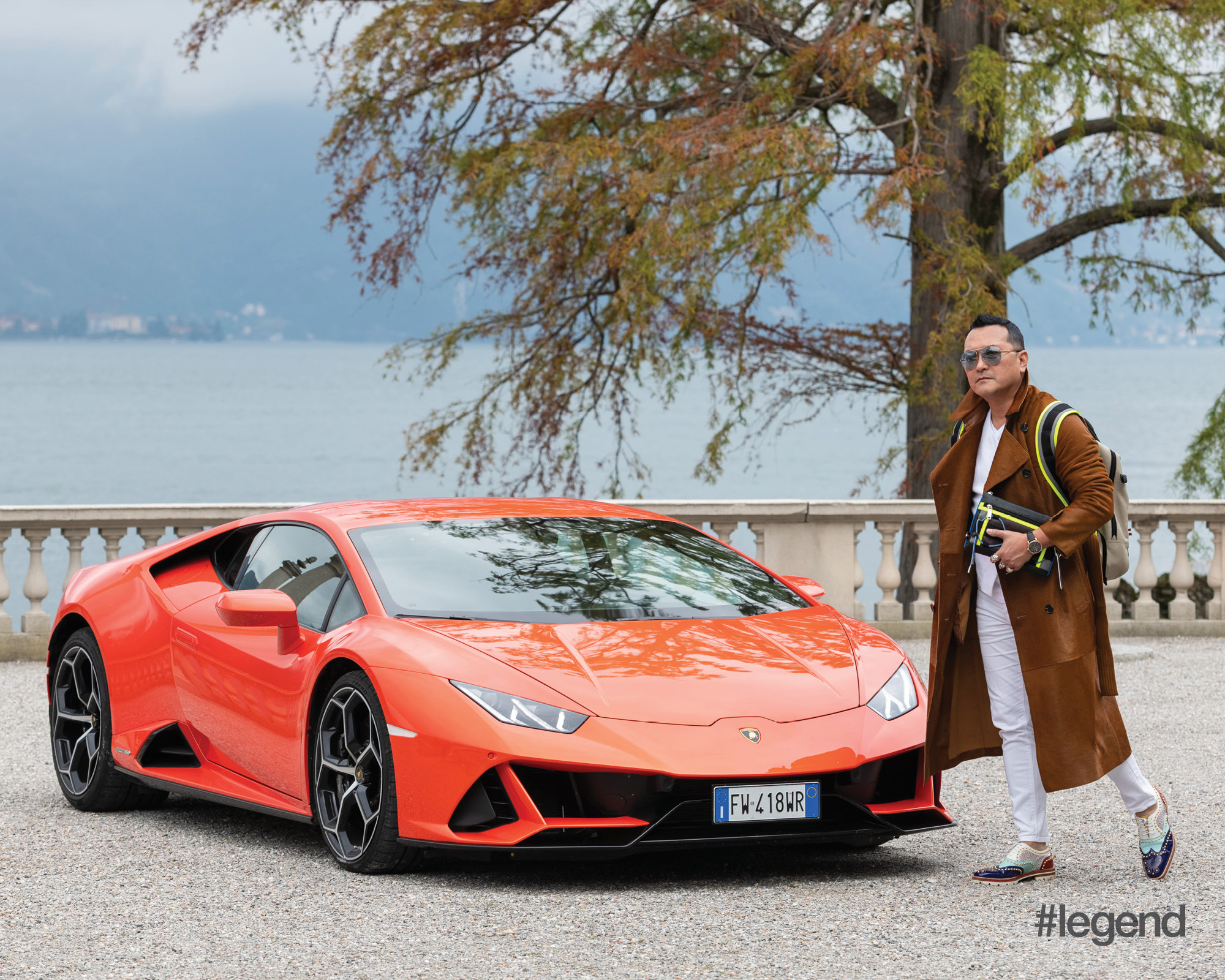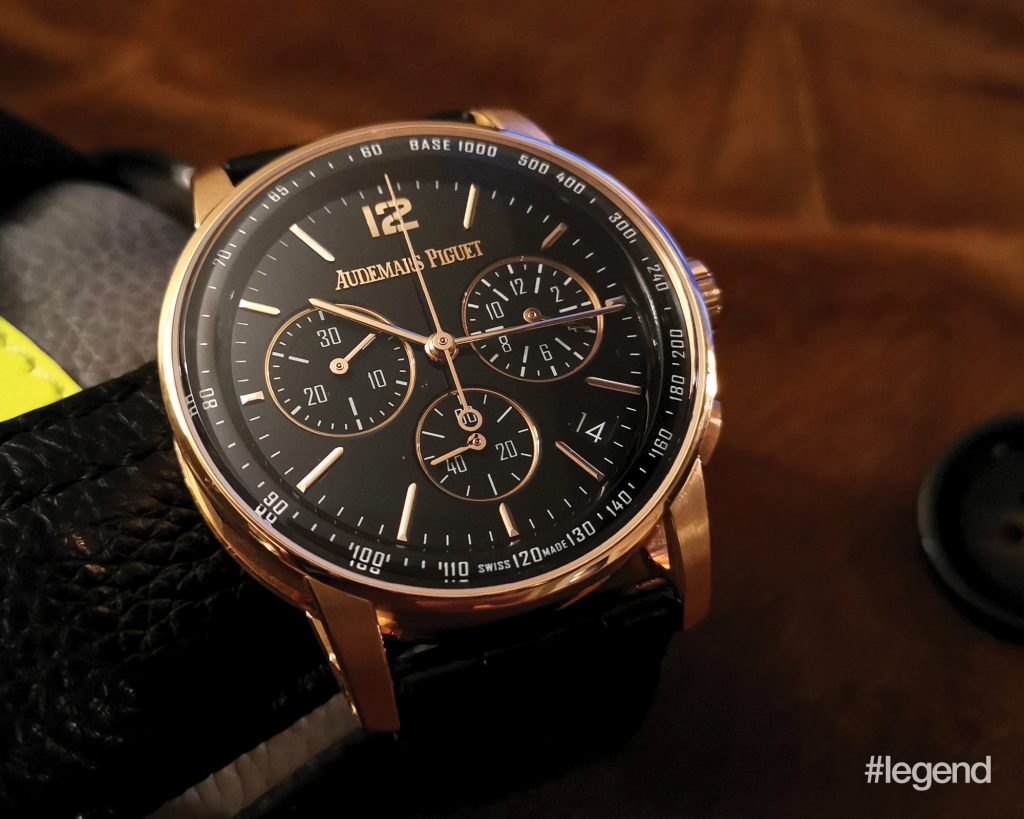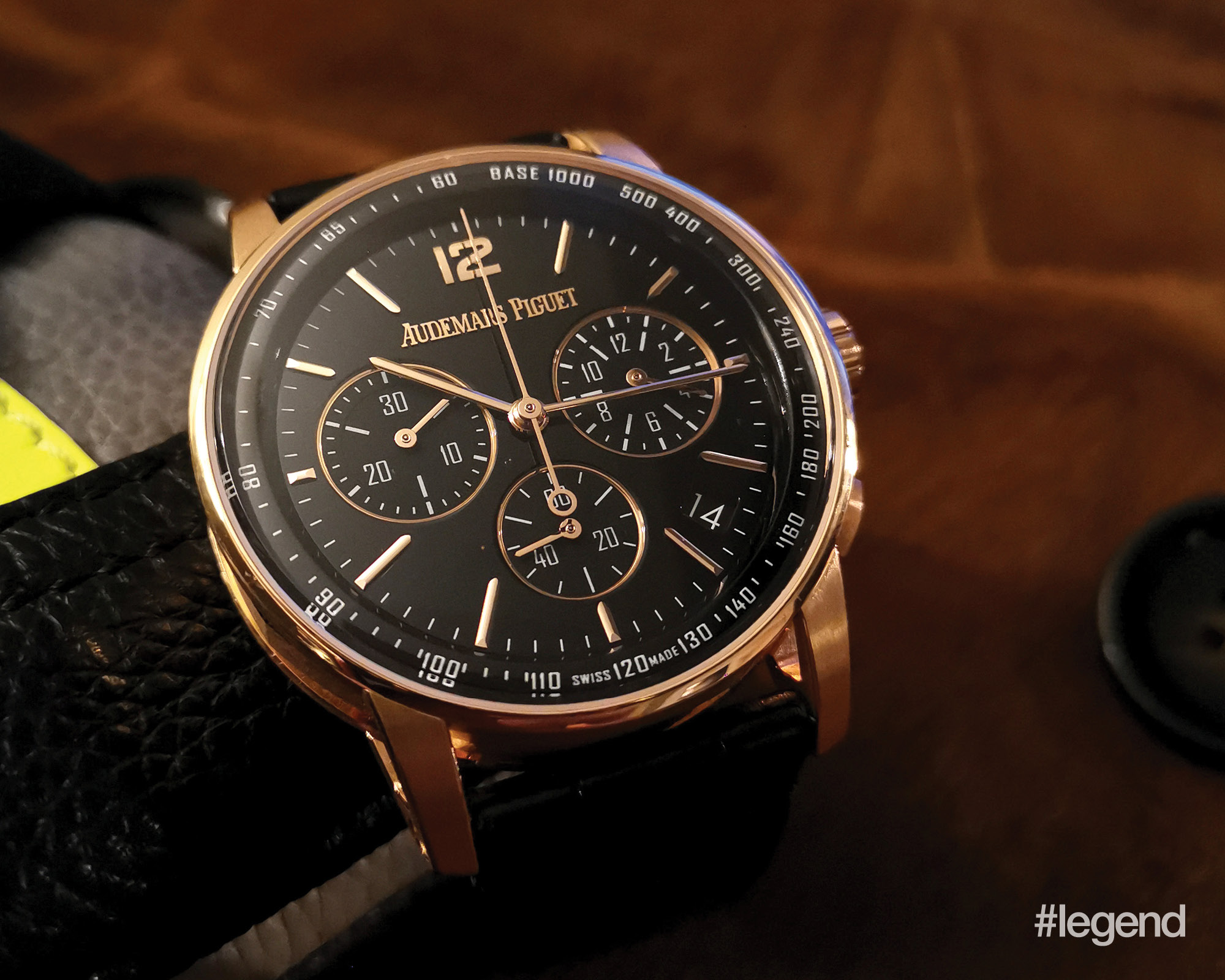 After a lovely and leisurely Italian-style lunch at a nearby seafood restaurant, Alle Darsene di Loppia, we were set to take a long walk to digest our heavy lunch and tour the small town of Bellagio with a local tour guide. Our tour took a little longer than expected, though, and we needed to head back to our cars to make the last journey into Milan for our finale dinner. Saving the best for last, my ride for this trip was in the blue Huracán Evo Spyder. Enjoying the perfect weather with the open roof in this Huracán Evo proved to be the perfect happy ending for my entire trip!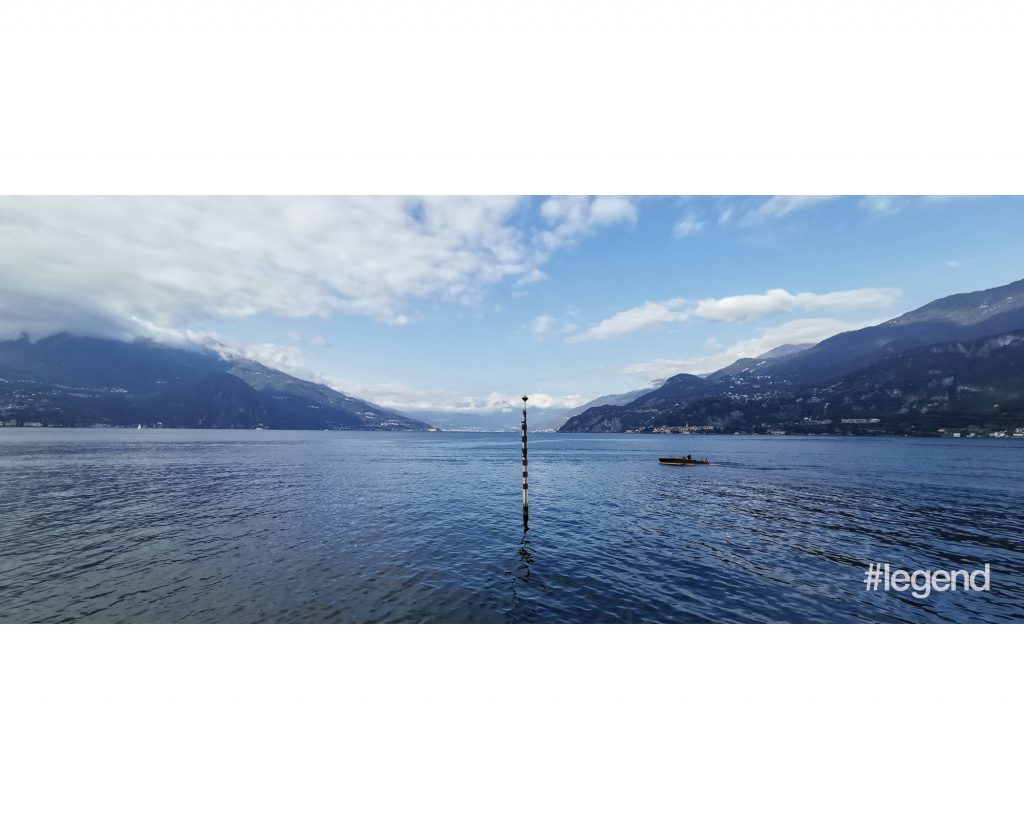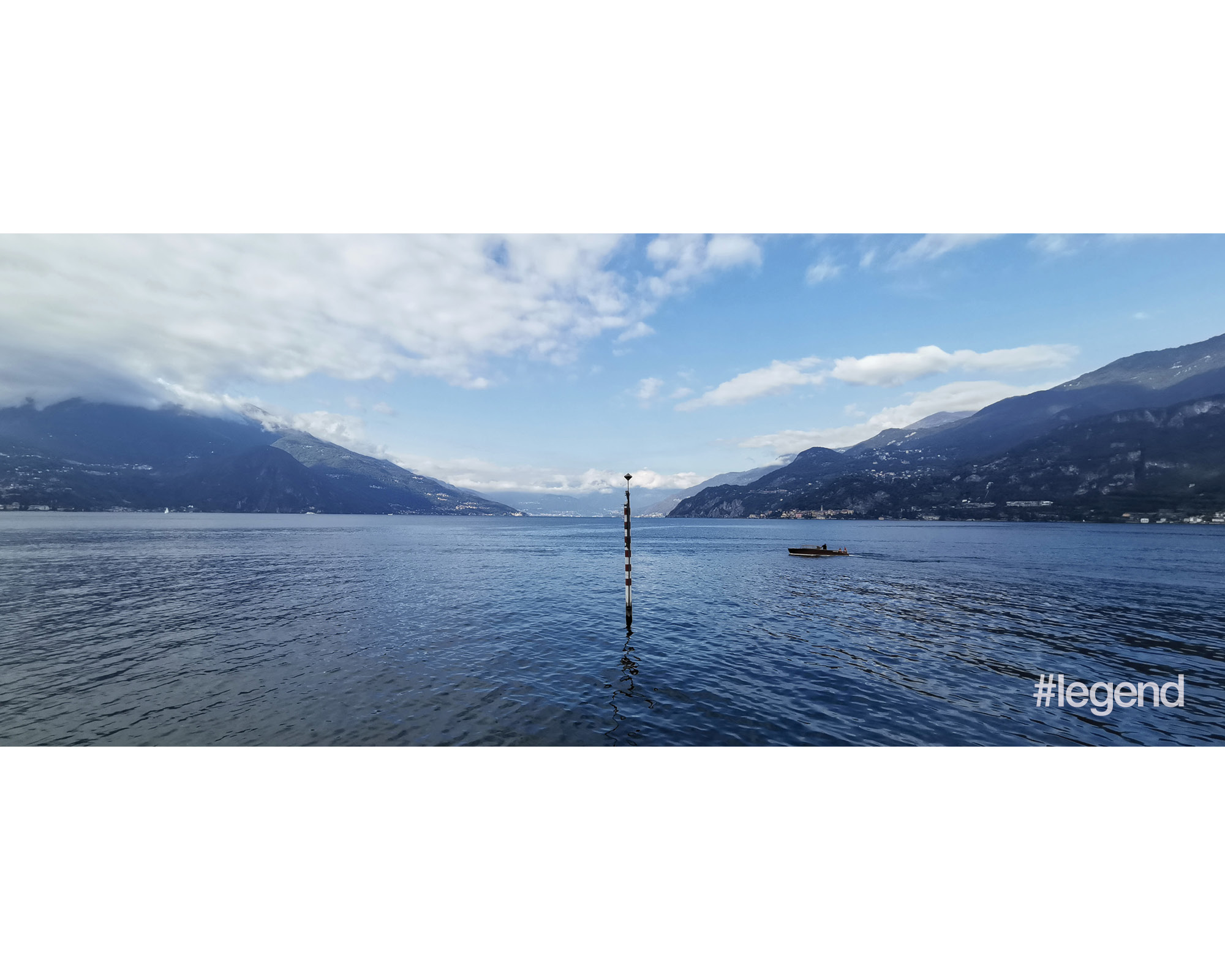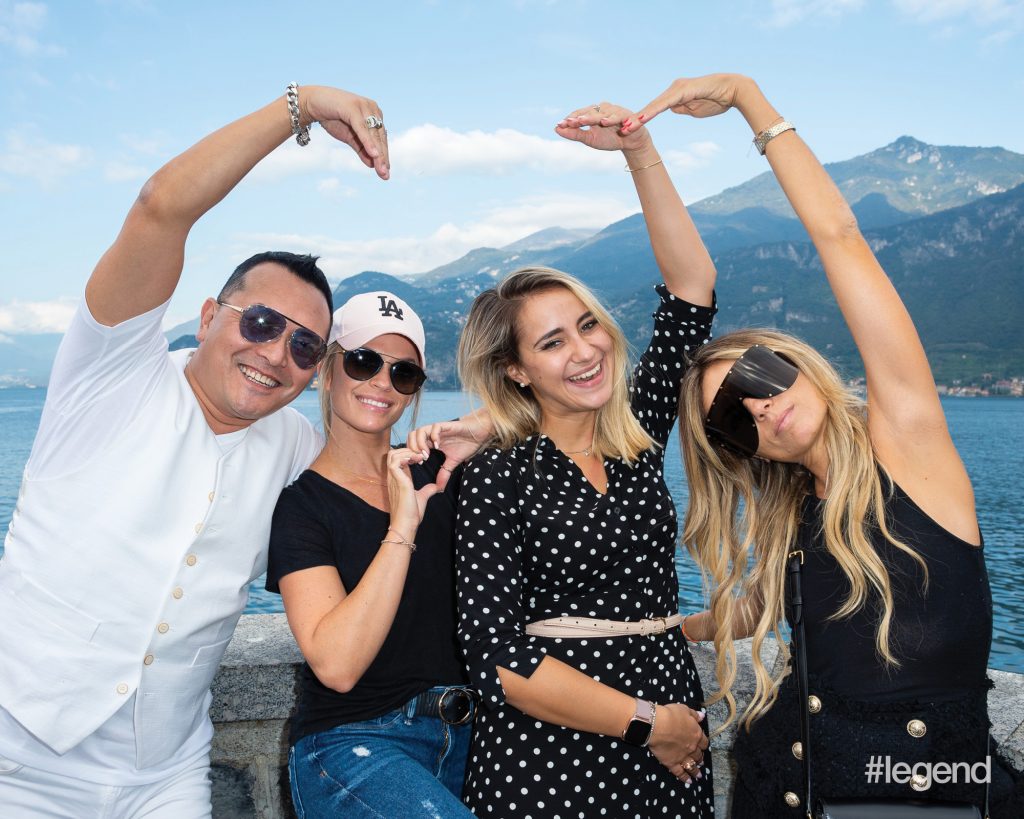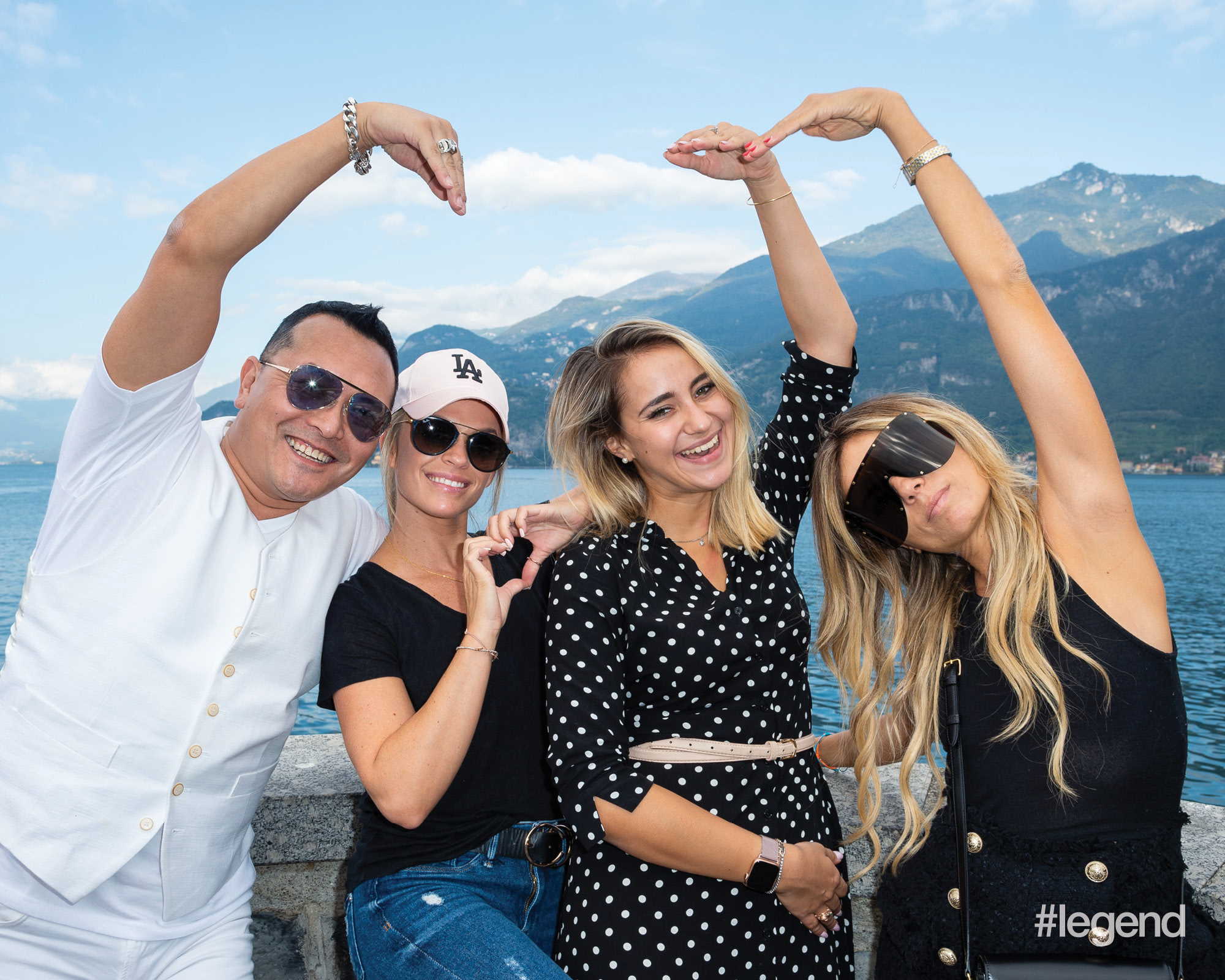 Our entourage of all three Lamborghinis left Bellagio in a convoy, headed back into Milan like a group of rock stars. To hear one Lamborghini driving past is impressive enough, but to hear three Lamborghinis storming down the streets in a convoy, blasting the sweet sounds of V10 and V8 twin-turbocharged engine – it definitely captivated all the other drivers' and pedestrians' attention along the way. Rock stars? Indeed we are!
To wrap up this memorable and wonderful trip created by Lamborghini, we celebrated with a surprise dinner (in true rock star style) at Milan's most renowned restaurant, the Michelin-starred Ristorante Cracco by chef Carlo Cracco. We first went for a private drink and hors-d'oeuvres in the wine and champagne cellar, filled with more than 50,000 bottles in a massive collection. Cracco himself came down to greet us and thanked us for coming before he went off to prepare the special meal for us. Needless to say, the food was exceptionally impressive.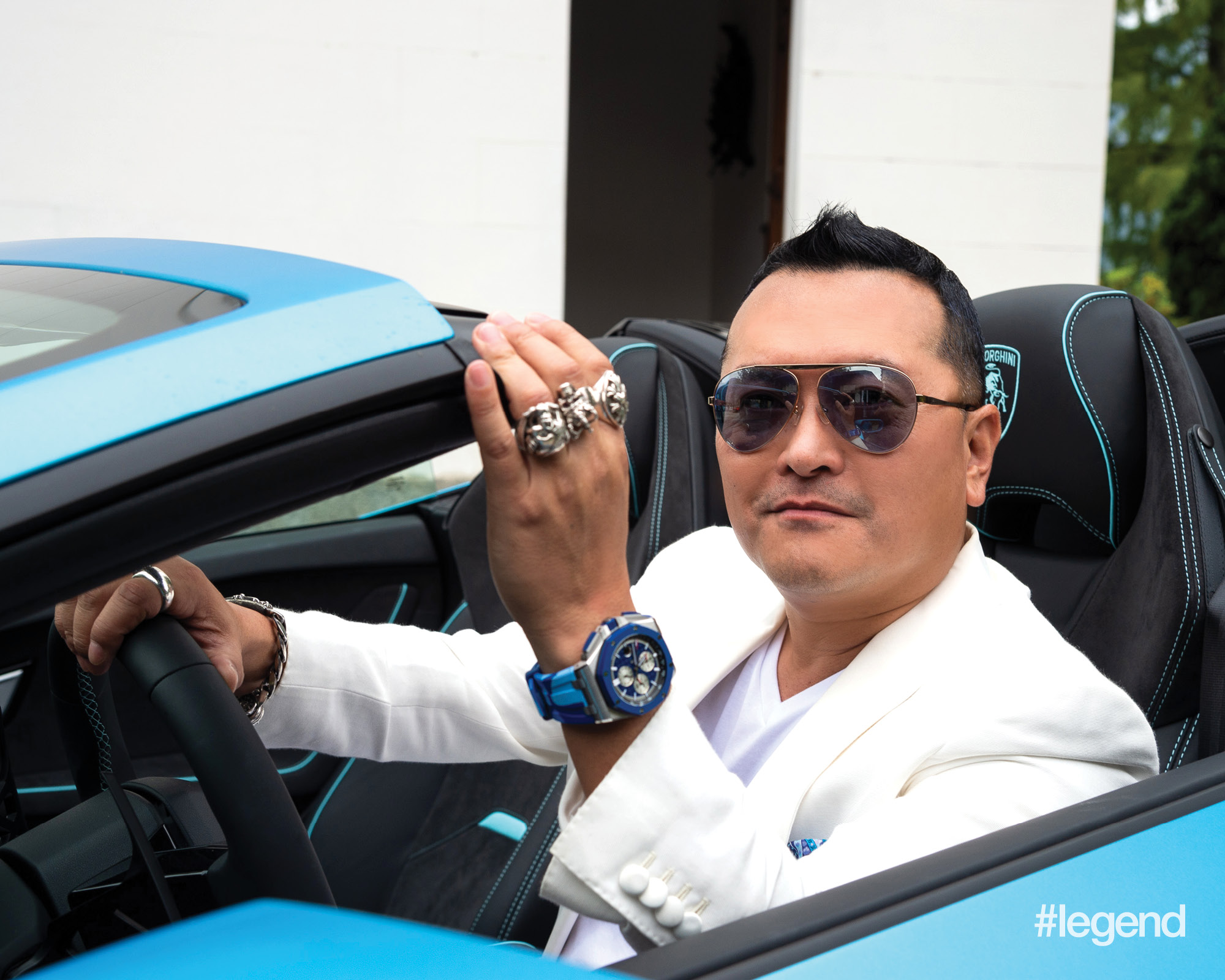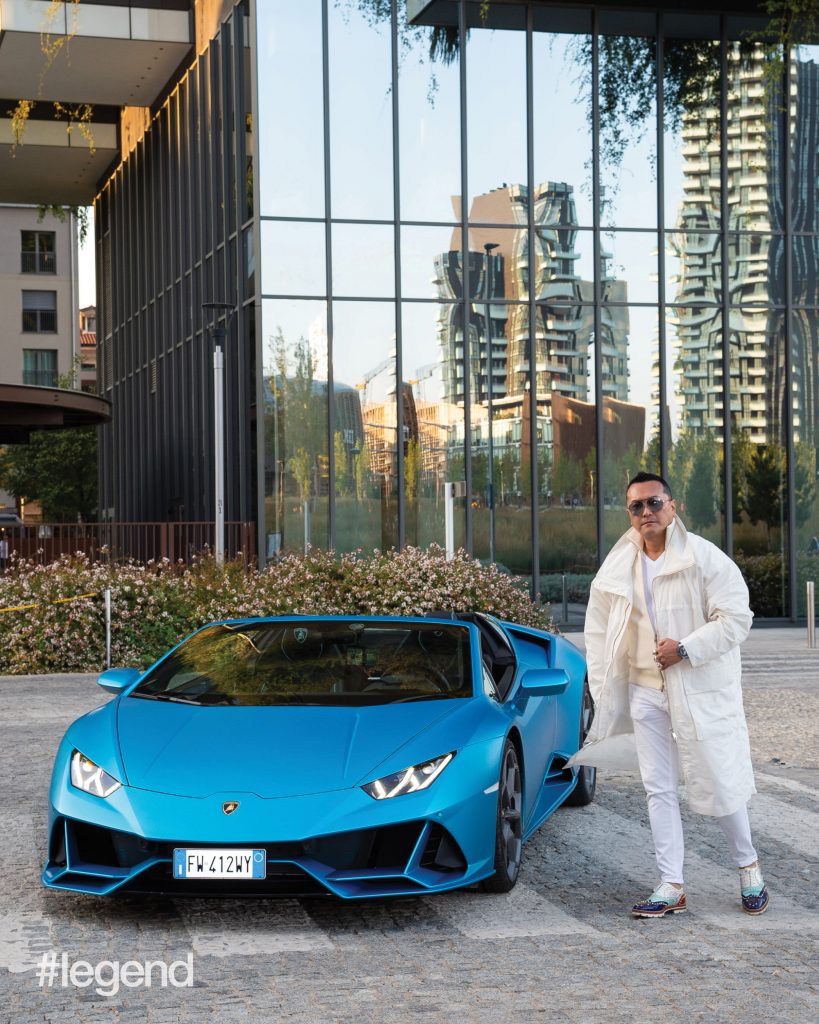 The final evening was spent with great company – and now, great friends, though we had only met a few days before. With so much joy and laughter, we had become true friends indeed. And for the first time in the history of "Lamborghini Impressions", the Class of 2019 has finally graduated with flying colours and will be sadly missed. Thank you to team Lamborghini for inviting us to participate in this truly special event – and don't forget that "We" are the ones who put the "We" in the hashtag #SinceWeMadeItPossible.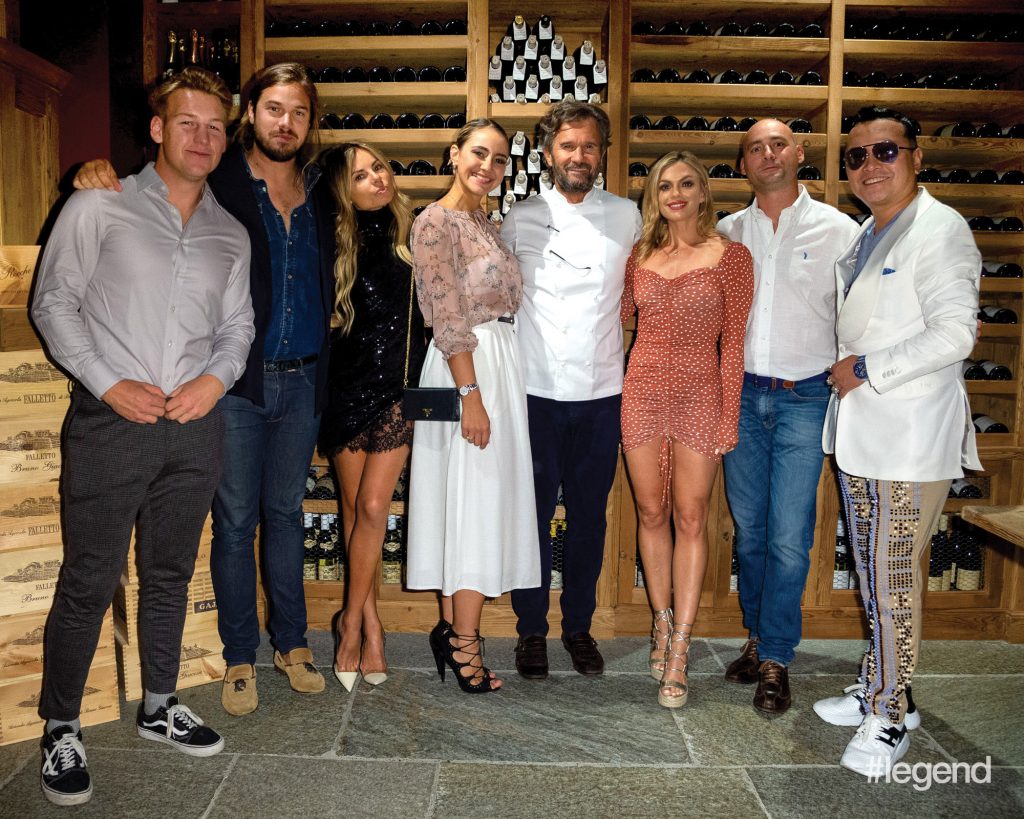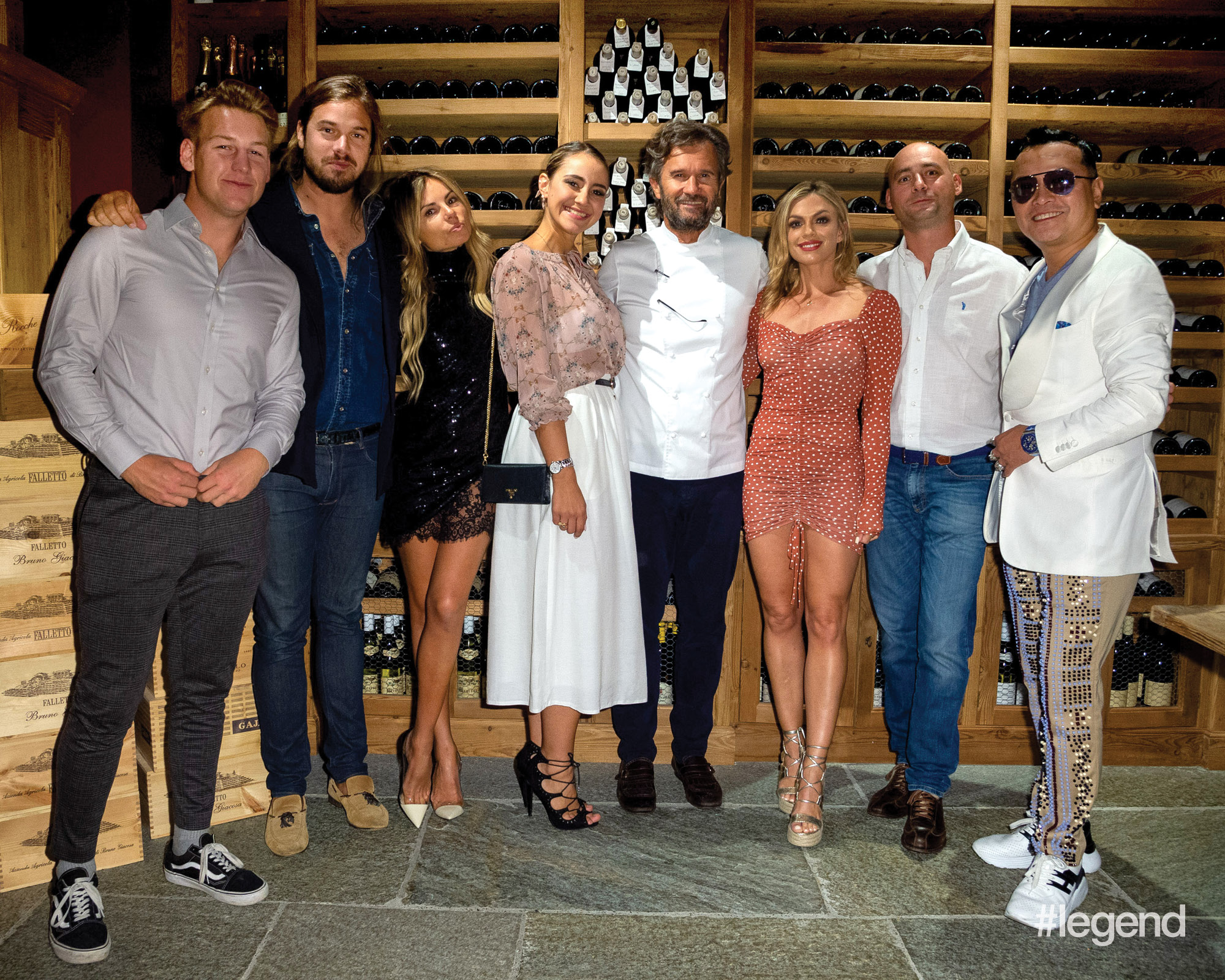 This feature originally appeared in the Nov/Dec 2019 issue of #legend