6 underwater restaurants you have to visit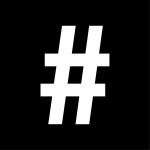 By: Sarah Engstrand
January 12, 2018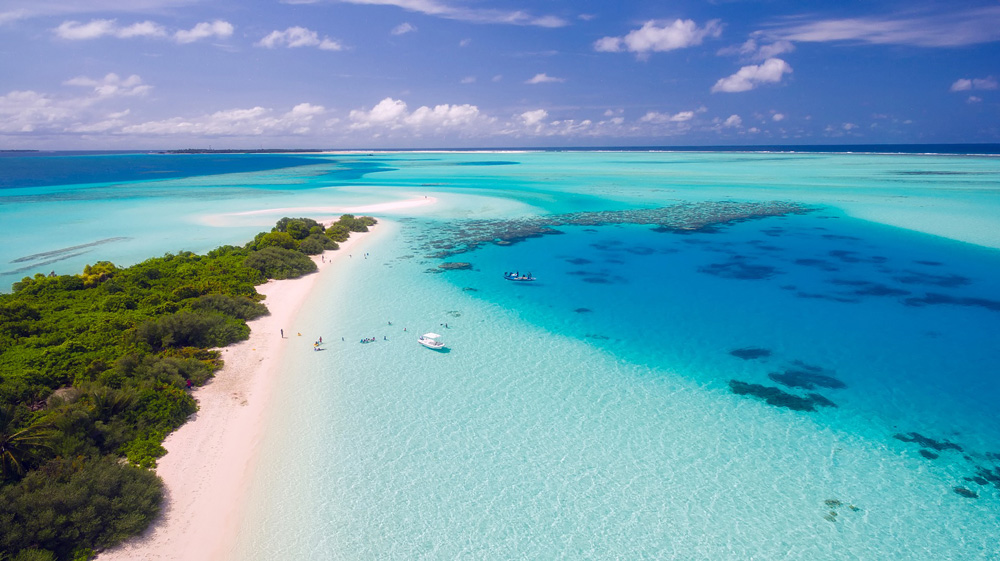 Think back on all the meals you've ever had in your life. The horrendous ones, mediocre ones, exciting ones, strange ones, even life-changing ones. How many of them did you eat underwater? Not nearly enough, is my guess. And really, that needs to change. Check out our list of the world's best underwater restaurants, and start ticking them off your culinary bucket-list pronto.
5.8 Undersea Restaurant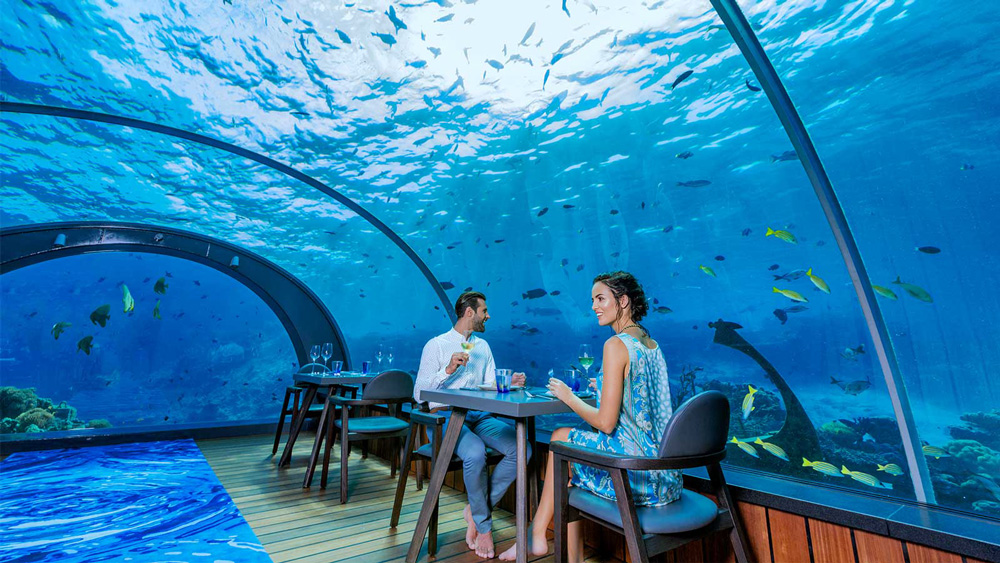 You can't have a list of underwater restaurants without 5.8, the world's largest, all-glass undersea restaurant, located in the Hurawalhi Maldives resort. Opened just a year ago, 5.8 seats just 16 guests and is located 5.8 meters below sea-level. Domed, fully-transparent ceilings and walls allow diners to see the full array of sea life surrounding the restaurant. Enter through a hut on the jetty, then enjoy the 41-step decent into the restaurant. They are currently open for lunch and two dinner seatings per night.
5.8 Undersea Restaurant, Hurawalhi Island Resort, Lhaviyani Atoll, Hurawalhi Island, Maldives +960 662 2000

www.hurawalhi.com
Ithaa Undersea Restaurant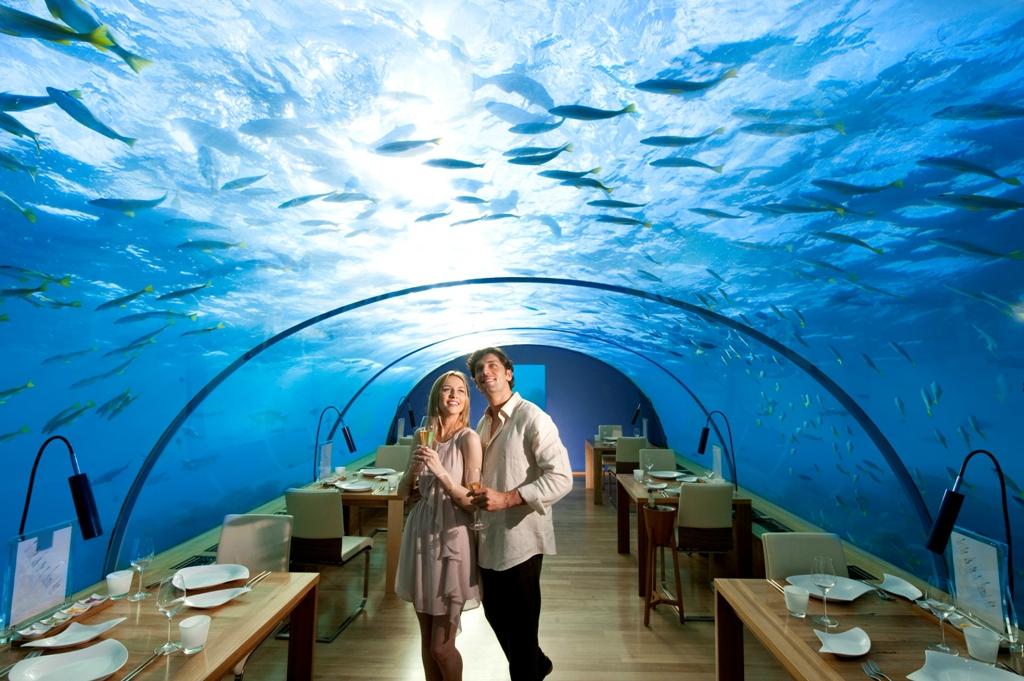 Just a short boat-ride, and 16-foot decent, away from 5.8 is the world's first underwater restaurant: Ithaa Undersea Restaurant at the Conrad Maldives Rangali Island. The sister restaurant to 5.8 seats just 14-guests at a time, treating them to decadent, multi-course European-inspired menus beneath the crystal-clear turquoise waters of the Indian ocean. Voted the most beautiful restaurant in the world in 2014, it still ranks high on our list. Hurry up and visit, its architects expect it will only last for 20 years.
Ithaa Undersea Restaurant, Conrad Maldives Rangali Island, Rangali Island, Rangali 20077, Maldives +960 668 0629

www.conradhotels3.hilton.com
SEA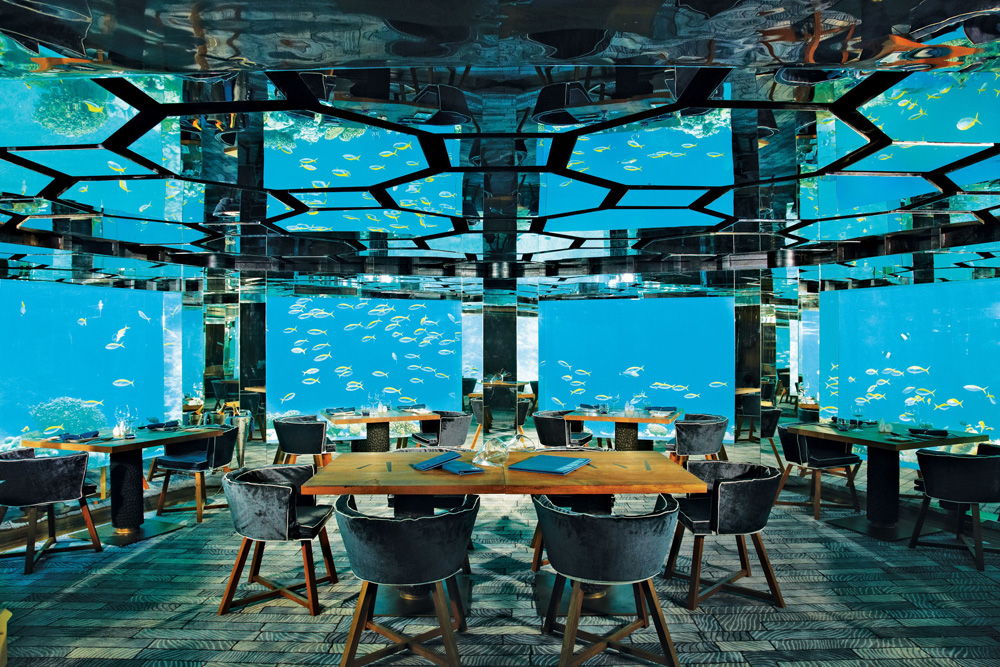 Another one for the Maldives, SEA restaurant is actually located on the ocean floor itself. Though it can accommodate a similar number of guests to 5.8 and Ithaa Undersea Restaurant, it feels more spacious due to its modern, mirrored interior. Located in one of the best diving sites in the area, you're basically guaranteed a beautiful, underwater show. Open for breakfast, lunch and dinner, SEA is also home to the first-ever underwater wine cellar. Their pours include vintages dating back to 1928.
SEA, Anatara Kihavah Maldives, Kihavah Huravalhi Island, Baa Atoll, Maldives +960 660 1020

www.kihavah-maldives.anantara.com
Subsix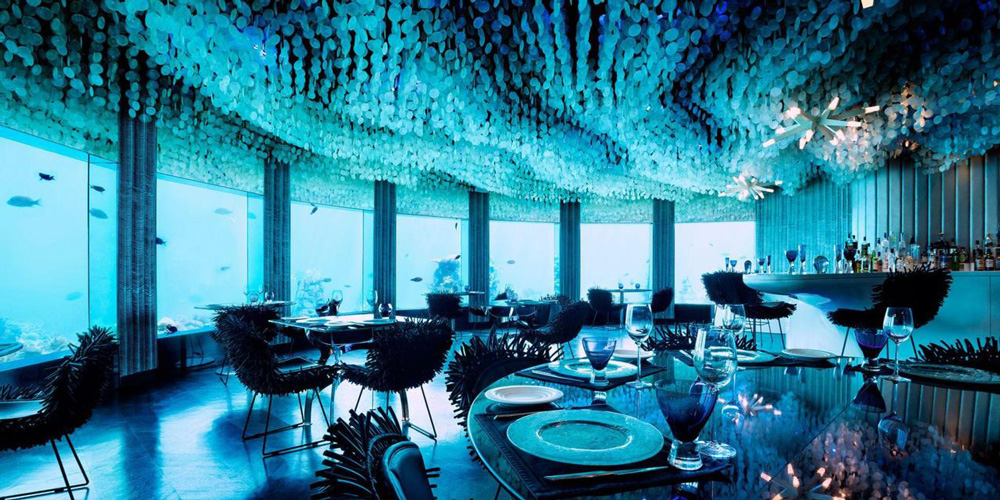 The last one for the Maldives, promise! If you've ever wondered what kind of restaurant Poseidon would eat at, this is a pretty good guess. Subsix brings luxury and opulence six meters below sea level, with anemone-inspired seating, a ceiling of dangling capiz shells and the obligatory floor to ceiling windows. 500 metres off shore, it's reachable only by boat, making it the most elusive of all.
Subsix, Niyama Maldives, Dhaalu Atoll, Maldives +960 676 2828
www.niyama.com
Edivo Vina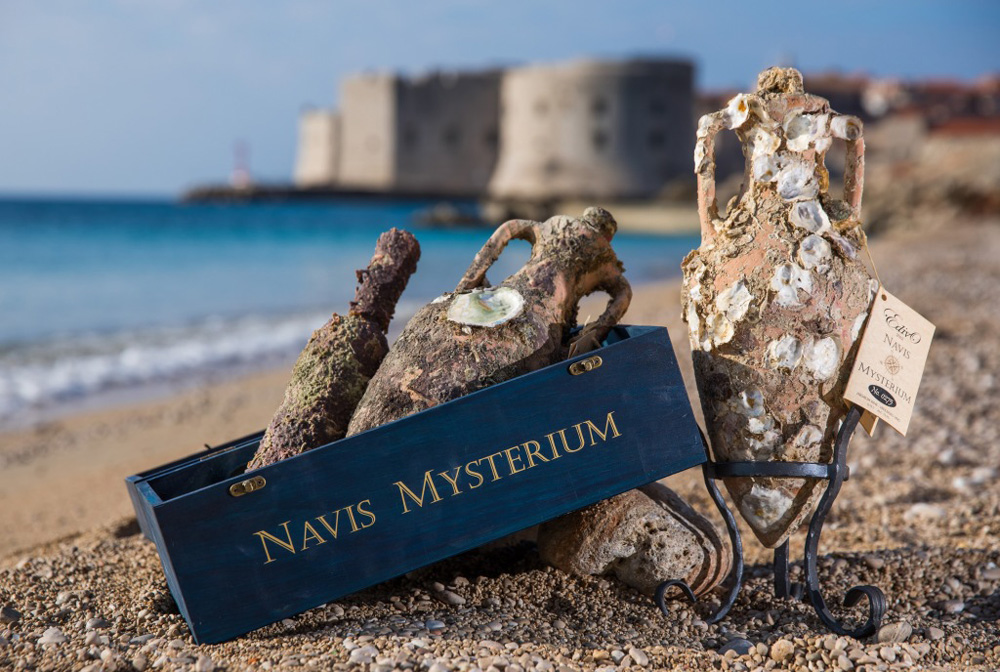 Though not a restaurant, Edivo Vina made the list simply because it's extraordinary. Only recently opened in Croatia, this underwater winery ages their pours for up to two years in the Adriatic Sea. To prevent leaks, Edivo Vina layers their bottles in rubber, and then places them in amphorae. The clay jugs, favoured in antiquity, are then lowered down to the sea floor in cages, and weighted down with rocks. If you fancy trying one of their sea-encrusted labels, you're welcome to dive down with one of their team members (or you can just ask nicely at the on-land winery).
Edivo Vina, Drače 18, 20246 Drace Poluotok Pelješac, Croatia +385 98 666 141
www.underseawine.eu/en
Under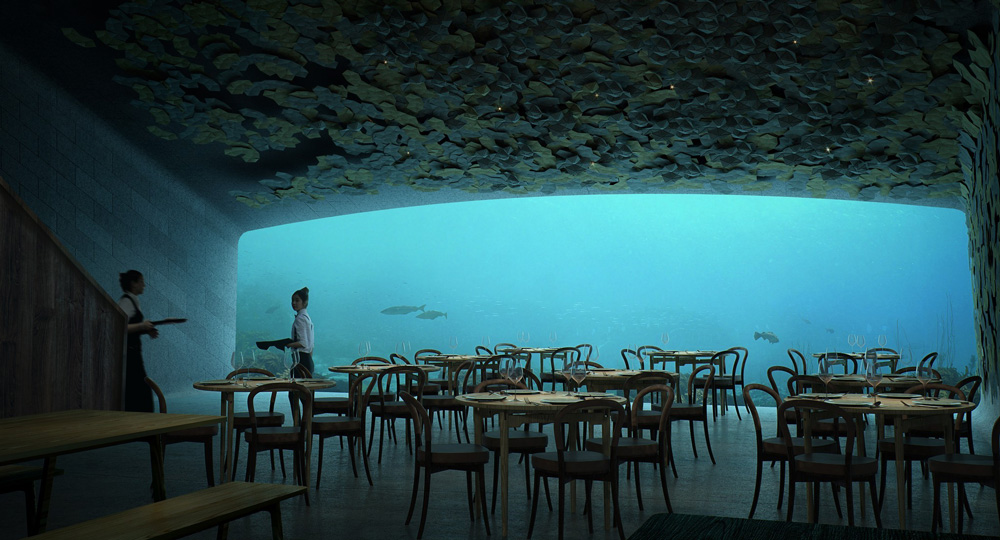 Technically, this restaurant doesn't exist yet, but it's already one of our favourites. Under is set to open in February 2019, near Båly Norway. It will be Europe's first underwater restaurant, and one of the only ones located in a non-tropical area. Concept drawings by architectural firm Snohetta depict a large sloping concrete mass (it's supposed to mimic both a periscope and sunken ship, but that's up to you to decide) tipping into the water. The half-submerged structure will have three levels for guests to travel down, including a Champagne bar where we will spend most of our time. Besides serving locally-minded cuisine to 100-guests per night— making it the largest of the restaurants on the list— Under will be helping preserve Norway's pristine waters. The concrete structure has been specially designed to encourage a healthy mollusk habitat, which will, in time, become a fully functioning reef. This will both cleanse the waters, and attract new life to the area. When the reef is formed, Under will welcome in scientists to study the underwater habitat.
For more information, see Snohetta.com