Now more than ever, air purifiers have become an essential appliance in the home. Hong Kong's air quality also leaves a lot to be desired, with the AQI regularly hitting "unhealthy" levels. Add in the fact that experts believe that indoor air is even more polluted than the air outside due to all the household items releasing microscopic particles and gases, and it's clear that now's the time to splurge for an air purifier.
To help you breathe safer and help get that peace of mind you're craving, here are some of the best air purifiers you can buy in Hong Kong.
Blueair Blue Pure 211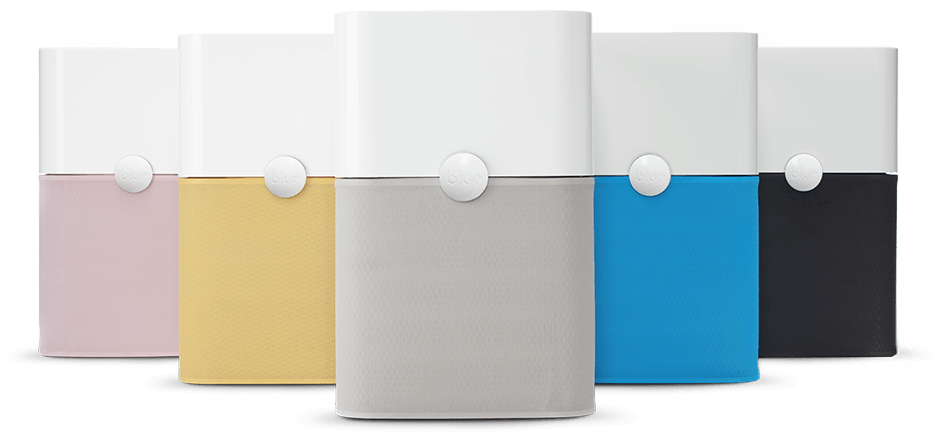 Blue Pure 211 is one of the most affordable air purifiers in the market – and it's also the easiest to operate. All you need to do is place it the room of your choice, plug it in and press the button, and you're all set to go – no calibration or fiddling with settings needed. Despite its minimalist look, it comes in six vibrant colours that are certain to add personality to your room.
It's not all about looks, though; Blueair made sure this model is a workhorse. It's capable of completely cleaning a 620sqft room up to five times per hour, more if you place it in a smaller room. This ability comes from its advanced filter system that's located in the bottom half of the device. It uses multiple layers of ultra-thin fibre so it's less dense than ordinary fibres, resulting in less clogging, higher airflow and lower noise. Running it at 24/7 generates sound that's barely louder than a whisper and consumes only as much power as a light bulb.
Price: HK$3,680
Available at cleanairhk.com
Dyson Pure Hot+Cool Cryptomic HP06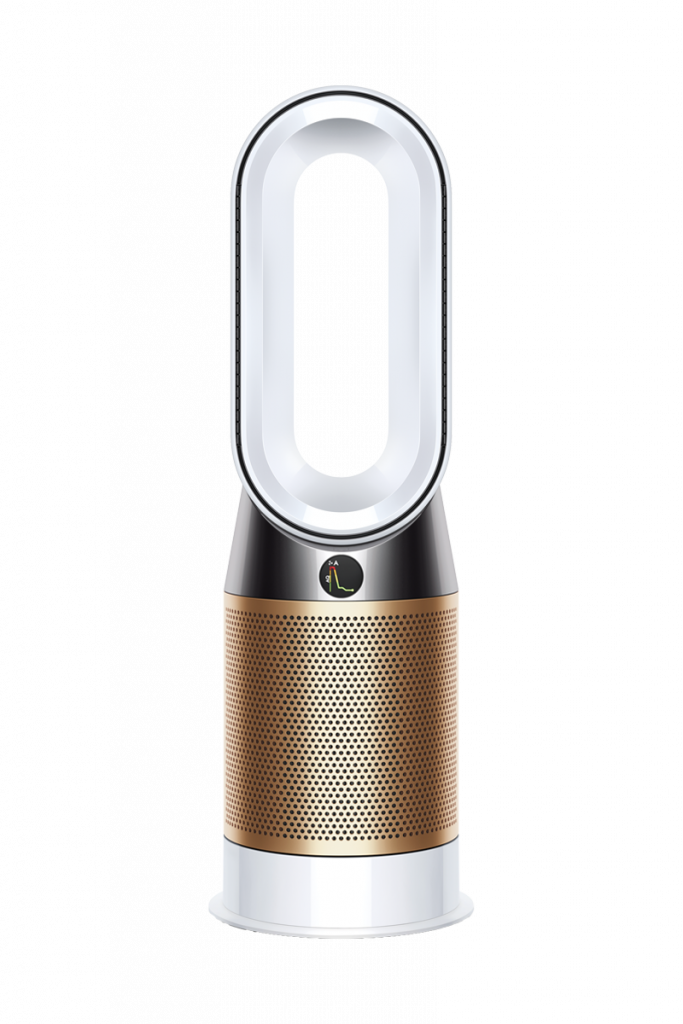 Add this to the list of Dyson products you need. Not only does the Pure HP06 purify your air, it also cools you off during the dog days of summer and warms you up on those long winter nights. Powered by Dyson's Cryptomic technology, the HP06's filter has a catalytic coating inspired by the mineral cryptomelane, which is capable of trapping formaldehyde and breaking it down into water and carbon dioxide, while at the same time regenerating for continuous usage. It also has three intelligent sensors to detect various airborne particles and gases, and displays it on an LCD screen.
The HP06 then uses Dyson's patented Air Multiplier technology to project purified air – hot or cold – throughout the room, using 350-degree oscillation. The HP06 is also discreet, with a Night Mode that allows it to operate on the quietest setting with a dimmed display. Using it together with the Dyson Link app allows you to activate, schedule and monitor its activity through your smartphone.
Price: HK$6,880
Coway Storm AP-1516D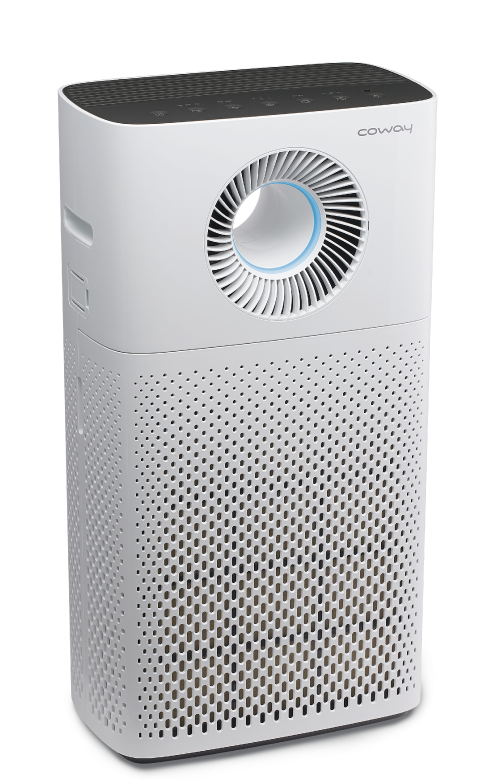 There are two things that make the Coway Storm different from the competition: its real-time air quality display and its four-stage filtration system. While it may look just like any air purifier with its boxy, white casing, Coway has cleverly placed an LED indicator around the air outlet to allow you to check the air quality at a glance: blue for good, green for moderate, yellow for unhealthy and red for very unhealthy.
Inside, it features a powerful filtration system consisting of a pre-filter, customised deodorisation and HEPA filters to remove 99.9% of particles all the way down to 0.02 microns while keeping the air fresh-smelling. With its multi-directional air flow circulation, the Storm can deliver purified air depending on what you need – intensive for long-distance purification up to six metres, multi-circulation for small-area purification, or rapid circulation that allows it to purify the air in a 532sqft room in just nine minutes.
Price: HK$7,500
Available at coway.hk
IQAir HealthPro 250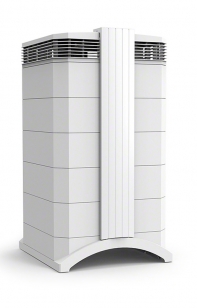 If you're looking for something a bit more powerful, then consider the IQAir HealthPro 250, which features a hospital-grade HyperHEPA Class H12/13 filter that's capable of trapping ultra-fine particles (down to 0.3 microns) such as allergens, formaldehyde, bacteria and viruses at 99.97% efficiency. In addition, it also has independent pre-filters made of non-woven glass microfibre, as well as a V5-Cell gas and odour filter – so say goodbye to smoke particles, mould and pollen, and even pet, paint or cooking odours.
The hospital-grade designation carries on to the HealthPro 250's housing, which uses a non off-gassing, impact-resistant and UV-stabilised ABS plastic case. This appliance may not be for everyone, though. It's massive – the size of a side table – and heavy, clocking in at 16kg, but comes with casters for easy mobility. Other features include six selectable fan speeds, LED indicators for filter-life monitoring and replacement, a timer and a remote control.
Price: ~HK$15,999
Available at iqair.com.hk
Airgle AG600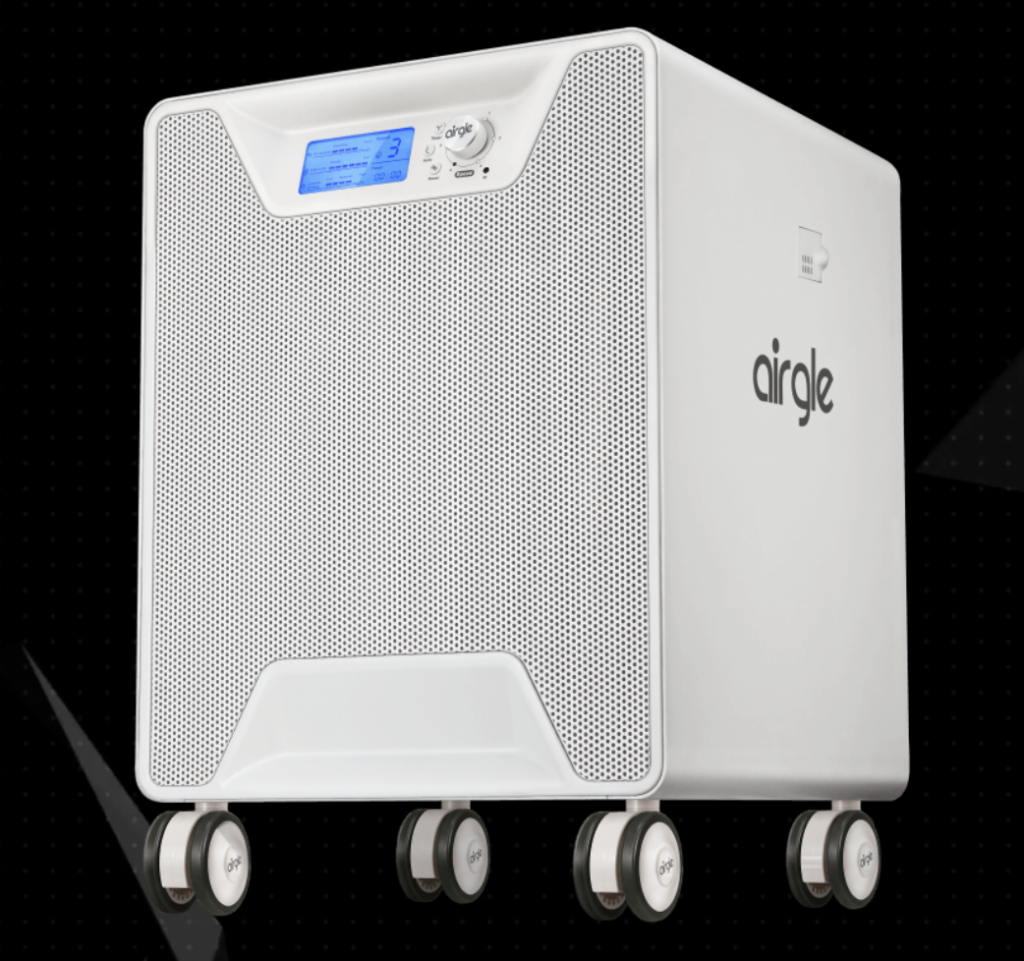 Another entry in the world of medical-grade air purifiers is the Airgle AG600, which claims to be capable of breaking down particles down to 0.003 microns at 99.999% efficiency. The secret lies within its metal-housed cHEPA H14 grade filter that delivers up to 60% cleaner air than your typical HEPA filters. This works in tandem with Airgle's patented Titanium Pro UV module, which breaks down harmful chemicals and odours using a catalytic metal plate and a UV lamp.
As with most air purifiers in this class, the AG600 is massive and heavy. But it earns design points with its aluminium housing that makes it look like it came out of the Apple design labs in Cupertino. It's also one of the most powerful – capable of cleaning a 300sqft room up to five times per hour and a 740sqft room twice per hour. The AG600 also features air-quality and filter-life monitoring, a timer, night mode and an infrared remote control. Each purchase comes with an extensive warranty, including up to five years of free on-site check-up and filter replacement services.
Price: HK$16,200
Available at airgle.com.hk
See also: Fighting COVID-19: Follow these 5 inspirational entrepreneurs in Asia on Instagram