CES 2021's coolest innovations: YSL smart lipstick, LG rollable phone, flying cars and more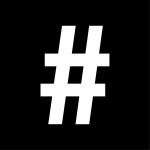 By: Gerwin Co
January 19, 2021
Every year, tens of thousands flock to the Consumer Electronics Show (CES) in Las Vegas to preview the most innovative and coolest tech and gadgets available in the market. As COVID-19 continues to rage on, this year's CES is markedly different as organisers opt for an all-digital experience.
Despite the absence of in-person attendees, that hasn't stopped CES from showcasing groundbreaking and eye-popping technologies from the world's biggest brands and startups you need to watch out for. Here are the latest innovations launched at CES 2021 that are guaranteed to wow you:
YSL Rogue Sur Mesure
Imagine having access to thousands of lipstick shades to match your outfit or mood of day. That's entirely possible if you're ready to drop thousands of dollars and stuff your make-up drawer, while spending hours searching for the perfect shade… or you can go out and pre-order the Yves Saint Laurent's Rouge Sur Mesure (powered by Perso) instead.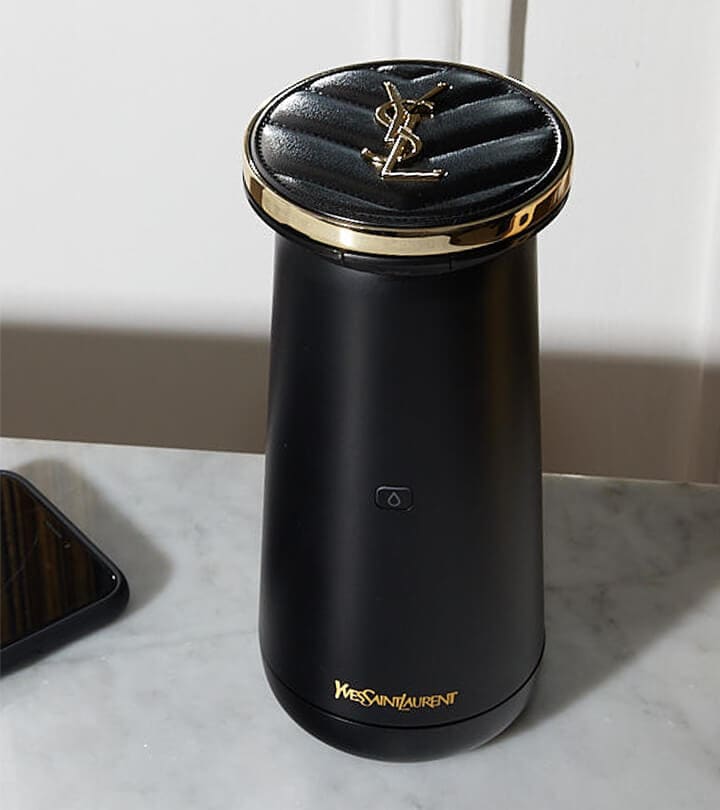 This personal lip colour device houses three liquid colour cartridges that lets you design and create your personal lipstick colour with just a press of the button. An accompanying app lets you customise the colour you want by choosing a precise combination from reds, nudes to oranges and pinks.
You can also snap a picture of your outfit or accessory and the app will provide a recommendation or just simply look at what colours are currently trending. The YSL Rogue Sur Mesure also comes with a compact and magnetically attached brush to let you touch up on the go. It's priced at US$299 (coming out this spring) with additional cartridges priced at US$100 for a set of three.
Samsung Bot Handy
It's a common question: we're well off into the 2000s, so where are the flying cars, the robot butler and the whole Jetsons lifestyle? It's probably still far off, but the Bot Handy is a step towards that direction. Samsung showcased this robot assistant that relies on cutting-edge AI to pick up objects of different sizes, shapes and weights.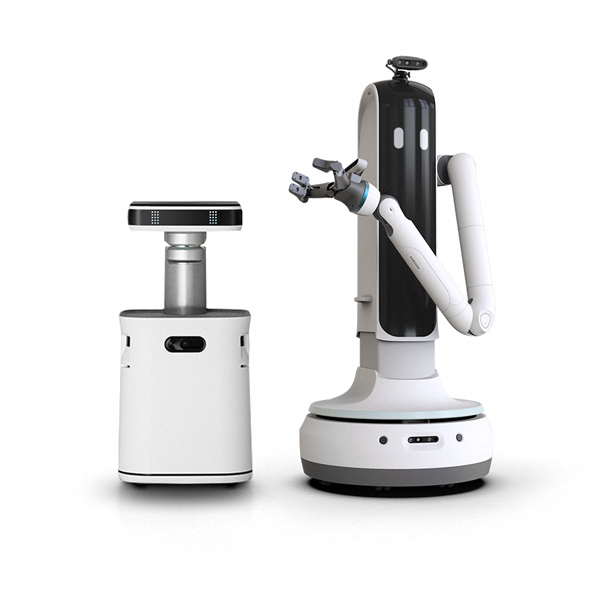 Designed as a household assistant, the Bot Handy is nearly human sized, with a screen to show emotions and a single-long arm with a mechanical hand at the end. This allows it to grab common household items or more delicate items such as dishes or glassware with the appropriate amount of force by analysing the object's material composition. The Bot Handy is still in development with no commercial release date announced.
Cadillac Halo
Speaking of flying cars, GM provided a peak into the future of personal transport by unveiling its Cadillac Halo concept that's designed to take off and land vertically. But flying car is kind of stretching it – it's more of a drone capable of transporting a single passenger over short distances.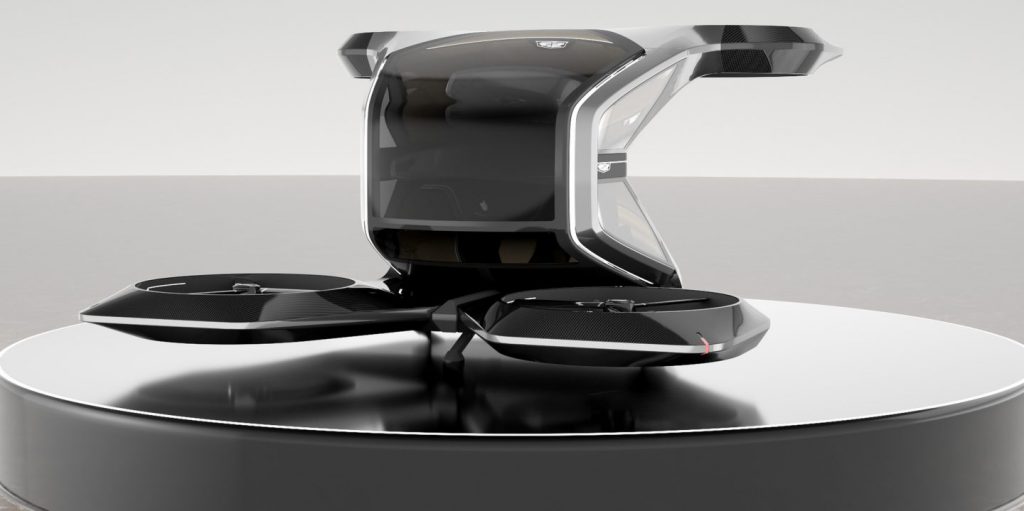 Renderings of this electric vertical take-off and landing (eVTOL) air taxi show four-rotors and powered by a 90kWh battery that that GM claims to deliver speeds of up to 56mph. It uses an ultra-light chassis punctuated by a glass-like cabin to offer maximum visibility for the passenger. No word yet on when a prototype will be ready but this investment from a major automotive brand brings us one step closer to that Jetsons future.
LG Rollable Phone
Just when we were wrapping our minds around the concept of foldable phones, here comes LG upping up the ante with rollable ones. The LG Rollable Phone allows you to expand a smartphone-sized display into a tablet display-sized – without the creases and hinges normally associated with its foldable cousins.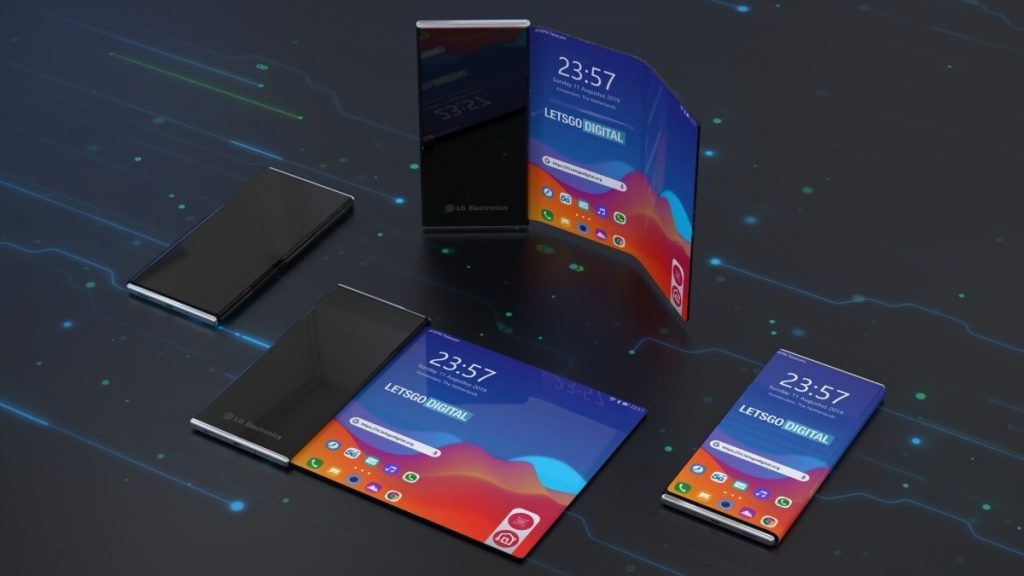 It's a take off from their OLED R rollable TV, which LG introduced in 2019, taking that revolutionary concept from living room to handhelds. While the Rollable Phone made a whole lot of buzz at CES, details remain and specifications remain sparse. Leaks point to a7.4-in rollable display, powered by a Qualcomm Snapdragon processor. And if the OLED R TV is any indication, this will be a crazy expensive, probably even more than the current crop of foldable models.
Binatone MaskFone
You might scoff that this product is "so 2020" but it's 2021 and we're still wearing masks and suffering from muffled voices over our phones. Enter Binatone's MaskFone, which promises to solve this problem by weaving a Bluetooth headset and earbuds into a fabric mask. The mic is positioned on the face piece to ensure voice clarity, while the earbud wires are integrated into the mask earloops to reduce the number of cables dangling on your face. Control buttons are also positioned strategically in the lower right corner of the mask and Binatone claims to have up to 12 hours of user per charge.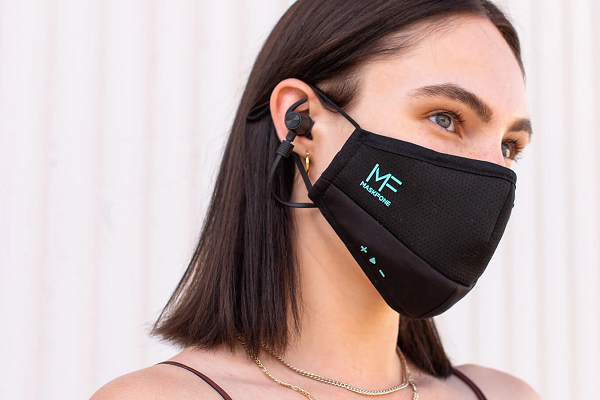 The MaskFone is available in small and large sizes and retails for US$49.99. A word of caution though, the mask is not washable – it being essentially a Bluetooth electronic device. However it is IPX5 water-resistant and uses disposable filters (N95 or PM2.5).
ColdSnap
In what is literally the coolest gadget at CES, ColdSnap lets you make an ice cream, frozen yogurt or even frozen cocktails off your kitchen counter in less than two minutes flat. This pod-based system functions similarly to your Nespresso machine, except that it's three times bigger, heavier and dispenses desserts (and some drinks).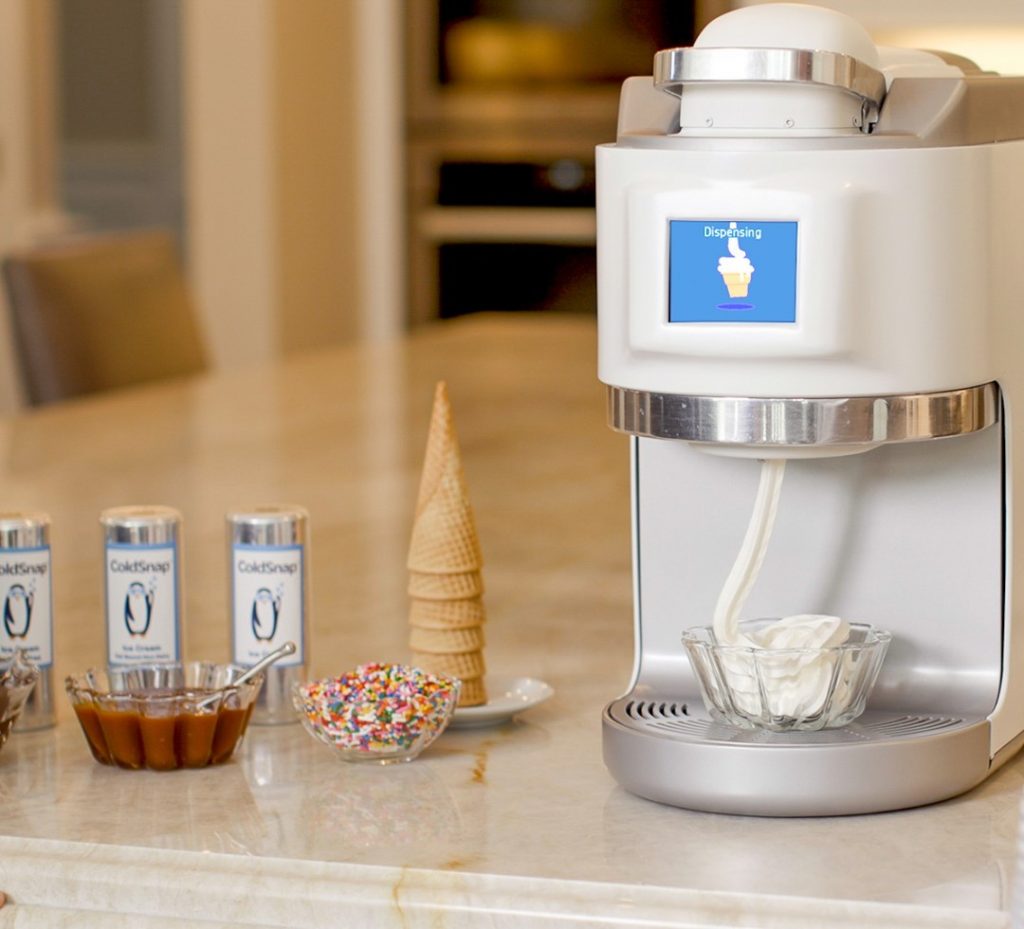 The flavours come from recyclable canisters that range from shakes, regular and non-dairy ice cream to protein shakes, margaritas and daiquiris. All that's needed is to scan the QR code on the label to help ColdSnap determine the appropriate freezing temperature and then feed it in… and voila, dessert on demand!
This novel product was an honouree at CES 2021's Innovation Awards. It's currently at the prototype stage with a formal launch expected later this year. Pricing is expected to range between US$500 to US$1,000 with the canisters priced individually at US$2.99.
Mercedes-Benz MBUX Hyperscreen
While not necessarily a standalone product, Mercedes-Benz MBUX Hyperscreen promises to be a game-changer in the car infotainment sector for years to come. This 56-inch curved OLED display takes over the dashboard of a car, replacing the driver's instrument panel, navigation screen and infotainment system in an all-in-one package. It even provides a secondary display for the passenger to make road trips much more bearable.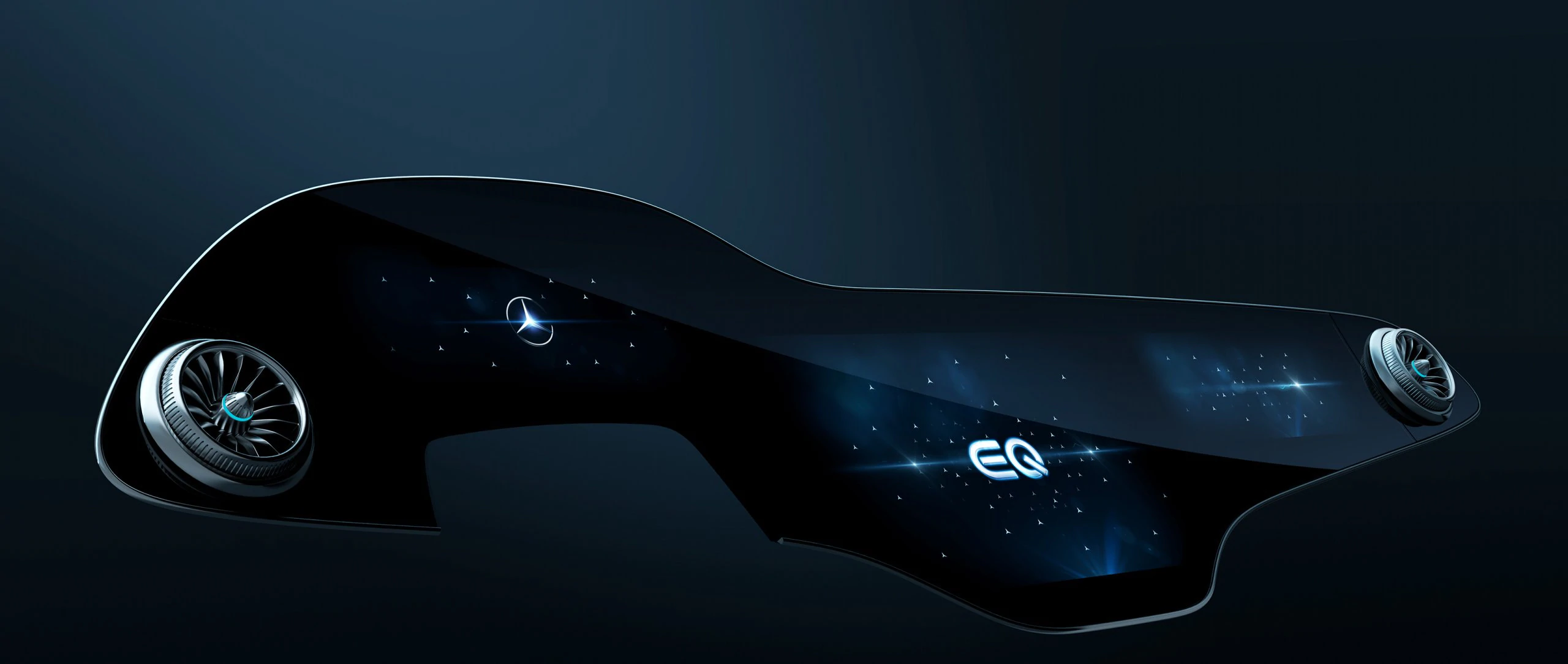 Slated to debut in the German marque's EQS all-electric SUV, the MBUX delivers a high-tech, futuristic aesthetic and takes advantage of OLED technology to deliver luminous panels that's highly visible at any angle or lighting conditions. Built-in AI personalizes the driver and passenger's profiles and even provides suggestions for different infotainment and vehicle functions. While definitely heavy on the wow, Mercedes still put safety as a priority by creating a 'zero layer' interface that ensures the most critical functions are always on the top level without having to search across different submenus.
MOFLIN
If you're in the market for a pet but not entirely ready to go all in with a living and breathing animal, then take a look at MOFLIN. This fluffy, guinea pig-like pet robot created by the folks at Vanguard Industries is designed to grow its love and attachment for you, just like an ordinary pet but without the need to clean up after them.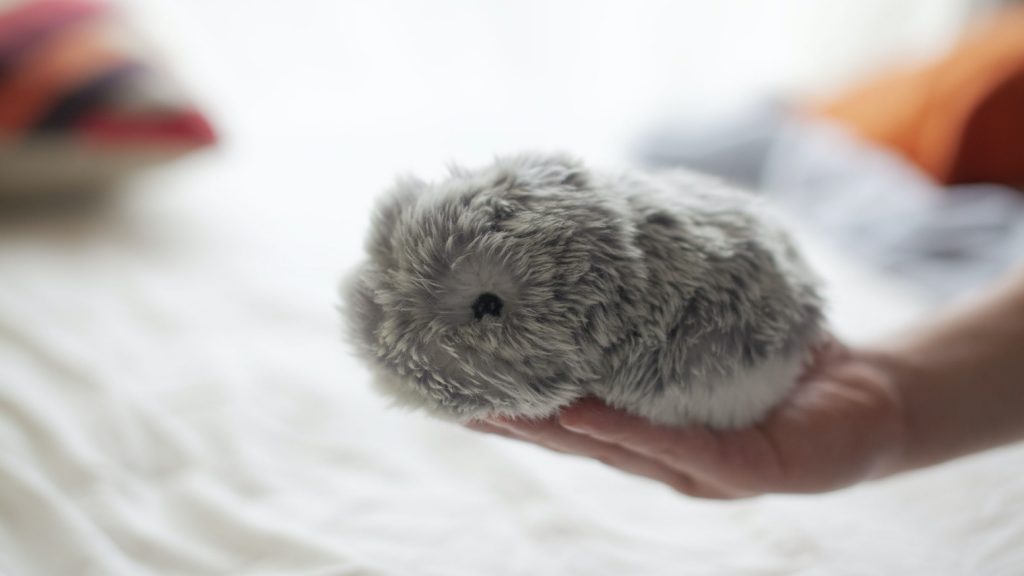 The secret is in its internal emotion map powered by AI that allows MOFLIN to develop its own personality by analysing changes in its environment, including how it's treated by its owner. This is definitely not your parent's Tamagotchi – it's packed with sensors that allow it to analyse and respond to external stimuli through movement and sound. It also comes with a nest where it can rest and recharge wirelessly.
Connectivity is done through Bluetooth and controls can be managed though an iOS and Android App. Awarded "Best of Innovation" for the robotics category at CES 2021, the MOFLIN is available through Vanguard Industries' Kickstarter page for a minimum pledge of US$400.
See also: 6 new gadgets for tech lovers: LARQ, Sony, Samsonite & more