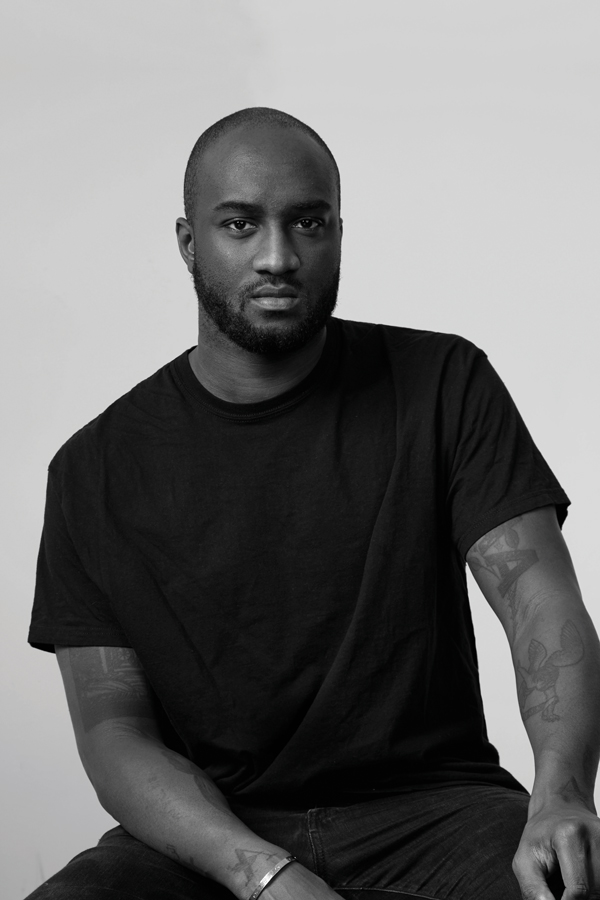 ​Virgil Abloh is nothing like you would expect, and yet everything you would expect. Whether as an architect, DJ, furniture maker, fashion designer or collaborator with Kanye West, Abloh has a reputation for being light years ahead of the pack in his aesthetic and cultural influence. Abloh's influence is pervasive. One of its latest manifestations is his new Off-White c/o Virgil Abloh shop at 9 Queen's Road, Central.
The alchemist of retailing designed the interior himself. Abloh chic and Abloh cool pervade the 764 square feet of space, split between two floors. Contrasting architectural elements and colours punctuate the space. The main characteristic of the ground floor is bare concrete from floor to ceiling, enlivened by plants, many flowering. The upper floor has a ceiling decorated with interlacing black metal rods, which give the impression of space. The fixtures and fittings are golden in colour.
On the racks, the menswear includes T-shirts, sweaters, hoodies, shirts, jeans, backpacks and socks. For the ladies, sweatshirt dresses and denim shorts are prominent. In keeping with the unisex chic of the Abloh brand, black is the predominant colour, set off by eye-catching touches of white, the Off-White monogram and the Off-White arrows motif.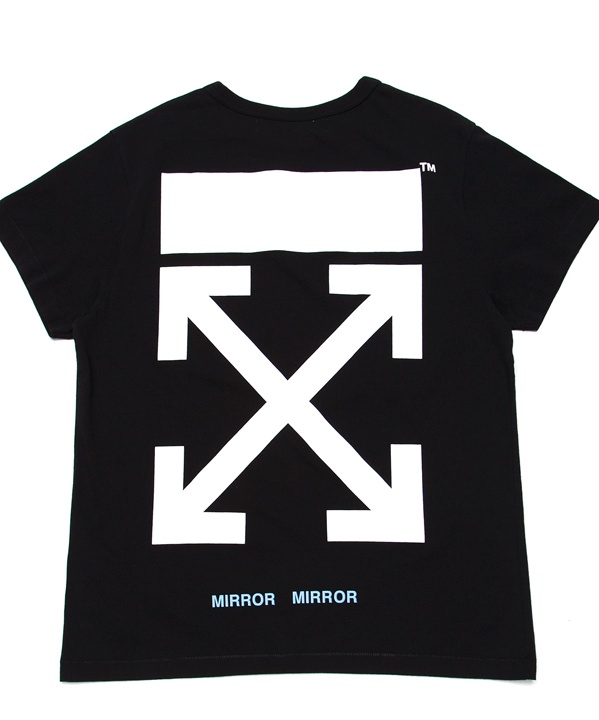 The Abloh spring/summer menswear collection is entitled Mirror, Mirror. Diagonal stripes stand out. Liam Gallagher, lead singer of the rock band Oasis, inspired Abloh's collaboration on the collection with nostalgia-inducing sportswear brand Umbro. The collection includes tartan shirts with patchwork; sporty, long-sleeved tops; and colourful collage work by artist Brendan Fowler on hooded sweatshirts and jackets.
The Business Woman collection in the shop is surprising, lacking even a hint of unisex. The collection has ruffles and pleats, off-the-shoulder and high-waisted pieces in eye-catching diagonal stripes and embroidery. Among the accessories is a cap bearing a gun motif. A flounced denim jacket with straps on the back is an attention-getter.
Abloh himself was preoccupied with his phone while #legend was touring his shop, and he apologises as he joins us. "I'm on my phone all the time," he says. We ask who he follows. "My social feed can't be scaled down to 10," he says. "I need thousands of accounts to follow. I have, like 4,000."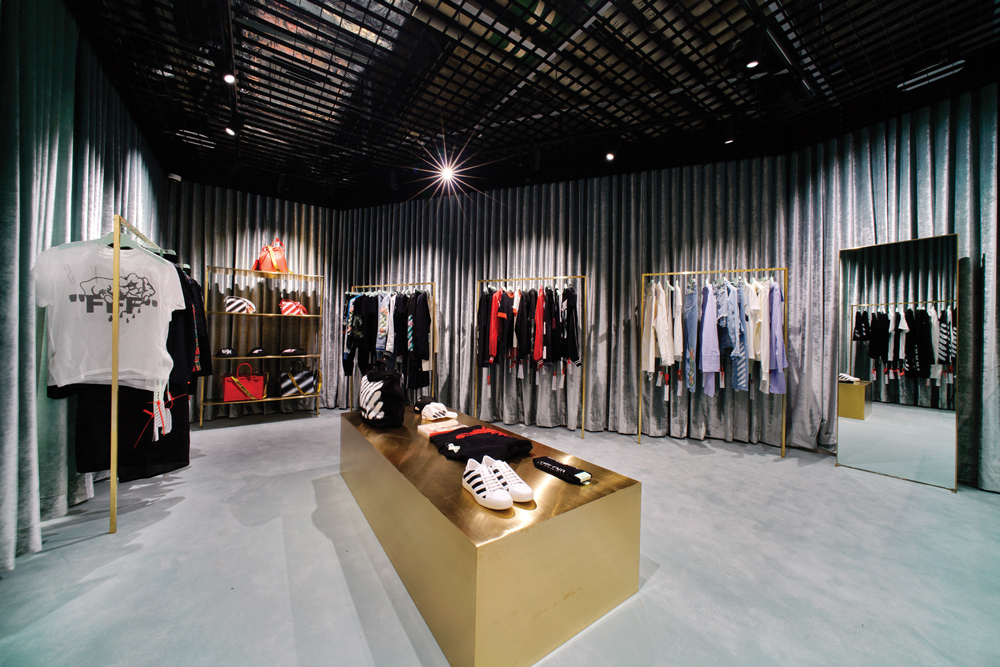 This is a designer capable of pre-empting all other aesthetes, so we ask what advice Abloh would give young designers. "There's obviously hard work," he says. "Without it, I wouldn't be opening a shop next to huge brands like Hermès and Chanel in Central." He says he loves enunciating the names of brands. He then says, "Zara" for no other reason than he likes saying it, before continuing with his advice to young designers.
"I'd say, just do it. And if I haven't heard of your product, then you're not doing it, you're not marketing it right," he says. "If the product is good, people will know about it. Many designers don't spend enough time actually designing. So there is no advice other than, just do it. Then get advice and go from there."
Abloh is an accomplished adviser, and his legions of followers appear to love the advice he gives. On the Off-White website you will find sermons by Abloh such as this one: "Advice for young artists: I guess there's a lot of advice I could give. I think the really important things to bear in mind are: focus on the work; if you make good work, you'll probably be a successful artist. Don't think about anything else. Just think about the work. Try and think about the project rather than the finished artwork. So set yourself a project and focus on that. And don't think about a finished artwork. The artwork is the residue of a process, or a project, rather than something that you see and then have to realise thereafter."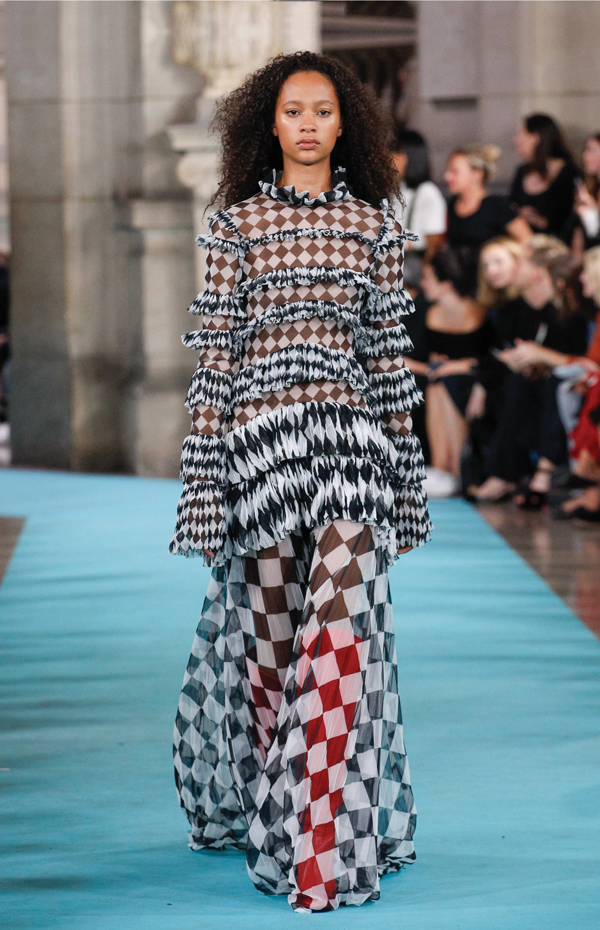 The sermon goes on: "And, yeah, enjoy being an artist. Being an artist is the best life you can have, if you want to be an artist. It's definitely not for everybody – that's for sure. Being in a studio is not what everybody wants. It's kind of what I want, and what a lot of other people want. I really enjoy it. But it's not for everybody. Sometimes you go to art school and you end up realising you want to do something different. But it's still sort of art-creative, whether you're a filmmaker or making music or whatever. You have to find your own way. So don't be afraid to figure it out."
Abloh studied civil engineering at the University of Wisconsin-Madison, and then earned the degree of Master of Architecture from the Illinois Institute of Technology. He began his career in as an architect, then served as a creative director for various brands. In due course he undertook various pop culture projects before setting up Off-White in 2013.
"Off-White is inspired by things you see daily, especially by the things I interacted with since I studied engineering and architecture at university," Abloh says. "So the lines are everywhere. You see them on trucks, buildings, caution tape – and I incorporate that in my designs." What about the flowers decorating his shop? "Flowers: it's something so culturally popular, it's something that predates fashion itself. If you look at the past, floral patterns were everywhere, and no brand really owns it. So I had my own interpretation of floral patterns in Off-White."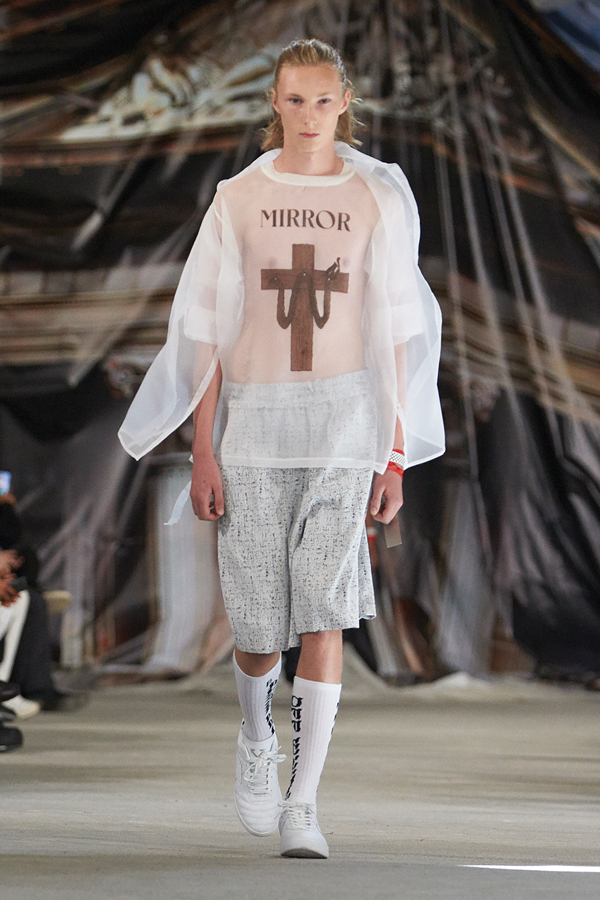 On the Off-White website, a short film shows Abloh's men's autumn/winter 2017 collection, called Seeing Things. As the models parade up and down the runway, the commentator says: "Behind this image is God. Before it, believers close their eyes. They do not need to go on looking at it. They know that it marks the place of meaning. Now it belongs to no place, and you can see such an icon in your home. The images come to you, you do not go to them. The days of pilgrimage are over. It is the image of the painting which travels now, just as the image of me, standing here in this studio, travels to you and appears on your screen. The meaning of a painting no longer resides in its unique painted surface, which it is only possible to see in one place at one time."
The commentator persists: "Its meaning, or a large part of it, has become transmittable. It comes to you, this meaning, like the news of an event. It has become information of a sort. The faces of paintings become messages, pieces of information to be used – even used to persuade us to help purchase more of the originals, which these very reproductions have, in many ways, replaced. But, you may say, original paintings are still unique, they look different from how they look on the television screen or on postcards. Reproductions distort. Only a few facsimiles don't."
So how does Abloh measure his creative progress? "For me, there is no set way of coming up with things," he replies, "but I always start with why something needs to be created. What purpose does it serve? It needs to fulfil a purpose other than just itself. Like, why do people want this? That's important."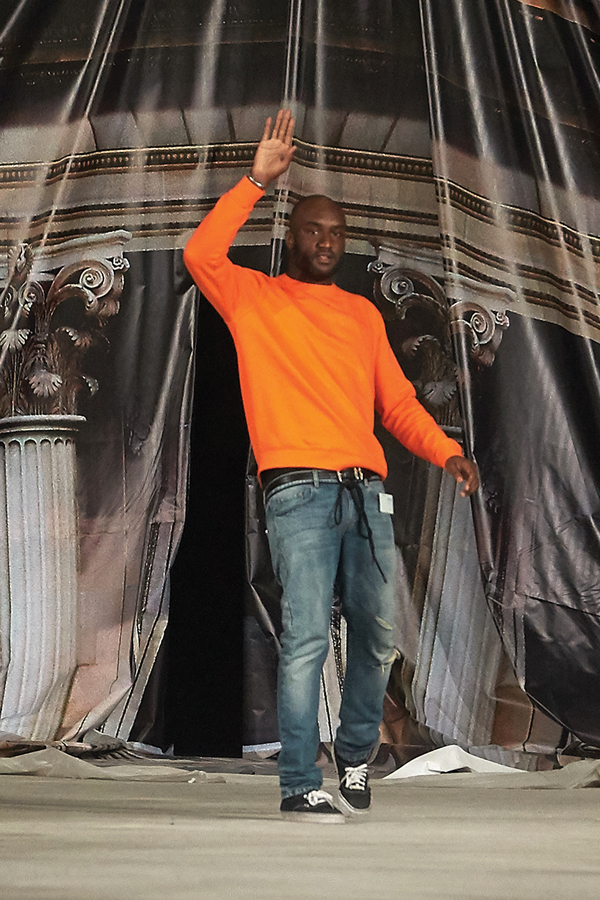 The day Off-White c/o Virgil Abloh opened in Central,the media were given a press-kit containing a poster and a recording of the sound of Hong Kong traffic. The poster bears the message: "There is not a more direct way to say, 'See now, buy now,' than actually doing it. The bags hit the shelves and streets the day of the show. You see them, you buy them. They fulfil your desires immediately. Fashion is always taking something from the streets and the streets are always taking something from fashion. In actuality, there is no division between the 'Streets' and 'Fashion' anymore."
It's a big poster. The message continues: "There is also no real division between real and not real. What does this even mean in 2016? We are basically staging, selling 'fake' bags from the street to sell the 'original' ones in stores. But are they really 'original' ones in the stores? But are they really 'original'? As Virgil says: 'There are too many layers to that.' There are many layers and there are also no rules. The world changes too fast. And if you ask, what about the luxury? think, what about the luxury of buying without the receipt?"
Abloh's style is nothing if not original. He will continue to set himself apart from his peers in the fashion industry who like to define things. The designer is an all-embracing aesthetic octopus, his tentacles reaching into every corner of the cultural ecosystem."Everything is connected to people. It must always connect to people," he says, resuming his preoccupation with his phone.
Interview by Philson Choi
This article first appeared in the June 2017 issue of #legend magazine