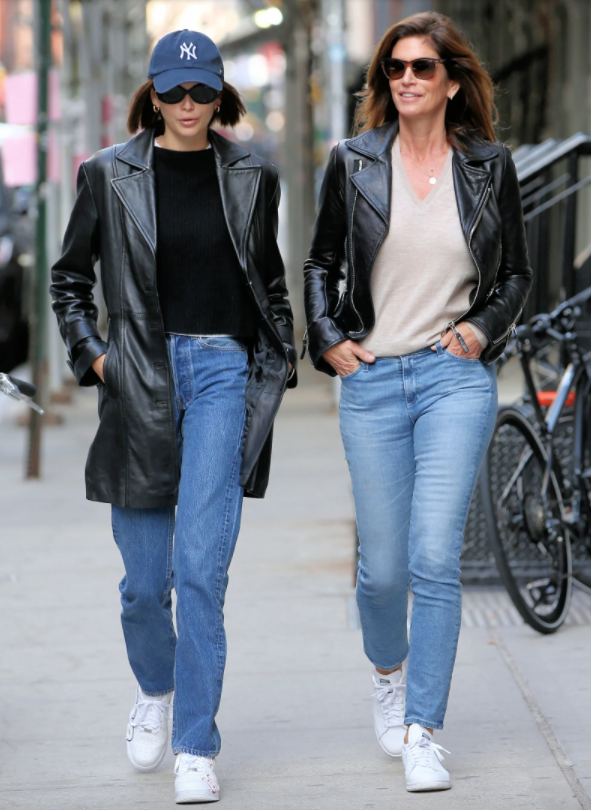 As we count down to the day we salute all the amazing mothers out there, we list a few of high profile ones we admire. From Hollywood A-listers to international and local influencers, here are the cool mums who are just rocking it in the parenting arena, and, might we add, looking incredibly amazing while doing so.
Nineties icon Cindy Crawford is surely doing an incredible job raising her two children, Presley Gerber and Kaia Gerber, who herself is killing it in the biggest runway shows, magazine covers and as the face of high-end brands like Chanel. On parenting, Crawford says that the most important thing is to teach her kids to be good, hardworking people. "It wasn't hard," she said in a Town & Country interview. "Kids don't always listen, but they are always watching what you do. If you're polite to people, they learn to be polite…You lead by example," she said.
Kris Jenner is, of course, the matriarch of the famous Kardashian and Jenner siblings Kourtney, Kim, Khloe, Kendall and Kylie, some of whom are now mothers themselves. Their lives have been made public for our viewing pleasure through their reality show Keeping up with the Kardashians. And while we're treated to a good amount of bickering and yes, hair pulling, Kris always rises above everyone's petty differences and her love towards her children always shines through. When asked what she loved most about being a mum, she says: "Every single part of it. I feel like I've had this incredible journey being a mum…It's my biggest joy of my life. I really feel like my purpose in my life is raising my kids and being able to work with them and grow with them and watch them have kids," she says in an interview with Byrdie.
It would be remiss not to include this gorgeous mother and daughter duo. Goldie Hawn is the mother of actress Kate Hudson, who herself is a mum to three children, the youngest an 18-month-old girl. Kate revealed to People magazine that their parenting styles are very different, saying she is so much stricter than her mum, who in turn jokes that her daughter is "Attila the Hun". The more lenient Goldie, on the other hand, believes in the art of letting go and allowing children to find themselves.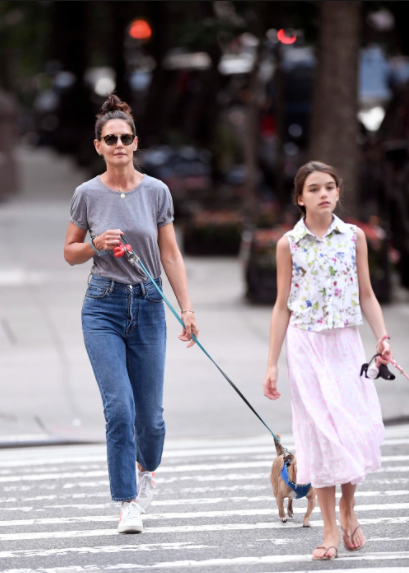 Since actress Katie Holmes divorced from Tom Cruise in 2012, she has pretty much single-handedly raised Suri Cruise, now 14. The duo has an incredibly close bond, often seen doing everything and anything together, from painting Easter eggs and twinning in tie dye shirts, to strolling the streets of New York. "I love her so much," Holmes said of her daughter in an In Style magazine interview. "My biggest goal has always been to nurture her into her individuality. To make sure she is 100 percent herself and strong, confident, and able. And to know it."
When we look at Victoria Beckham, it's hard to believe she is a mother of four – the oldest one 21, and the youngest, 8. And while they certainly live a privileged life, mum Victoria and dad David are intent on raising them as grounded, loving and polite children. During this quarantine period, their children have been given chores, and their social media is closely monitored. In many interviews, Victoria often glows with pride as she says that her children never forget to say "thank you" and "please', and do not take anything for granted.
In between filming highly acclaimed TV shows, Reese Witherspoon is also assuming her motherhood duties like a rock star. The mother of three, her children are not shy to express their love and appreciation for their mum. Last year, her eldest child Ava, gushed about her on Instagram, saying: "This is the gorgeous woman who taught me about the power of graciousness, love, ambition, and hard work. She inspires me everyday to live with gratitude for the life I've been given and compassion for others." And did we mention she is super cool too? We recently saw her son Deacon teaching her the ways of TikTok in an incredibly adorable Instagram post.
Italian influencer, fashion blogger and designer Chiara Ferragni, who in 2017 was named by Forbes as the top fashion influencer, became a mum in 2018. Her son Leon, who with her husband rapper and producer Federico Lucia, live between Milan and Los Angeles, is just a bundle of joy and was seen just yesterday out and about in Milan after 2 months of social distancing from home. A hands-on mum, and apparently a very patient one, Chiara posted a selfie with Leon watching The Lion King for the 100th time.
Cara G McIlroy wears many hats – that of a model, TV show host and entrepreneur. She insists, however, that she is a mother first and foremost. Cara is mum to daughters India, Freija, and Noa. Motherhood, she says in an interview with the South China Morning Post, "makes me want to work harder to give my family my best – and it has made me more relaxed…I try to be completely focused on the girls and leave stress behind me, even if I'm more tired now than ever."
Fashion icon and fitness trainer extraordinaire Utah Lee is also a mother of two. We look at her feed and see how perpetually busy she is and we wonder – how ever does she do it? She gave people a glimpse into her daily routine, which – before Coronavirus that is – starts at 6:45am to get her kids ready for school. She then goes about her work but makes sure she is home in time to have dinner, and weekends, are reserved strictly for family.
Taiwanese singer Dominique Choy (AKA Dizzy Dizzo) is one of the most influential mum figures in Taiwan. With her rom-com fairy tale relationship Sunny Wang, they became #couplegoals. Last year on Christmas day, their baby girl arrived and turned them into #familygoals. Just 8 weeks ago, Dizzy released a new single naming it Katiya's Lullaby, as a gift to her little girl's arrival. We will most definitely watch out for more baby content in her feed!
Korean-Chinese, Hong Kong-based mummy blogger Sue Chang welcomed their second child earlier this year and it's been full on. In between taking care of her children and getting them to do some impromptu modelling, she's also managed to start a mother-daughter clothing line called Sisland selling online, where she offers clothes that are comfortable and made with high quality materials. Of course, only the best for our little ones!
Former TVB artist Coffee Lam turned her yoga hobby into a full-time career, and in 2018 became a mum. She has over 700K Instagram followers, all of whom have kept a close eye on her journey from TVB personality to Youtube start, to mother, and needless to say, it has been quite a ride. Since giving birth to her son, she's become a hands-on mum, and managed to make his son Insta-famous, gaining over 100K followers within a year.