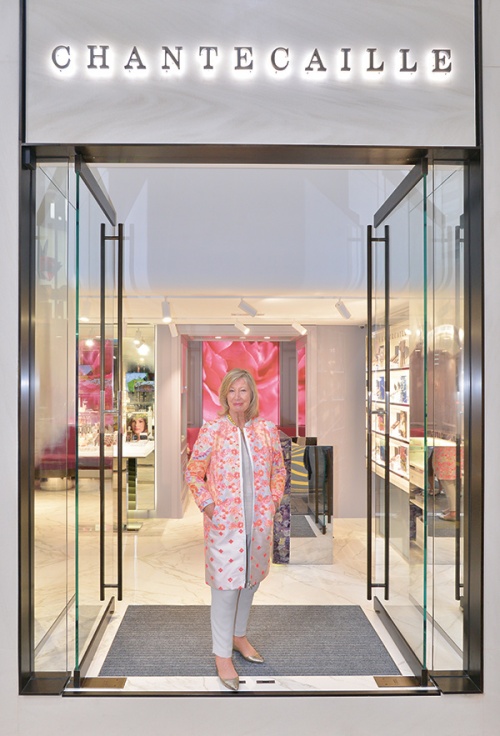 Doyenne of skincare Sylvie Chantecaille may not be known universally, but when she speaks the cosmetics industry listens. She has a reputation for knowing what other women want, often before they know it themselves. Ronald Lauder, son of Estée Lauder of cosmetics fame, spotted Chantecaille in the 1960s. Chantecaille and fashion designer Diane von Furstenberg had launched a cosmetics line called Tatiana, named after von Furstenberg's daughter. Their business in New York sold body powders and cosmetics in novel colours and products imported from Brazil.
Lauder fils, impressed, poached Chantecaille for his mother's business. Soon after joining Estée Lauder, Chantecaille launched the Prescriptives line of make-up, now a legend in the cosmetics industry. She oversaw it for almost two decades before launching her own brand, called simply Chantecaille, in 1997.
"Women like to be women, and my mum's so good at making them feel that way," says Chantecaille's daughter, Alex, who is in charge of sales of the brand. "She understood different skin tones very early. She understood what women needed. As a result, everyone responds to the quality of our products. After all, it's universal to want to look good and be healthy."
Interviewed over green tea at the brand's first standalone store in Hong Kong, at 2-4 Hysan Avenue in Causeway Bay, Chantecaille's founder is candid and confident – as befits a businesswoman that successfully competes with the owners of some of the world's biggest brands. She knows and loves the energy of Hong Kong. "I originally launched my business in New York, London and Hong Kong," Chantecaille says. "The city has been incredibly good to us. We wanted to give back and set up our first flagship here."
Hong Kong has been waiting a long time. "At the end of the day, we wanted a good space that was visible but not obvious, somewhere you could see it, and with real customers, not just the tai-tais," Chantecaille says. She feels an urge to connect with younger consumers,whose shopping habits and expectations differ from those of their elders. "We need different people. We looked at the malls in Central, but just didn't feel all that good about it. But here, the building is almost derelict in a way, and that made the proposition attractive. It's a cool building. We even have schoolgirls walking in. That doesn't happen at the malls in Central."
French architect and designer Patrick Naggar has imparted a chic Parisian salon feel. The exterior is elegant, with its large metal- framed windows, while inside the highlights include a boiserie-lined sitting area with a lipstick-pink vintage velvet sofa, French-made bronze consultation tables, violet grosgrain pouffes and a purple and mauve reception counter made of amethyst crystal from Israel. "We've brought together Parisian touches and a bit of our New York style," Chantecaille says. "I wanted to create a Parisian experience, like walking down the Rue de la Paix in Paris."
The boutique's two private treatment rooms offer a range of facials, including innovative radio frequency energy treatments, a gold-leaf facial and signature flower facial, which is said to impart a glowing softness to the skin. "A good facial is also healthy," Chantecaille says. "The massage helps your liver, your stomach, your energy. You feel healthy after that. Your body feels fitter and your brain feels sharper." The staff give make-up lessons, too.
"We wanted a space where people can relax, where the customer can enjoy a quiet moment or share chocolates and have a cup of tea with a friend, an excellent facial, the best facial in town," Chantecaille says. "And, simultaneously, you can see things, watch videos on animals, get a sense of what we do. The place has a good vibe." Feeling good and Chantecaille go together, wherever she does business. Visit the Chantecaille headquarters in New York, with its wooden floor, family dog and lemon tree, and the sensation of balance is inescapable.
Chantecaille's drive to make her vision reality was disruptive long before the adjective became a cliché. Her Estée Lauder career may seem legendary now, but she nursed greater ambitions. She saw the cosmetics industry's need to nurture the environment and its own sustainability. She saw coral as the marine equivalent of ivory and funded efforts to preserve coral reefs. Prescriptives was a huge success, but only by taking control with her own brand could she push for change.
Chantecaille has fought to preserve imperilled wildlife such as elephants, sea turtles, tigers, dolphins, blue whales and some butterfly species. She has fought to stop logging and deforestation. She's part of a group that aims to have 10 per cent of the oceans recognised as protected areas by 2020.
Buyers of Chantecaille admire the owner's vision, attitude and her independence. "Our customers are very intelligent women with the power to make a difference," she says. Her customers like to feel good beneath the skin, too. "The company joins with its customers to have an effect beyond the merely personal, contributing together – one innovative beauty product at a time – to a better world," Chantecaille says.