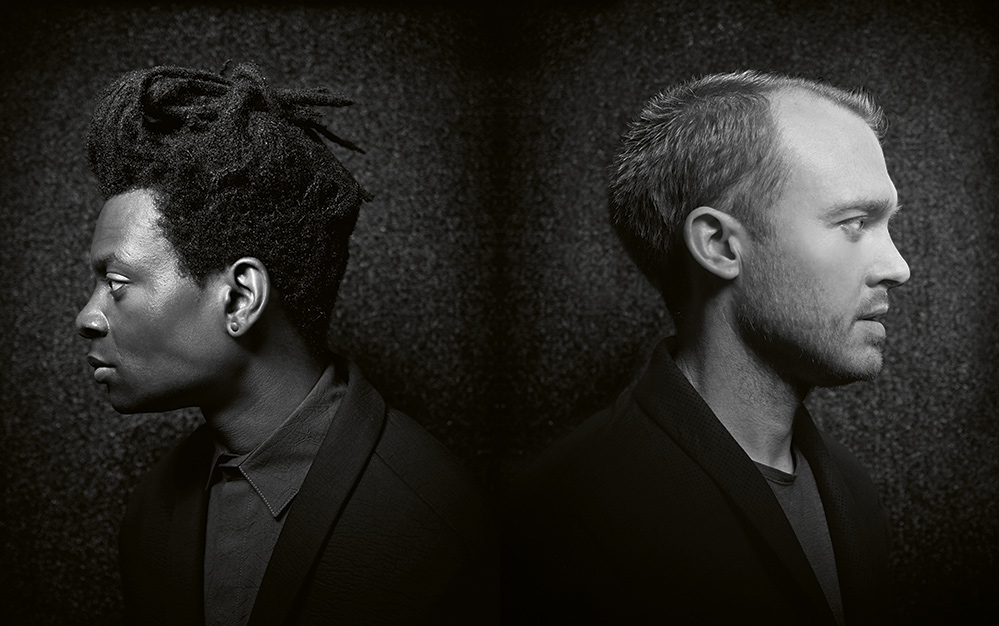 It started with an illustration of the unsuitability of 19th-century jackets when emplaning passengers. "The suit jacket guys around the world wear every day was designed in 1860 in London. It's about 150 years old," says Greg Rosborough. "I was on a flight and a male steward, who had a nice, fitted jacket on, was trying to help a woman at the beginning of the flight to take her bag from the floor to the overhead compartment. But his jacket was so fitted he got to about shoulder height and he couldn't lift the bag any higher." Rosborough says the steward put down the bag, took off his jacket and then was able to help the passenger. "As a designer, I was dumbfounded that there's this jacket, worn by millions of men around the world, that won't allow you to lift your hands above your head."
Abdul Abasi is Rosborough's friend and his partner in Abasi Rosborough. They met while studying at the Fashion Institute of Technology, or FIT, New York's top design school. Abasi felt the same way as Rosborough about the deficiencies of menswear. After graduating from FIT, Abasi worked for Engineered Garments, under the wing of Daiki Suzuki. "The Japanese are world-renowned for their attention to detail," says Abasi. Daiki has an appreciation of hunting, fishing and military gear, Abasi says. "He takes these details and has these studies and research done, and he reinterprets it into his own work." Abasi believes that is what fashion should be about: "To honour the past and look at what has been done before you, but also to question it and see how you can push something forward and make it your own."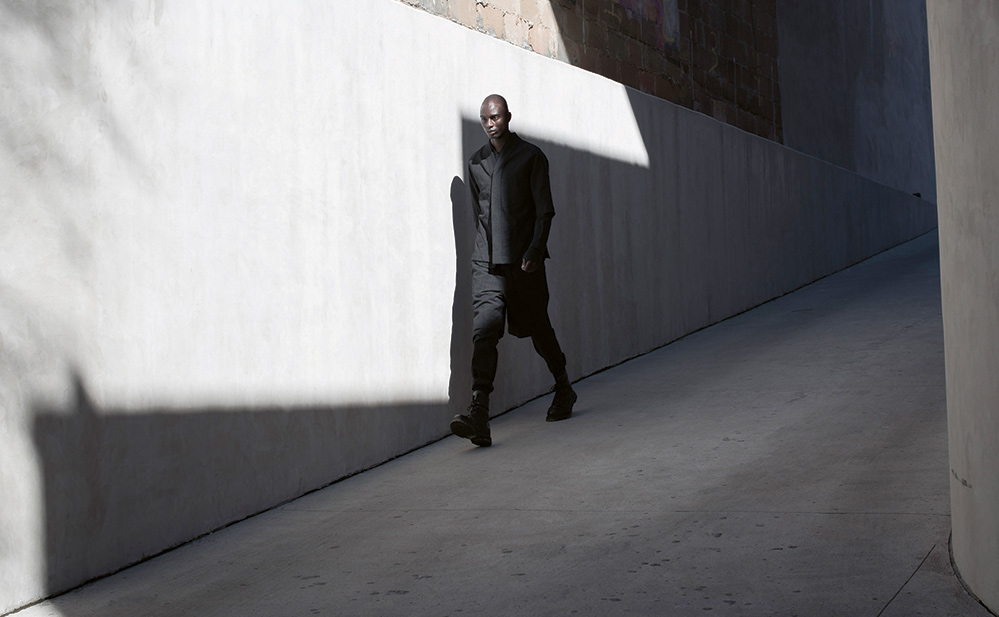 Rosborough had been designing for Polo Ralph Lauren, where much of the work was done in the archives, finding vintage pieces, and then reinterpreting them. Engineered Garments and Polo Ralph Lauren both excel in creating outdoor wear and sportswear that are rooted in history. But for Abasi and Rosborough, this wasn't enough. "The future of menswear and the future of clothing [should] be much more active. We're kind of removing the shackles of historical dress from Savile Row and corsetry," Abasi says. "As we're progressing, we become much more mobile and interconnected and global, and I think clothing [should] also do the same." Abasi was adamant that Abasi Rosborough had to do something different, otherwise there was no point in it being an independent label. "I always thought there's way too many clothes in the world," he says. "So if we were to create a label, we had to do something that hasn't existed before, that would solve a problem."
Abasi and Rosborough are both eloquent. They are so clear about the direction of their brand that their company gives the impression of being older than its three years. One look at their collection tells you the duo has really thought it through. The jacket of the Abasi Rosborough suit is modelled on the English hunting coat. It is fully canvassed. It has knit inserts under the arms, a reduced collar and lapels, and only one button. All this makes the suit more comfortable, more versatile and easier to move in than a conventional suit, while keeping the suit shapely and smart enough to wear in an office without it looking out of place. It even has a carrying strap. The problem posed by the pockets, which in a conventional suit should not break the line of the jacket, was solved by pivoting the openings and putting them closer to the hip. Abasi was the model used for the fitting, and the pockets were put where he could reach them most naturally. "We never take anything for granted, so [our designs] are always a result of the thought and research we do, rather than just sketching something out," Abasi says. "And we're always trying to improve. If we think about a better way to address a problem, then we change the design for the better."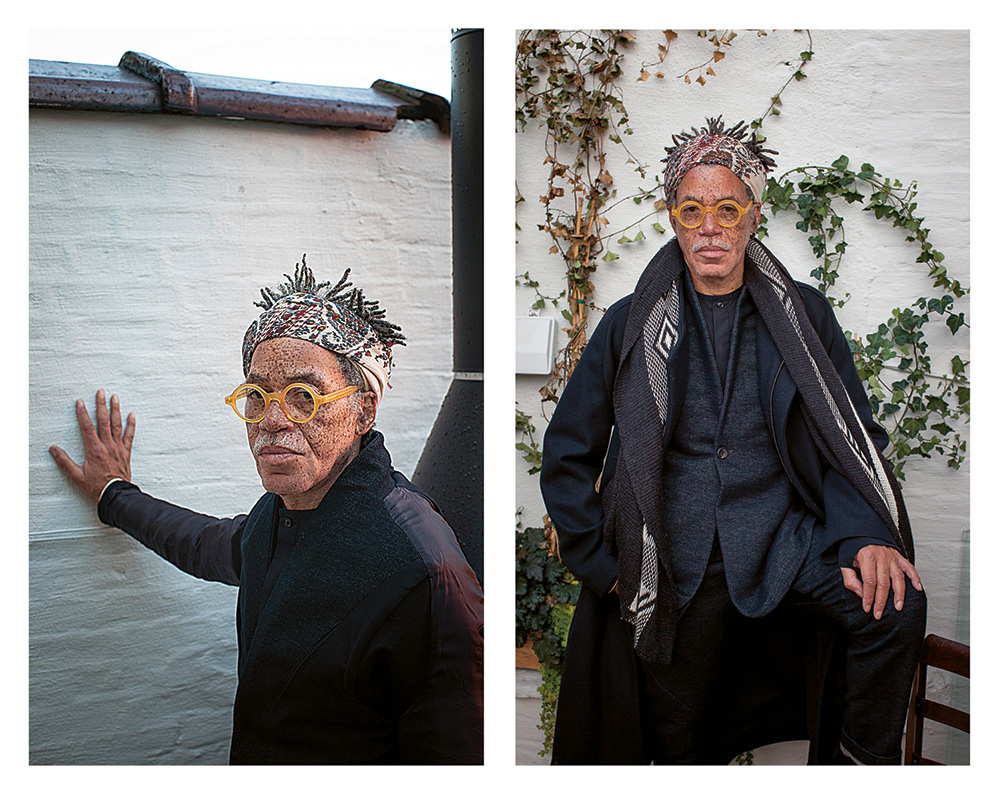 Many fashion editors and critics have described Abasi Rosborough clothing as sports-inspired, or have called it activewear. Rosborough acknowledges an encounter with a sports brand that got him thinking about how the human body works. Rosborough played basketball in college. Nike made a presentation to his team and gave them a pair of Nike Free running shoes to test. "They had videotaped a barefoot runner, running on grass. We [watched] how the toes spread on the grass and how the [runner] accelerated forwards. Nike then said, 'We tried to mimic that design and that's why the sole is bendable.' Nike thinks in that way, which is very much like, 'Here's the human body. Let's accommodate it,' " Rosborough says.
Abasi Rosborough's thinking is similar. But while Nike makes gear for playing games, Abasi Rosborough makes gear for day-to-day living. If it's humid outside, you can take your Abasi Rosborough suit jacket off and use the strap to carry it. If it's cold in the office, you can put the jacket back on. In a meeting you can turn down the lapels. After work, you can change the look of the jacket. "It's not meant to be gimmicky," Abasi says. "We're never going to have a gymnast wear our suits and do flips. We're not trying to say that's what our suits are about. But our thinking is the same."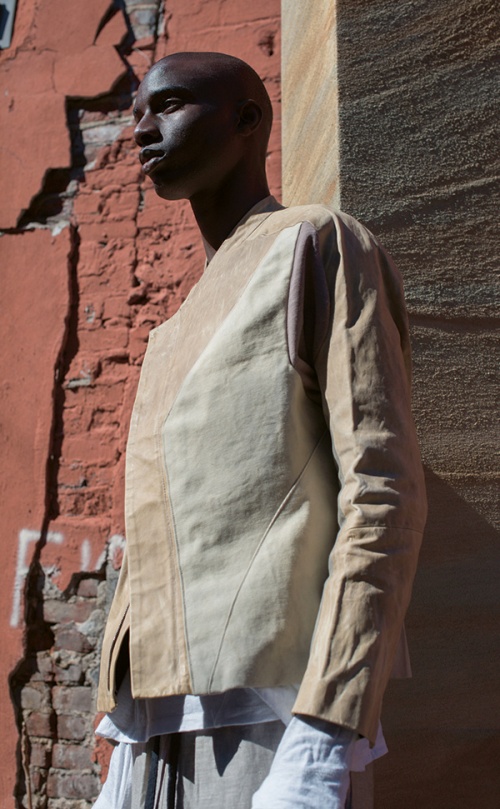 Abasi Rosborough attracts those that see its progressive fashions as the future of menswear. Their first collection was sold only in Tokyo, in Isetan, where the fashion director was Naohisa Fujita. "At the time, and still at this moment, there's no-one doing anything like what we do," Abasi says. "Isetan prides itself on having the newest of everything and the most progressive. When Isetan's fashion director Fujita saw our collection, he bought it straight away." The second shop to take their collection was in the Middle East. Eventually the collection went on sale in New York. Now it is available in Hong Kong, exclusively at Harvey Nichols. "We met Martin Lam, who's the buyer, a couple of years ago in Paris. We had a lot in common, not just as people but also in talking about where menswear was heading," says Rosborough. "He gives us honest feedback and we look at him as a friend and a partner."
Abasi and Rosborough have strong convictions about matters other than the future of menswear. The duo has not shown their collections during fashion week and does not plan to show anytime soon. "I think a lot of younger designers, and a lot of designers in general, believe that fashion shows are a must, and it's something they must do in order to be relevant, in order to compete. But I think you get into trouble when you do that, especially if you're not ready," says Abasi. "For us, we want to speak directly to the people that value what we do. And, at this moment, it's not economically feasible or even relevant to what we do."
Rosborough says: "Some of our favourite designers, like Sacai, didn't show until it had been around for 10, 15 years. So sometimes it's, like, build up your design perspective and what you're trying to do, and when you're really sure you know you want to show, then do it."
Another deterrent is the fashion world's state of flux. Designers are proposing to let people buy their clothes as soon as they have seen them for the first time, and to combine their menswear and womenswear shows. Burberry set the pace by announcing that it will hold only two shows a year from September onwards, and that its collections will appear in the shops as soon as its models hit the runway. Tom Ford has similar plans. Gucci's Alessandro Michele has said he will combine his menswear and womenswear shows.
"They're re-examining the value of the fashion show in this day and age," says Abasi. "With Instagram, you do a fashion show and 10 minutes later every image is online and Zara is knocking you off. No one cares 15 minutes later because they're looking at the next show. So it's, like, you spend all this money and you only have this much of an impact." On the other hand, Abasi and Rosborough have been considering the see-now-buy-now approach since the beginning, when everyone thought it wasn't feasible. For now, they will wait and see. Abasi Rosborough has never followed the rules and it isn't about to start.