Rolex, Tom Watson and Dominic Wall at the 148th Open Championship of golf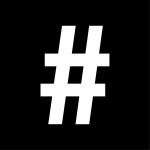 By: Steve Rockowitz
September 17, 2019
Steve Rockowitz travels to the Open Championship in Northern Ireland and sits down with Rolex Testimonee Tom Watson and Dominic Wall, the Asia-Pacific director of the R&A, to discuss the historic sport and the recent changes that it has seen.
In the world of professional golf, the Open Championship is perhaps the most desirable tournament in the sport and certainly the biggest of the year in Europe. This year, the Open took place at the Royal Portrush Golf Club in
Northern Ireland; it has been 68 years since the Open has taken place there and the last time it was played was also at Royal Portrush. Northern Ireland is home to several of the best golfers in the game, namely Rory McIlroy, Graeme McDowell and Darren Clarke. Since McIlroy is one of the highest-ranked golfers in the world and currently holds the Royal Portrush course record (he shot a 61 when he was just 16 years old), he was naturally the hometown favorite to win. What happened this year was a surprise to everyone who attended. McIlroy took a quadruple bogey on the very first hole of the tournament and never recovered. He eventually missed the cut – and Northern Ireland's favorite was suddenly out of the tournament. He wasn't alone, though; two of golf's all-time greats, Rolex Testimonees Tiger Woods and Phil Mickelson, also missed the cut. Suddenly, it was anyone's tournament to win. Over the weekend, the leaderboard was filled with some of the top players in the world, but in the end, an unlikely hero emerged – Irishman Shane Lowry. All of Ireland (and perhaps the world) couldn't have been more proud of what Lowry accomplished by winning the Claret Jug.
Attending the Open and witnessing Lowry's incredible tournament was beyond a thrill for me. Being a guest of Rolex, the iconic brand and primary Open Championship sponsor, there was probably no better way to experience the tournament. Spending four amazing days in the Rolex Hospitality Suite with the likes of Rolex Testimonees Tom Watson, Gary Player and Stefan Edberg was truly a surreal experience. Over the four-day period, all three sports #legends had an opportunity to speak to the attendees during lunch and dinner, where they shared their wisdom and inspiration. Listening to all three, you understood why Rolex chose these particular athletes to represent the brand. They each had a common denominator: a quest for excellence and striving to set the highest standards of performance for themselves. Sound familiar?
Fortunately for me, I had a chance to sit down with Watson to dig deeper into his thinking on the game of golf and get a better understanding of his relationship with Rolex, as well as how he's supporting golf both on and off the course. Additionally, Rolex has a long-standing partnership with The R&A, the governing body that organizes the Open Championship (amongst many other golf tournaments) and is responsible for monitoring the official Rules of Golf. I also had a chance to meet with Dominic Wall, the Asia-Pacific director of the R&A, and pick his brain on golf in the region and the R&A's vast responsibility in the game.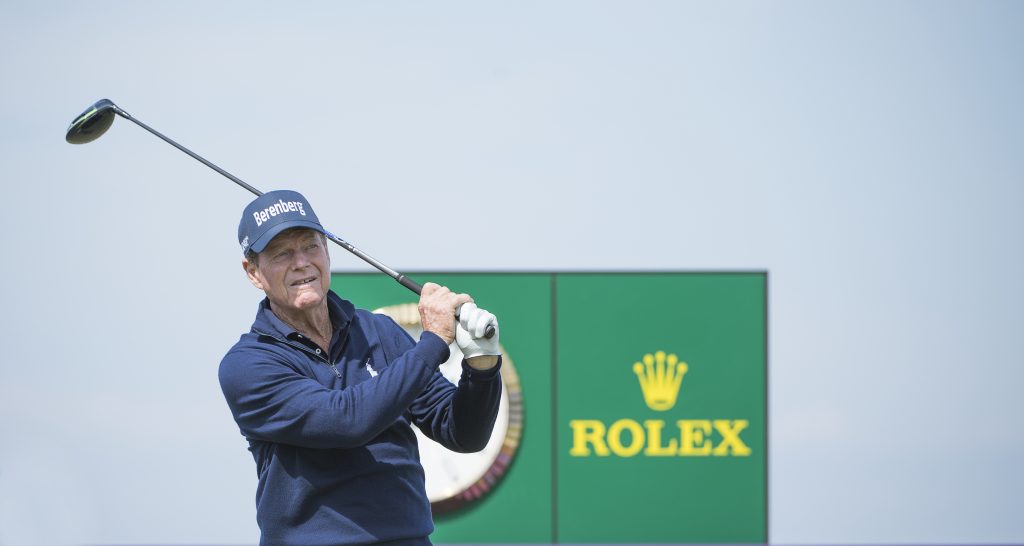 What has the relationship with Rolex been like for you?
My desire to wear a Rolex has been there ever since I got on the tour. When I got there, I was told to go watch and play golf with the best players – and the best players from the tour there were Jack Nicklaus and Arnold Palmer. And I watched and tried to emulate them. But I also I noticed that when they went to their golf bag, they took their watch out and they put on a gold Rolex – the President watch. When they did that, I said to myself, "You know, if I ever make enough money, I want to buy a Rolex." And that's what I did. But I always wanted to be a Rolex Testimonee and finally the call came – I said, "I've been waiting for this call for 20 years!"
And I've been very grateful. They are a wonderful company and they've done so much for the game of golf with various things. At the US Senior Open that I played two or three weeks ago, they were a major presenting sponsor. Of course, they're one of the major patrons here and everything that Rolex does is first-class. Rolex has done anything other than elegance, which is part and parcel with the timepieces that they produce. And the people that I've been involved with are just great people to work with. It's not even a work situation – it's a relationship. Arnie, Jack and Gary Player – it's quite a fraternity. It really is.
You're the one of the two players who won the most Open Championships after the First World War, so this tournament must mean quite a bit to you.
Yeah, Peter Thomson and I both tied for five [wins]. The Open Championship, when I first started playing golf, was not as much on my radar. It was the US Open that was my dad's favourite tournament. He said, "Tom, if you won the US Open, you've beaten the best golfers on the toughest golf course you're gonna play." So I was always interested in the US Open. The masters of the course – of course, Arnold Palmer was my hero and Jack Nicklaus was the villain 'cause he beat Arnie. I watched them, but then the Open Championship started to filter in there. And then they started showing it on TV and when Arnold Palmer won it early on in my life, I took notes.
But it wasn't until the late '60s or early '70s that I really took notice of the Open Championship – watching Lee Trevino win, watching Jack Nicklaus win and watching it on TV. You'd see these brown-tan golf courses – not green, all this rough, deep. They're wearing their jumpers in the middle of summer and we're sweltering, just sweating. It started to make an impact on me and in 1975, I was exempt from playing the Open Championship. That was my first Open Championship, at Carnoustie, and I'd never played a links golf course before. I had a relationship with links golf that wasn't very pleasant for many years, I always fought it – I didn't like it, didn't like the firmness. On these greens, the ball would bounce. I didn't like that. Even though I won the Open in '75 and '77, I still didn't like links golf. I played St Andrews, didn't like it. Then finally in '79, I had to finally come to a conclusion that the more I didn't like this game, the less I was going to be successful, so I decided to change my attitude – to accept the bad bounces, to accept the way golf is played on these courses, because this is unique. Some courses may call themselves links, but these are true links and they play differently. So you have to learn how to play them. Accept the bad bounces, accept and actually enjoy the conditions, and know that you hit a shot and it goes into the rough like this. You just carry on. So my love affair started in 1981 when I went down to Ballybunion in Ireland for the first time, down in County Kerry. It progressed from there.
What are your thoughts on the new rules of golf?
I think most of the rules are very good. They're good changes. One rule that I don't understand is the drop, though. Why must you not just take the ball and drop it from here? Why must you bend down and drop it from your knee? From here to there is no difference, but they claim there is – that the ball will roll. That's one rule. I love the spike mark rule. I love leaving the flag in; when you putt, you can leave the flag in now, whereas before you had to take the flag out. And there are other rules that I think they've made it easier to understand and get through it. Overall, it's good.
You've maintained your high standard of performance throughout your long career. How is that possible? Can you share your secrets?
I got lucky! I say that because I got good genes. My mom and dad produced me and my body, and I got a long-lasting golf swing. I had a long backswing and a big move-through. And the older you get, you can't make as long a backswing, but that was good because I had a longer backswing. Now
it's not quite as long, but I still generate power, and I've always had the ability to have good touch and feet – putting distance, chipping, things like that, which are key ingredients to being successful. The best putters are the people with great chances. You've never had a great champion who's been a good putter; they've been great putters. Champions are always great putters.
Have you played in Asia? Where has it been great playing in the region?
I have. I've played in Taiwan, Japan a lot, South Korea. I haven't played in Malaysia or China. I built a golf course in China, but it was deemed illegal, unfortunately, right before we opened it, which was a big disappointment – because I think that golf is a great communicator. I think it doesn't matter where you're from, whether you're a man or a woman, old or young – there's a common bond with golf. Golf elicits your personality traits. I can play 18 holes with you and get an idea of who you are by how you play the game, and you can do the same thing with me. It's how you play the game. People with different personalities play the game differently; that's the beauty of it.
On the other hand, golf has a problem, because it's hard to learn, it's expensive and it takes a long time to play. And it's always been that way. But now that we have young people on their phones all the time, it's hard to get them out to spend two hours out there, because they'd rather be on their phone; that's the challenge we have. What I try to do in my local area is to create opportunities for juniors to play, both girls and boys. The great thing about America is that you have public golf courses where you don't have to be a member to go play. You pay your money to play, but you don't need to be a member. There is a great programme we have there called Youth on Course. When you go to a golf course, there is a junior golf fee. It may be US$15 or US$20 to play, but our programme goes in there and subsidises the fee, so the junior only needs to pay US$5. It's very affordable for them – five dollars! But the problem is that there aren't a lot of public golf courses in the world. There are none in China, none in Taiwan. France, no. Italy, no. Japan, no. Australia, yes. The UK, yes. The US, yes. Public golf is needed for this, to allow everyone to play. You have to start with clubs – and clubs are expensive. It's not like a tennis racket or a soccer ball; it's an expense. And it's a difficult sport to learn for some people. Get the ball airborne and there's frustration, especially at the beginning. Whether you have the guts to stay with it until you get it is the question.

You've played golf all your life. They say when you play a sport, it teaches you a lot about life. Looking back, how has the game changed your life?

The game teaches you humility. If you think you've got it and will never lose it again when playing golf, you'll soon find out that you're sadly mistaken. It's like in life – if you think you know everything, you'll soon find out you don't. And if you still continue to think you know everything, people will ignore you, because you don't. You're always willing to learn in the game of golf. I'm always willing to. I keep looking at Tommy Fleetwood up there to make that putt. Let me see that putting stroke and now I'm thinking, "Can I make that same stroke? Can I do the same thing? Can that help me?" I'm always learning and trying to learn the game.
Can you give any advice to young golfers who want to take up golf as a lifetime career?
A lifetime career takes perseverance, desire and dedication. Anything in life takes that to make a career of something. It's just not an easy sport to start, but what happens is that it grabs you. You hit that good shot. "Can I do that again?" You want another shot like that. And you persevere and you keep playing, and then you get another shot like that, and then you hit two in a row. "Okay, I'm getting it." And then you hit a lousy one. "Why did I do that?" And then you actually educate yourself about why you actually did that shot so that you don't do it again. And then you build yourself up to a level that you can progress up and make it a career.
But then, you do that in everything in life. Journalism, everything. You build early. You learn how to do it right – and golf is the same way. I know a lot of kids who want to make it a career and I say that your desire, determination and dedication are key factors here. One of the things I've always said about golfers and the sustainability of their career is that one of the key factors in losing your edge is money. Money corrupts desire. And only certain, special people won't allow the amount of money they make to corrupt their desire to really play and really improve. Always looking at things and how they can improve, and then going out there to practise or train for four hours. Ben Hogan made the comment, "I don't see why I can't birdie every hole on the course today. Why can't I make 18 birdies today?" That's the focus. Why can't I birdie every hole? And you have to develop your game and the way you play golf courses to be able to do that. Some days, you are that good. You make 12 or 13 birdies – a rarity, but they happen. And then some days, you don't make a birdie at all.
"I think that golf is a great communicator. It doesn't matter where you're from, whether you're a man or a woman, old or young – there's a common bond with golf " —Tom Watson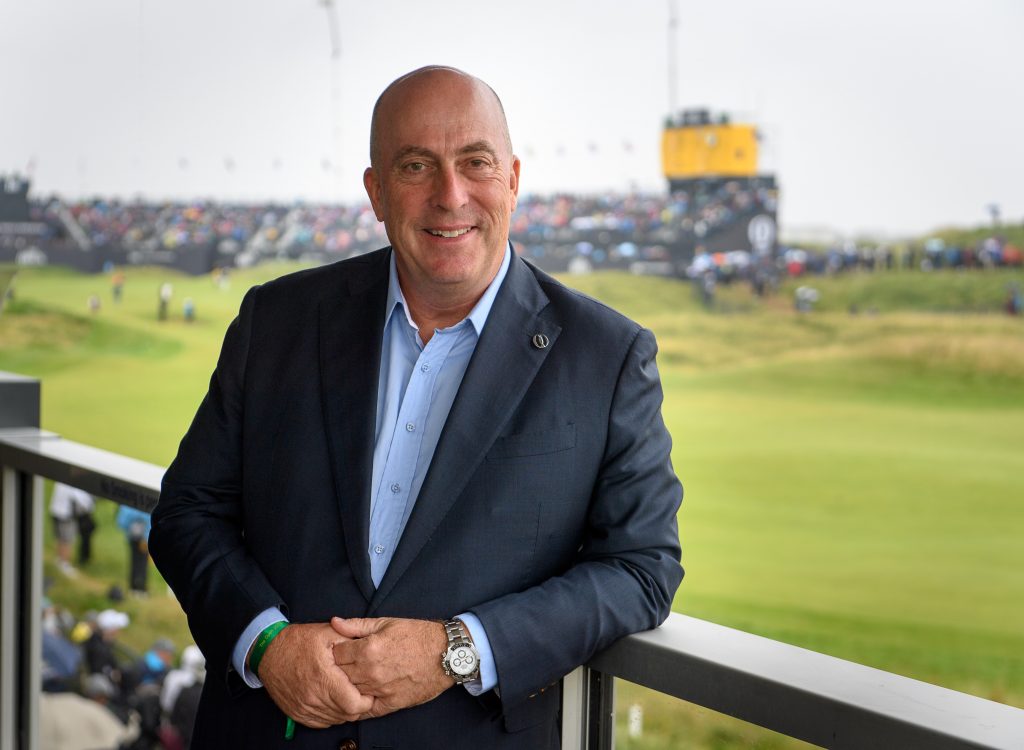 "One of the challenges we have, and we work very hard on this, is to show people who don't know a lot about golf that it's not just a game for the rich and the elite. It's accessible and affordable" —Dominic Wall
How would you describe the current status of golf in the Asia-Pacific region and what can be done to help it evolve?
I think golf at this stage is growing more in Asia than in any other region in the world. In countries like China, Vietnam, Thailand and even Indonesia, the sport is growing and developing for a number of reasons. I think one the key reasons is the introduction of golf into the Olympics a few years ago. That's made a big difference; a lot of countries now dedicate a lot of support to developing golfers from the grassroots all the way through. But you also have other initiatives, like in Vietnam, where the Vietnamese government a few years ago said that they identify golf as a major tourist attraction. So they gave authorisation for 100 golf courses to be built by 2020. They're up to about 70-odd at the moment – and that's brought people into golf. I think specifically in the Asia-Pacific region, golf is growing and more people are coming into the sport than probably any other region in the world. It's probably one of the reasons why, from an R&A point of view, we established our office in 2009 in Hong Kong initially as the first office outside of St Andrews. We're growing and doing more activities in the region, and we see a great future for golf.
There are some rules being amended for Olympic purposes. Are there any concerns about developing the rules and making golf more modern?
We introduced new rules at the beginning of this year. Our main concern was to try and make golf more accessible to the general population coming into it. We had 34 rules, but we've taken it down to 24. We want to try and encourage the sport to be taken up by a lot of younger people. We don't want the rules to be intimidating – we wanted the rules to encourage faster play, so we've dramatically cut them back. And the response that we've had – initially there were some teething problems with people not understanding some of the rules – but it's been overwhelmingly positive. We're seeing quicker golf and we're seeing people not so intimidated with the sport now. For example, in China this year, we introduced a Rules of Golf app in simplified Chinese and we've had 30,000 downloads so far. The rules app is fantastic because it shows videos of the rules, all in Chinese, and we found that to be really popular. There had never really been a major review like we've done for this year. And all the feedback that we've had, whether it be from casual players or very good amateurs, has been very positive.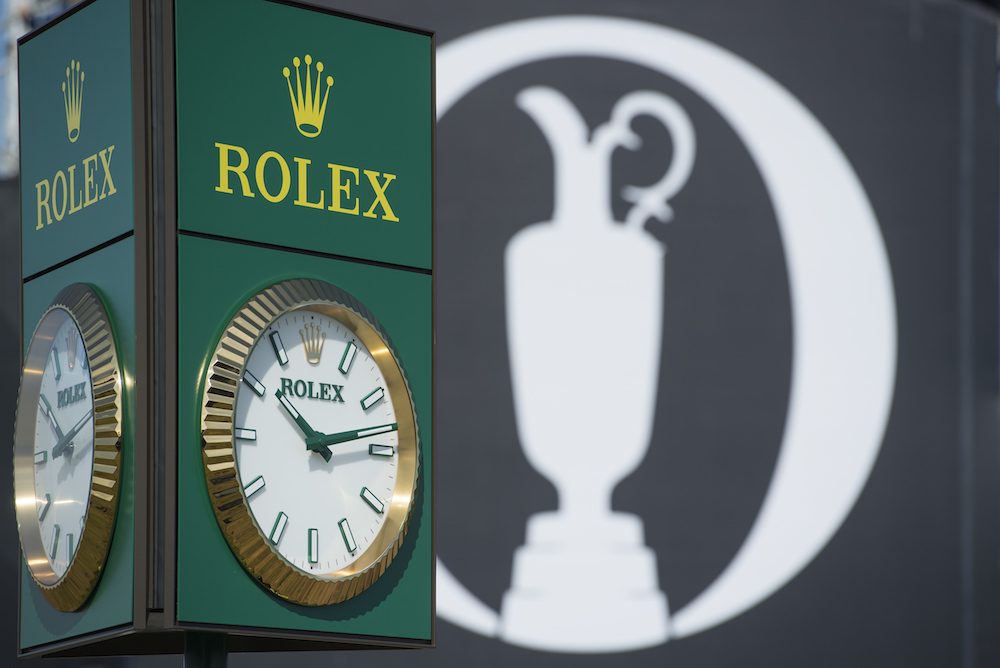 How about the reactions to accelerating the speed of play?
I think a lot of the rules were aimed at trying to encourage quicker play and that has helped. It's certainly one of our key initiatives to try to encourage golf to be quicker and more accessible. This week, for example, we had a nine-hole challenge on Saturday last week and we've initially started doing that all around the UK. So all four home nations have been competing and they send a team to the Open to play the nine-hole challenge. This year we introduced Australia, and next year we're hoping to introduce China and New Zealand – so bringing players from all those countries here. It would be the champion teams from Australia, New Zealand and China with champions from the UK. What we're trying to do is set the course up so it's a quick, affordable, easy course to play – and that's been quite successful. Australia, for example, had more than 30,000 people play in their qualifying events for the two people to come this year. Here, we're trying to do something similar. We're talking to a couple of partners in China about having this introduced this year, so two champion players will come next year to St George's.
To you, what is the most difficult part of promoting golf in Asia?
I think one of the challenges we have, and we work very hard on this, is to show people who don't know a lot about golf that it's not just a game for the rich and the elite. It's accessible and affordable. There are a number of programmes that we've done in various countries around Asia. We support a programme in China with HSBC and the China Golf Association that's had more than 100,000 people go through over the last 10 years. And that's not aimed at people with a wealthy background; that's aimed at people who are just coming into the sport. So we target schools, we set up training camps and we have competitions. That's been a challenge – to try and take away that perception. But we're trying to break that down and I think that's been one of our key objectives. I think one of the other areas that's been a challenge is sustainability. We want to show that golf is not only an affordable sport to play, but that it also enhances the environment. So we do a lot of work in showing what the benefits of golf are, whether that's from a health point of view or whether that's from how it enhances the environment by creating a wonderful wildlife space.
What are the core values of the sport? And what is it about Rolex that connects it so closely with golf?
I have two young sons who play golf. One's nine and one's 12, and from my point of view – now, I want them to play all the sports they can, but I do want them to play golf, because it teaches them a number of things that are going to be life skills. It teaches etiquette, communication and dealing with people in terms of the integrity of the game, all of which are core aspects of Rolex. We are very fortunate that we have had a partnership with Rolex for 40 years, and you don't keep and develop a partnership unless you have the same core values in terms of what you do. So, in terms of precision and excellence, I think Rolex certainly has that and we certainly have that. Particularly with what we do with the Open Championship, it's the oldest championship in world golf and it really brings people together for a major event. I think having a partnership with Rolex has been phenomenal for us and I think we share the same core values.
The Open is back in Northern Ireland after so many decades. Did this course surprise you?
It's the first time back here since 1951 and it's probably been long overdue to come back. I don't think people realise how just good golf was in Ireland and this year we're showing the world how wonderful golf is here. Obviously, we made some changes to this course – we introduced two new holes. We've done a little bit of work around the course and it is spectacular. All the players are commenting on how good the course is. The condition is great and it's really showcasing Northern Ireland – not only the golf course, but also Irish hospitality, the Irish people and certainly the weather, which we're seeing is very uplifting. But when you think about Northern Ireland, that's what you think about – its different conditions. It's been great to come back here and we're very hopeful that we will come back here very soon; it certainly won't be another 68 years. How the Irish people have embraced this championship has been phenomenal. This was the first year we went with an all-ticket policy for the Open. You couldn't come up like you did in the past and buy a ticket at the gate; we sold out in four to six weeks. And we've got our second biggest attendance ever at the Open – we've got 237,000 people here this week. The only time we've beat that is when we had the open at St Andrews in 2010 and the weather was perfect then. So, it's been a wonderful event for us and I'm sure it won't be long before we're back.
Do you have any guesses about who might win this year?
Well, my guessing's not very good because I thought at the beginning of the week that Adam Scott was the player to beat! [laughs] I was with our chief executive, Martin Slumbers, and Darren Clarke earlier in the morning. Darren had played with Adam last week and said, "He's hitting the ball phenomenal – he's playing great. Just watch out for him this week." Then yesterday he went out – seven over. It was very unfortunate. If I say someone, that might actually jinx them, but there are some great players up there. It's hard to pass Brooks Koepka, he's number one in the world and he's playing great. Justin Rose, I think he's right up there. There are some fantastic players. The leaderboard is shaping up well. Tommy Fleetwood is looking good. With an Open Championship, the class tends to come to the top. Obviously not all of them are there, but we've got a really strong field, with some of the best in the world. You throw someone like Lee Westwood in there. It's unbelievable. But then some people also said at the beginning of the week: "Watch out for the Irish." They've got one player up there – Shane Lowry, who's won in conditions like this. He could do very well.
Is Hong Kong a good place to host a great international golf tournament?
It is. We've had some experience and we run two big amateur events around the region. One's called the Asia-Pacific Amateur Championship, which we do with Augusta National and the Asia-Pacific Golf Confederation. We also run the Women's Amateur Asia-Pacific. A few years ago, we hosted the Asia-Pacific Amateur Championship at Clearwater Bay and that's just a spectacular golf course. We had that on television around the world for four days. Unfortunately, we had one really bad day of weather where we lost a day's play, because we had almost the end of a typhoon coming through. But that was spectacular and I think that showcased Hong Kong in a different light all around the world.
You put that on top of the fact of Fanling [Golf Course] hosting the Hong Kong Open, also a great venue. Fanling, ironically, is probably one of the shortest courses on the European tour or Asian tour roster, but when you see what the players do and how hard they find that course, it's wonderful. So, Hong Kong's quite diverse. You've got a wonderful course like Fanling with the history and tradition, and then you've got a spectacular course like Clearwater Bay out on the coast, which is just wonderful. And then you throw in some of the other courses like Kau Sai Chau, probably one of the best public golf facilities in the world. It's not too expensive to go and play there and there are absolutely spectacular courses. Hong Kong, to me, hits way above its weight in terms of golf. Some good programmes are coming through and some good tournaments, and when you consider there are only four golf clubs in Hong Kong, they do very well in terms of what they do.
You have been working with Rolex for 40 years and you do a lot in Asia to promote. Is there any major actionable plan for the next step?
We've recently signed an agreement with Rolex that will take our relationship past 50 years and in terms of world sport, there are probably not too many other relationships where you've had the same partners involved for 50 years. Like I said before, that says a lot about the partnership between Rolex and the values we share in common in terms of moving forward. We work closely with Rolex in a number of areas within the region. They are partners with our two big amateur events: the Asia-Pacific Amateur and the Women's Amateur Asia-Pacific, and we've had phenomenal growth in both those events. One of our initial champions in the first couple of years was Hideki Matsuyama, who's gone on and done great things in the sport. A number of other players who are here this week have played in that championship and are doing well.
The Women's Amateur Asia-Pacific is only two years old. The first year's champion was a Thai girl, Atthaya Thitikul. She qualified to go and play in the ANA Inspiration, the HSBC Women's World Championship and the British Women's Open. She finished eighth in the HSBC Women's World Championship – that's the top 60 professionals in the world – and she was only 15. She went on to finish in the top 30 in the ANA Inspiration and was the leading amateur, and she was the leading amateur at the British Women's Open. So in terms of what we're trying to do, we work very closely with Rolex to provide platforms and opportunities for the best young players to come through. And we also work closely with Rolex in other areas, with our Rules of Golf and our app. We've done a lot of work, particularly in China, over the last few years with Rolex in helping to promote the game and the rules.
So you've been in Hong Kong for more than 10 years?
We initially moved the office to Hong Kong, which was wonderful, as Hong Kong is to me the best city in the world. Then, after about eight years, we moved down to Singapore – and that's not because of anything to do with Hong Kong, but we just felt that a lot was happening in Singapore, since the Asian tour office was there for the European tour and they have some big events. From our point of view, it's been quite positive because we wanted to focus a lot of our energies on Southeast Asia. We'd spent eight years in Northern Asia and we did a lot in Japan, China and Korea – which we continue to do, but we felt the time was good. Notwithstanding the fact that Hong Kong is my favourite city in the world, I miss it dearly and I'd spend quite a lot of time there. But we do work closely with the Hong Kong Golf Association and the China Golf Association. Probably in the region, China is our number-one priority in trying to help develop and grow the game. We invest considerably in China in areas such as junior golf and I have no doubt that within the next 10 years, China will dominate world golf. I think with the junior programmes that are coming through, there are so many young players that are so talented; they are exceptional. I think the challenge China has now is probably the lack of golf courses. But the government is becoming more open to developing golf courses in non-arable land or wastelands, and I think once we start to see more courses developed in those areas and more public-access golf courses, golf will really take off. In the last Olympics, Shanshan Feng winning a bronze medal was a key turning point for the sport. If China does well next year at the Tokyo Olympics, the platform will be there for them to do really well.
For the golf courses, do you think the Chinese government is more relaxed about it now?
The government went through a process that we supported in terms of looking at the courses that were being developed. A lot of them were developed without proper approval and they were developed in areas that weren't sustainable, so the government went through and they've given approval to all the golf courses. Some were shut down and I think now they've got to the point where they need to go to the next stage in terms of moving the sport forward. The China Golf Association is actively working on the development of the game and they have a goal that by 2025, there will be five million people playing golf in China. And if you think of that, there aren't even five million people in Northern Ireland. I've spent a lot of time in China and have been to some of the junior programmes in Shanghai. I've been to a school there recently where they've introduced golf because the school feels comfortable now that golf's an Olympic sport and that it will get the support. There are so many kids coming out of this programme and interestingly, a lot of the activities are held at the school – they don't go off to a golf course. They set up a little golf course, with indoor and outdoor training facilities at the school.
But I think the next step in China's evolution will be developing some short, accessible golf courses. With the Ryder Cup being played in France last year, the French Golf Federation went through the bidding process to get the Ryder Cup and committed to building 100 public-access courses. These were short golf courses and I actually played one a couple of weeks ago where the longest hole was 70 yards. So holes are from 30 to 70 yards to encourage children and families with a place to go to play golf. And I think that's what's needed in China. I think there's a real appetite for that to happen now and if we get those little areas that don't take a lot of land, and encourage fun and encourage participation, I think we're going to see China really accelerate the development of the game. As I said, I have no doubt that in the next 10 years, certainly in women's golf and hopefully in men's golf, there will be a lot of players at the top of the leaderboards in events that will do really well.
Photography / Nick Harvey from Rolex
This feature originally appeared in #legend's Sep/Oct 2019 print issue