?Noise for Rihanna's Fenty x Puma line hasn't even died down, but the singer is back at it again, this time teaming up with legendary shoe designer Manolo Blahnik for a raunchy shoe collection.
Titled 'Denim Desserts', the collection features six limited edition styles, incorporating Blahnik's signature aesthetics with Rihanna's mix of quirky and artistic influence. Denim, sequins and embroidery feature prominently in the capsule collection, which also takes inspiration from Rihanna's hand tattoos.
Rihanna herself first broke the news on Instagram, when she shared a snapshot of herself on the April cover of British Vogue wearing the "9 to 5" boots in her collection. Says Rihanna of the standout, thigh-high boots with a jewel-encrusted garter belt: "Those boots are dangerous! If you're trying to get back home to your bed, don't wear them [sic] boots! You'll get kidnapped in those boots, those boots are trouble."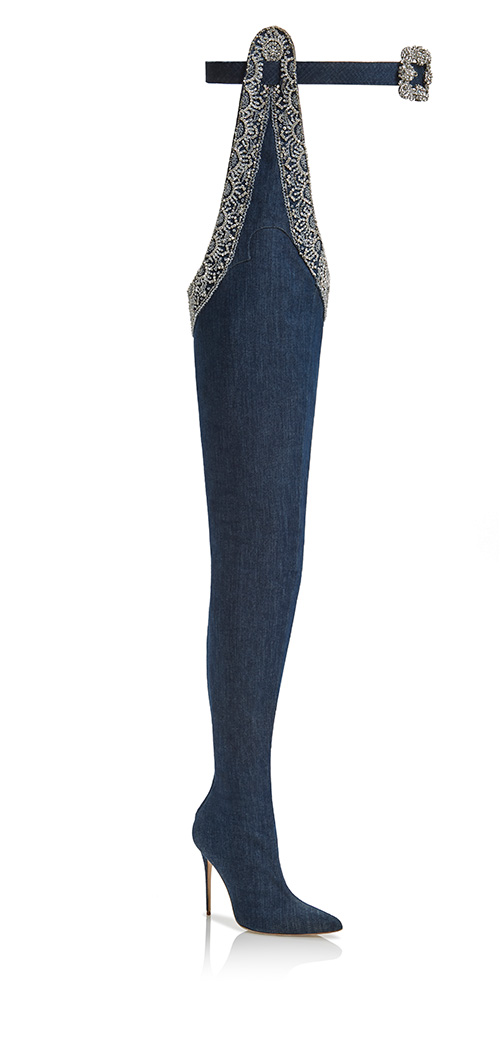 "The day I see a woman in the street wearing my shoes… I am sorry for that woman because I'm going to literally run after her shouting, 'Stop! Selfie! Who are you? Where did you get them?' I'm going to have a moment," the singer says in a statement.
The Rihanna x Manolo Blahnik collection will be available to buy in Manolo Blahnik stores in London, New York and Hong Kong from May 5. The collection will have a very limited run, so mark down the date if you'd like to steal RiRi's style.
Manolo Blahnik boutique, Elements, 1 Austin Road West, Tsim Sha Tsui, Hong Kong.