Rare Oval Diamond Estimated to Fetch US$35 Million at Auction
March 15, 2016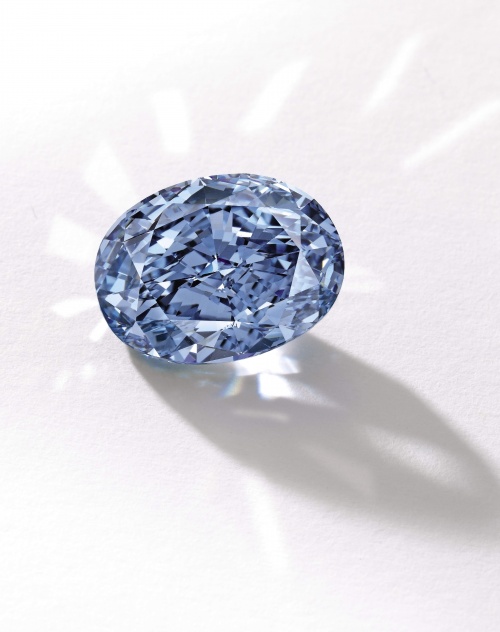 As part of their Spring auctions this April, Sotheby's will be showcasing the De Beers Millennium Jewel 4 to the public before it goes under the hammer at the Magnificent Jewels and Jadeite Spring Sale.
The De Beers Millennium Jewel 4 is a rare and superb oval, internally flawless fancy vivid blue diamond, and is being offered for sale from an Asian private collection. It is the only oval-shaped stone among the twelve rare diamonds that constitute the renowned De Beers Millennium Jewels collection unveiled in 2000 to celebrate the new millennium. At 10.10 carats, it is also the largest oval fancy vivid blue diamond ever to appear at auction, and the presale value has been estimated at HK$ 235 – 280 million, or US$ 30 – 35 million. All the Millennium Jewels originate from the South African Cullinan Mine, and previously only one had ever come onto the open market since their unveiling. The Millennium Jewel 11, a 5.16 carat internally flawless pear-shaped fancy vivid blue diamond was sold by Sotheby's Hong Kong in April 2010 for HK$ 49.9 million (US$ 6.4 million).
Before arriving in Hong Kong, the De Beers Millennium Jewel 4 will be exhibited in New York, London, Geneva, Singapore and Taipei. The blue diamond will then be open to viewing from April 1 – 4, after which it will be auctioned on April 5 at the Hong Kong Convention and Exhibition Centre, venue for the Sotheby's Hong Kong Spring Sales 2016.
The Magnificent Jewels and Jadeite auction is part of the Sotheby's Hong Kong Spring Auctions. For 2016, the auctions will take place from April 2 – 6, 2016. For more information, visit sothebys.com.