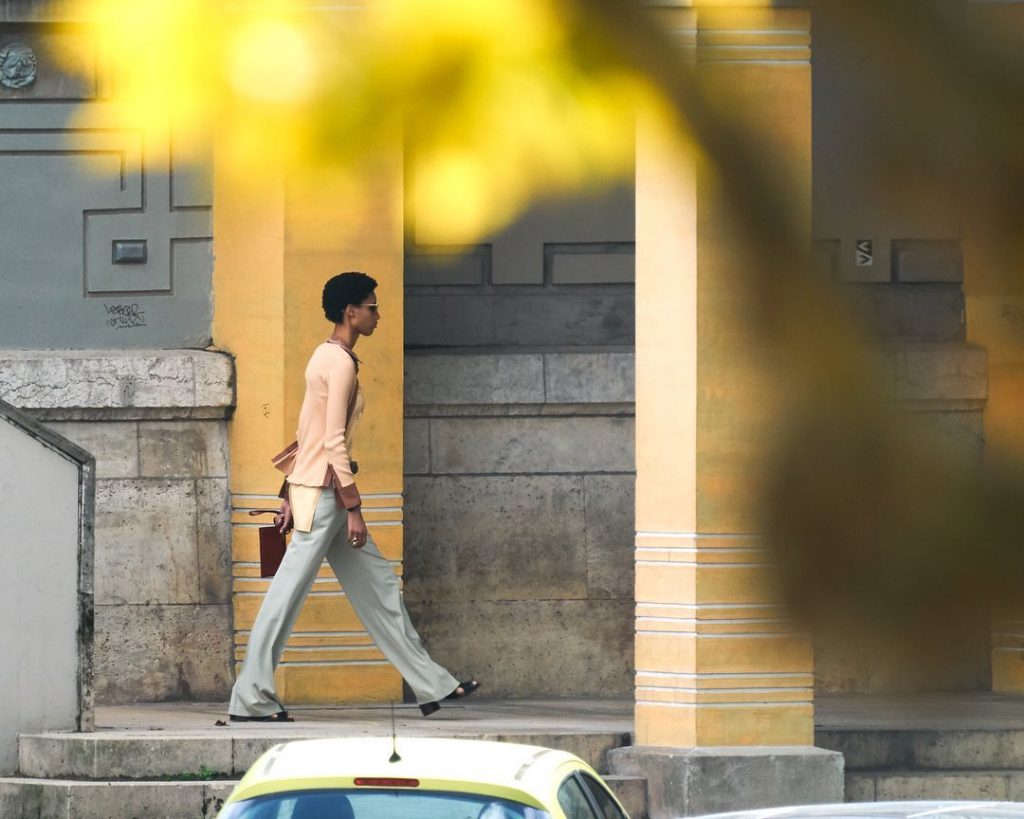 From Matthew M. William's debut at Givenchy to Old Hollywood at Chanel, we round up some of the highlights from Paris Fashion Week (PFW) Spring 2021:
Christian Dior
With all that's going on in the world, it came as no surprise that Maria Grazia Chiuri emphasised the importance of comfort with an all-female crew, including Milanese fashion designer Nanni Strada, artist Lucia Marcucci and director Alina Marazzi. On the runway, relaxed jacket and wide-legged trouser combinations in various dip-dyes, paisley patterns and batik stripes dominated the show, while footwear and handbags were as easy as Roman lace-up sandals, messenger bags and oversized clutches.
Chloé
The Chloé fashion show opened unlike any other, with screens showing models wearing the latest collection, but through an intimate zoom lens (as if someone was quietly watching them from afar). A softer focus was applied towards the materials and cuts with a light and uplifting colour palette. Slogans about togetherness were also collaged on t-shirts, belt buckles and dresses (done in collaboration with late artist Corita Kent).
Paco Rabanne
Julien Dosenna has done wonders continuing the legacy of the iconic '60s brand. Paco, himself, was known as an enfant terrible of the French fashion world, and today, Dosenna embodies a similar rebellious spirit. For SS21, the collection felt like "a kind of ironic flea market feeling", he told journalists. It was a mix of everything you didn't think would go together, but somehow, just works perfectly. Little lingerie cropped tops were worn with serious tailoring, chain mesh slip dresses were worn open with vintage denim, and striped knit dresses were unzipped revealing checked trousers. The final looks were Paco's metallic pailettes, made to feel like armour.
Givenchy
While Milan had the debut of Raf Simons at Prada, the debut during PFW also garnered much anticipation. Matthew M. Williams presented his first collection for the house of Givenchy, favouring streamlined, simple '90s silhouette with plenty of sleek tailoring and streetwear-friendly midlayers. To no surprise, Williams placed emphasis on the hardware and accessories. Chunky chains and logo locks in almost every size imaginable adorned belts, necklines, and bag straps. The house's Antigona handbag was updated with longer straps, while the most notable shoe came in the form of a horn sandal, with three-toed straps that almost emulated the shape of a hoof.
Chanel
Inspired by the duality between on- and off-screen, "I was thinking about actresses at the photocall, on the red carpet, that moment when they're being called to by the photographers: their faces a little distracted, their attitude a little out of sync with the outfits they're wearing," Virginie Viard mentioned prior to the show. The collection felt light, breezy and downright desirable – from the airy chiffon frocks to summer tweed suiting. Micro bags also continued to reign and were found on the models' arms, necks and waists.
Miu Miu
Polar opposites – that's what Miuccia was looking at for SS21. Sporty ensembles had touches of evening glamour when you looked hard enough, while striped polo knits were matched with rhinestone-encrusted mini skirts. Embellishments kept things on a high note, while waistlines and heels were low. Track pants and skirts hugged the hips, often revealing the briefs underneath. Tracksuits with racer stripes came topped off with bejewelled collars, while footwear came in two drastically different styles: crystal-accented mules or kitten-heeled soccer cleats.
See also: Highlights from MFW SS21: Fendi, Prada, Tod's and more