Paris Fashion Week SS20: The #legend Guide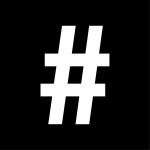 By: Robyn Ngan
October 16, 2019
To look to the future, we must first study the past. This Paris Fashion Week, we opened the annals of history and sought comfort in bygone eras, lusted over couture volumes and were touched by Midas. We saw our favourite houses cut back. We moved away from excess and over-indulgence, returning to simpler and more wholesome memories. We were transported from the times of corsetry and panniers to the literary Belle Époque, and to a post-war effortlessness. The future is unknown and at times, very much hopeless, but the conclusion of Fashion Month brought with it a new day and a new hope.
Chanel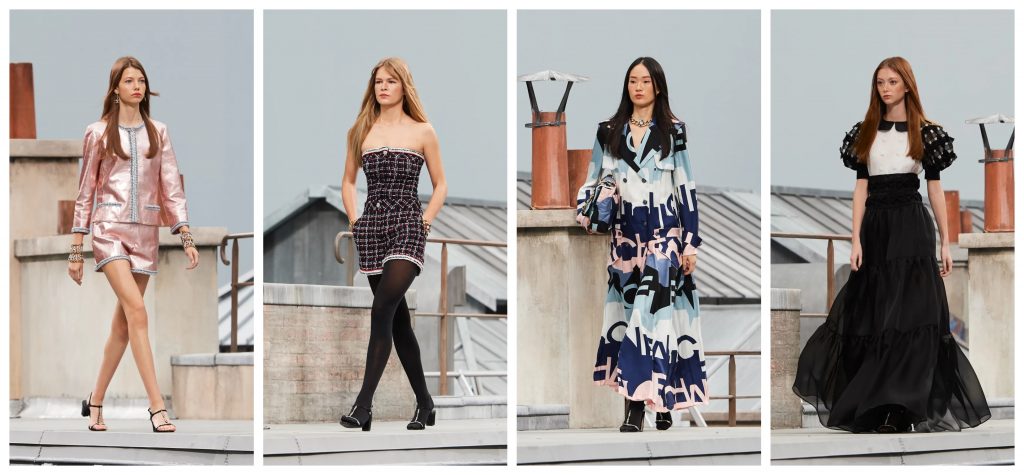 The essence of being a French girl is embedded in Chanel. With the poignant passing of Karl Lagerfeld earlier this year, Virginie Viard's first solo collection steered the French fashion house into a new phase: the Nouvelle Vague. Guests streamed in, teeming with eagerness to see what the show had to offer; what they were greeted with in the Grand Palais was a recreation of the rooftops of Paris, with the zinc slants connected by walkways. In the show notes, Viard commented that she "thought about Kristen Stewart playing Jean Seberg and all the actresses Gabrielle Chanel dressed at that time". It was obvious to see Viard was paving a new path for herself, stepping out of the shadow of a great.
The demographic that this collection appeared to be aimed at was seemingly younger, with leggier silhouettes, sequin fun and more light-hearted colours – cue the dusty pinks – but the collection remained somewhat neutral. The mark that Viard left this season was her take on the signature tweed suit, reimagined as a tweed playsuit. In her moment of glory, it was a deep shame that the show ended with a YouTube comedian intercepting the finale, a feat that proved less amusing and more infelicitous. This unfortunate event was only furthered by the media's attention on the stunt, rather than the collection, especially at such a pivotal point in Viard's legacy.
Chanel benefits from its unique position within fashion – a notion in which people believe that the house can do no wrong. Up to this point, it has only delivered luxury that reinforces its core strengths and signature codes, which have elevated the brand every season since Coco herself. A new day is on the horizon and we look forward to what Viard will continue to bring to Chanel.
Dior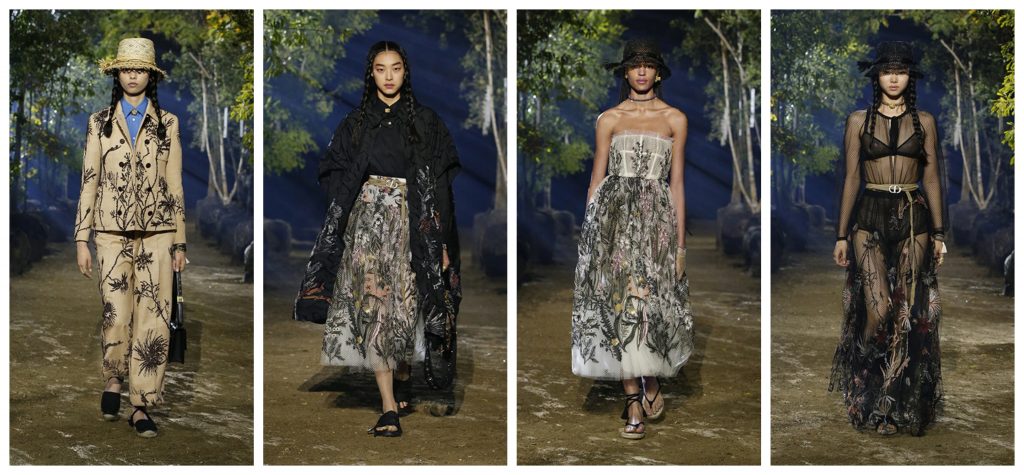 We all know that iconic line from The Devil Wears Prada, so we'll spare you the cliché. Reopening the annals of Dior's heritage, Maria Grazia Chiuri opened Fashion Week with a floral garden. Claiming that when she sees flowers, she isn't just enchanted by their beauty or joy, or by the fact that Christian Dior himself had an adoration for them, but also because they present a sadder and more dire message about the future of Earth.
A grove of 164 trees became the runway for hessian skirts and straw hats, the botanical prints of Maria Sibylla Merian, perforated hiking boots, utilitarian accents and even bleached denims. The original "Miss Dior", the founder's sister Catherine, played muse for this collection; she was a resistance fighter and concentration camp prisoner who later became a botanist. You could argue that she bloomed her way out of the gloom of war.
Almost a century on and we're facing an eerily similar dystopia amid political unrest, ethical and humanitarian exploitation, and an environment on the verge of extinction. It's haunting, to say the least, but what manifested from Dior under Chiuri is hauntingly beautiful. The endless dresses passed by with rustles of raffia, jacquard, silk, tulle and lace, all elevated by filigree, appliqués, prints and embroidery. These aren't items that will be discarded after this season; they're to be cherished and grow in artistic and intrinsic value over time. The French fashion house brought us an arbour, from which emerged magic and lyricism in a way only Dior can create.
Givenchy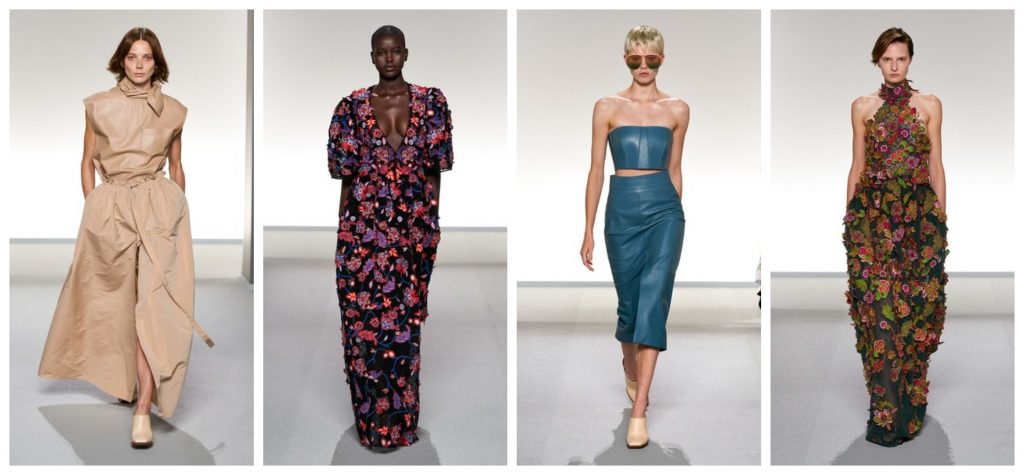 Named NY Paris 1993, we were given a blast from the past and a revival of the golden era of fashion – think Kate, Naomi, Linda and so on. It was the year Clare Waight Keller moved to New York City; she remembers the minimalism of the city, which was in juxtaposition to the ebullience of Paris in the '80s. With this walk down memory lane, she communicated a "liberated femininity", flitting between tomboy humour and voluminous silhouettes.
Givenchy's artistic director sought inspiration from Allison Yarrow's feminist tome 90s Bitch, a criticism of the era and a narrative on our society's repeatedly reinforced and deeply rooted misogyny and sexism. We've seen references to the '90s through the infinite number of silk slip dresses that have surfaced on Instagram and that have been seen on almost every model in the past year, but Givenchy chose the less raw and naked route. Baggy jeans with mules, jorts, Bermuda shorts, billowing blouses and stone-washed denim were plentiful.
The show notes reminded us that Waight Keller's commentaries on society are soaked into the fabrics she uses, as she is "pointing to a conscious future" with the use of '90s upcycled material. The floral dresses gave a nod to the exuberance of '80s haute couture; having been given a new life, these dresses, with their more concealed nature, read more 2020 than anything else. With dramatic shoulders and daring colours, there wasn't any milquetoast or overplayed florets on this runway. A step away from the high '40s gloss and the theatrics of last season, this somewhat Tibi-esque season brings a refreshing retake on the idea of femininity.
Loewe
The protagonist this season is quiet and equivocal; she's the fashion fan who's more concerned with the story, the crafts(wo)manship and the culture that feeds into the clothing, rather than handsomeness of the attire. She yawns at the uncurated hodgepodge of fast fashion and avoids most art galleries. She wishes she were reborn as a Romantic in Paris. That's the person for whom Loewe made this collection.
Shakira taught us that "hips don't lie" and Loewe definitely wasn't joking around when it came to silhouette-play this season. Phillipa Hemphrey and Sora Choi donned pastel pannier shapes constructed of lace to create an architectural dream – or a reverberation of the Spanish Golden Age of Diego Velázquez's 1656 painting Las Meninas. The opening dress – with its collection of fashion clichés, from the ruffled collar to the hanging pearls on the belt, and to the crocheted contrast trousers underneath the skirt – would have been jester-like and overwhelming if it weren't for the fact that it's exactly what Jonathan Anderson described his spring collection to be: ethereal, poetic and aristocratic.
The ultra-popular Balloon bag was translated into balloon sleeves and balloon-like proportions for the next season's coats. Romanticism and escapism were the basis of the collection, but despite the embedded references leaving us yearning for bygone eras and watercolour picnics in idyllic Victorian fields, it was a collection with the modern consumer in mind. There were full-length christening dresses, with layers as light as air itself and a sheer chemise with circular cut-outs. And there was lace in all our favourite forms, with marguerite, guipure and Chantilly adorned on oversized Puritan collars – it was ceremonial in evocation, but timeless in appeal. A subversion of everything we think about when it comes to costumery, Loewe has unveiled the superlative of finesse and artistry.
Louis Vuitton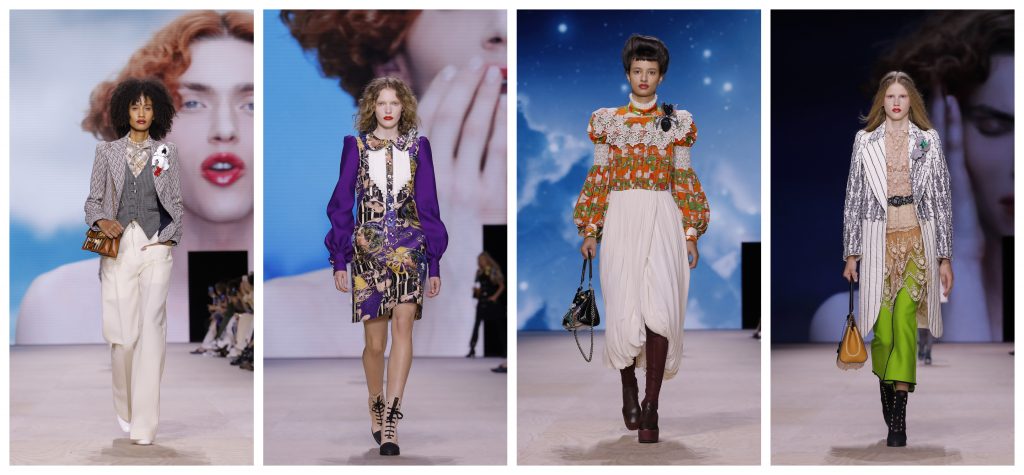 Plus ça change, plus c'est la même chose. The final show of the spring/summer 2020 season ended with a party in fashion form – would we have expected any less from Louis Vuitton? Nicolas Ghesquière set the clocks to La Belle Époque in Paris; a time of optimism, innovation and female freedom, it's deeply rooted in the core of Louis Vuitton, as it coincided with the opening of the house.
Odes to the Belle Époque were abundant: the colourful boutonnières, pouf sleeves and Gibson Girl hair. Inspired by that time period and the Vuitton family home, an exemplar of art nouveau design, what transpired was a collection that Sarah Bernhardt most definitely would have approved. The show opened with dapper suits and vests (both in sweater and suit variations), referencing an androgyny favoured by the non-conformist feminists of the '20s and providing a platform for the designer's gender-fluid commentary.
Through Ghesquière's exploration of art nouveau, he made us reminisce about Alphonse Mucha prints and William Morris patterning. Then, he went forward in time to the late '60s and '70s with psychedelic swirls, and flirted with the glam rockers and the bohemians. The shades of Willy Wonka purple, canary yellow and lawn green left us craving warmer days as the nights grow longer. A-line tunics, graphic white patch pockets, bell sleeves, wrapped minis and white bibs – the collection proved that time is simply an illusion, the secrets of which only Ghesquière possesses. Louis Vuitton delivered a runway that embodied retro rhetoric with a contemporary commentary, marketed for those very much in the now.
Maison Margiela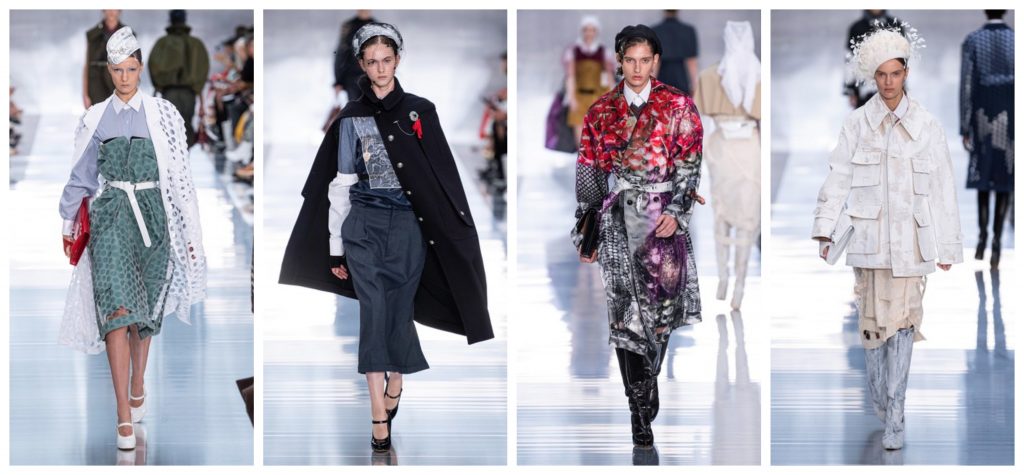 With the backdrop of Brexit and the idea of British independence being furthered by an undercurrent that has right-wing politicians comparing Brexit to the Second World War, John Galliano gives a proud salute (heartfelt, not two-fingered) to the young, seemingly ordinary civilians forgotten by time – our navy boys, our nurses, our aviators. "Stories of hope, heroines and liberation are forgotten as history draws ever closer to repetition." This season was very much about voicing ideas and making yourself heard, but most importantly, it was about hope.
Leading the Margiela army was a nurse in her serge cape, twill column skirt and hospital sleeves, with a soberness about her; she was followed by a Frenchwoman of the Resistance, who probably carries state secrets under her veiled hat and explosives in her handbag. What really stole the show was Galliano's study of trousers; his belief in and ability to transform them is unparalleled and always unexpected. Seafoam double-layer organza and toile trousers with hand-cut perforations were repurposed into a dress, then styled with a striped shirt and a white leather belt.
The duality we're presented mirrors the possibility of sustainability through means of recycled innovation – as "we're all seduced by consumerism and packaging", driven by a lust that only propels waste. Like the war effort provided the means to fight against Nazism and the rise of fascism, Galliano rallies for the freedom of self-expression and comes to the defence of the LGBTQ+ community as he celebrates male eroticism and the distortion of gender roles. Very much a British man in France, he reminds us of more important discussions we should be having – ones that transcend the beauty of fashion.
Miu Miu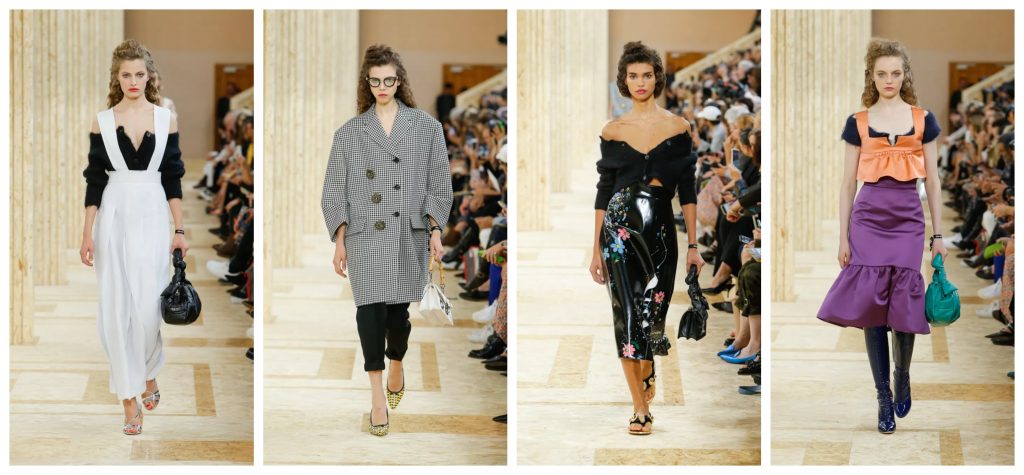 A new day of rawness dawned on the idiosyncratic younger sister of Prada, and with it was a simple, stripped-back and thoughtful musing. The flamboyancy of crystals, faux fur and feathers were used sparingly this season, as the show was characterised by its subtle rejection of the excess. The chipboard tiered seating replicated the improvisation theatres of the past, setting the stage for a starting point of Miuccia Prada's creative outlet.
Home-crimped hair from the early '50s channelled the Italian glamour of the post-war era; they're the styles our grandmothers would have sported while they made entire wardrobes and capsule collections out of leftover fabrics and old linens. The models wore coats with mismatched buttons, dresses and ensembles with ruffled accents, and faux-fur-lined gilets. The austerity of the scrappy mohair off-the-shoulder knitwear and pleated pinafore skirt chimed far-away echoes of the heroines of Italian neorealism. Pattern play was conservative, with only floral motifs making the cut this season; the extravagance came in the colour selection, which contrasted the more sober tone set on this runway.
Miu Miu shows typically present a merging of two worlds: the fantasy and the reality. This season saw a leaning towards reality, with an unexpected choice of uncommonly common items. The materials of shearling, wood, linen and canvas made us retreat to a less decadent palette – one where we aren't blinded by the allure of glitz. The show crescendoed into a rainbow of lilacs, peaches and cyans, but was ultimately pared back to a purer and softer being. The playfulness and self-indulgence for which Miu Miu is known has been replaced by a more conscious and mature sensibility. Prada's quirky younger sister is growing up, but if you think she'll simply blend into the crowd, you're most definitely wrong.
Rick Owens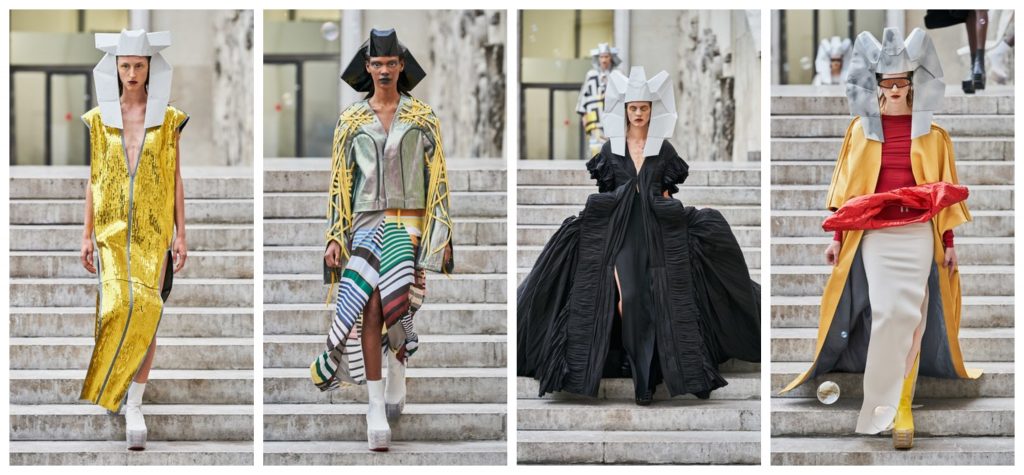 There was something deeply monastic about this collection; strutting around the Palais de Tokyo fountain, it was clear to see the honouring of the designer's Mexican grandmother through the Aztec priestesses that presided. The models perambulated through a fleet of bubbles, while our priestesses towered over us mere onlookers in their platform boots and headdresses, which seemed like an Aztec interpretation of Fritz Lang's 1927 masterpiece Metropolis. This point of reference was anything but random. Lang's antiauthoritarian paragon presented a depressing underworld populated by mistreated labourers who worked hard to keep the upper echelons maintaining their lifestyle; undocumented immigrants and migrant workers were at the base of that corrupt pyramid.
Although nearly a century old, the film's underlying themes uncannily resemble the political state of today, especially with Donald Trump's vindictive dehumanisation of Mexicans. The volumes were borderline couture, as the gold sequins and duchess satin glistened and whispered vibrancy and cultural affluence – these were goddesses who were meant to be worshipped. As Owens considered his Mixtec background, he obviously thought about the Southern Californian aesthetic, the memories he had of that run-down cinema in Porterville that catered to migrant workers and his obsession with the lowriders of East LA.
With these fleeting moments of the past, his LA cool materialised into colourful T-shirts atop scandalously high-slit skirts and latticed-sleeve bomber jackets. As though theatrics are coded into his DNA, Owens never fails to impress; this season's collection nods to a gilded age, but not the gilded age of the US – rather, the gilded age of Owens' ancestors, his culture and his heritage.
Saint Laurent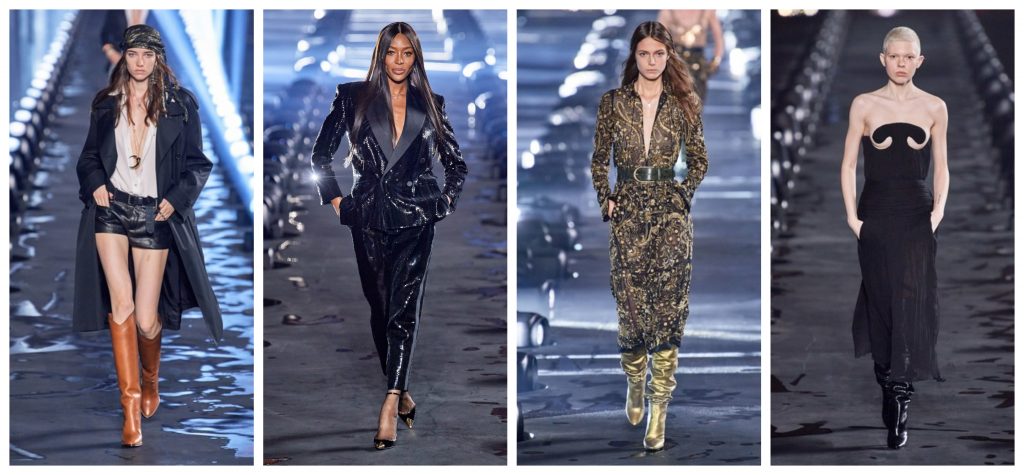 They sometimes call Paris the City of Lights, but perhaps it's because they stumbled upon the Saint Laurent show. A runway comprised of a multitude of projector lights opposite the Eiffel Tower showed a parade of '70s burnished gold leitmotifs embroidered into long, fluid dresses, sheer blouse dresses with glittery velvet burnouts and sequinned variations in the most Saint Laurent way possible. With black as the base colour, what evolved can only be described as rock star styles through the years. If you love denim or low-rise shorts in their truest form, the brand had you covered (or, rather, not covered) with the opening looks exclusively featuring these early '00s throwbacks.
Hair scarves have made a comeback these past seasons, but instead of tying them around ponytails or laced into plaits, they were utilised as turban-tied headscarves – one of the hallmarks of hippie glam that Yves Saint Laurent cultivated with his defining collection in 1976. This boho chic was extended into paisley dresses, peasant smocks, plunging chiffon blouses and lamé skirts that appeared as liquid gold. The silhouettes were timeless and didn't stray far from the status quo – aside from those necklines (perhaps it'd be more accurate to say chestlines) that were caught by Diet Prada as resembling a dog's nose.
This collection offered a different aspect of romanticism that has been limited this Fashion Month – an easy romanticism that's carefree and relatable. The finale of the show was anything but relatable, though; it was a statement, with Naomi Campbell swaggering in gold-toed pointed stilettos and a sequin suit ricocheting light off of every surface. The looks this season were copious, an almost never-ending carousel for every consumer imaginable – trust Saint Laurent to create a streamlined collection that caters to the masses.
Thom Browne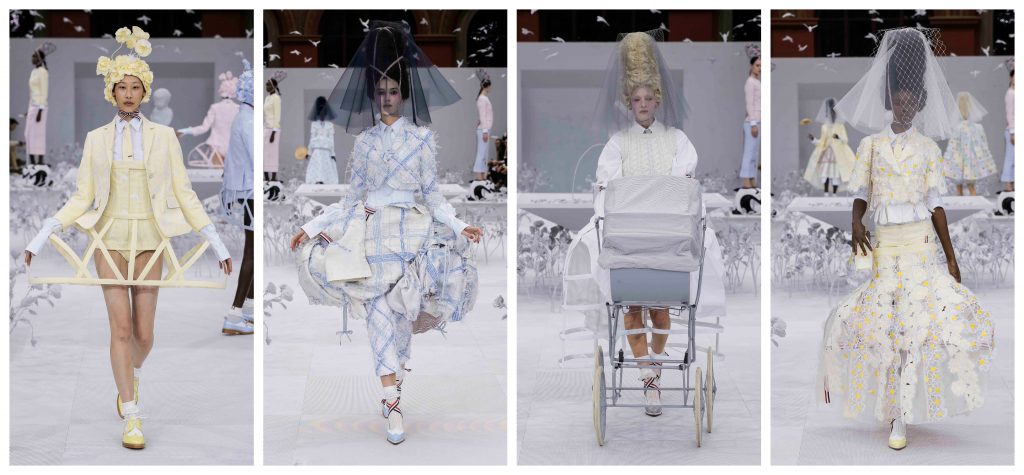 The set was very much a stop-and-smell-the-roses-of-Versailles moment, but pristine and devoid of colour; it was a surrealist take on a fairy tale. Thom Browne drew inspiration from the unapologetic decadence and luxury of pre-revolution France, with his afflatus being Marie Antoinette. From this sugar-coated pastel fantasy emerged an exhibition of seersucker bliss, deconstructed panniers and unmatched pageantry, filtered through an East Coast prep that we could never even dare to imagine.
It was ridiculously pretty – or maybe just pretty ridiculous. Powder-faced models in comically high wigs were encased in organza tweeds, bustle skirts and madras plaid. The whimsy of the show presented itself in an almost childlike way. With its cavity-inducing sweet pastels, the four models who wore colour-varied duo-chromed pannier skeletons with matching blazers, ties and corsets were perfect examples; the flowered bonnets were a delightful touch as well. Strict and calculated, Thom Browne allowed our Marie Antoinette a little breathing space and informality, with adjustable pulls on the robe à la polonaise, and a tweed set fit with a Chesterfield coat and a spliced pleated skirt with tricolour silks for an added airiness (pannier optional).
With a colour scheme so nursery-like, it was only fitting that a pram came down the runway – but quite the opposite of the tone of Ryan Lo's AW19 pram-wielding couple. In an era where politics plays as much a role as the designers themselves, Thom Browne cooked up wedding cake proportions, with an offering sweeter than macarons and truly fit for a queen.