In Berlin with Omega ambassador Kaia Gerber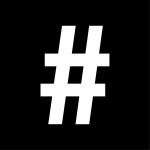 By: Kieran Ho
June 1, 2018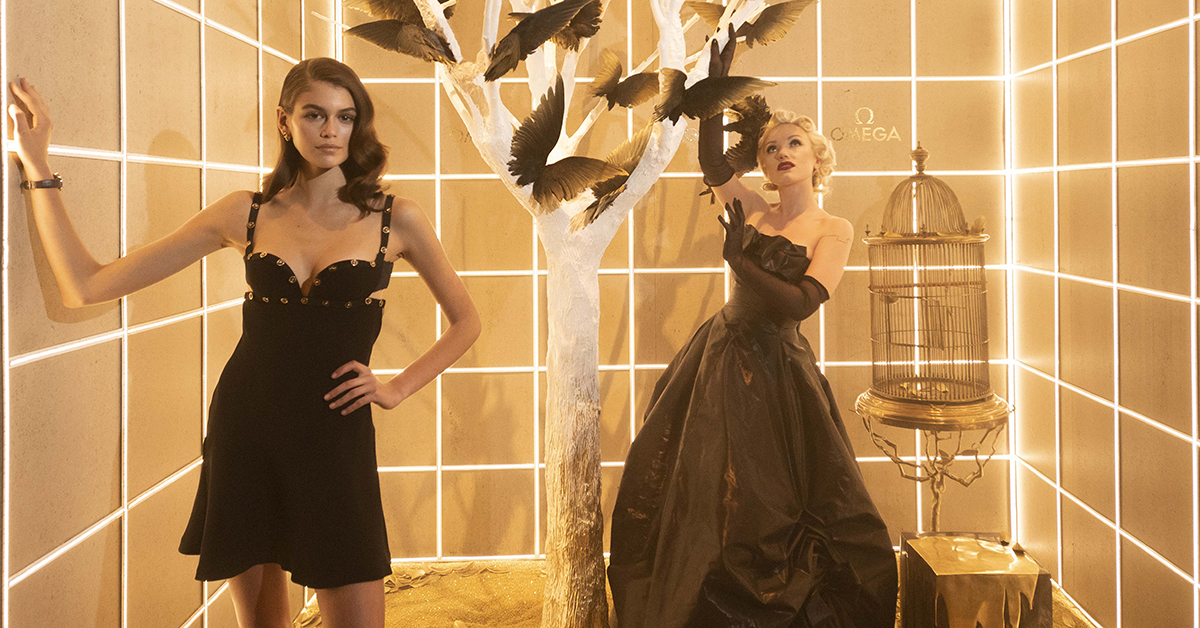 Ever since she made her debut at Raf Simons's show for Calvin Klein
last year, Kaia Gerber has graced the catwalks of most major fashion houses and has landed
 a plethora of campaigns, from Chanel to Versace. Today, she's following in mother Cindy Crawford's footsteps – with Omega. Crawford is synonymous with the brand, having just celebrated the 20th year of her partnership with the watchmaker in 2015 – the longest such relationship in the brand's history. And now that the torch of good genes has been passed down, this teenager is making her own mark. With all of her achievements, especially considering she's just 16 years old, it wouldn't be out of place to call Kaia Gerber the wunderkind of this decade. The title seems particularly apt as we catch up with her in Berlin at the launch of the redefined Omega Trésor watch collection.
So is this your first time in Berlin?
Yes, and I'm about to explore the city, so I'm really excited!
You're only 16 years old and you already have an insanely busy schedule. What does time mean to you?

Well, I've learned to appreciate my downtime. Growing up, I used to get super-bored not having anything to do, but once I started travelling and working, I now really appreciate the time I get to spend at home with my family. I'm a Virgo, so I'm very on time! And I got that from my mom, because for her, if she says to be there at a certain time, you'd better be there five minutes early. She's always like that, so I took that from her – making sure I was always prompt for everything.
When people talk about you, they almost always mention your mom. You obviously have very good genes, but how would you describe a "Kaia style" that's your own?

I'm definitely a bit more of a tomboy than my mom was. I would say it's classic, but with a bit of edge and a kind of less-is-more part. That's why I think the Trésor is my favourite and I think represents my style really well.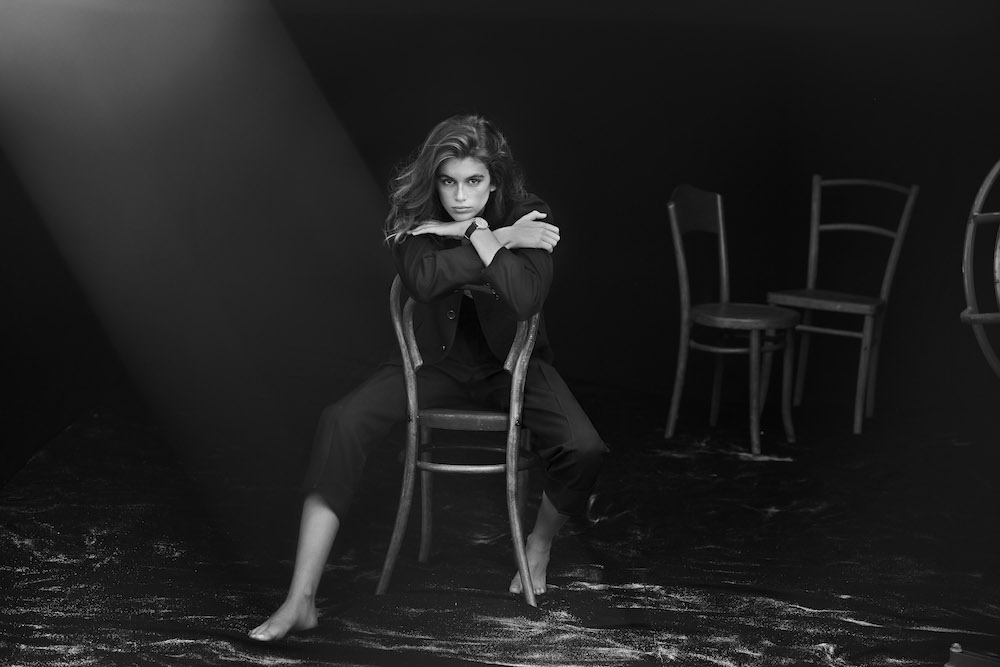 You travelled the world with your mom for Orbis, and have been involved with various charities focused on cancer prevention and other issues. What are the great issues of your time, and of your generation, that you hope you can change or address with your status?
I learned from my parents that they truly are the happiest when they're helping other people and they've passed that on to me.
I don't think I can get that kind of happiness from anywhere else – the way it makes you feel knowing you're making a difference. So where I can make a difference, I love to. I've worked a lot with American Family Children's Hospital with my mom, where her brother was treated. I think now, with social media, there's so much reach to all these issues. Everything is in the light, so just doing what you can, when you can, is the most important thing.
Donatella Versace said you have this attitude of "I can't believe this is happening to me!" Do you feel that way?

Yeah, I never take anything for granted. It's so incredible for me and I think it's easy to let things pass you by, but I really do try to take it all in and experience everything to the fullest.
What have you learned in the last year that you didn't know before?

I think there are lessons that you just have to learn on your own. Like a lot of people my age, what your mom tells you, you don't really listen to. I think I learned how to appreciate downtime, being home and sleeping in my own bed – little things like that.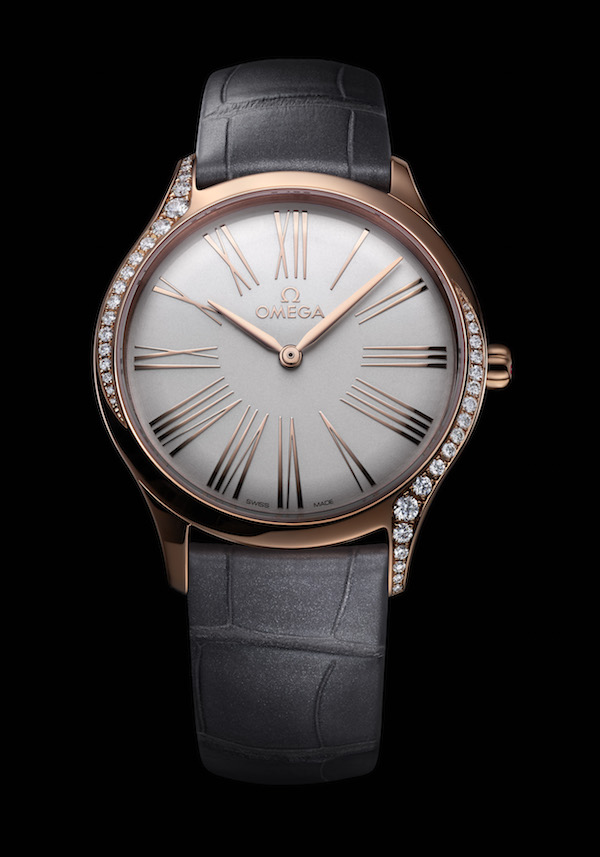 What's the best advice you have been given?
To live life in the moment, which I think is so hard to do now when there's social media. You spend so much time looking at other people's lives, so just take that moment in your own life and be grateful for it.
Many in your generation only rely on their phones to tell the time. Do you do the same, or have you always had a watch on your wrist?
People of my generation don't rely on watches to tell the time, but I think that's why they're important – because they've become a classic piece and you're looking at it in a different way, as an accessory and something that makes you feel good.
In what ways are you an absolutely normal 16-year-old?

In how I live my everyday life. I've always had an old soul, but I don't do anything out of the ordinary – like when I'm back home, I just spend time with my family. We'll cook dinner together. I still do school, too. I'll come back from Paris and do pre-calculus the next day.
What about school? Are you home-schooled?
I attend school online. I'm in the 11th grade and I still take all the classes. I've always been good at school and it's always been very important for me, but I just have to balance it with work.
When was the first time you realised you were really famous?

I still get surprised if someone knows my
name, and I'm like, "Wait, are you talking to me?" Because I don't expect it – ever – and it still surprises me. I don't think there was one moment when I understood it. I think I was about 13 when one person started following me on Instagram and I thought, "How did they find me?" From there, it became how it is now.
You've gone from being a high-school kid with famous parents to being a bonafide star on your own. At what point did you wake up and realise "Whoa, my life has definitely changed…"
When Omega asked me to be the face of the Trésor collection, that was a moment when
I thought, "I'm really doing this on my own." I don't know if I had that one wow moment, but it's really exciting for me – and I don't take anything for granted,
What's one of your earliest memories of your mom as an Omega ambassador?
When I was about six years old, we went to the Beijing Olympics as a family, with Omega, and it was one of my favourite trips I've ever been on in my entire life. I remember experiencing how they were as a family, too – and I think that's what made me want to work with them.
You're obviously very close to your family. I read that you and your brother have matching tattoos. Is that true?

We don't have matching tattoos, but he actually got my name and my lucky number tattooed on him, which was super-sweet – I kind of suggested it as a joke. I said, "Oh, you should get my name tattooed!" and he was like, "Okay, I will" – and he did it! I think that's one he probably won't regret.
Apart from her watch, what's one thing in your mom's wardrobe you'd love to borrow?
Well, we're not the same shoe size – which
is really upsetting to me, because I thought I could steal all of her shoes – but I definitely take a lot of her vintage pieces, because those are the most iconic to me.
What do enjoy the most about modelling?
I like the people you meet; it's the biggest collection of people from all around the world. I grew up in a small town near Los Angeles where it's the same 20 kids from when you're three years old to becoming an adult, so I
love meeting people from all around the
world and experiencing things you wouldn't normally get to.
In the age of Time's Up and #MeToo, what does feminism mean to you?

I think feminism is being confident in who you are and standing up for yourself.
You're on Instagram and have more than three million followers, but who's your favourite person to follow and why?

My brother, because I wouldn't know what he's doing otherwise. So when I'm travelling and I'm not with him, and he's not responding to me, I'm like, "You know I'm going to go on your Instagram and see where you are."
If you travelled forward in time, say 20 years from now, where would you like to see Kaia?
I don't even know what I'm going to be doing tomorrow – so I hope I'm in a happy place and doing something that I love.
This feature originally appeared in June print issue of #legend.