Sartorially and politically, New York Fashion Week has made waves and statements through its flurry of colours, hemlines and pattern play. Spring/summer 2020 is the indisputable season of identity and individuality, encompassing a tone of optimism amongst the chaos that is the current climate. Green with envy (and environmental awareness), we found new inspirations amongst the groundbreaking floral offerings this season (yes, insert that The Devil Wears Prada GIF). Tributes were paid to both the '70s and the 1700s: hot pants to corsets and everything in-between brought us a newfound yearning for the past – though our designers are far more conscious about the contemporary and the future.
Brock Collection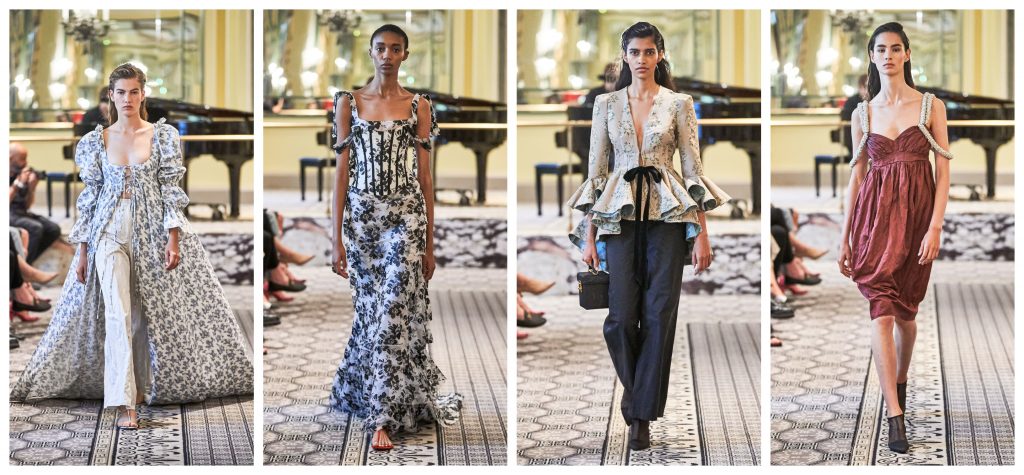 Redefining what it truly means to be a modern romantic, Brock Collection brought us drama, grace and inspiration. Set in the Pierre Hotel ballroom, Laura Vassar explained that she aimed for a retelling of Great Expectations through a collection that played with the parallels of splendour and the unpolished. A new duality was born. A mixture between the grandeur and classicism, as seen through the corsets and jacquard brocade, juxtaposed and simultaneously complemented an effortless staple: jeans. The show's opening ensemble of an almost open ballgown atop a simple pair of straight-leg trousers – what I imagine Edna Pontellier from The Awakening would wear, were she brought to life – set the tone of the collection and set the bar high. Standout pieces were undeniably the black-and-white floral organza corset dress – the unpretentious layering and corsetry exuded pure artistry – in addition to the deep-wine tulip dress with pearl-encrusted cold shoulder straps, and the flouncy floral tops with velvet bows adding flair and echoes of Louis XIV in each step. Paying homage to its strengths and bringing us a fresh take on spring amongst the myriad of tweed and suiting these past seasons, Brock Collection was truly a breath of fresh air. 
Dion Lee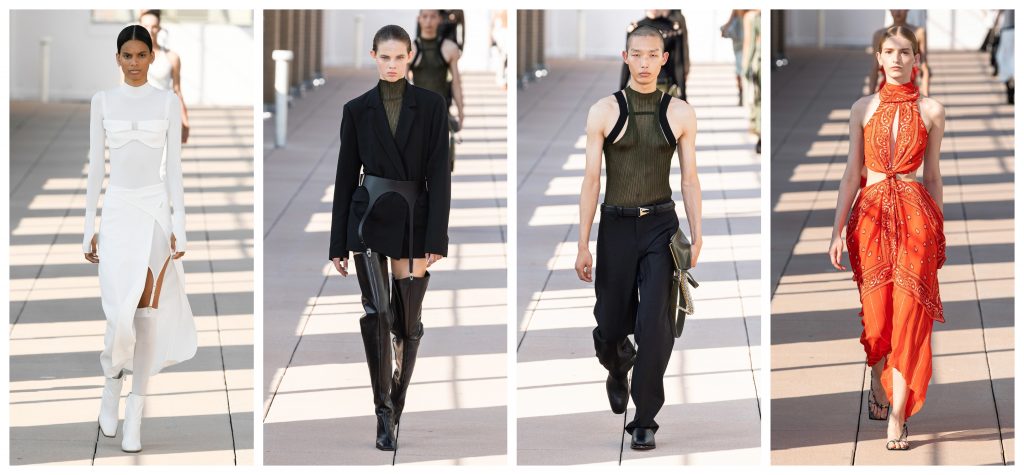 Interlacing formalism and soft silhouettes, Dion Lee showed us a more fluid version of himself this Fashion Week. This spring, Lee adopted a more unisex approach, "I think it was about me identifying with the clothes personally," he remarked. The lingerie-inspired boudoir sensuality was offset by the exuberant bandana print that sought to displace the structure and sybaritic elements we saw last season. The duplexity of revealing and concealing, as characterised by the lingerie, was mirrored in his return of menswear to the runway – namely through the almost Helmut Lang-esque shoulder harness. The opening look began the soldiery of white and displayed one of the defining items of this collection: the garter belt. The pocket bustier that featured two fully functional pockets was pure whimsy and offered a glimpse into the playfulness that would ensue. The show brought us through a story portrayed via colour and construction, taking us from white to nude to green to black to red and back again. The final looks truly encompassed the essence of the show; the two white dresses were form-fitting and sultry, with flowing, unrestricted skirts. With a certain lyricism to his work, Dion Lee brought us a harmonious marriage between the sensual and the utilitarian.
Longchamp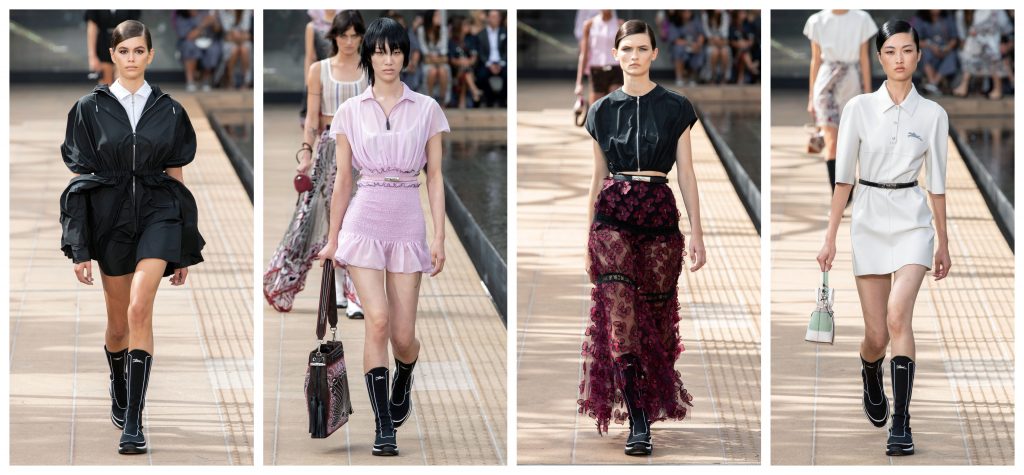 Made for the city girl, Longchamp brought us an electric collection blurring the lines between femininity, athleticism and free-spirited hippie realness against the backdrop of the Hearst Plaza at the Lincoln Center. A palette from the desert explosions of Judy Chicago, creative director Sophie Delafontaine fashioned a collection to take our city girl from sunrise to sunset. Originally an accessory house, Longchamp brought us back to the roots with its effortless utilisation of leathers and suedes and nylons. While the flowing Grecian goddess looks were more unconventional, considering the brand's heritage, their nylon dress, smocked pastels and floral appliqué sheer skirt were stunning, nonetheless. Merging the '70s and the '90s with hot pants, handkerchief hemlines and revamped polo dresses, the French house brought facile crowd-pleasers. A mini Le Pliage was the most alluring mini bag that came down its runway, but it's not far-fetched to say that sneaker boots are going to be Longchamp's next most coveted item.
Michael Kors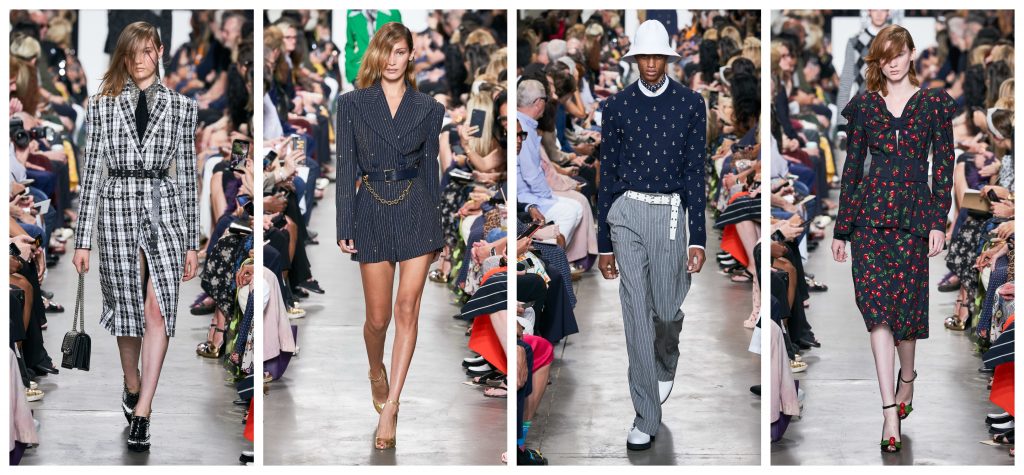 Reconceptualising the American sweetheart, Michael Kors gave a fresh take on the all-American classics of sportswear, wide-leg slacks and oversized jackets, adding his own optimistic twist. Revisiting the '40s, the origin of the power suit, the designer explored the meaning behind being American, offering a commentary on the political climate with special respects to racism and immigration. Bella Hadid strutted down the runway in a gold and navy pinstriped blazer; she twinkled as she passed the front row – a simple revamp on a timeless piece. There was prep in almost every step, whether it was through nautical prints and embellishments, or through the knit and textbook stripe combinations (seemingly straight from a private-school uniform). The punk slant took the collection down an interesting route, showing a harsher and more rebellious side of this American sweetheart. The primary bright palette was peppered with the additions of lemon and cherry prints, with standout looks being the cherry-printed peplum dress – something we imagine Ava Gardner would wear to a dinner party – and the grayscale ensemble of a gingham black-and-white studded coat partnered with a pair of pointed spiked heels. Reinterpreting the American Dream, Michael Kors showed us his own vision.
Prabal Gurung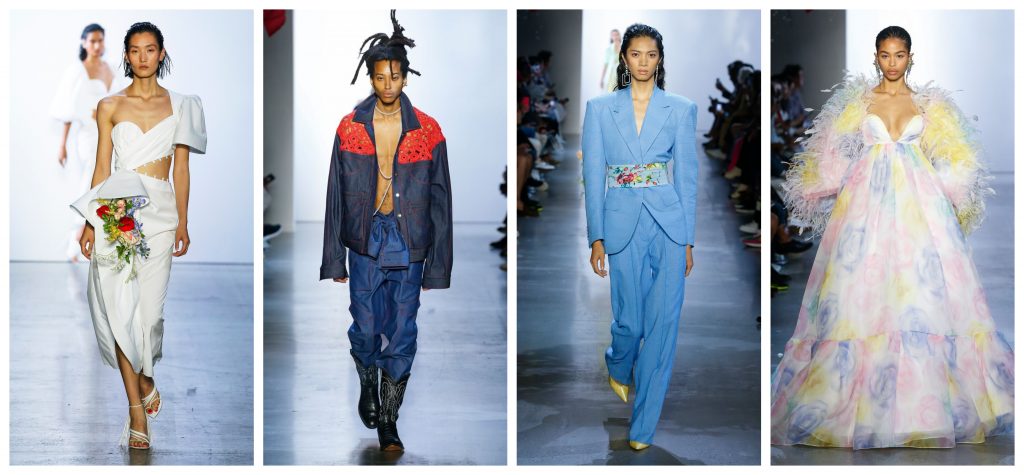 "Who gets to be American?" were the defining words of Prabal Gurung's SS20 collection. A Nepalese immigrant, Gurung has used his talent to present us a medley of pieces to prove that fashion and politics most definitely can mix – and his statement this season was zesty, flirtatious and effervescent. Although he presented us with an oasis of colour, the looks that were most memorable were the opening white dress, adorned with the signature rouleau button cut-out, and the monochromatic purple suit with dramatic puff sleeves and a single oversized earring. The show orbited around his evening and cocktail wear; in full plume were feathered dresses and, through his rose-printed cummerbund and pastel finale dress, we were transported to a springtime garden. Closing with the models sporting silk sashes posing the core question of this collection, it was clear to see Gurung's contribution to the constitutional narrative through his snub of Trump. His denim stylings and diverse cast emphasised the new Americana through the designer's eyes – and we, for one, are definitely for it.
Proenza Schouler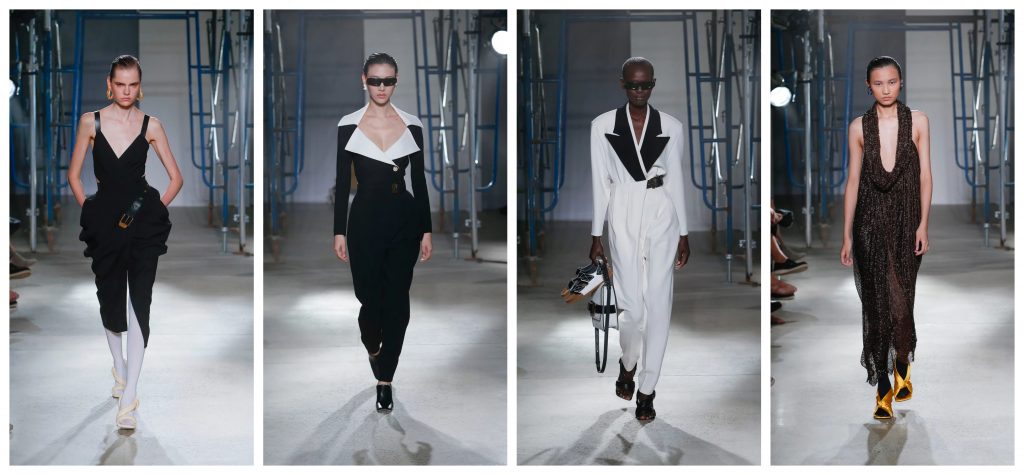 Having oscillated between minimalistic sportswear and couture-like scrutiny, Jack McCollough and Lazaro Hernandez have appeared to have found the perfect balance this Fashion Week: neutralising soft draping and structured tailoring. Renewing the working woman's wardrobe, we were more than convinced with this pitch of exaggerated silhouettes and juxtaposition of smooth fluidity. Proenza Schouler's collections have matured with the contemporary woman they design for; she now has children and, like this collection, has found a new way to balance and centre herself. While citing their inspiration, both designers also mentioned their own mothers, reminiscing about how they would dress for work and paying homage to them through the exploration of '80s overstatements. By night, our muse opts for a sweeter, more relaxed construction of a cut-out dress ornamented with a draped neckline, or possibly a plunging free-formed dress with marigold heels. "They're such badasses," extolled Hernandez when explaining the collection – and none looked fiercer than Sora Choi, with her slicked-back hair and monochromatic jumpsuit with the amplified contrast lapels, and Shanelle Nyasiase in her white suit with asymmetric trousers and contrast lapel and belt detailing, carrying a pair of Birkenstocks from the upcoming collaboration; she teaches us how cosmopolitan women do comfort between meetings. This season's Proenza Schouler woman is sassy and seductive, but as the outro song suggests, no one owns her.
The Row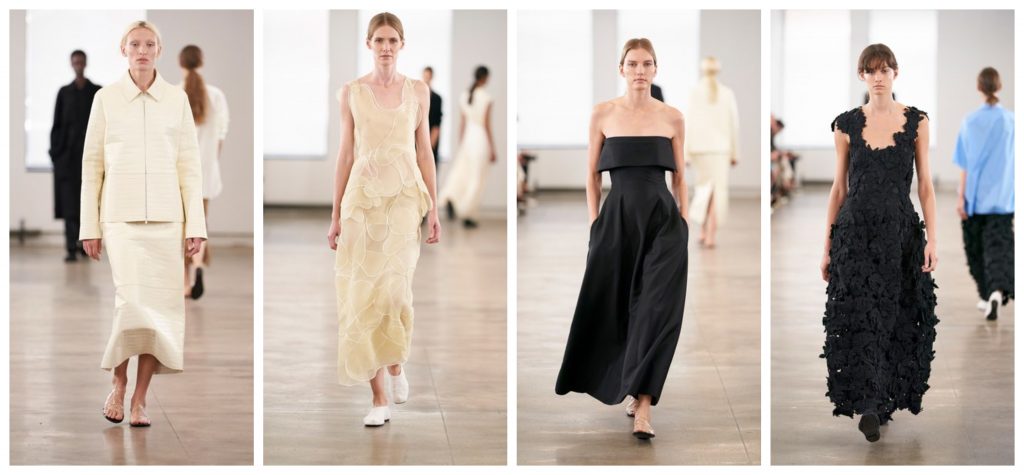 "Clean" was really the only word I could really fathom after witnessing Mary-Kate and Ashley Olsen's latest collection. Precise, understated and unfussy, this season's minimalism was one that could only be created by the formidable duo. The Row has mastered the ne plus ultra of timelessness and effortlessness, with its tailoring and vision rendering everyone in the room awe-struck. The lemon-chiffon-coloured croc jacket-skirt combination with the clear sandals was heavenly – pure and purposeful, it was the minimalist version of a superfruit. There were no embellishments or frills (quite literally), but the show's simplicity presented itself as the polar opposite of tedious. A dress of nebulous cut-outs layered delicately and meticulously floated down the runway as though from a dream, and the pairing of yellow and white was rather angelic. The Row's past collections have been known for their reductive propensities – sleek black coats and straight-leg trousers – but it's not a reach to say this SS20 was imbued with a more curious coveting. Having grasped and maybe even somewhat shaped what modern luxury means, The Row delivered tailored refinement, in nothing short of perfection.
Tommy Hilfiger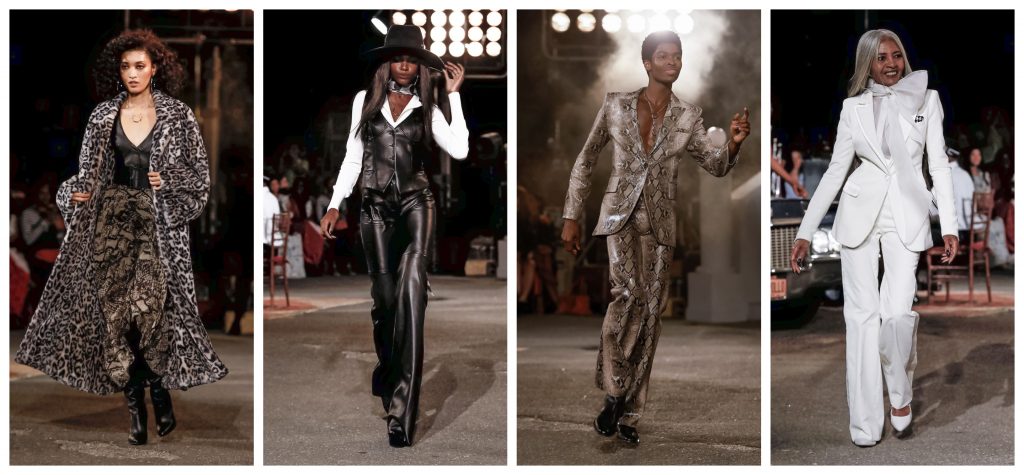 A little party never hurt anybody, right? This TommyXZendaya collection certainly doesn't think so – and why should it? Transporting us to a '70s Harlem block party – complete with retro convertible cars – the energy and attitude of the models and this collection were unmatched. A continuation of the last collaboration between the designer and the actress, the decade of disco was in full swing; flares sashayed down the runway and pussybows floated past an eager audience. Hilfiger described this collection as "redefined power dressing at its core", with an intention to "celebrate and champion female empowerment through fashion". An array of leopard prints, faux snakeskin, smooth leather and jewel-toned velvets swaggered down the catwalk (or block), with audacity in every step. The second part of the show amped up the sass and the moves as metallic suits and breezy dresses danced past. A celebration of the African-American community, the party was held at the Apollo Theater – a nod to the roots of Hilfiger's international success and the creatives that inspired this histrionic show. We guess there really ain't no party like a TommyXZendaya party.
Tory Burch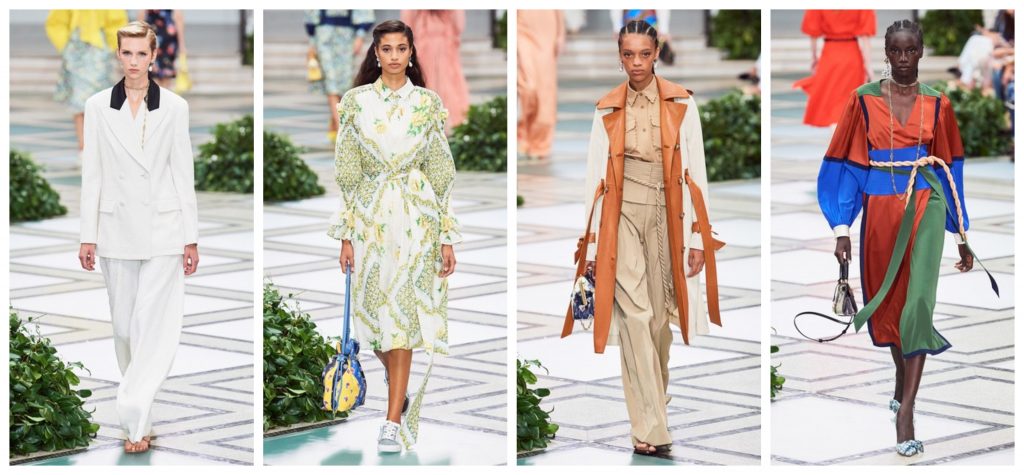 This Tory Burch SS20 runway gave a nod (or a curtsy) to one of the most famous style icons of the 20th century: Princess Diana. Her unforgettable chic has been famed for decades in the media and has become ever more relevant in recent times. It was a reimagined reiteration of the '80s: think aggrandised pantsuits, embellished with embroidery and elevated with the addition of a cummerbund and rope belt, and vividly patterned and coloured dresses with an oversized pussybow and leather-trimmed trenches. Arguably the most memorable pieces were the handkerchief dresses and the complementarily printed leather bags. The airiness and near-whimsy of the dresses strikingly contrasted with the sharpness and convention of the tweed jackets and puff-sleeved midis. The beige ensemble, partnered with the tan and white leather trench, teaches us how officewear truly should be, while the white double-breasted suit with a contrast lapel was the definition of a power suit, channelling the Princess to a tee. The luxurious palette was rich in colour and in taste, offering a casual regality, just as we would expect from Tory Burch.
3.1 Phillip Lim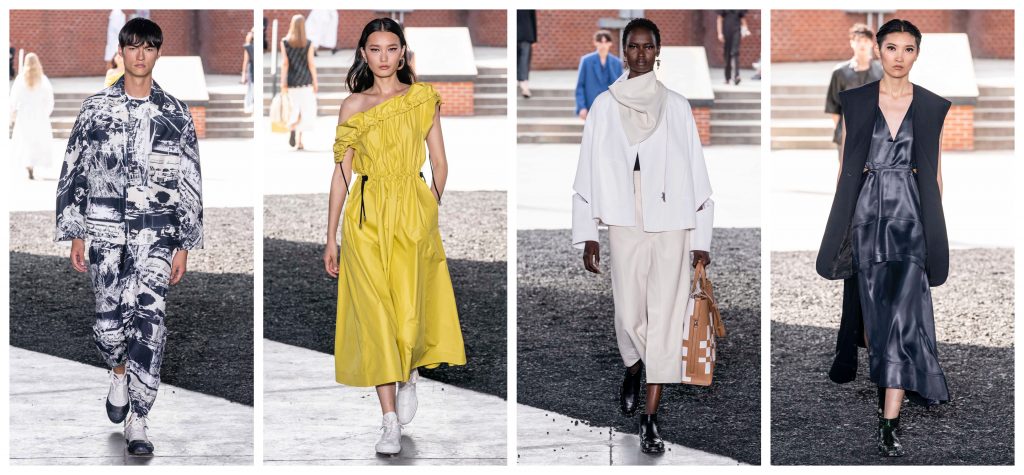 Duality was the central focus for this 3.1 Phillip Lim SS20 co-ed collection; using a fresh outlook, his unconventional sartorial approach was duly noted. Never a dull moment, classic silhouettes were manipulated creating new dimension and dynamism. Fluidity was a running theme throughout, with layered lightweight anoraks, and unrestricted skirts, dresses and trousers. Choosing an open-air warehouse in Greenpoint to showcase his collection, the location perfectly reflected the looks; tranquillity and freedom were found amongst the hustle and bustle of the metropolis. A shift in officewear has not gone unnoticed by the talented designer, who brought us a sober à la mode hybrid in a contrasting, yet somehow understated, graphic print on a shirt-jacket-trouser combo and an asymmetric cut-out blazer with a hood. 3.1 Phillip Lim served us some serious scarf envy this Fashion Week with his leather bandanas, which were playful yet subtle. Contributing to the sustainability discourse, the liquid-like cupro coats and skirts that registered like leather on most photos were made from upcycled cotton waste. Stylish and sustainable, 3.1 Phillip Lim has truly created a fitting collection for the new era of young professionals.