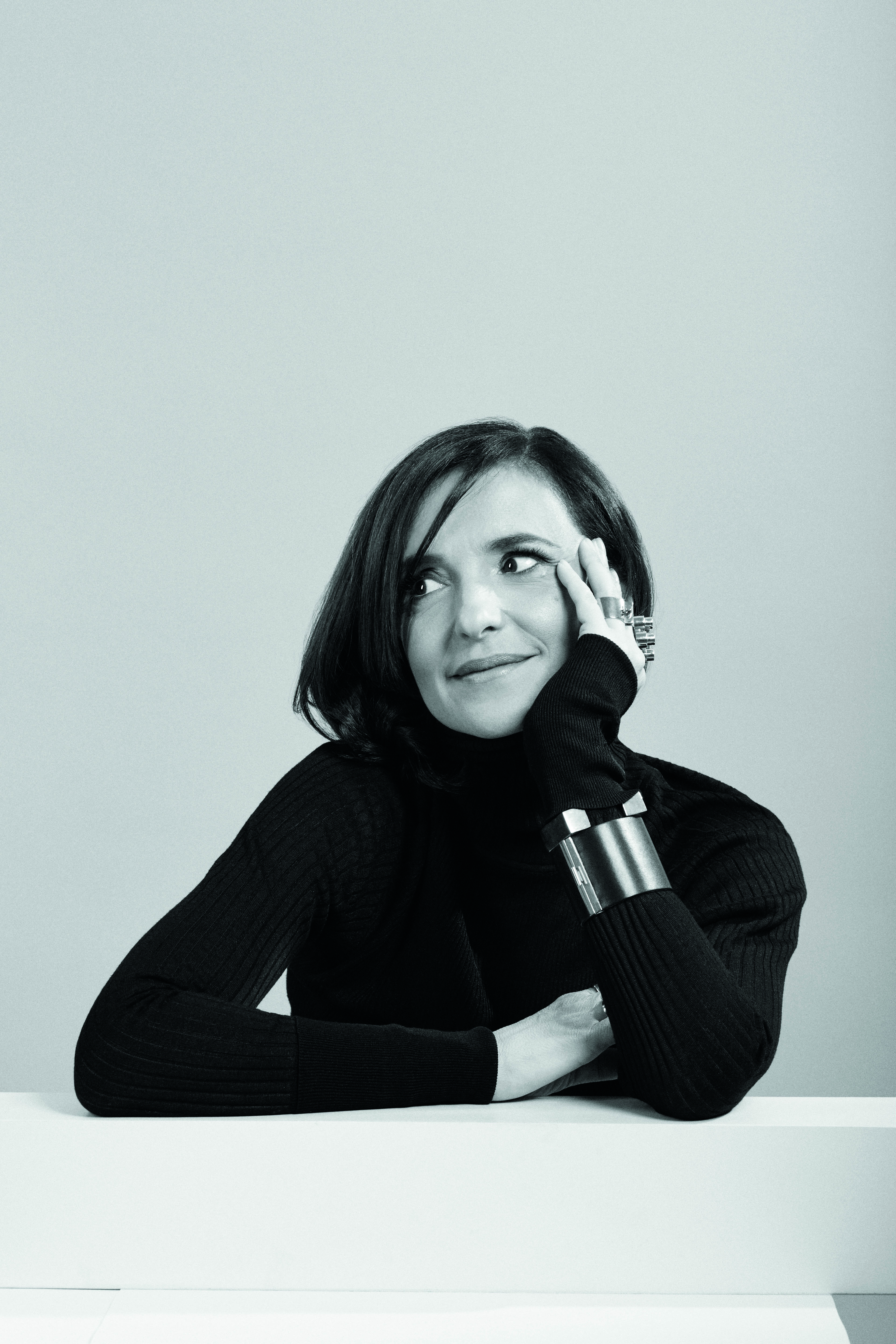 If you met Mercedes Castillo and had no idea she was a designer, there's a pretty good chance you'd think she was an artist or a gallery owner. Recently, when we met her one morning for the launch of her collection at Lane Crawford, Castillo was dressed chicly in a black-and-white combo, accessorised with a long necklace with a nail-head disc pendant and a pair of black Devon slide heels with the same metal plate ornament.
Minimalist, modernist, striking and structural, Castillo's sense of style screamed sophistication and power, but she tells us, surprisingly, that fashion wasn't always her first choice. "I studied fashion in Spain, but I definitely did not have an obsession with it," she says, almost apologetically. "But I've always loved art and my mother encouraged me to pursue fashion."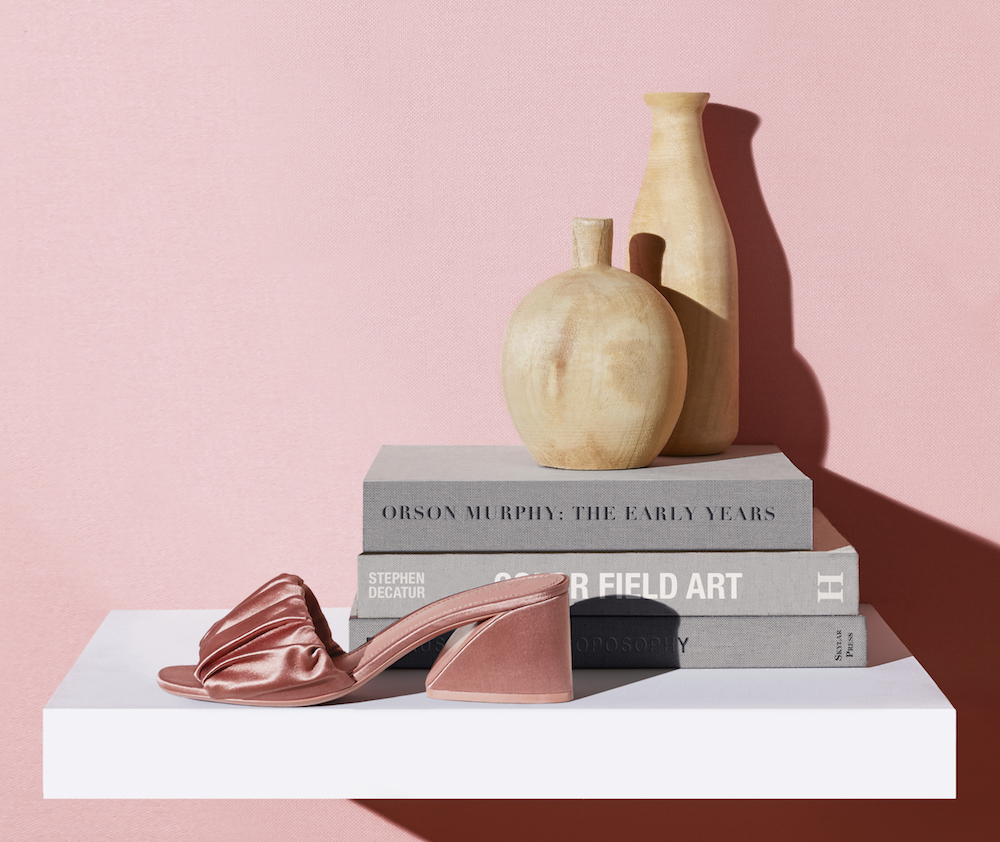 Castillo's choice of school is an unusual one, too. After completing her undergraduate degree in Spain, she did a master's degree in Milan at Domus Academy. "It was a very interesting school at the time; it was founded by the people behind the Memphis Group, all masters of mid-century architecture and industrial design in Italy. It was a very interesting environment to be in, a little bit like the Italian Bauhaus." Later, through different jobs in the industry, she began to specialise in accessories. "So no," she concludes. "It wasn't a first love."
But after 20 years of experience under her belt, working for the likes of Donna Karan and Tory Burch, Castillo became a seasoned pro when it came to finding out what's relevant and what women really want. At first, however, she wasn't so sure about starting a brand. "I know that there are so many brands in the market today, and I feel like so many of them are already great and wonderful," she says. "But I also thought that there was a space to do something that was very relevant and could really resonate with people's lifestyles. Women today are far more decisive. They know what they want – and they want to express themselves."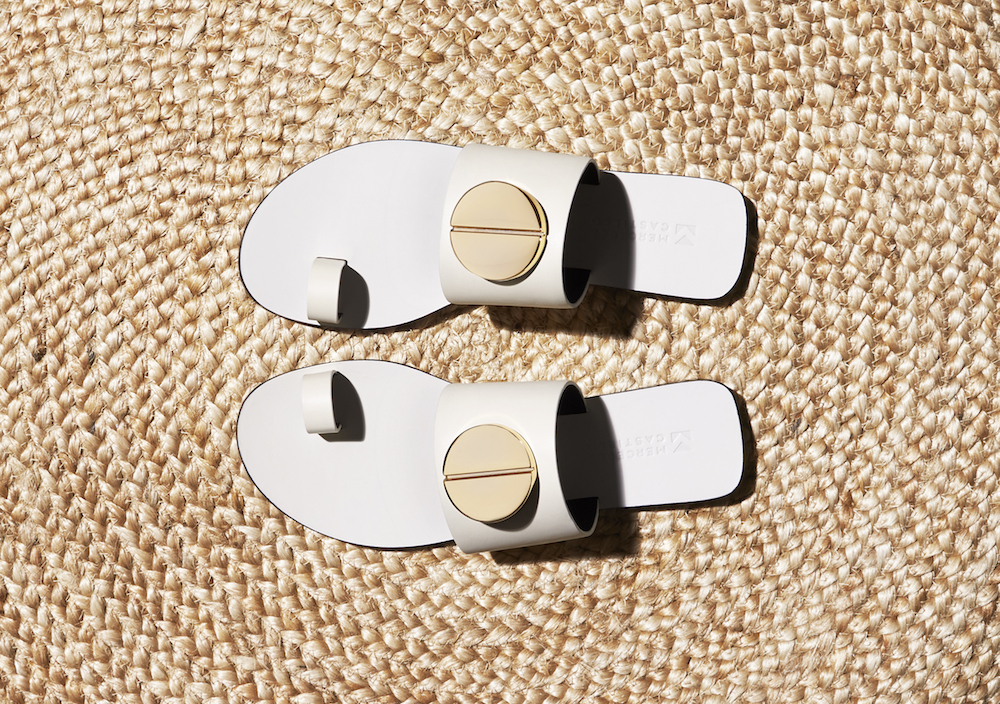 Partnering with the Camuto Group – which Castillo worked with when she helped launch Tory Burch's shoe line – she artfully balances playfulness with a degree of elegance, while underlining her whole brand with the common thread of geometry. Her debut collection consists of shoes and accessories and Castillo is considering ready-to-wear, but for now, spring 2018 is all about fun.
"The foundation of my brand is very much rooted in my passion, which is art – especially abstract paintings, contemporary architecture and sculpture," says Castillo. "But for the spring collection, for the first time I felt like
I wanted to do something that was more of a destination inspiration. I wanted a theme, but because the brand is about modernism, it was hard to find a destination that was based on a real city in the world."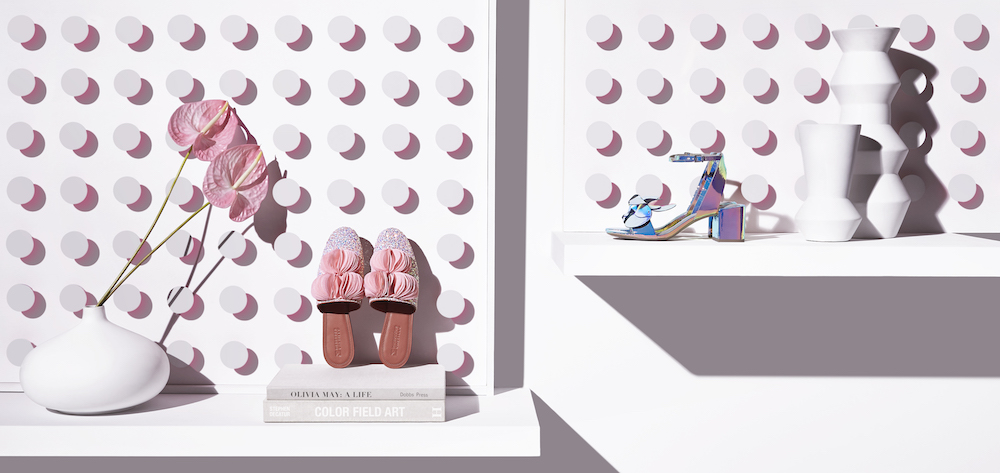 Her solution: create her own Utopia. "It's an imaginary destination. An imaginary family lives in it. The modern house, which is over water, is filled with modern art," explains Castillo. In the collection, you'll find slides with a Mondrian-like woven pattern made from leather strips. There's another shoe with a sculptural decoration made from interlacing leather circles, which Castillo says is inspired by the tropical flowers that bloom in Utopia. There's also a heel with an almost tribal pattern, made with satin embroidery, linen and raffia.
"We thought it would be interesting to think that this family living in this modern house will also collect art and artefacts that were original to the place they were living in," says Castillo. "So there's this element of something more tribal, but still very geometric. It's a bit of a contradiction." And with that, she's painted the perfect picture for her new collection.
While Castillo is neither a curator or an art collector in the physical world ("I married into a very artistic family, so my husband is an amazing photographer and we have a lot of his photography at home. That takes up a lot of space, so I do have some pieces, but not tons"), she's building herself up as a curator of good taste on the internet. On her Instagram, she regularly features the works of young artists, juxtaposed with colour inspirations and stimulating quotes.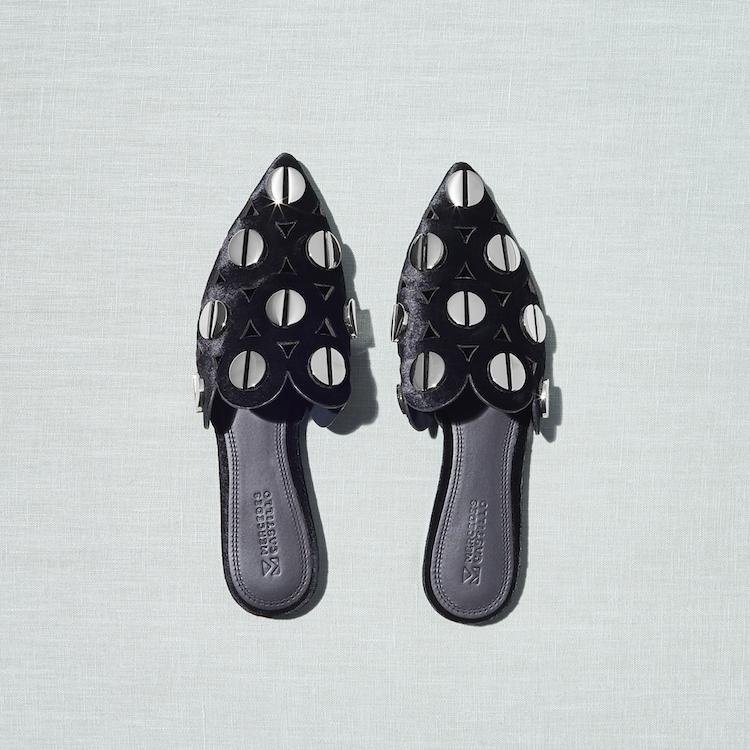 Instagram is more than a mood board for Castillo; it serves as her journal. "It is very interesting – when we started with Instagram, we wanted to make it authentic," she says. "If you see the first image I posted, it's me with my camera. We had this idea of using Instagram as a reflection of my journey as a designer. You'll see stories about the designs, behind-the-scenes snippets, and yes, the artists. The artists we feature, we have a relationship with them. It's not just people we regram. They're all young female artists who might need a little help in getting some exposure. We have the same feel – a similar sensibility."
Visits to galleries and museums and world travels inform Castillo's designs, and her favourite artists include many modern-day masters. "I like things that are geometric, so I often look at artists like Max Bill and Lygia Clark," she says. Castillo's Riza block heels, with a stack of petals in a circular shape, feels very much loosely based on Clark's circular sculptures. "And I love the world of mid- century art and architecture," she continues. "There are some Brazilian architects that I love; Isay Weinfeld is one of them. And I definitely draw colour inspiration from artists like Ellsworth Kelly."
Does Castillo draw or paint? "No, I don't. I actually think I do it through design. Detailing and choosing the colours, fabric manipulation is probably the most beautiful part of the process. It's the part I enjoy the most." She pauses, then continues. "My mother was definitely an artist. She had incredible style. The way she dressed and approached fashion was very unique; she always had a twist to everything. She paints and draws beautifully. She was asked many times to model – she never modelled. She was a huge influence on me."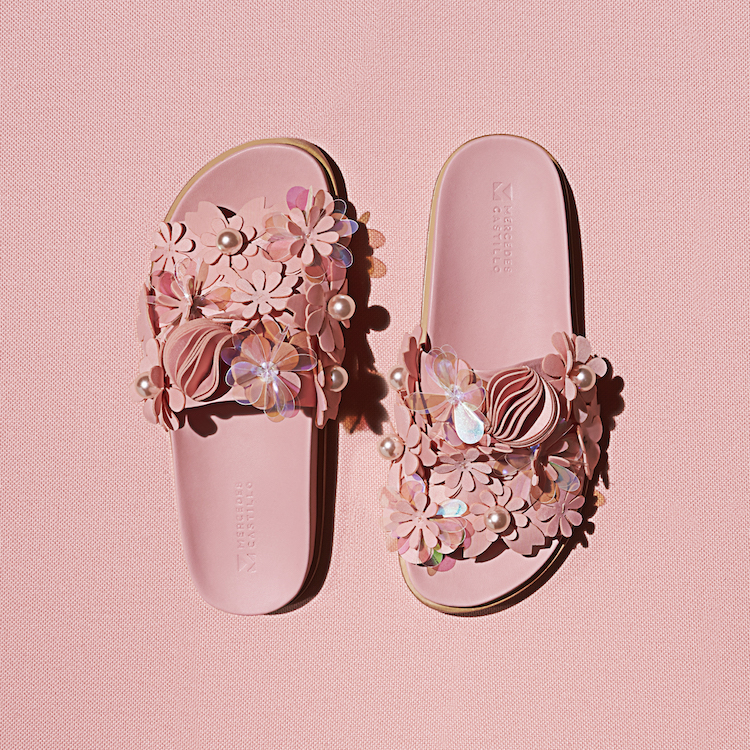 Indeed, Castillo's mother was her first muse. "There's actually a story written on our website called 'My First Muse'. It's dedicated to my mum," she says. The story recounts how, as children, Castillo's mother would take her and her brothers to the Jardines del Real and Jardines de Monforte in Valencia, Spain, where they lived. And while the children played in the gardens, her mother would sketch the lush flora, the fountains and the classical sculptures.
In the story, Castillo writes: "My mum's creativity and unique style were my early inspiration. She is beautiful and very elegant. She has incredible design instincts. And she has a great appreciation for quality and perfection. As well as sketching, Mum draws beautifully. She knows how to tailor and sew. And every single piece she owns has a story – almost nothing was bought from a store. She designed it and made it."
Her mother had the confidence to be her own muse – and Castillo hopes her customers can do the same with her brand today. Like her mother, she sees women today as being extremely engaged with their creativity. Wearing Mercedes Castillo isn't so much about wearing "an aspirational brand or about having somebody else's lifestyle," says the designer.
"I created the brand so that I could help women be their own muse." Before I leave, Castillo shows me the shoe box that the brand's footwear comes in. It's a vibrant yellow; is it perhaps inspired by Lucio Fontana? Castillo calls the pigment "optimistic". The interior of the box features a muted blush pink. Utopia indeed. Slip comfortably into a pair of slides and let your feet guide you to paradise – or perhaps to the nearest art gallery.
Photos: Designer Mercedes Castillo and looks from her new spring 2018 collection, available at Lane Crawford
This feature originally appeared in the March 2018 print issue of #legend.