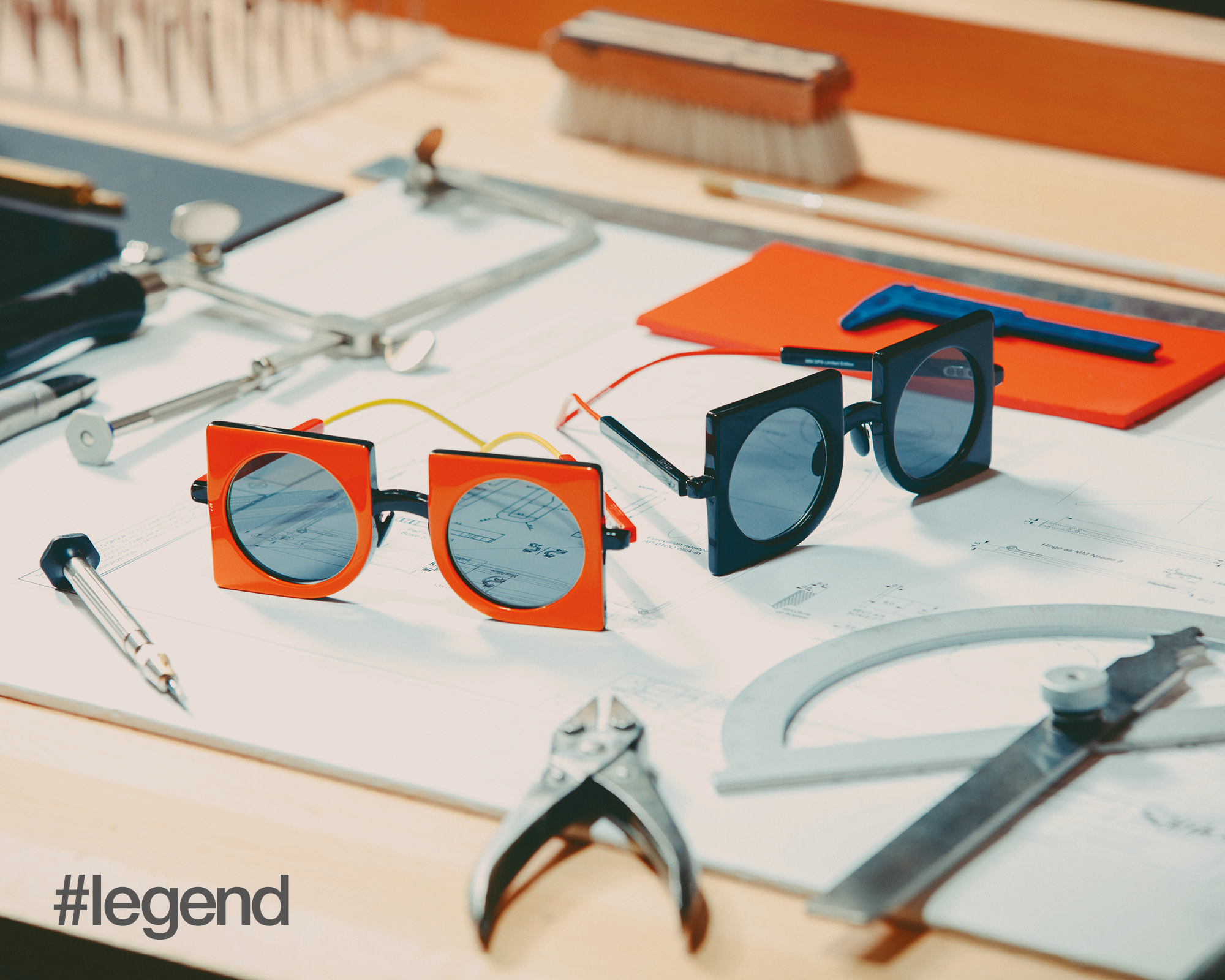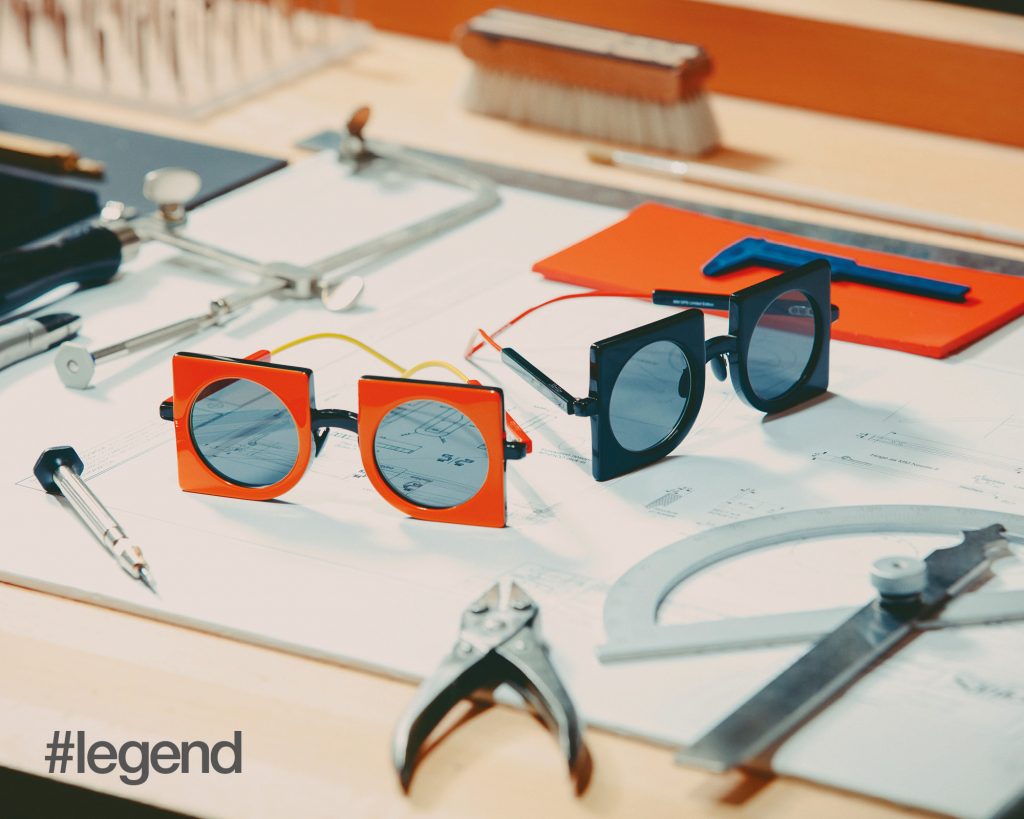 Following the three previous eyewear collaborations between Max Mara and contemporary artists titled Optiprism, Prism In Motion and Lavaprisms, the ongoing eyewear prism project gets Neoprism, the fourth facet in this collaboration with CoopDPS.
CoopDPS is the brainchild of British product designer George Sowden and French artist Nathalie du Pasquier, and is he name used to sign their collaborative works. The Neoprism project emerged after the duo was inspired by studying at the logo of the Prism collection – a combination of a circle and a square, and they envisioned this becoming a physical object. The front is characterised by a combination of geometric shapes that conveys their idea of the Max Mara woman and expresses, at the same time, femininity and functional aesthetics.
Rendered in black or orange with grey lenses and brightly coloured tips, these sunglasses are produced in a limited edition of 800 pieces as part of the autumn/winter 2019–2020 Max Mara eyewear collection. A fine interplay of saturated tones and geometry defines both the sunglasses and the packaging, which includes a printed metal box with geometric patterning and a soft black case with the Prism emblem.
From the glasses right down to the packaging, the signature styles of both artists are unmistakable. Here, we chat with Sowden and du Pasquier to find out more about the collaboration.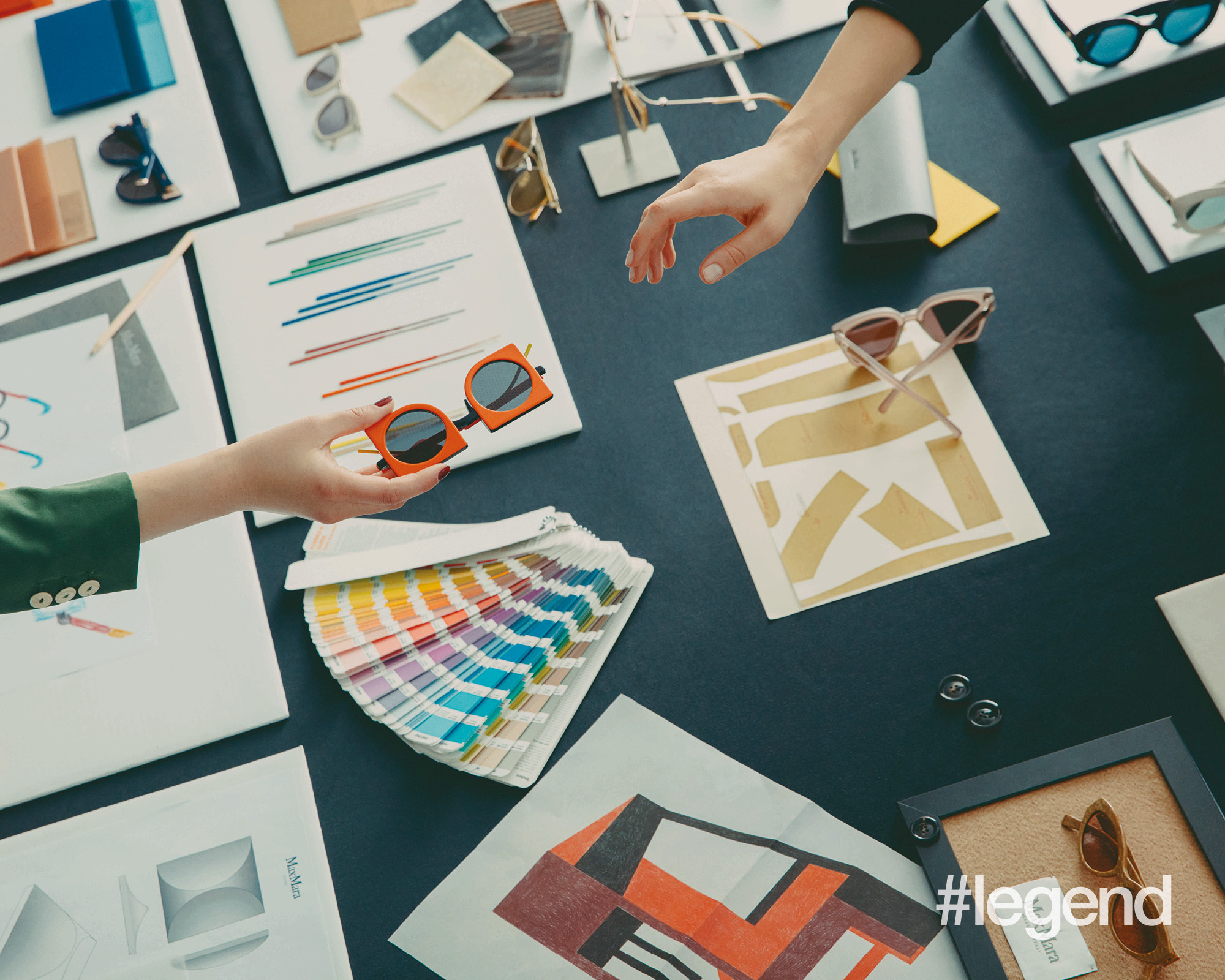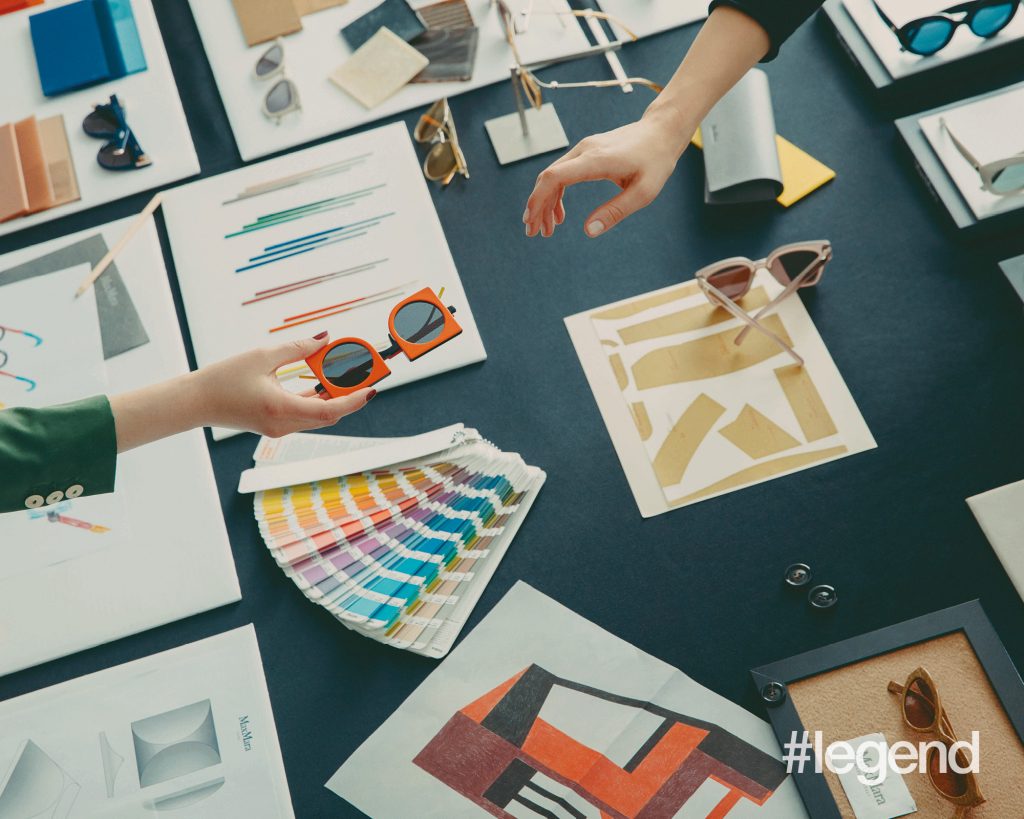 How did you two meet?
Nathalie du Pasquier (N): George and I met by chance through friends when I had just arrived in Milan in September 1979. Since then, we have lived together.
George Sowden (G): I met Nathalie at a party in Milan, the city where I had been working as a designer since 1970. It was immediately after our first meeting in 1979 that we started working together, developing ideas and drawings, mainly for textile designs. A few months later, we came to the attention of the larger public when we participated as founding members in the first Memphis exhibition in Milan in September 1981. We continued working together for several years in the early 1980s, but around 1986 Nathalie decided to dedicate more time to her studio as a painter, while I decided to give more of my time to managing my industrial design and R&D product development office.
How did CoopDPS come about?
N: CoopDPS started four years ago under that name, on the occasion of a request we had of doing a project together about decorated surfaces. It's a theme we have both explored – George in the early '70s and me following him some years later. We had not worked together since the '80s. At the time, for the works we did together, we used to put both our names. Since 1987, I didn't work as a designer anymore and started painting. CoopDPS sounded like something that was different from both George's work and my own.
G: However, over the years, we didn't lose interest in a special way of expression, or our personal interest in working with craft and small industrial organisations, of which much of our work is a consequence. Our interest remains very much a big part of our body of work today. It happened that, with the increasing recent interest and demand for our designs in this area of work, we chose CoopDPS as the logo to collectively identify the new work we are doing together. Interestingly and importantly, work done in collaboration takes on a quality that is different to projects developed individually – it was this that we felt needed to be distinguished from the work we do separately, and the reason for the new name.
What was your approach to the design of these Max Mara sunglasses?
N: From that first meeting, we quickly understood what we wanted to propose. We decided on the materials as well as the idea of different colours on a quite simple shape.
G: The weekend following our visit to Safilo, Nathalie and myself, working together, produced ideas and sketches, creating a flow of ideas that we felt gave the feeling of identity and which, according to us, represented three-dimensionally the enthusiasm and the quality communicated to us by our visit.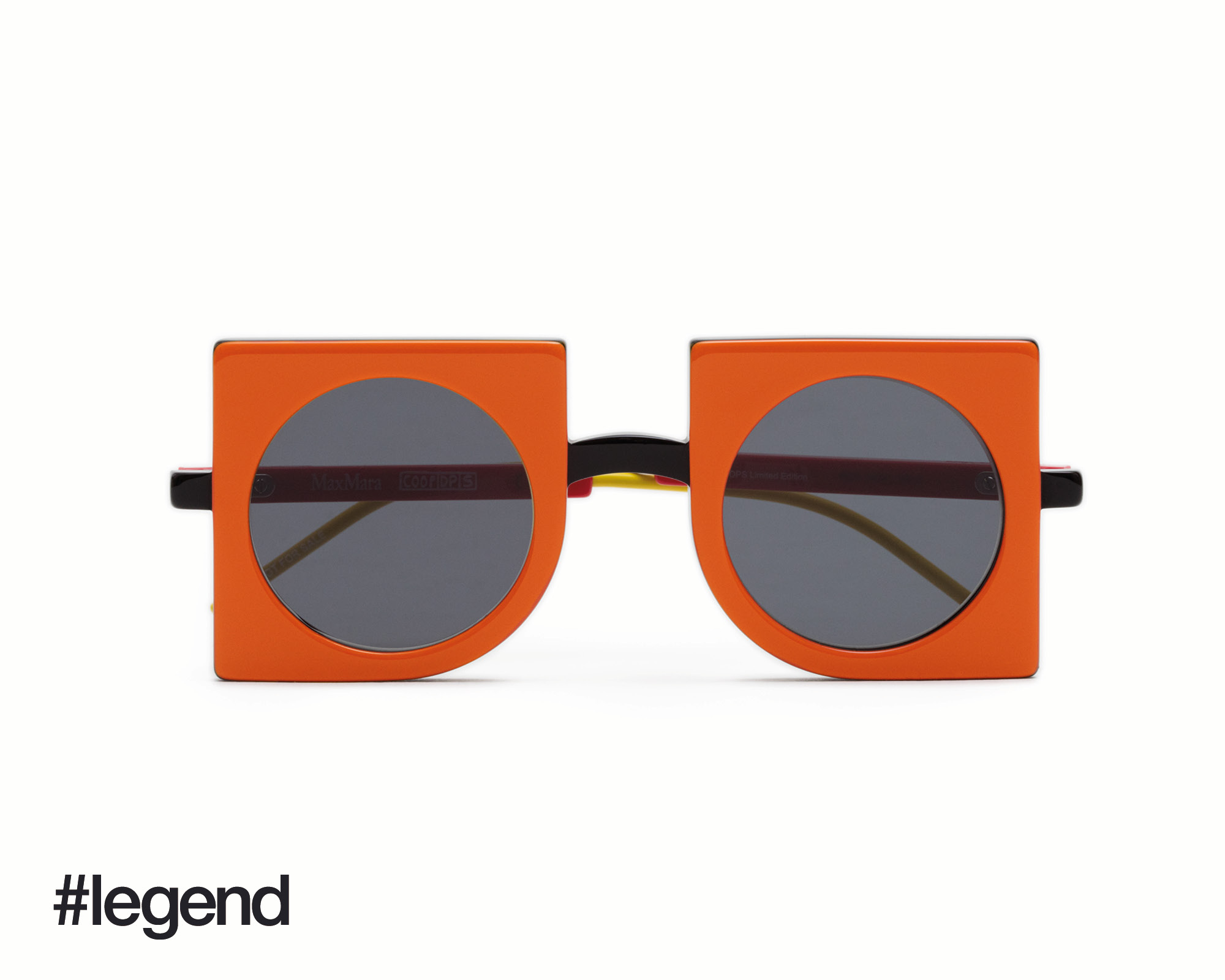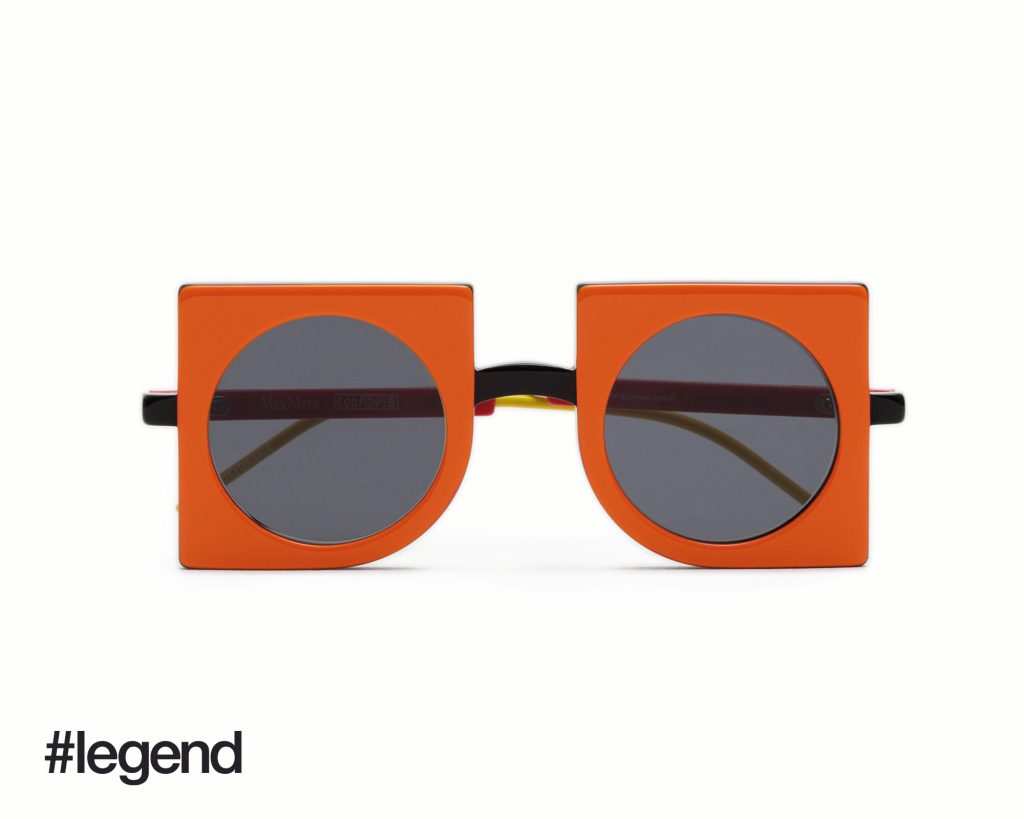 What were the inspirations behind them?
G: The people we met, the ambience, the story behind the client and their context within the exponential, ever-changing growth in the world of fashion.
What do sunglasses represent to you as an accessory?
N: The sunglasses are supposed to protect your eyes from strong sun rays. Some people use them to hide the result of a sleepless night; some others like a little mask or jewel that adds a fashionable element to an outfit. For me, sunglasses are just sunglasses – but I know they modify the face.
G: Fashion accessories are all things to all people – this is their nature. They cannot be absolute; they are temporary and will change as fashion does, constantly reinterpreted and redesigned, the result of feelings and sensations guided by subjective decisions, bought by someone looking for a special indefinable identity.
What do you think is the relationship between art and fashion?
N: It was also very interesting to visit the Collezione Maramotti, which made very clear how both art and fashion are representing the time in which they are made, both with their feeling about the future and the most prominent ideas of their time.
How did you conceive the packaging?
N: Having kept the idea of the glasses quite simple, we used the packaging to insert a more playful aspect and to represent the prism we know to be the symbol of this collection. The prism being a combination of a circle and a square is quite a "modernist" idea – it takes us back to the time when women started participating in working life and takes us back to the origin of Max Mara.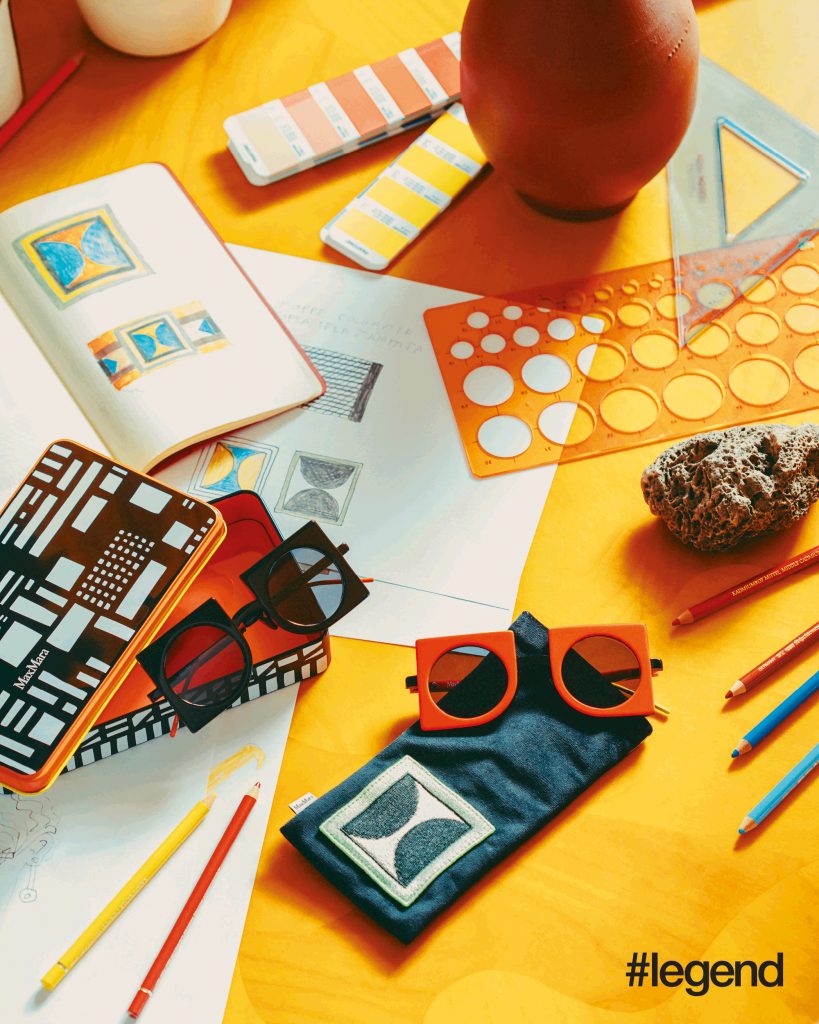 "Fashion accessories are all things to all people; this is their nature. They cannot be absolute. They are temporary and will change as fashion does"

Nathalie du Pasquier