Louis Vuitton's travel-inspired Objets Nomades collection is celebrating its 10th anniversary this summer at K11 Musea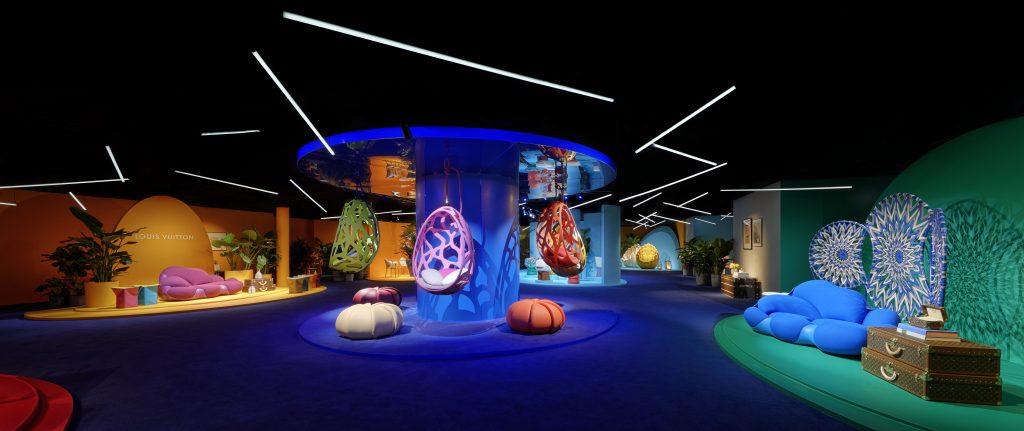 With the opening of its bespoke exhibition at K11 Musea, Louis Vuitton is treating visitors to a display of optical illusions and graphic imagery through specially designed and curated areas. The visuals create a surreal backdrop for the luxury house's Objets Nomades collection, which was recently feted at an opening event attended by celebrities including actress Karena Lam, actor Jeffrey Ngai, athlete Stephanie Au and pop singer MC Cheung.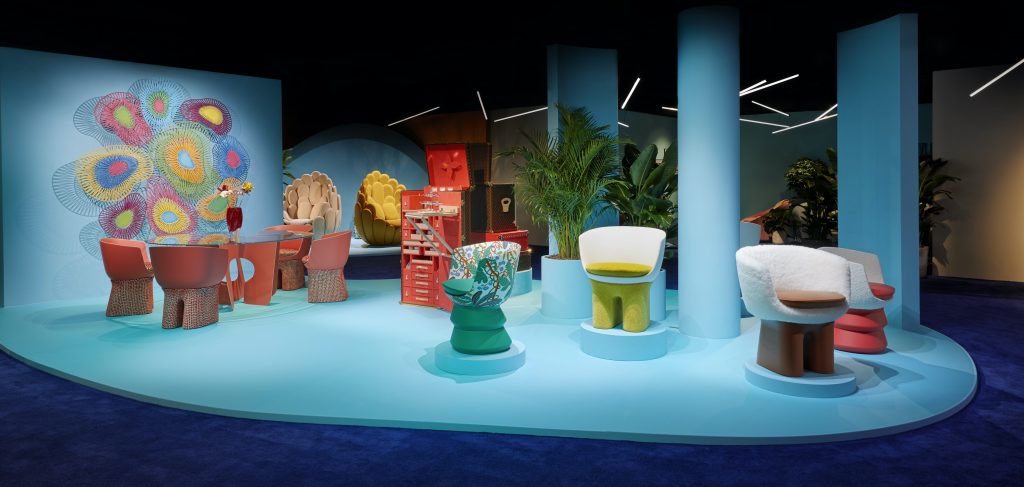 Since Objets Nomades' launch in 2012, Louis Vuitton has collaborated with some of the most creative up-and-coming and established designers to create a collection of distinctive travel and home-related objects. Joining the ranks of Andre Fu, Maarten Baas, Patricia Urquiola and the Campana Brothers this year are Frank Chou, Atelier Oi, Raw Edges, Marcel Wanders and Gabriele Chiave.
Beijing-born Chou is known for his elegantly experimental designs that marry traditional and contemporary features as well as oriental and Western elements. His firm, Frank Chou Design Studio, has won numerous awards since its founding in 2012.
For Objets Nomades, Chou contributed his Signature Sofa and Armchair inspired by the layering of terraced fields in Yunnan. He designed indoor and outdoor versions, of which the former is upholstered with rich Louis Vuitton leather and the striking three-dimensional "Dots" fabric from Italian brand Paola Lenti while the outdoor model (the first from the collection specifically designed for outdoor use) is made with Louis Vuitton's legendary waterproof canvas and Paola Lenti's signature "Brio" fabric.
The aforementioned Campana Brothers – Fernando and Humberto – this year created the Aguacate (Spanish for "avocado"), described as a "constellation of brightly coloured suns radiating in rays of handwoven Louis Vuitton leather straps". The piece is limited to only 30 worldwide.
"Collectors can exhibit their Aguacate to suit their space in an infinite number of ways," says Humberto Campana. "The piece opens up so many possibilities. It's exciting to imagine what new arrangements people will discover."
In addition, the Campana Brothers' Merengue pouf is made with eight sections of Louis Vuitton leather and a soft wool lining. True to the designers' signature vision, the Merengue comes in vibrant colours that would light up any room.
Also see: 100 Takes: Artist, photographer Phoebe Richardson records hottest days
"For this edition, we wanted to bring down the scale of our pieces to allow more versatility and movement, staying true to the spirit of travel," says Humberto Campana, to which his brother Fernando adds, "We also wanted people to have fun and imagine themselves as characters from Alice in Wonderland, surrounded by surreal sweetness."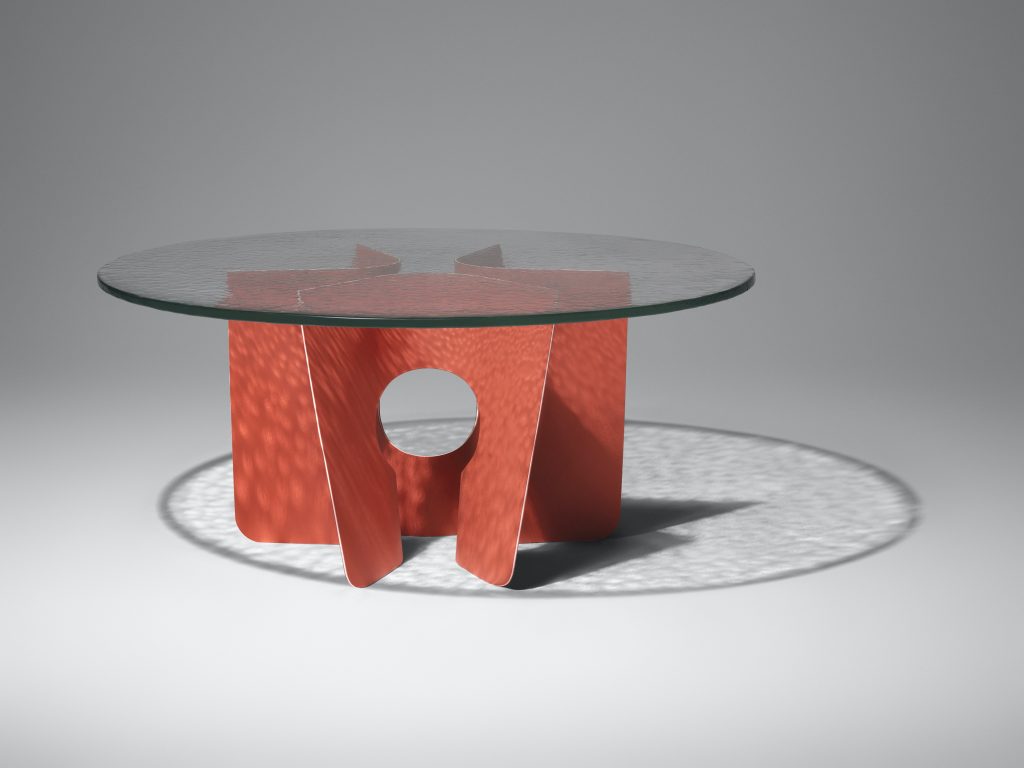 In contrast, design duo Raw Edges bring us Cosmic Table, which was originally created by using three pieces of paper covered with Louis Vuitton leather. "We were continuing our study into creating complex shapes only by simple flat surfaces," explain partners Yael Mer and Shay Alkalay. "In this case, we were intrigued by the idea of no distinction between the inside and the outside of a shape."
When it comes to shape, there is something about Marcel Wanders Studio's Petal Chair. With four cushions for the seat and five for the back and armrest, it resembles a blossoming flower of rich cream-coloured Louis Vuitton leather.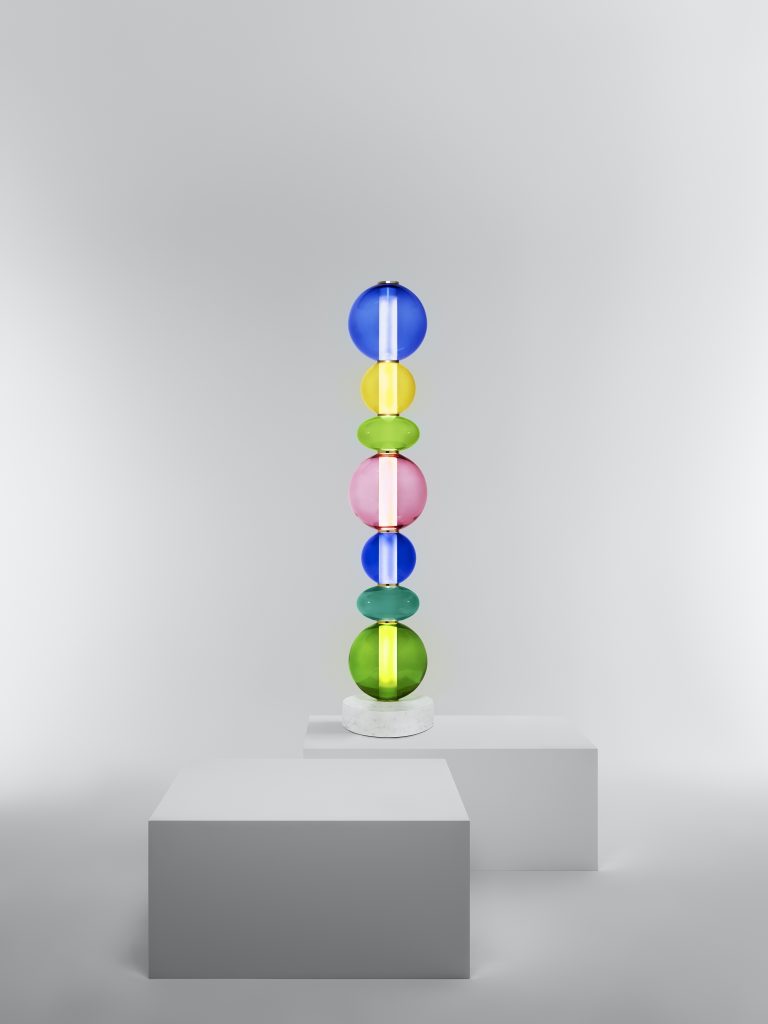 Last but not least in the collection's new additions is Totem Lumineux's LED column. Adorned with seven hand-blown Murano glass spheres in five different colours, the column sits atop a solid marble base with each sphere supported by gilded brass rings and the top ring engraved with the Louis Vuitton signature. As with every piece in the Objets Nomades collection, it pushes and surpasses the boundaries of everyday materials to showcase the maison's attention to complex craftsmanship and creative innovation – not to mention the contemporary visions of a diverse group of international designers.
Also see: Interview: AES+F director Antony Svyatsky blurs the lines of arts