Homebound no more, Hong Kong's influencers share their post-quarantine fashion choices
May 21, 2020
Like most people in lockdown, comfort mattered more than anything as we lounged and yes, worked, at home for weeks. Now that the government has loosened restrictions on social distancing, I thought it was interesting to hear from some of our most fashionable friends in Hong Kong about their "stay-at-home" style, and how they plan to dress as they re-emerge from the confines of their homes and return to #thenewnormal.
My first look out of quarantine was an easy one: a Frankie Shop shoulder pad t-shirt, trousers from my new favourite South Korean label, Low Classic, and sandals by Yuul Yie. I resorted to wearing a lot of sweatsuits and work out clothes. Elastic waistbands were my friends, and unfortunately, so were cookies from Cookie Dpt – oops.
Any guesses what @declanchan, @xoxo_fei, @fayetsui, @kaylaiw, @fionamcl, @elly and @victoriaxtang post-quarantine fashion approach will be? Read on to find out.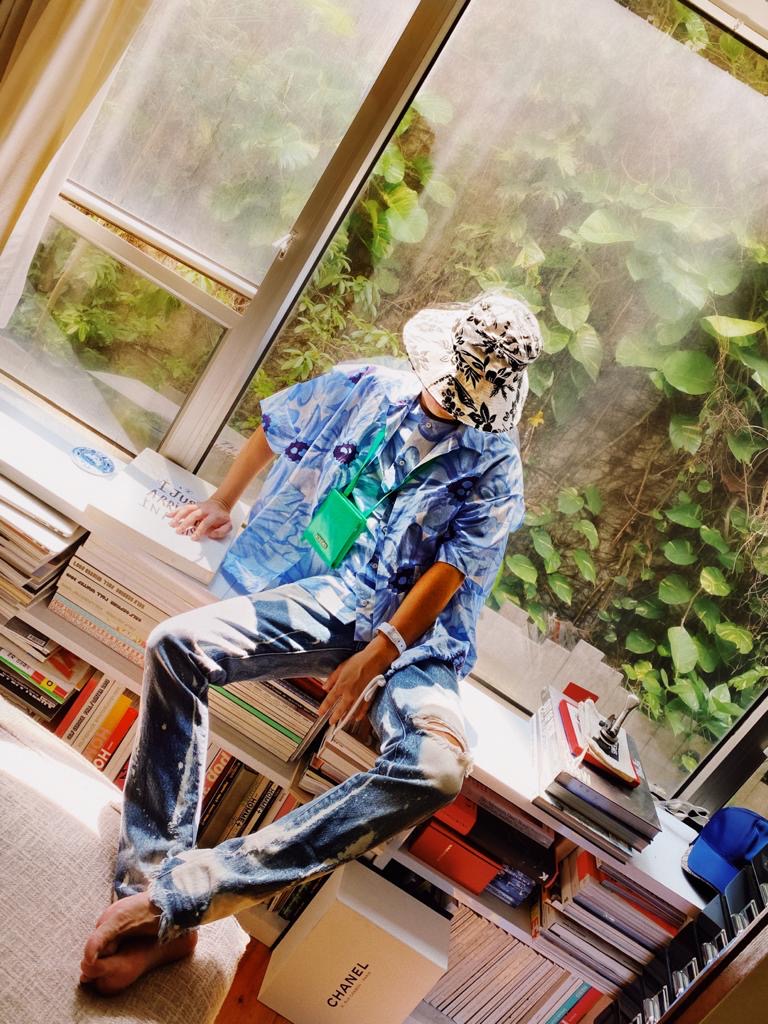 "I didn't resort to wearing anything too simple during my quarantine, instead, I looked for things that were candy-coloured or floral printed to lift my spirits. I started using TikTok these past few months and I saw a lot of people making their own tie-dye t-shirts at home, which I would love to try one day. My style hasn't really changed much, but I was more mindful of how to clean my clothes. I wore things that were machine washable, and we kept everything very clean. I limited myself to wear between 4-5 pairs of shoes, which I placed outside my apartment for hygiene purposes. I just had to make sure that those few pairs have to work with every outfit."

@declanchan
"My style didn't change much over these few months, but I did find myself dressing in a bit more casual fashion. Some items that were on heavy rotation included by favourite shirt dresses, t-shirts, leggings, sneakers and flats. I got some good use out of my new Celine basket, which fit a lot and was easy to match with on-the-go looks. One thing I have been investing in a lot of lately is a good blazer, so the first thing I wore out was a short suit look in similar tones – a great look to wear for the summer."

@faye_tsui
"I broke my right foot during quarantine so I'm living in comfortable styles such as tie-dye pyjama sets by Plush, maxi dresses by Kalita, as well as summer sandals by Malone Soulier and sneakers from Chanel. I found myself resorting to flowy styles and basically anything with an elastic waist band for my time at home. My first look out of quarantine was a feathered dress by Turkish label, Gul Hurgel to a birthday gathering. It's festive but still a comfortable transition after living in loose clothing at home for two months."

@xoxo_fei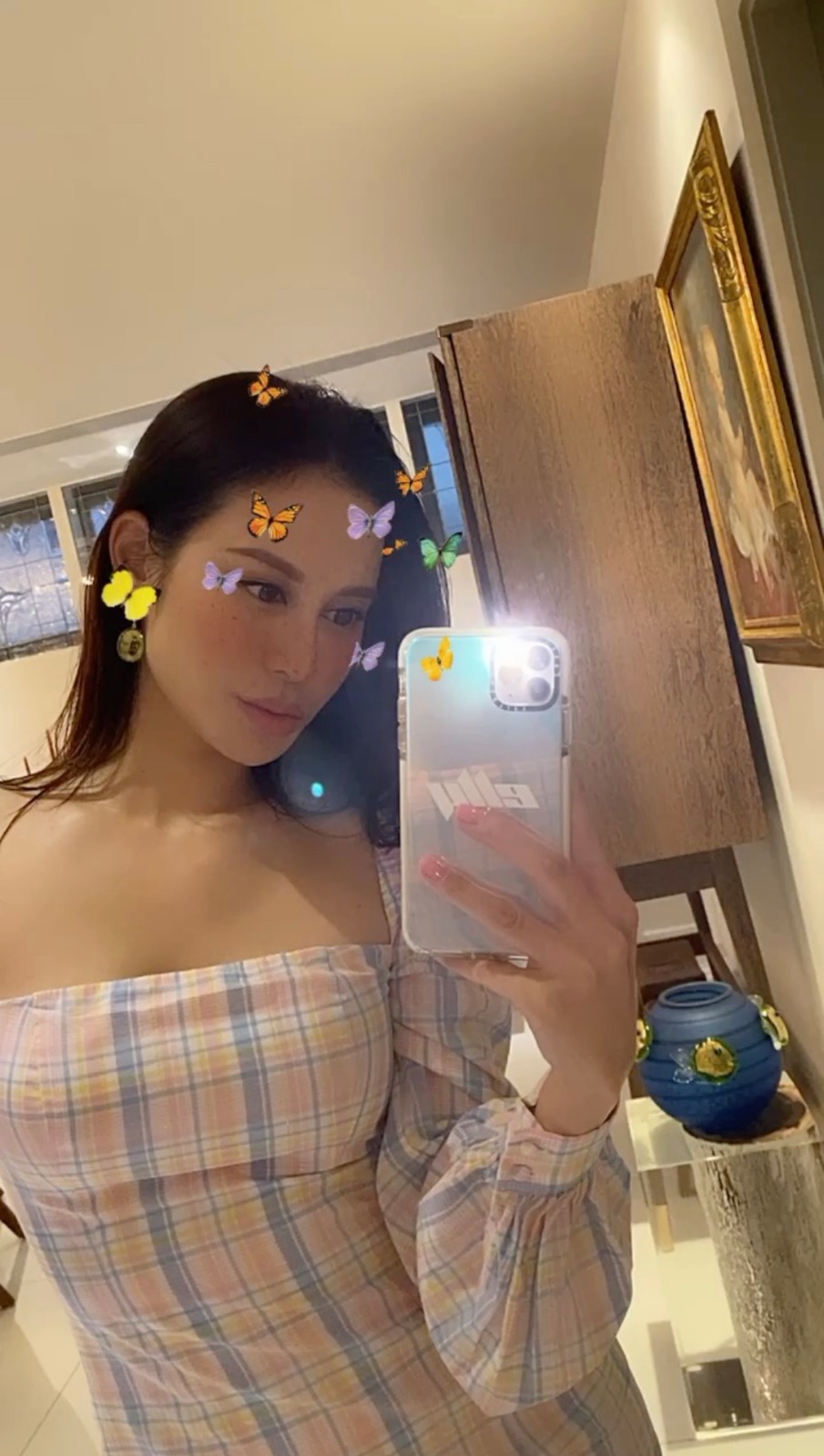 "For me, the "new normal" is comfort over everything else; I've definitely traded in my usual heels and dresses for a lot of sneakers, slippers and sweats. I've rediscovered my laid-back LA style from my years living there. I don't enjoy wearing heels as much, and if I had to pick between overdressing or underdressing now, it would definitely be the latter. With that being said, coming out of quarantine – I was very excited to dress up. I've especially missed the beauty aspect of it so I spent a good hour or so doing a full face glam on my first night out. My first outfit out of quarantine was a pastel checkered off shoulder dress that I wore for Cinco de Mayo because coincidentally that was the first day they lifted the max four-person ban in public so I was able to celebrate it with a bunch of my friends."

@elly
"Comfy styles were key during quarantine – I wore sweats and my favourite hoop earrings all the time. French label, American Vintage, was a happy discovery during the lockdown, and I lived in their oversized t-shirts. I wouldn't say my style has changed much cause I have always put comfort first. Coming out of the lockdown, my first outfit was a dress from Loewe's latest Paula's Ibiza collaboration and a trusty pair of Van's."

@kaylaiw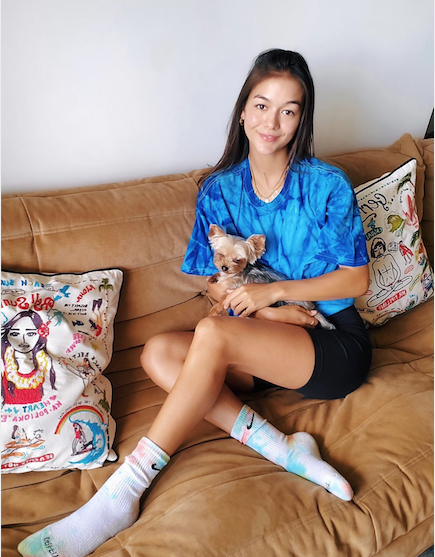 "I started experimenting with a lot of colour coming out of quarantine. My friends and I spent a day tie-dying socks together, and I've been wearing them with my Jordans. My first outfit coming out of quarantine was a pair of biker shorts and a Livin Cool t-shirt".

@fionamcl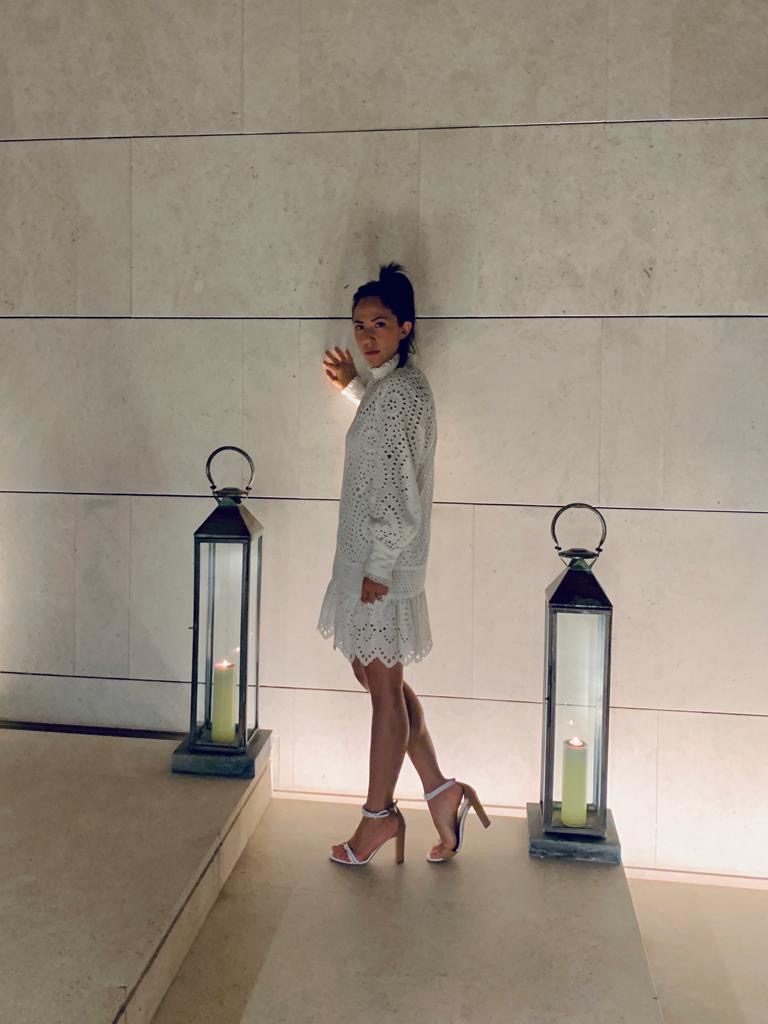 "Whether working from home or at my studio, I love the comfort and practicality of our new Shanghai Tang cotton-linen Tang shirt jacket. I also brought out my good old Roger Vivier Metro green patent bag to work; I love rediscovering old favourites in the closet. I've felt the need for a mental and physical spring clean these last few weeks, and it's warming up, so I'm swapping to my summer closet. Coming out of the lockdown, I'm looking forward to wearing some of my new flowy pieces – like the new silky tang dress in a minty palette. Our first outing as a family was to celebrate Mother's Day – I was DYING to put some heels on! That evening I wore Giambattista Valli x H&M dress with a pair of Malone Souliers Fenn sandals."

@victoriaxtang