Does your Hermès Birkin or Kelly need a new look? These accessories can do just that
January 9, 2020
The new decade is the best time to build a whole new look. Not only you but also your handbags need a revolution. Pursebop, has long been the online authority for all things handbag. As the encyclopedic resource at the forefront of which bags are in and which bags are out, we trust them when it comes to handbag styling.
Founded by Monika Arora, Pursebop is the premier online destination for luxury market news and analysis. Besides providing the newest information about bag trends, bags on sales, and newly launched bags, the Pursebop Frocks have become a hit on the website. Exquisitely designed and made of the finest materials, they are perfect for handbag aficionados. Introducing PurseBop Frocks, a way to A) maximise the versatility of your bag collection by changing the look of your purse in a heartbeat and B) protect your precious baby from the dangers of the outside world (visualise an Hermès Birkin bag being scuffed up against a brick wall – ouch right?), whether it's an Hermès Birkin, Kelly, Chanel Classic Flaps, or a Lady Dior. -In other words, style meets function.
We have a 10% discount code exclusively for our readers. Wanna know how you can get it? Just read until the end. Without further ado here are the four signature frock designs.
Meticulously crafted with a rare, next-generation foil that brilliantly catches the surrounding light, the Eclipse is lightweight, durable and water-resistant, which can protect your treasured bag against everyday elements like rain and dirt. It can also be scrunched and folded while still retaining its shape. Each piece's distinct wrinkling generates the fabric's intense luminosity and ensures that your piece is truly unique.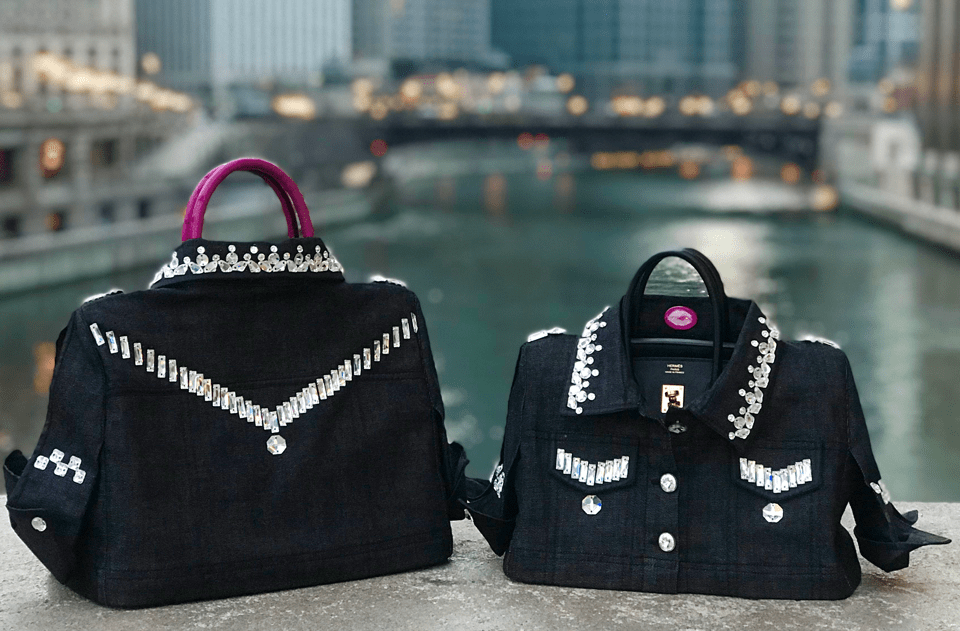 The jacket style includes Black Tie Noir/Blanc, Crystal Palace, Kohinoor Diamond, and Club Lover. Each distinct piece emerges from an innovative mélange of techniques.
Black Tie is a modern take on a timeless style. It recognizes innovators who seamlessly meld elegance and individuality. Each piece is embellished with custom Swarovski crystals and has a unique serial number and corresponding certificate of authenticity.
Crystal Palace style captures the imagination through 1851, the coming-age of industrial transformation, marked by the intricacy of the Swarovski crystal embellishment. The designers made use of the steel blue Toulouse denim which is lightweight and has a rich texture and Chanderi lining.
Kohinoor Diamond style takes inspiration from the Kohinoor Diamond which since at least the 15th century has been considered the most exquisite cut diamond on Earth. Chamonix denim, an opulent deep blue hue, with Chanderi lining brings the crystals to life.
Created in a heavyweight luxurious Italian satin, the neon pink Club Lover creates a dramatic statement by day or night. The contemporary jean jacket design gives the jacket a festive street style vibe. Club Love, part of a very limited edition collection, is also embellished with custom-cut Swarovski crystals making it perfect for daytime drama and opulent theatre nights.
Sophisticated and stately, the Capes can rest comfortably on your bags' shoulders. Karina, Anastasia, Havana, Kyoto or Roma can all style up a super elegant and gorgeous look for both you and your bags.
Iridescent sequins are encased between layers of silk chiffon and held in place by a continuum of tonal stitching for both Karina and Anastasia. They are all topped off with a collar of matching tone on tone fur to lend an heir of winter drama.
Crafted from luxurious 150-gram Italian satin silk as well as crepe, Havana, Kyoto, and Roma can all be worn tied or untied, to leave as much to the imagination as you – and your bag – desire.
Where whimsy meets luxury, the namesake style of PurseBop Frocks lends an innovative and stylish way to make your designer handbag stand out even more. Perfectly tailored for a range of bag styles, the Frocks are hand made with delicate Chanderi fabric and feature exquisite details from the pleats to the ruffled trim. Whether your bag is dressing up or down, it shines with a frock.
For the exclusive 10% discount for #legend readers, send us a DM to our Instagram @hashtag_legend.