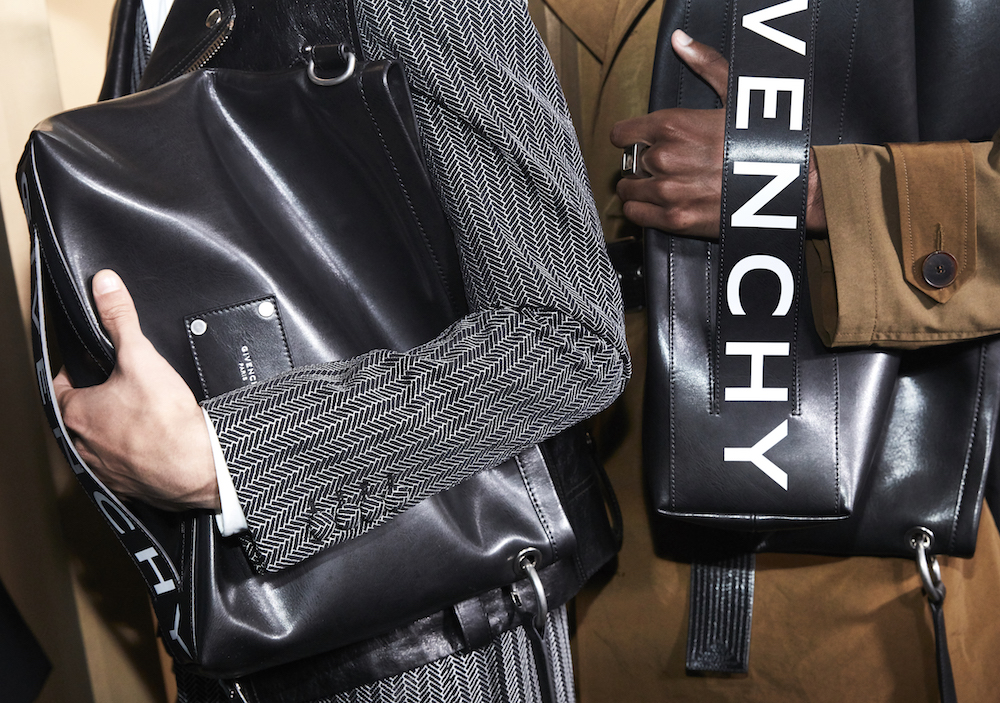 This season, French fashion house Givenchy has introduced a new line of accessories for men and women. Givenchy's brilliant Artistic Director, Clare Waight Keller, has created the Tag collection for men and a new handbag style called The Whip for women. Don't you just love the names?
The Tag is comprised of two styles, a practical duffle and a (hands-free) belt bag. The duffle bag is roomy enough to fit all of your daily or weekend essentials and it's emblazoned with not one but two Givenchy logos. One is featured at the bottom of the bag and then there's a tag logo on the front. As some of you may know, bold logos are a big trend for spring/summer 2019.

On the other hand, the belt bag features a Givenchy Paris tag logo and a metal ring with a circular zip. It can be worn around the waist or as a cross-body. The Tag bags are available in black and white.
The Whip is also made up of two styles, a shoulder bag and a belt bag. The shoulder bag is adorned with chic leather braiding and knots (both elements are found in traditional whips) and it's available in three sizes: small, medium and large. The small and medium bags have three compartments while the large style has a single and rather spacious compartment, too. The Whip shoulder bags are available in seven colours: black, white, pale coral, pistachio, natural, yellow curry and taupe. In addition to this, if you're looking for something a bit more exotic, the carryall also comes in three varieties of aquatic snakeskin.

The Whip belt bag, which, can again, be worn around the hip or as a cross-body, features a single compartment, a long zip pull and a chain detail to lengthen the strap. How convenient. The Whip belt bag is available in selected colours.