Your 2019 Holiday Face Guide with Chanel Beauty, Dior Beauty & YSL Beauty
November 27, 2019
Featuring Tasha Lam, Carmina Lo and Ingrid Wong
Go all out with your holiday face during the festive season and be the belle of the ball with these dazzling and dramatic looks that are sure to create a lasting impression – in a good way, of course.
Ingrid Wong (@ingridlwong)
Make-Up / Dennis Ho from Chanel Beauty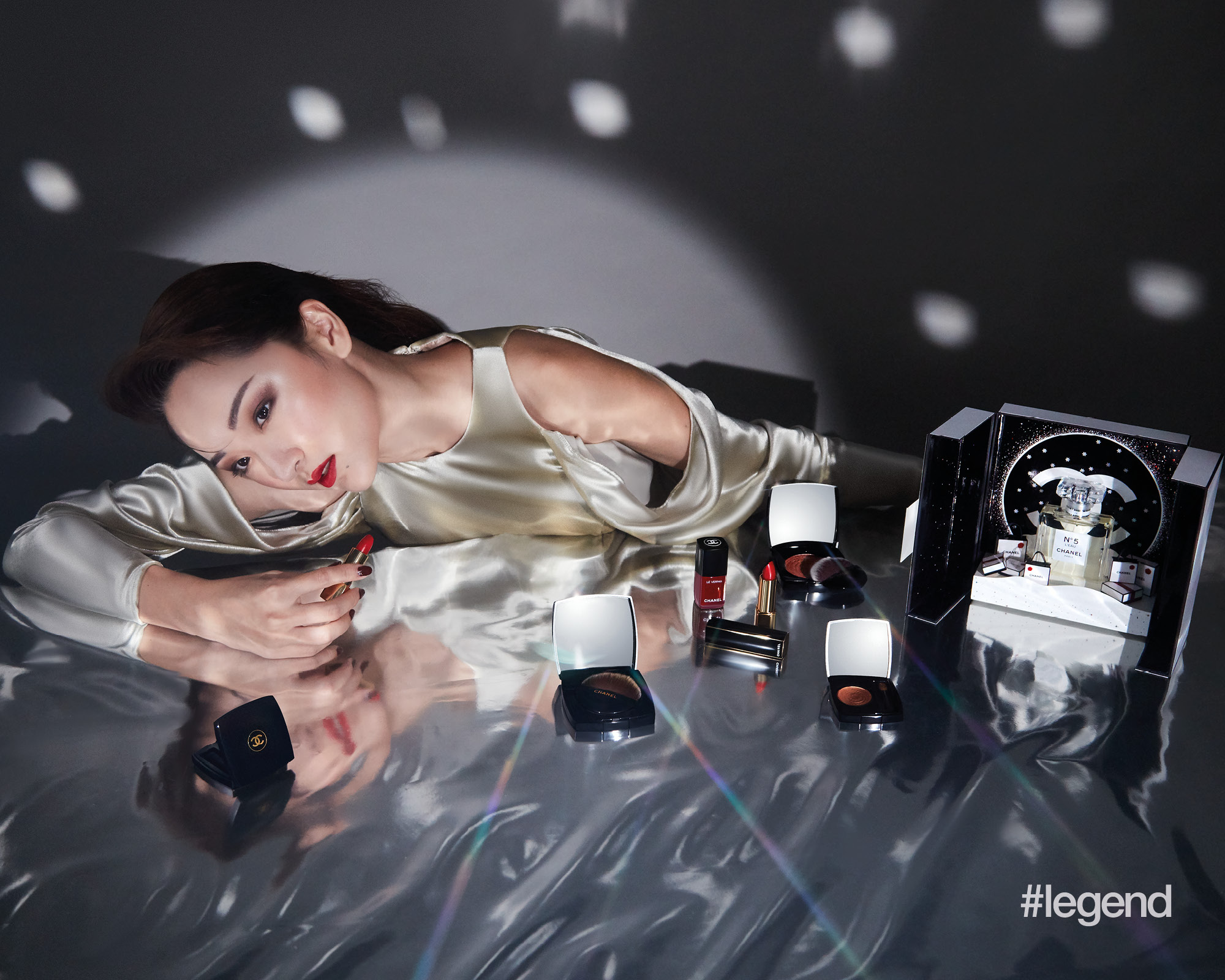 Make-up on Ingrid Wong
Face: Éclat Magnétique de Chanel illuminating powder in Metal Peach
Eyes: Les 4 Ombres Lumière et Opulence & Stylo Yeux Waterproof in Khaki Intense
Lips: Rouge Allure lip colour in Rouge Spectaculaire (#837)
Nails: Le Vernis Longwear nail colour in Richness (#719)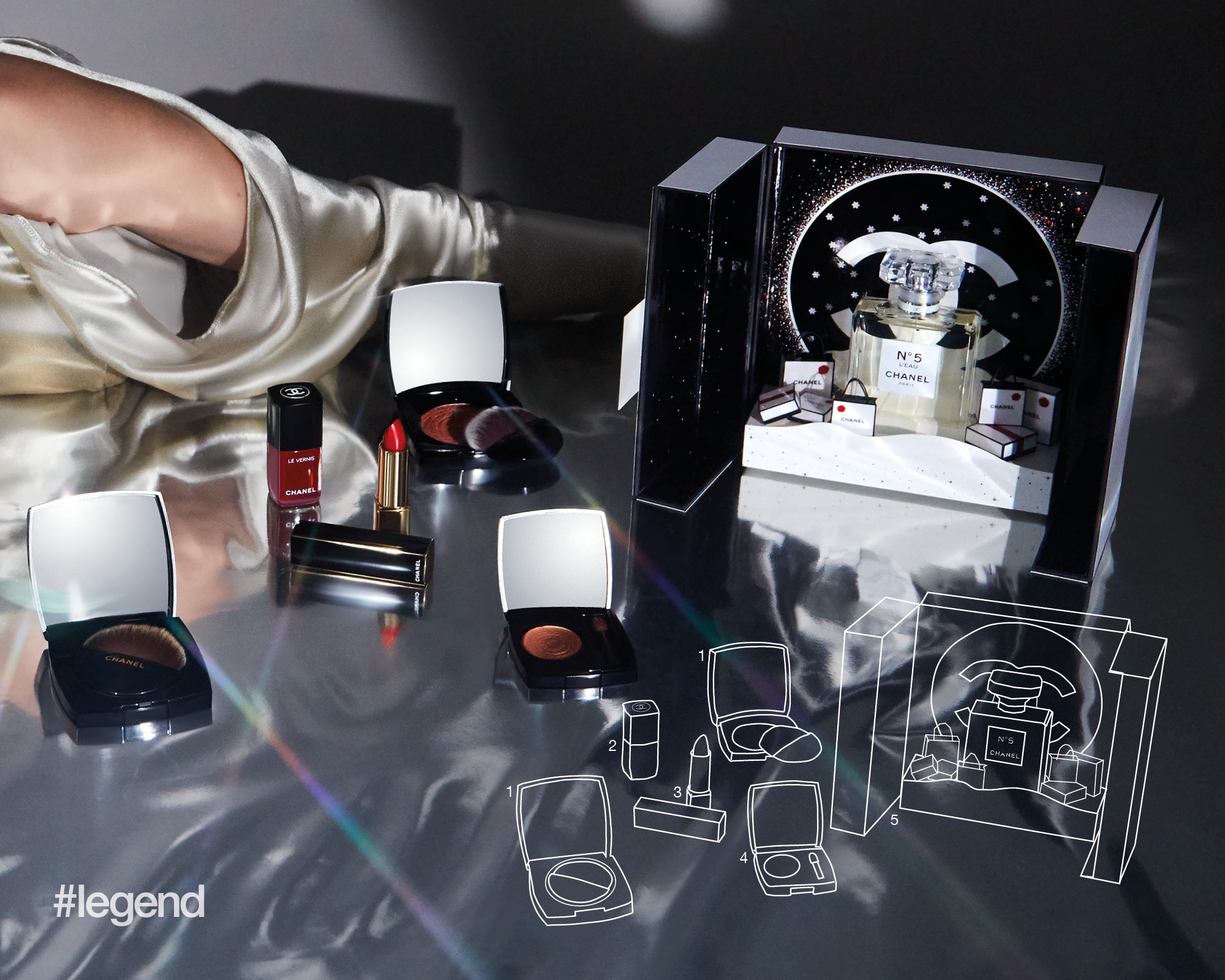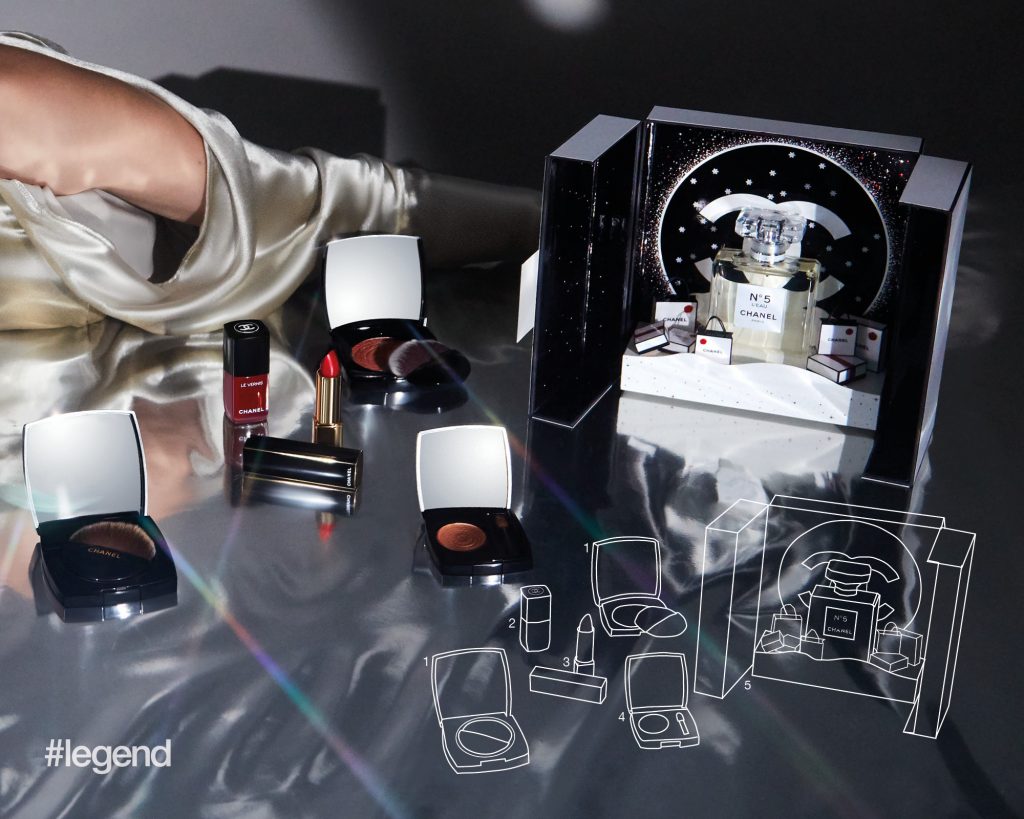 For the Holiday 2019 Collection, Lucia Pica, Chanel's Global Creative Make-up and Colour Designer found inspiration in one of Gabrielle Chanel's particular — and perhaps unexpected — penchants: her love of ornaments. After all, while Mademoiselle Chanel famously pioneered a "less is more" approach to elegance, she was equally fascinated by aesthetic opulence: by the deep lacquer of Chinese Coromandel screens, or the shimmering gold leaf that decorated her apartment. Now her paradoxical proclivities are reflected through Les Orenements De Chanel, which showcases festive grandeur for the modern age.
1 _ Éclat Magnétique de Chanel
A luminous backdrop of angelic skin sets the scene for holiday splendour and an elegant incandescence amplifies the depth of colour to come. Its blendable texture melts into the skin to seemingly illuminate from within. The lustrous, pearlescent shine can be used to highlight the contours of the face for a gently sculpting, radiant effect.
2 _ Le Vernis
With long-lasting, high-shine shades that reflect the Holiday palette, the dramatic pigmentation of Le Vernis offers the perfect final touch to the look of the season.
3 _ Rouge Allure
In celebration of the Holiday Collection, the iconic Rouge Allure is revamped through the introduction of six luxurious, luminous shades suspended within graphic, gold-edged limited- edition packaging. Precisely balanced between grandeur and modernity, the opulence of each shade is offset by the sharp preciousness of its surrounds.
4 _ Ombre Première
A harmonious series of sumptuous shades, each eye product encapsulates the spirit of the season with a lustrous effect fit for festive indulgence. Decadent, silken shadows with a creamy powder texture, exclusively etched with the form of a Chanel button, Ombre Première can be blended or layered, diffused or defined. Fairer shades can envelop chocolate browns or gunmetal khakis in a "veil of light": lightly pressing over the center of the lid with a soft peach or antique gold will offer a modern dimension to deeper hues.
5 _ N°5 L'Eau
Mirroring the Chanel holiday campaign directed by Jean-Paul Goude, this festive diorama for the legendary N°5 fragrance is sure to bring amazement to whomever receive.
Carmina Lo (@carminola)
Make-Up / Vanessa Wong using Dior Beauty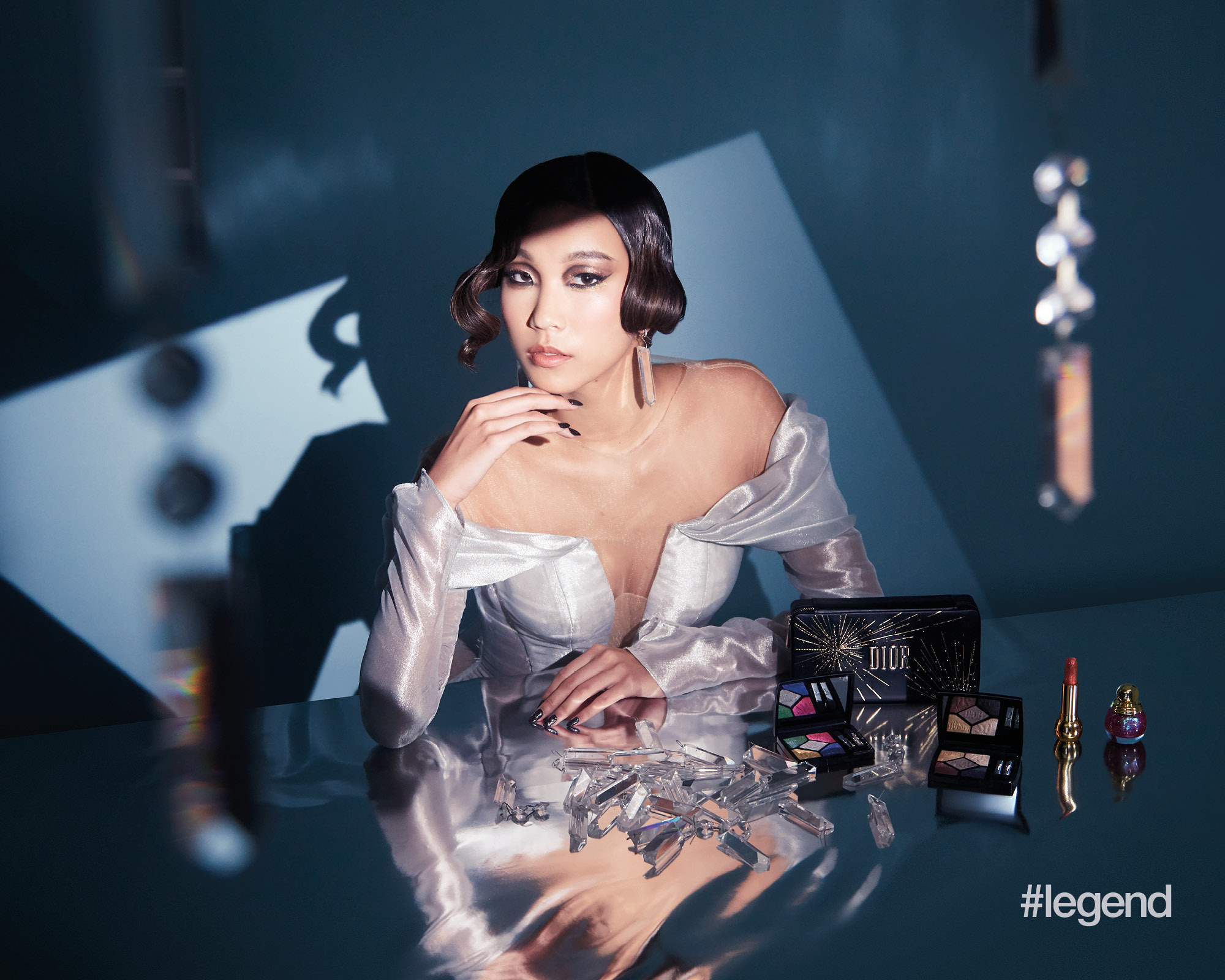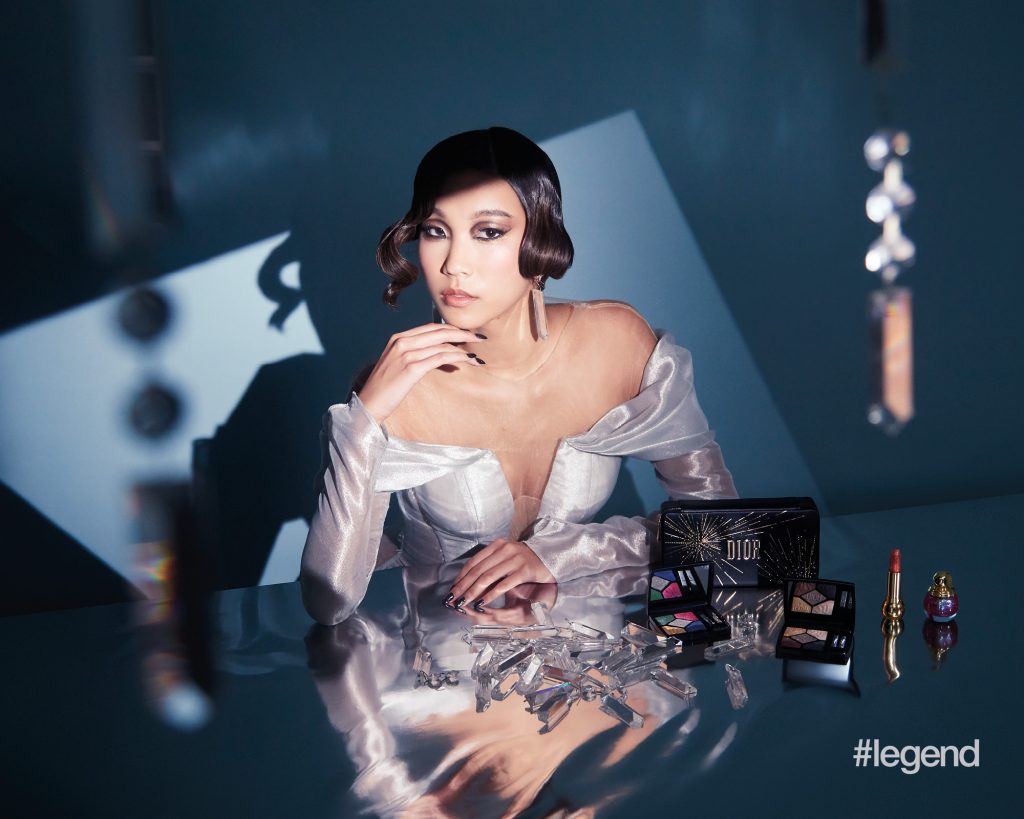 Make-up on Carmina Lo
Eyes: 5 Couleurs Happy 2020 palettes in Party in Colours (#007) and Celebrate in Gold (#017), and Diorshow Liquid Mono in Fireworks (#080) and Copper (#650)
Lips: Diorific Lipstick Happy 2020 in Charm (#068) Nails: Diorific Vernis in Happy 2020 (#001)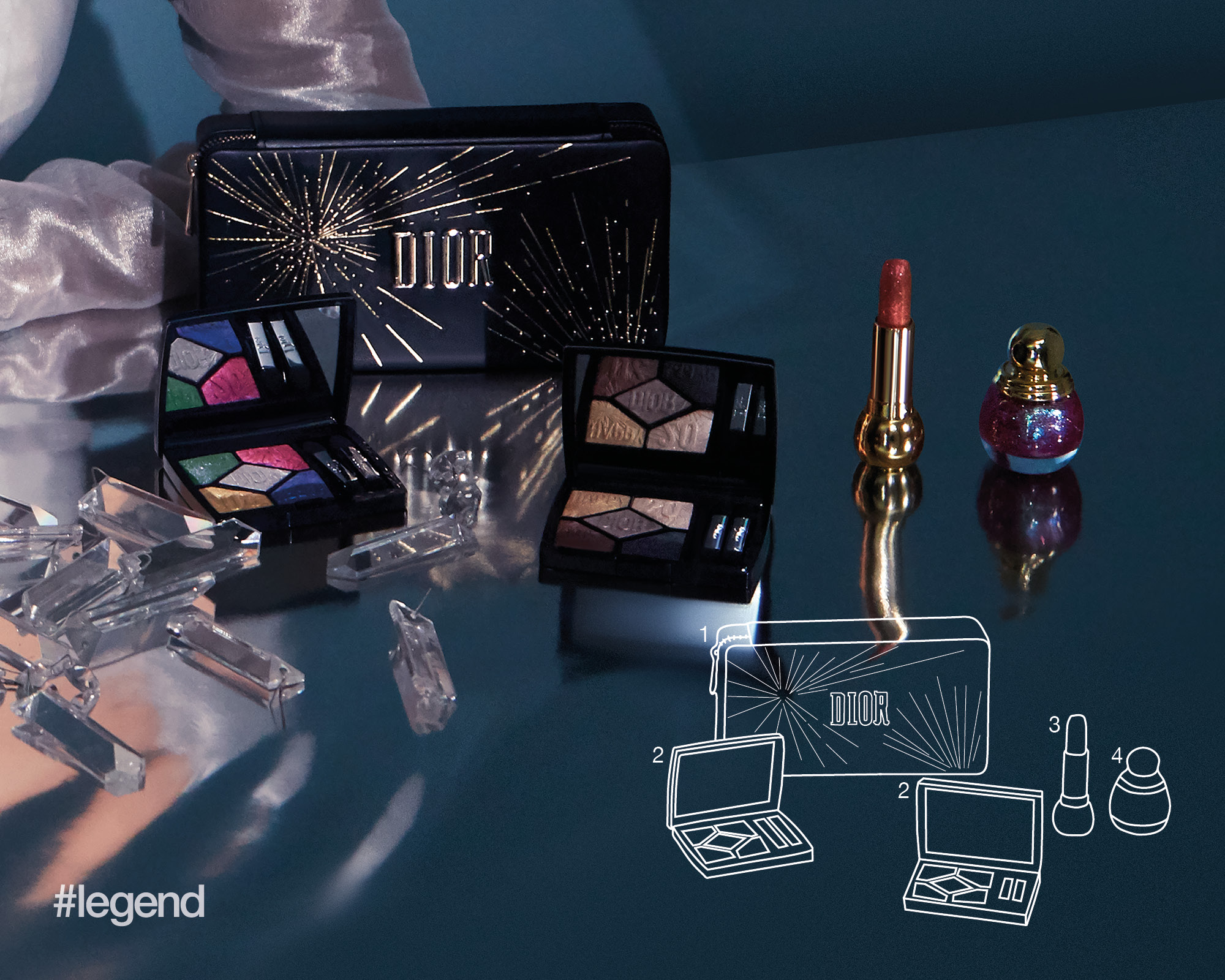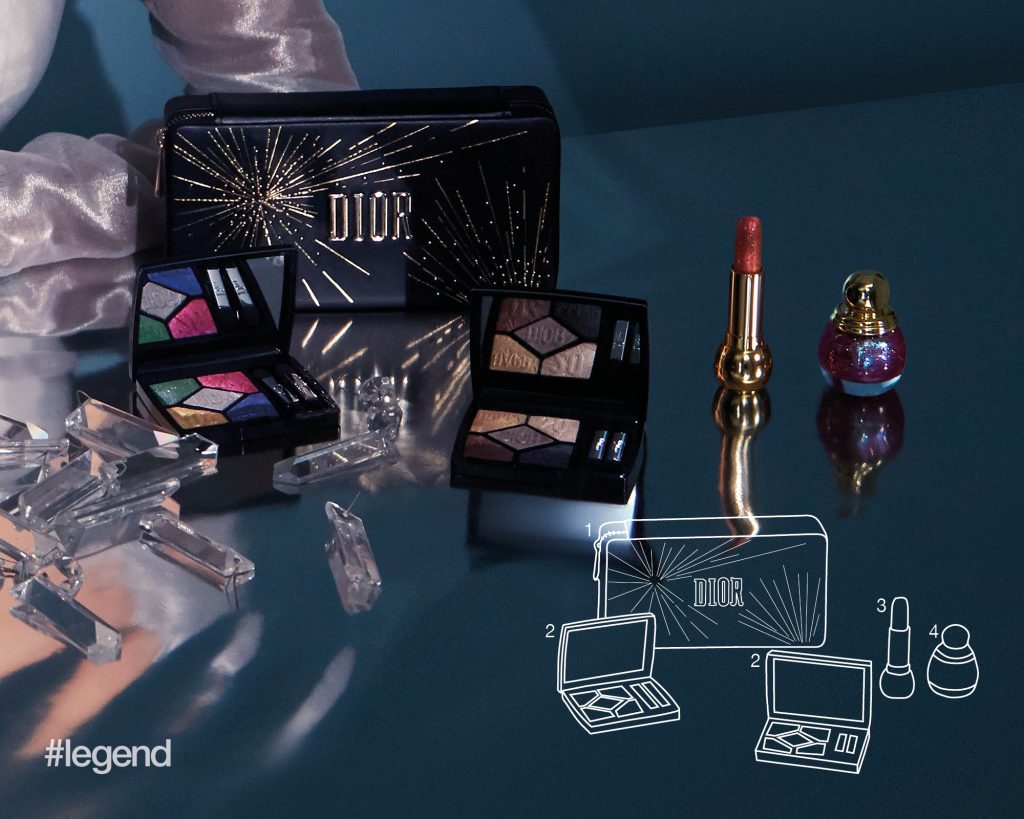 1 _ Rouge Dior Couture Collection
The Rouge Dior Couture Collection is a limited-edition set that sparkles like fireworks. Delicately open the minaudière clutch and discover the divine iconic lipstick, adorned with an exclusive sequinned band, along with five refills in best-selling shades and each stick engraved with the Dior logo.
2 _ 5 Couleurs Happy 2020
Dedicated to the year-end festivities, the 5 Couleurs Happy 2020 palette is
for a winter packed with the punch of sparkling colour in an exclusive edition. Immediately recognisable, its imprinted design recreates the magical effects of fireworks bursting with a colourful Happy 2020 motif, featured in two palettes to celebrate the holiday season.
3 _ Diorific Lipstick Happy 2020
Admire the precious metal and watch this lipstick shine: dressed to the nines, Diorific Lipstick Happy 2020 dons a sparkling gown that dazzles in the spotlight. Four elegant lip shades defy convention.
4 _ Diorific Vernis
The finishing touch of this celebratory look, Diorific Vernis enhances colours and emotions to ring in the New Year with a bang – a "fireworks" top coat with multicoloured glitter, worn on bare nails or over lacquer for a truly dazzling manicure.
Tasha Lam (@itsjustasha)
Make-Up / Vanessa Wong using YSL Beauty
Make-up on Tasha Lam
Face: Le Cushion Encre de Peau – High On Stars Edition Fusion Ink cushion foundation, Touche Éclat – High On Stars Edition Radiant Touch highlighter and concealer, and Couture Blush blendable powder in Plum Smoking (#10)
Eyes: Sequin Crush Glitter Shot eyeshadow in Legendary Gold (#01) and Explosive Brown (#04)
Lips: Rouge Pur Couture – High On Stars Edition lipstick in Dazzling Carmin (#95)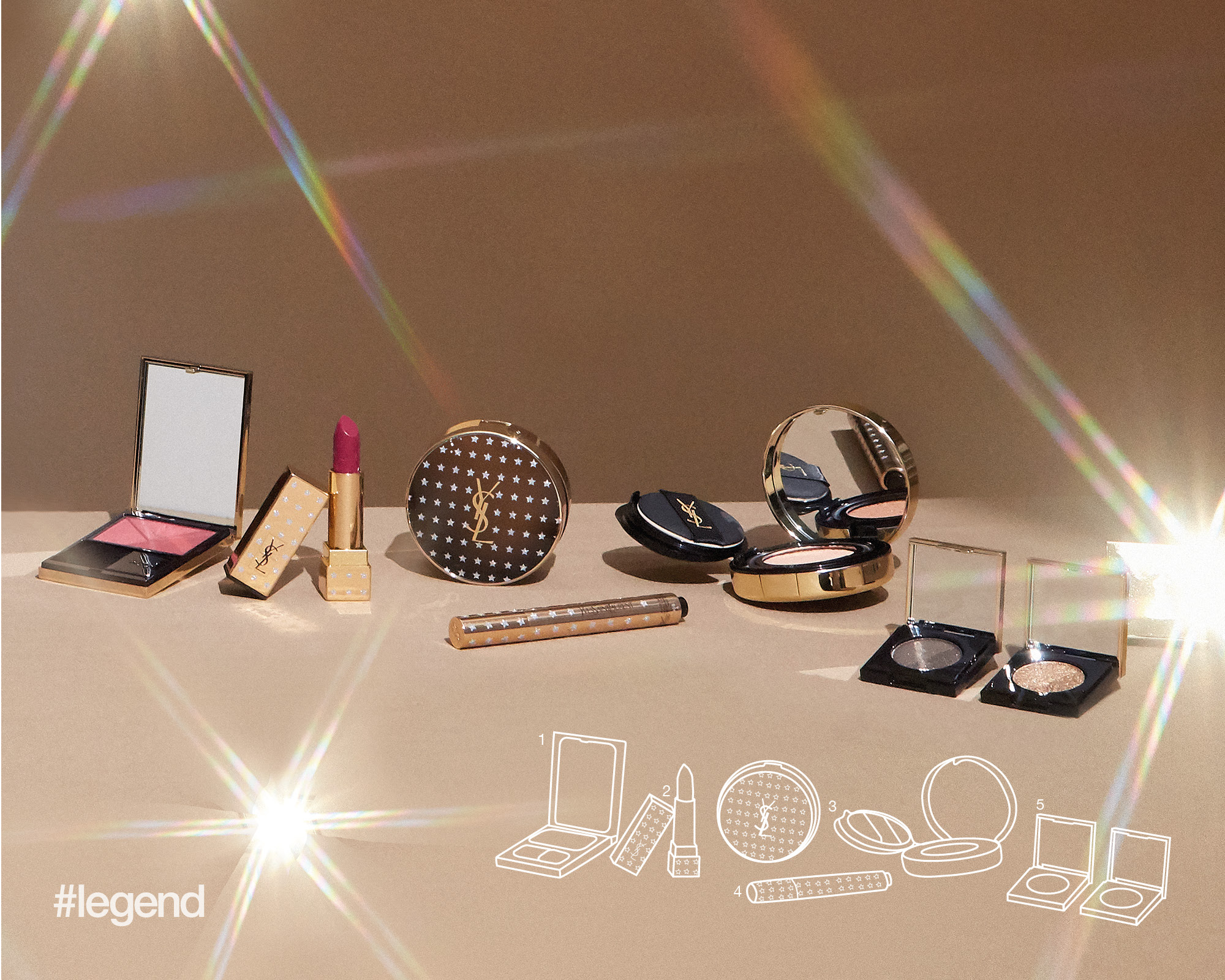 1 _ Couture Blush in Plum Smoking (#10)
A high pigmentation concentration and super-fine colour particles with a soft-focus effect give an adjustable colour that goes on evenly and stays true.
2 _ Rouge Pur Couture – High On Stars Edition in Dazzling Carmin (#95) Rouge Pur Couture is redesigned with a star-spangled festive casing for this Holiday Look of 2019. The exclusive packaging, with silver stars on the gold casing surrounding the signature YSL Cassandre, make these Rouge Pur Couture precious collectors items. Ultra-feminine, utterly desirable.
3 _ Le Cushion Encre de Peau – High On Stars Edition
With a fresh feeling for on-the-go complexion enhancement, the buildable and luminous matte foundation is the perfect accessory for shimmering nights out.
4 _ Touche Éclat – High On Stars Edition
Shine brighter than ever for the holiday season. Add a touch of light for an instant uplift. The iconic brightness tool returns with its familiar gold casing, this time embellished with myriad silver stars that makes it extra-enchanting.
5 _ Sequin Crush
A rich colour formula is supercharged with three-dimensional glitter in high concentrations, enriched with shimmering pearls for a starry shine and featuring a colour intensity that lasts.
Direction & Styling / Kieran Ho
Photography / Tony Wong
Wardrobe / Marco M Chan
This feature originally appeared on the Nov/Dec 2019 print issue of #legend