Not exactly your average High Jewellery brand, Cartier, once again, reaches new heights and aims for the stars and galaxies with a new line.
Right after the Salon International de la Haute Horlogerie (SIHH 2019) in Geneva came to an end, we immediately set off for Paris. Our mission? To attend and witness the birth of the new galaxies created by Cartier.
This exclusive media trip was indeed an educational one leading all the way up to the finale. Overall, the experience was exceptionally well-planned and conceptualised beyond my wildest dreams.
After a day of rest, we headed to the Fondation Cartier pour l'Art Contemporain. It wasn't the first time I visited the contemporary art museum founded by Cartier in 1984, but the exhibition I had the pleasure to see was something completely new. Southern Geometries, from Mexico to Patagonia features 250 artworks from the Pre-Columbian era to the present created by over 70 artists to celebrate the diverse geometric art of Latin America and includes modernist and abstract works, sculptures, architecture pieces, ceramics and body painting. (Video Clips from Foundation Cartier OR Photos)
Our adventure was a unique journey into the secret world of Cartier High Jewellery's creations. Located on Rue de la Paix, just off the famous Place Vendome, the historical shop first opened its doors in the late 19th century and still captivates the elegance of the brand's glorious past while celebrating the present and the future. The site itself is a landmark of its own with its magnificent baroque façade that exalts the historical heritage of Cartier.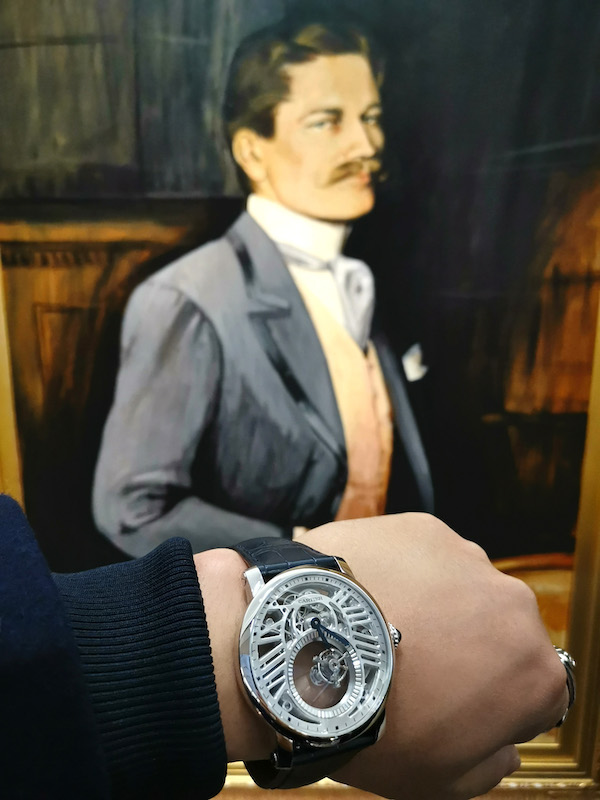 Once you manage to get through the double security checks at the entrance, you will be transported in a world of luxury and elegance like no other. It smells, tastes and looks remarkably French and oh-so-Cartier! The grand staircase leading up to the first-floor balcony, built in 1898 when the building was first inaugurated, is still as impressive and majestic as it was back then.
Yves Prudent, Cartier Directeur des ateliers de Haute Joaillerie, our chaperon and tour guide, kindly led us into places where not too many visitors had gone before for a quick glimpse into the history of high jewellery making from past to present. Of course, all works carried out during our workshop visit were top secret and couldn't be photographed. Cartier's highly skilled artisans preserve and perform the arts of wax carving, mold settings, stone settings and polishing to deliver the most prestigious hand crafted pieces. We were lucky enough to witness some of this magic happen in front of our eyes.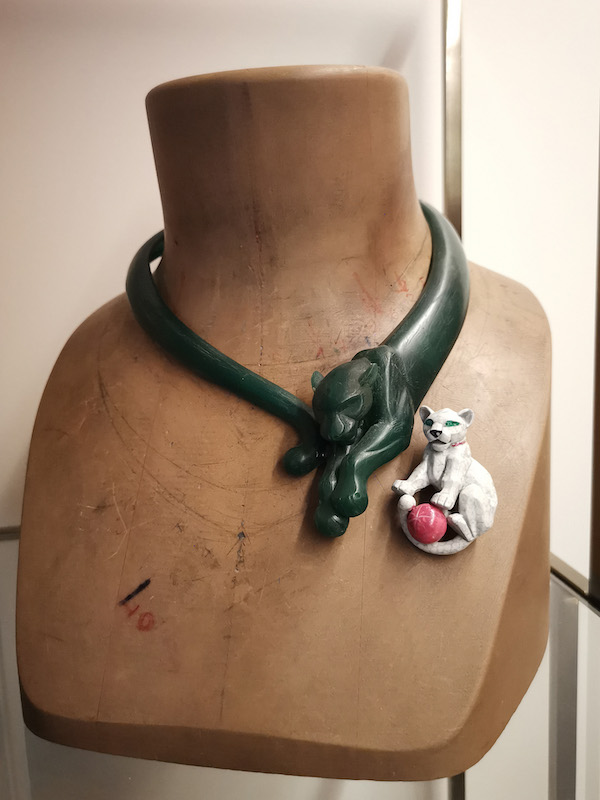 At last, it was time for the moment we have been waiting for the most. Our final destination was a two-part visit to La Galerie de Mineralogie, a mineralogy gallery that houses one of the largest collections of gemstones, precious stones, and meteorites, along with twenty giant crystals that inspired the exhibition's title "Tresors de la Terre" or "Treasures of the Earth."
Cartier's daytime exhibition literally took over the space and the gallery is only accessible by VIPs and selected journalists from all over the world. Side by side the giant crystals from La Galerie de Mineralogie was the Les Galaxies de Cartier Collection, proudly housed behind a protected glass and showcasing which planet each piece was from. First, we admired the magnificent jewels and heard the stories and inspiration behind each design. Then, we experienced a unique close encounter: A one on one touch and feel session that put us in awe with their latest creations. The collection itself was breath-taking, and you really have to put the pieces in your hands to understand the intricate processes needed for their realisation. It was simply "Out of this World"!
As stated by Cartier "The universe offers Cartier the total fantasy of its colour, movement, atomic phenomena, and its particle". Indeed, each piece is an experience that pushes boundaries where no jewellery makers had gone before and combines creativity, new materials, reality and fantasy. Four different themes connect each element in the collection and its mission: The Alignment of The Planets, Fractal Meteor, The Earth's Lights and Trembling Stars.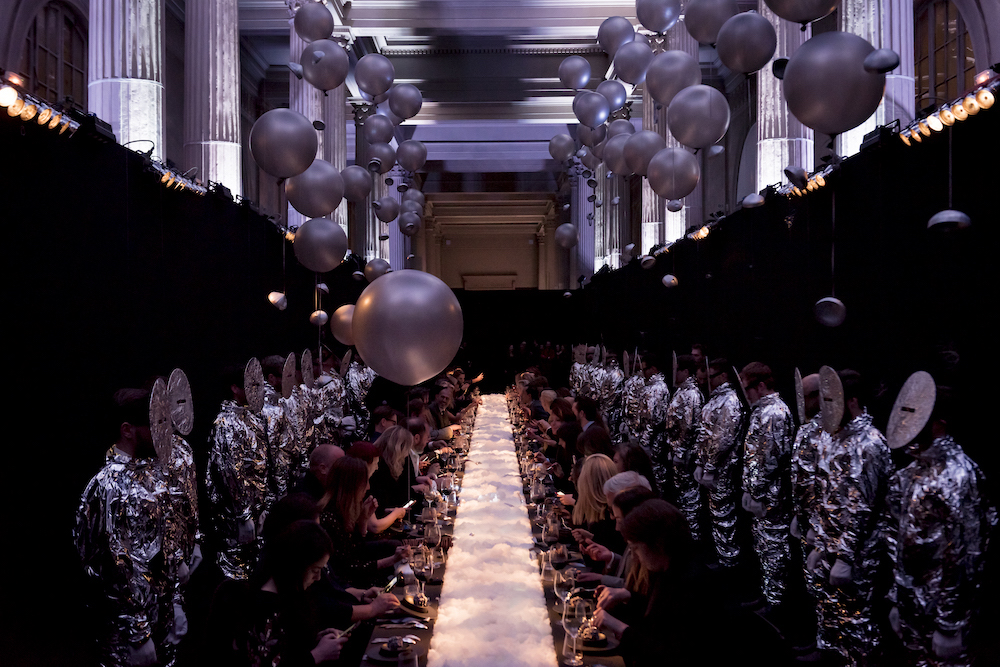 The finale of this trip was, needless to say, a spectacular one! Sixty super VIP guests, friends of the maison, celebrities and a handful of journalists personally handpicked by Cyrille Vigneron, the President & CEO of Cartier, attended a private dinner extravaganza that could easily outshine any exceptional Haute Couture show in Paris during fashion week. Among the attendees were British actresses Tilda Swinton and Ella Balinska, Hollywood director Sofia Coppola, fashion designers Iris Van Herper, Alber Elbaz and Haider Ackerman, socialites Bianca Brandolini, Farida Khelfa and Lauren Santo Domingo and digital sweetheart Derek Blasberg.
Each course of the delicious meal included many surprise elements, like a fashion presentation by synchronised waiters. The sound effects, music and lights were perfectly in sync to the surroundings and the non-stop entertainment had all guests gasping for more air to shout out the word "WOW." Each moment was literally to die for!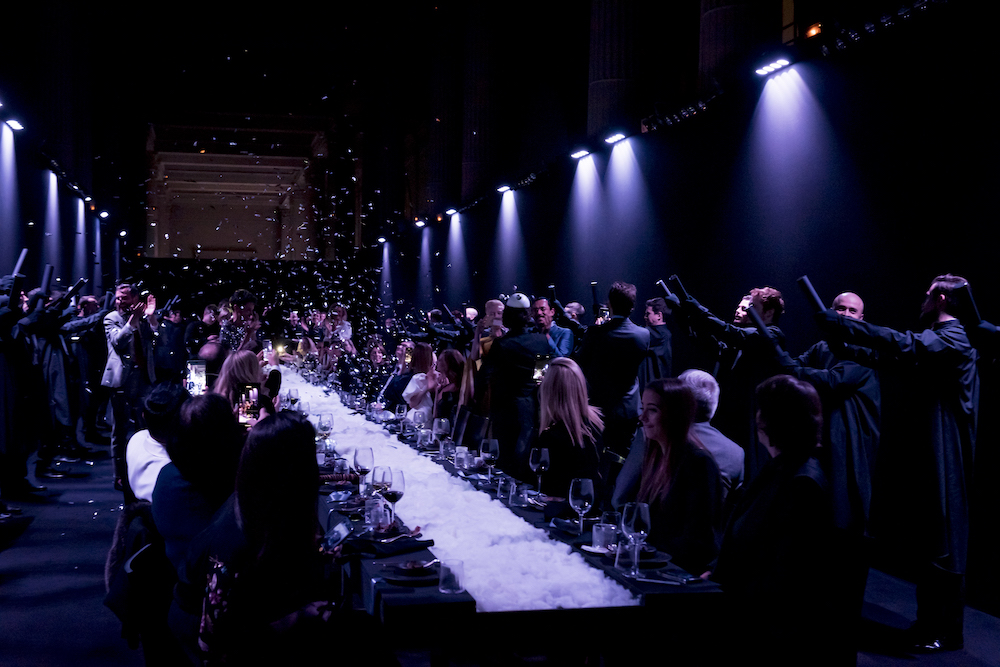 Being one of the exclusive 60 guests to be invited was of course an incredible honour and hands down the best Cartier event that I have ever had the pleasure to attend. Merci Beaucoup!
Les Galaxies de Cartier collection is only available in selected countries worldwide. It is available in Hong Kong.