#legend's own Kim Bui Kollar tagged along with Tina Leung, the Hong Kong international fashion influencer to visit the exclusive Chanel Haute Couture Ateliers the day before the show. Follow Kim to see an exclusive behind-the-scenes look into what goes on behind the famed fashion house.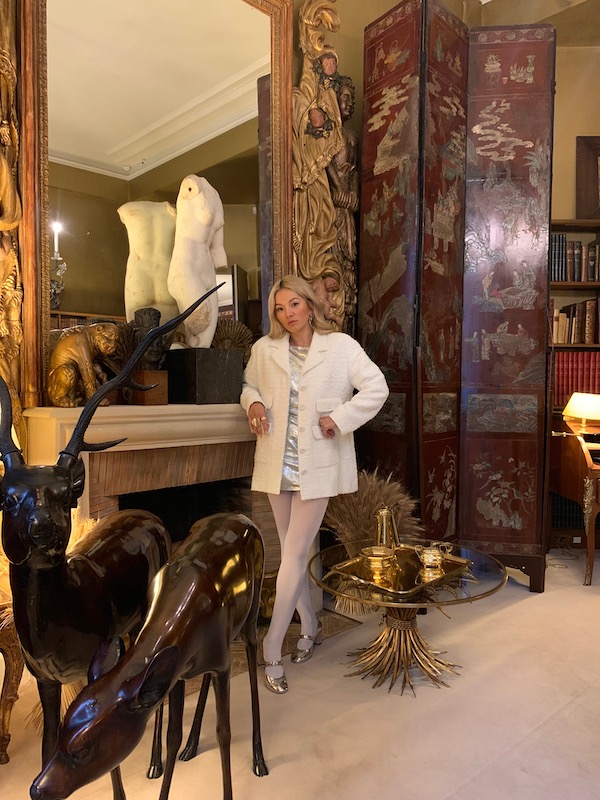 Atelier Olivia
T minus-twenty-four-hours:
We are on Rue Cambon where the Chanel offices, ateliers, and stores all seem to connect through different hallways and stairs. We arrive at a little white door with a small sign reading "Olivia." The door opens to a brightly lit room. Welcome to Olivia's Atelier. 
We're greeted by Olivia Douchez. If you've seen seen Netflix's documentary "7 Days Out", you'll immediately recognise Olivia, a handsome blond woman with a youthful ponytail (if there was a Chanel scrunchy in existence, it would probably be in her hair). Usually in a Chanel ensemble of some kind, she gives off artistic Franco vibes and is immediately likeable. She wears a little leather Chanel pouch with pins and scissors and she is carrying a petite leather Chanel bag worn cross body with her phone.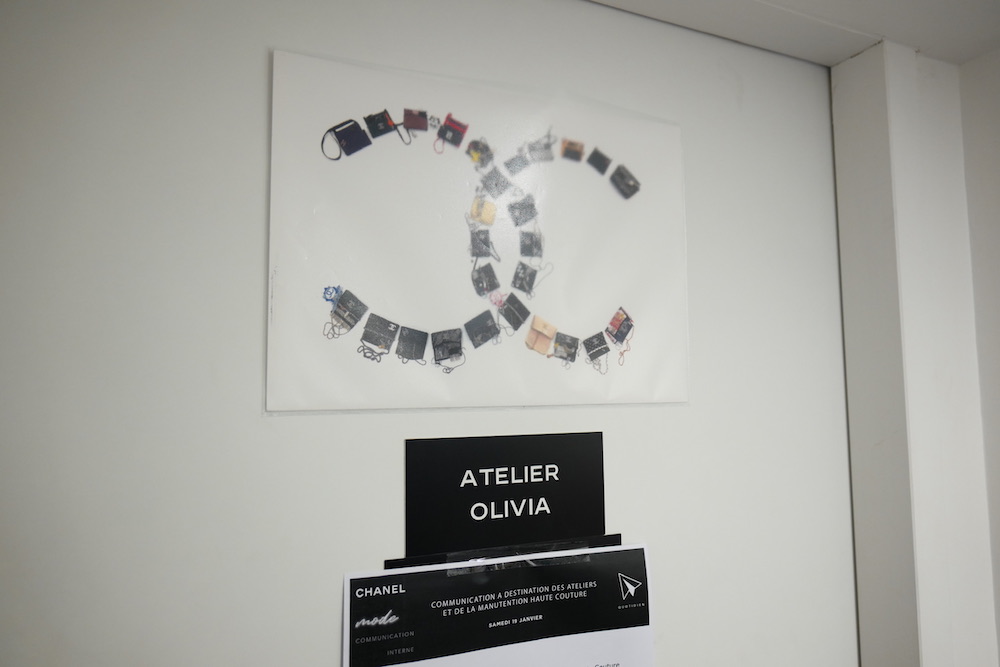 The first thing you notice in the atelier is its calm atmosphere. The people inside are an eclectic mix of ages – there are university age people working on garments and more seasoned professionals placing panels on mannequins. Olivia has been assigned to do sixteen of the seventy-one looks that Karl Lagerfeld will show the next day. Each gets a total of three fittings with Lagerfeld and Virginie Viard, fashion studio director. On average, a dress requires 350 hours of work to be completed. But in one case, a dress with a long train and an incredible amount of details took 648 hours.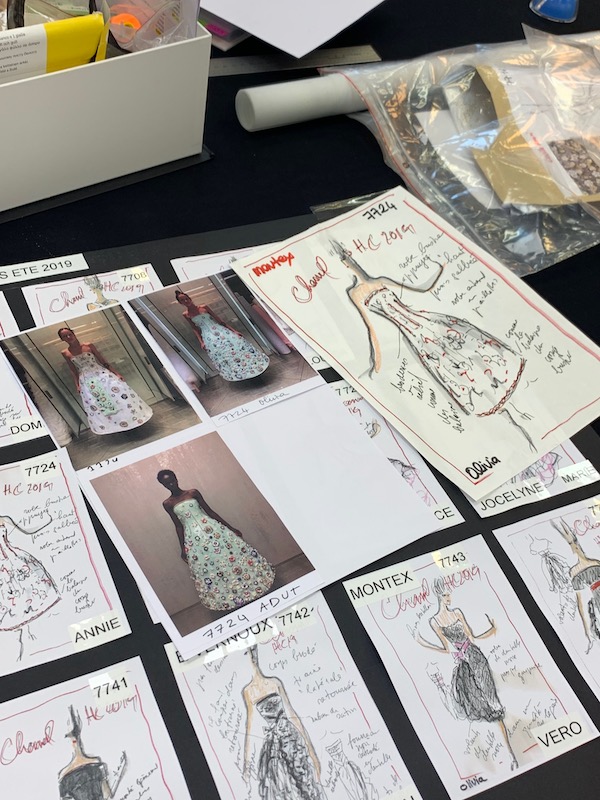 Voluminous shapes and concepts are easy for Olivia. One of the new silhouettes that she has been given to drape is a dress with a long train that comes back into the waist. The piece has a distinct shape, and there is a peek-a-boo element to the full balloon skirt, which several dresses will have tomorrow at the show.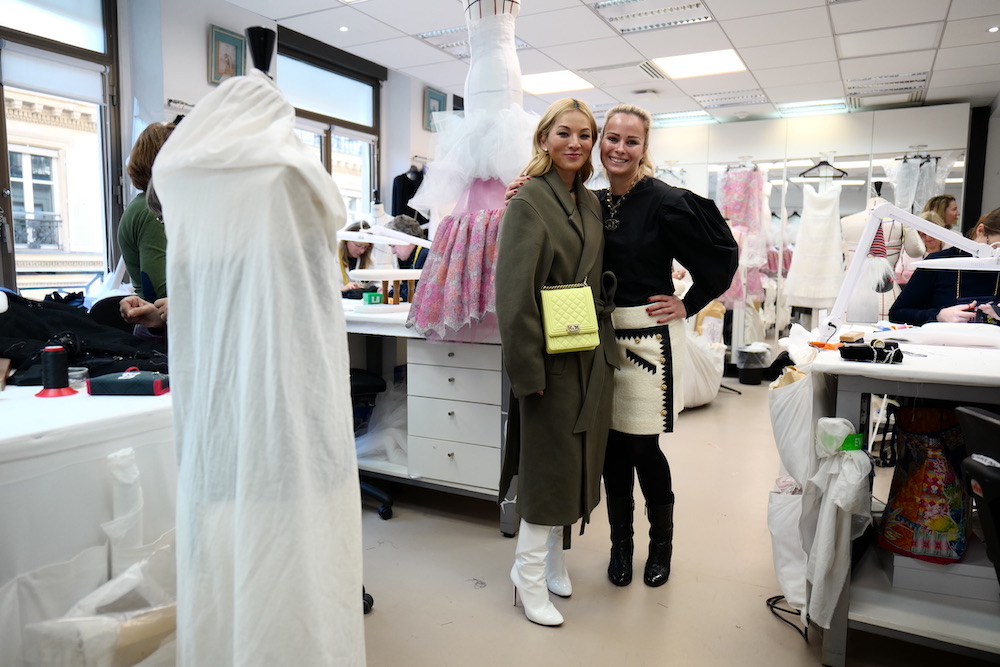 With Chanel Haute Couture, each garment has a button created specially for it, which will not be seen anywhere else. On one of the mannequins we see the beginning of a strapless dress adorned with ceramic flowers of a different types and colours, on another, a garment made of hand pleated and stitched silk organza and on another is a dress that is slim to the body but opens to a side seam with a waterfall of ruffles. We couldn't wait to celebrate her creations the day after on the set, but before we bid adieu, I ask her what is the biggest challenge creating couture pieces. Her answer: time.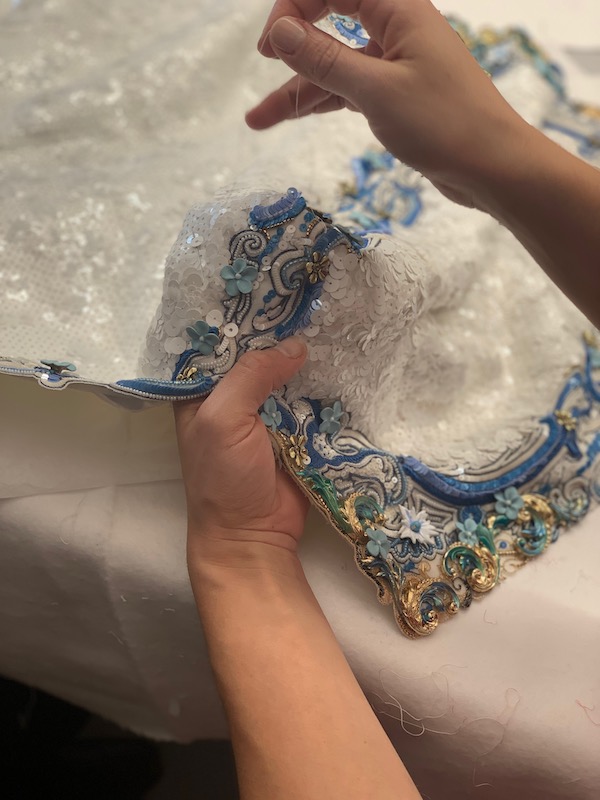 Atelier Jacqueline
Our next stop is Jacqueline's atelier, headed by Jacqueline Mercier. She has short brown hair and is seemingly unassuming but as familiar as a favourite aunt. While Olivia had her looks on a board, Jacqueline has her looks filed in a plastic folder, each safely guarded within a plastic sleeve.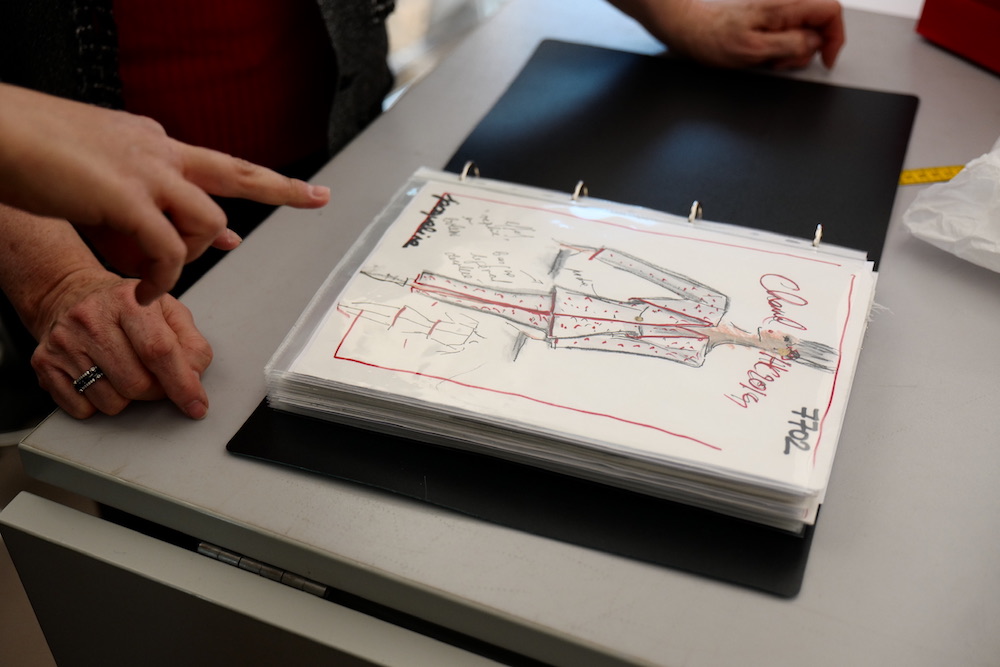 As she walks us through her portfolio of looks, it becomes obvious that Jacqueline is tasked with the tailored looks: jackets, suiting, and other garments that require precision. She normally has twenty people on her team and she currently has three apprentices. There are more men in her atelier than Olivia's, perhaps it was the tailoring that attracted them here. 
I notice that there was an interesting construction detail happening with the jackets: no collar, but a folded lapel lending to a flattering and lengthening neckline. There were seams and folds added to some of the other jackets to create a trompe l'oeil "jacket-within-a-jacket" look.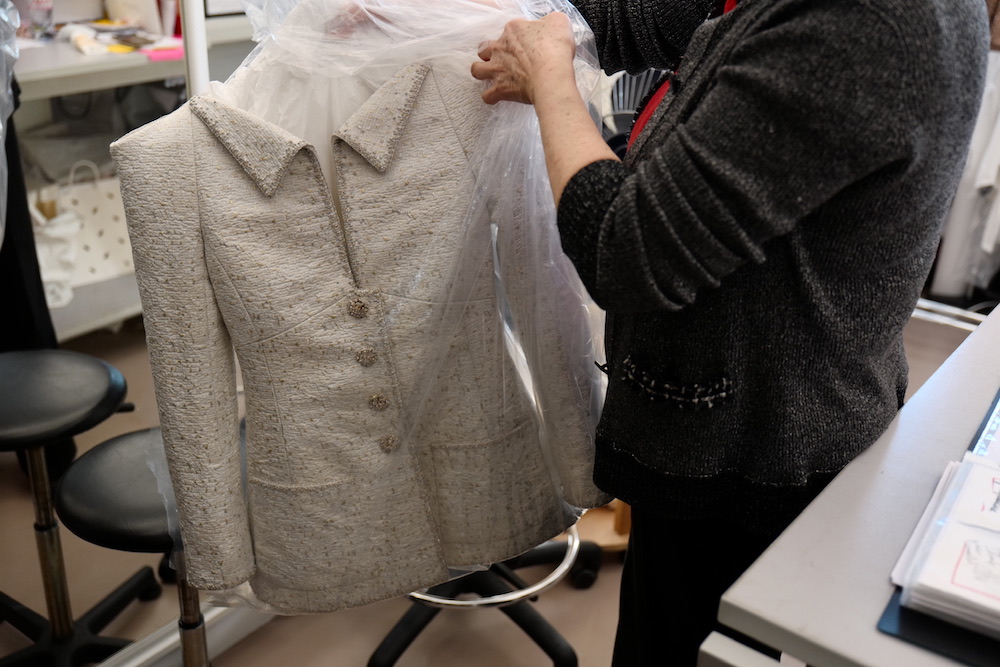 Jacqueline's studio is near the top of the building and the windows have the ultimate access of the sunlight. Panels from Lesage (part of Chanel's Metiers d'art) come already beaded to be attached and placed on the garments glittered from the natural light. They are heavy when picked up from all of the intricate beading for which the Maison Lesage is famous for. One one side of the spacious room, there's a wall of what appeared to be long hanging muslin sausages. They are, in fact, various arm shapes used to achieve the perfect fit on the sleeves. 
The realisation upon visiting the ateliers was that when couture garments are being made, the best way to see them is to lean in as close as possible to fully understand the intricate hand work, the beading, the stitching, and details of the construction that happen at a nearly microscopic level.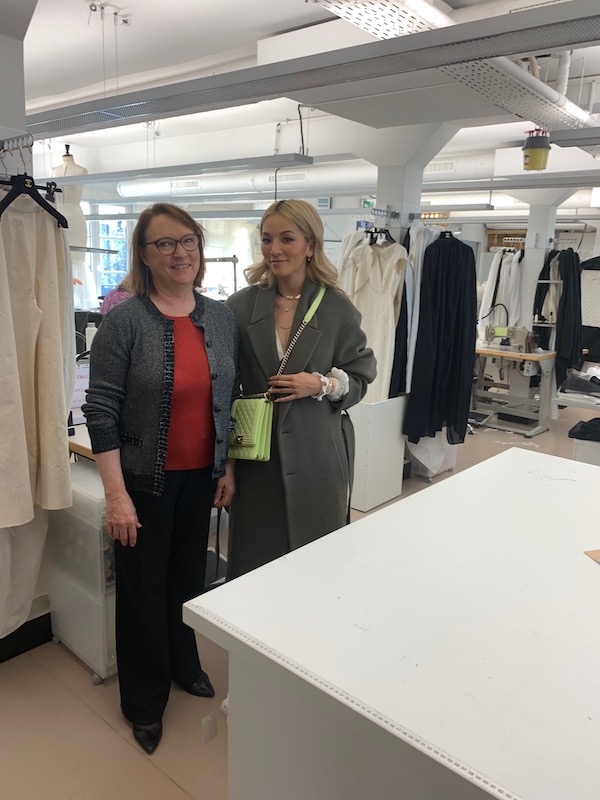 Jacqueline's Atelier was similarly calm as Olivia's. There is a white board with a list of names: couture customer appointments for right after the show. The names run like a United Nations' guest list: Thailand, Japan, Chinese (several), American, and Russian. How interesting that the appointments are already confirmed despite the collection having not been seen by anyone yet (except us!). 
Seeing these garment being made and nearly putting our noses to the fabrics, I realise why couture has a customer. It's not about buying something for bragging rights – high jewellery can serve that purpose. Couture is for those who truly love clothes, the artisanal skill and ability that go into making the garments. This is comparable, for example, to foodies that travel the globe to eat at that once restaurant that is only open two weeks per year on the on the other side of the world. 
Show Day (SS19)
The Chanel's Haute Couture collection is shown in two time slots and the tradition is that the show takes place at the Grand Palais. This year, the majestic exhibition centre located in the Champs-Élysées was transformed into the Mediterranean garden of a big beautiful home. A sparkling blue pool surrounded by trees gives hint of the 18th Century gardens that inspired Karl Lagerfeld. Everything we saw in the two ateliers magically comes to life at the show.
As if they were separated by the two ateliers, Olivia's and Jaqueline's, two distinct silhouettes emerge: long and slender on one side and more flowing and voluminous bell shapes and full skirts on the other. Everything comes together to create the show with the statement hair and the makeup. Seeing the collection together is realising that the Chanel Haute Couture collection is not about occasion dressing. This collection is about elegant pieces to have in your wardrobe that can easily be worn everyday or for an occasion. The leather jacket and the trompe l'oeil jackets that fit like a glove would easily mix in with jeans, skirts or dresses.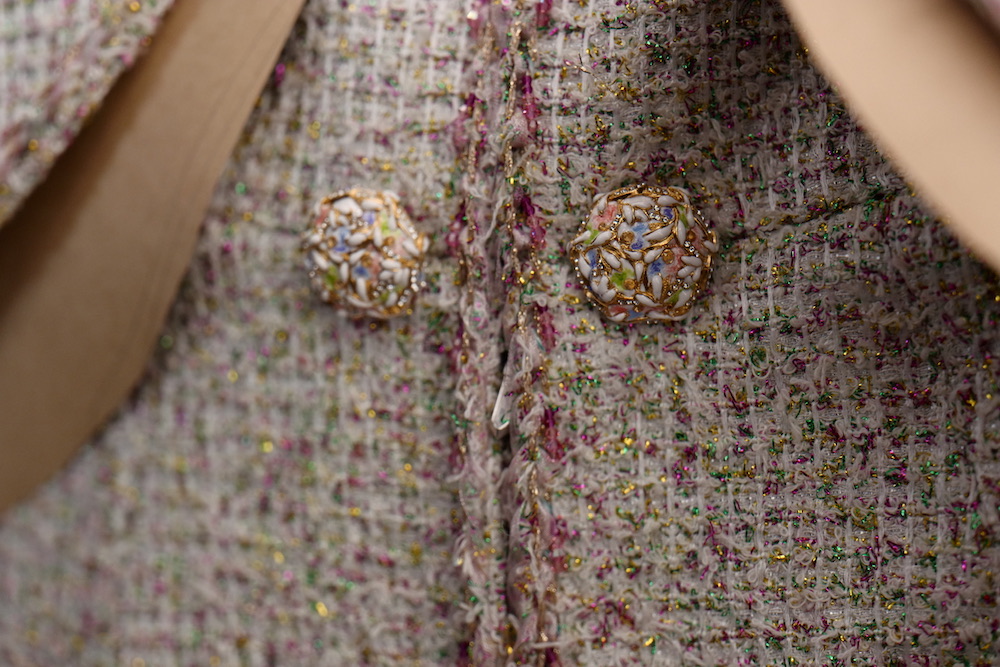 The timelessness of all of the pieces makes for another compelling argument. The bride that comes out at the end of the show in a silver bathing suit with a cap and a train sends a powerful message: there are no rules and if there are, they are meant to be broken. 
Throughout the show, I feel a sense of relief knowing that there are young people who now have an interest and are new customers of couture. Despite the impression that young people want immediate gratification there is still ab appreciation for exquisite things that took their time to craft. A sense of relief knowing that couture will continue to thrive and the reassurance that elegance will never go out of style through different generations and eras.