Chanel Cruise 2020 coming to Hong Kong
August 7, 2019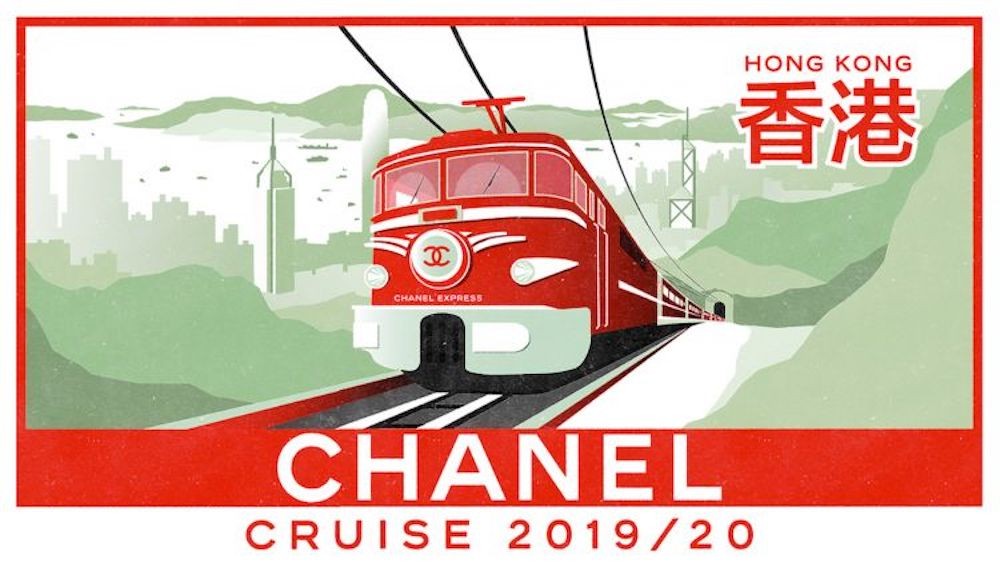 Chanel's 2020 Cruise collection marks Virginie Viard's first solo collection as the house's new artistic director. Viard was Karl Lagerfeld's right-hand woman, once described by Lagerfeld as "my right arm and my left arm." The highly anticipated collection debuted at the Grand Palais in Paris, where the venue was transformed into a Beaux-Arts train station platform, complete with train tracks, wooden benches and a Belle Epoque cafe-restaurant named Le Riviera. VIP guests were served breakfast and lunch, experiencing the luxury travel experience as they would on a cruise. The train tracks that the models marched next to on the runway were lined with signs identifying different cities, taking the collection on a trip around the world.
The cruise show is especially significant for Chanel, since in May 2000, it became "the first luxury fashion house to hold a major catwalk show for its Cruise collection, traditionally destined for an intrepid clientele travelling to warmer climates." Lagerfeld brought cruisewear all over the world, transforming it "into a collection in its own right, with its own story, its own identity, its own inspiration." In essence, it's a collection that embodies everything to do with travel.
The 76-look collection is now making its way to Hong Kong on November 6. Chanel explains that Hong Kong was chosen as the next stop for the Chanel Cruise collection because its a "cosmopolitan city with a unique East-meets-West heritage, an innovative spirit and vibrant energy." The show will take place at the Kai Tak Cruise Terminal in Kowloon Bay, with the Hong Kong skyline appearing prominently in the background. The terminal is a cruise ship port in Hong Kong that was built on top of the famous former airport and can accomodate up to two 360-metre-long ships at a time. Although the collection will feature the same looks as in Paris, the actual show will not, according to Chanel's president of fashion, Bruno Pavlovsky. The show will be reimagined, bringing a bit of that vibrant Hong Kong spirit to the runway.
In this Story: #style