Business of Fashion's Imran Amed: From Hobby to Industry Authority
January 29, 2016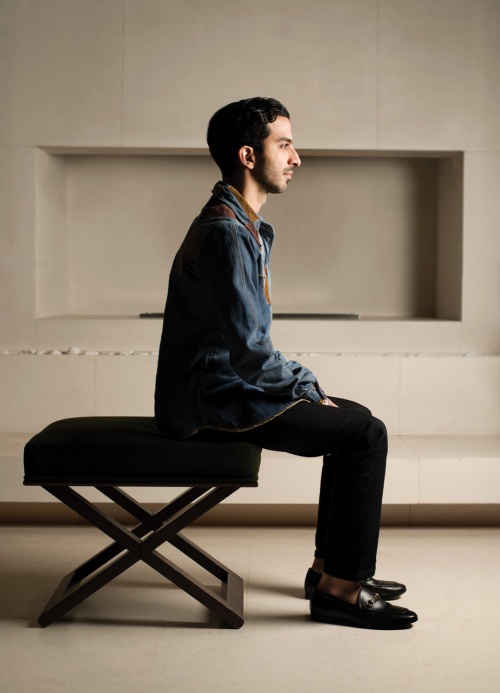 ​A few years ago, Imran Amed was an outsider. With no direct experience in the fashion industry, he left his high-profile consulting job at McKinsey & Company to seek a more fulfilling and creative career. Armed with his workplace training and a Harvard MBA, he dabbled in the music industry before deciding it was time to break into fashion. The rest, as they say, is history.
Amed's remarkable journey began when he created his website, The Business of Fashion (BoF), in 2007. Weblogs were gaining traction at that time, and he quickly found a receptive audience. Before he knew it, what started from his home in London as a hobby project had become a go-to website for the fashion industry. Amed now heads a tight team of 30, and is the public face and ambassador of the fashion news outlet. "Our team really sees our job as connecting different parts of the industry," says Amed, "whether it be about the creative, business or technological sides of fashion, or the Asian, American or European markets. Our job is really to provide the connective tissue that combines the different parts of the fashion world together."
Amed has become something of a poster boy for the industry: the successful entrepreneur with his one big idea; a person of reason and insight; a visionary who understood the value of the digital sphere; and for the younger generation, the tantalising proof that anyone can succeed with diligence, focus and humility.
In person, he is approachable and friendly. Of Indian ancestry by way of East Africa, he carries his small frame with composure and poise. He is eloquent. His deep voice, intense eyes, striking features – and striking business success – command attention.
Last August, Amed announced that respected Style.com fashion critic Tim Blanks would join the BoF team. It was a coup for Amed, who says he has long been a fan – he grew up watching Blanks on television in the '80s and '90s as the host of Canadian series Fashion File. "When I tell Tim that I've watched his shows growing up, he always says it makes him feel old. I obviously don't want him to feel old, but it's always with an amount of respect," laughs Amed. "He really planted the fashion seed in me and now the seed is grown. For the last fashion week season, we were in the car together…and just hearing Tim's voice and his accent – it's such a surreal experience."
Much of what BoF has come to stand for today can be traced back to Amed's upbringing in Canada. "At the office, we really try to champion the concept of unifying left- and right-brain thinking," he says. "My parents really played a large role in defining that. My father is an architect, which is a design discipline where you have to have structured thinking and creativity. My mum was a teacher and educator, so I learned the value of education, insight and hard work. Both of them played a pivotal role in my life."
He was also encouraged to get involved in theatre and public speaking during his formative years. "My parents were told by one of my teachers in Grade Five or Six that they should get me trained, because I liked expressing myself," says Amed. "So I did lots of public speaking competitions, and eventually that led to case competitions in business school, and now a lot of television and speaking engagements for BoF. Just this year, I've done speaking engagements in places such as Tokyo, Dubai, India, Shanghai and Hong Kong."
This early period on the stage built confidence and helped Amed to realise he had a place among the creative types. "It was very reassuring to know that there were other crazy kids out there who liked to get on stage, dance and sing. There was a sense of comfort and finding your place in this group, and it also made me a much more complete person."
These days, he is also in demand as a speaker. Amed recently travelled to Hong Kong to address the latest Business of Design Week. Seven days later, along with his team, he hosted Voices – an industry forum involving local fashion heavyweights including Angelica Cheung, editor-in-chief of Vogue China, Andrew Keith, president of Lane Crawford, and Wen Zhou, chief executive of 3.1 Phillip Lim. The exclusive gathering aimed to delineate happenings in China, the world's most exciting luxury market and a new focus for the website.
"While the BoF global site is now all grown up, our latest foray with BoF China is still a toddler. Our first year with this experience was really to see what people would respond to, as we didn't know what kind of content would perform. We've learned so much this year and hopefully in the future we can develop a commercial model around this new part of our business," explains Amed.
Based in London, Amed is a man who's going places. And be it in China or elsewhere in the world, he tends to find a way into the hearts and minds of those who love fashion. "The nice thing about my lifestyle is that I can feel comfortable in lots of places. I spend 150 days a year travelling and I love it – because wherever I go, there are people I have a connection and relationship with."