The Art of Piercing with Maria Tash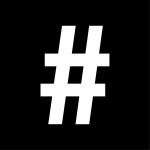 By: #legend
April 11, 2017
You don't know how excited the Asian fashion community got when we heard Maria Tash was coming to Hong Kong. The incredibly talented jeweller and absolute authority on the art of piercing is hosting a pop-up salon in the city for a limited time, meeting fans and customers exclusively at Lane Crawford in its ifc mall and Canton Road stores.
With over 20 years of experience, Tash has been the go-to for celebrities and the fashion and beauty industry elite, who seek her expert design eye and her luxurious, dainty diamond jewellery. Scarlett Johansson, Beyoncé and FKA Twigs are fans, as are our favourite influencers including Tina Leung and Morgan Guth.
We speak to Tash on the latest piercing trends, her line of delicate Indian-inspired jewellery and recall her good old piercing days.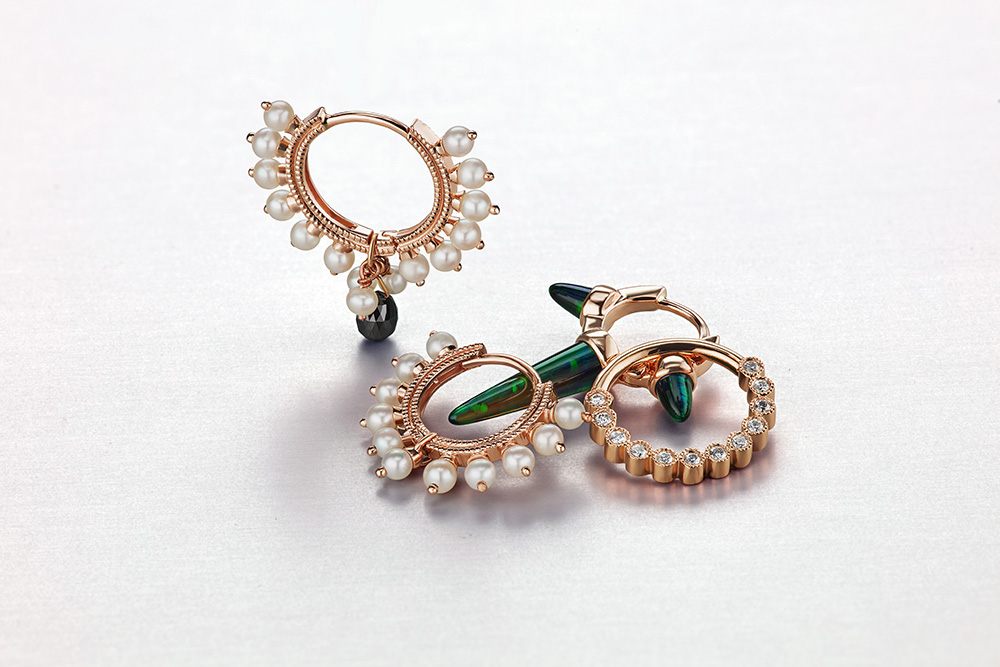 What do people come to you for?
One of the things we do is to style a person's ear and style to their aesthetics. If you came in, I'd take a look at you, see what you're wearing and question what you like. If you're wearing yellow gold, I'll ask, "Is that a colour you resonate with the most?"
You're also known for very dainty jewellery that also has very thin posts.
We worked on this for a long time, the thinness of the post. It's a lot thinner than your traditional body jewellery. When people leave their holes out it shrinks down, and this thinness is the point where it can comfortably go back in. So that's the reason why.
I'd say, five years ago there were a lot of big hoops, matchy-matchy J. Lo style, but it's not like that anymore. I think we reacted against it a little bit and now people are doing small and asymmetric. I think it's liberating. Obviously you can wear your big hoops if you want to, but asymmetry became more embraced. That has also helped the business.
What's a very trendy way to pierce your ears these days?
Something that's really modern and nice now is the high first low piercing. A lot of times people have low placement or stretched down ears, and we do a parallel piercing up high, above the first hole. It's really pretty.
We also have invisible setting in our jewellery. We wanted stones to just float. There's no prongs or cups over these diamonds. They're just floating. What happens is we notch the diamond in three places and push the metal into the side. It's an unusual way.
What's unique about the way your salon pierces?
The angles are very important. You don't realise it but a lot of times, you'll see people's piercings turn outwards so you have to turn your head to the side to see the diamond stud. Or where their hoop earrings turn outwards. I consider that a bad job. Everything should flatter the wearer. We concentrate on foward-facing piercings. It's a style of piercing that we're known for.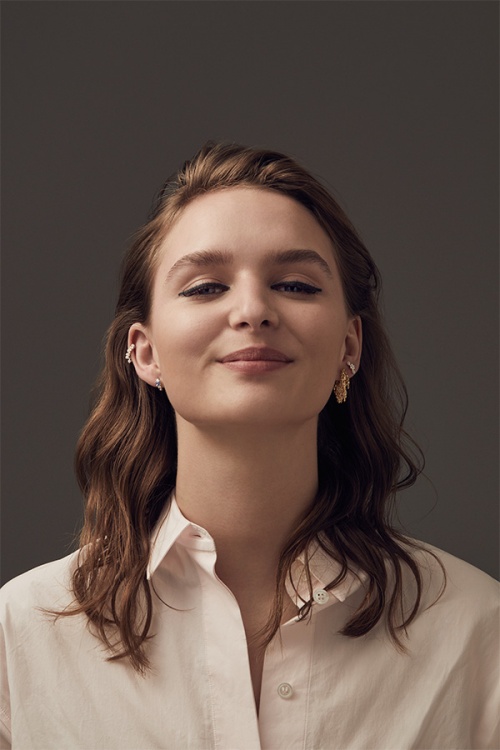 Could you fix bad piercings?
Yes. We'll have a choice of piercing the same front, but a different exit, and let the other exit shrink.
You started piercing in 1993. What's something you're seeing more of these days?
Mothers and their daughters, we see that a lot now. "We came here in the 90s, and now we have a daughter!" So they'll come in together. We do a lot of mother and daughter bonding. We had Uma Thurman and her daughter, Meg Ryan and her daughter, they come in together and the kids are nervous, and they'll say, "We'll do it together." It's sweet. It's also what makes it different from the clothing. You have the healing, the nursing, it makes you less likely to abandon something you spent weeks healing.
How have piercing styles evolved since you started?
In the 90s, navel piercings were very popular. I also had my navel pierced. I spent a lot of time on navel jewellery and that evolved as well. The problem with navel studs are that a lot of cheap jewellery entered into the market and the designs got really long, gaudy and ugly. People will see antennas hanging out and it got trashy. I personally think it's still beautiful to have if it fits right. If the length of the bar is just right, it could be really beautiful to see just the suspended stones. You don't want the one-size-fits-all, crappy steel bar bell. It's very unfortunate that that's what happened to it. Also it's a long piercing to heal. I believe in navels, if you have a good figure it's a great way to celebrate it. We've done navel piercings on women who can't even see their navels, but they want to feel sexier.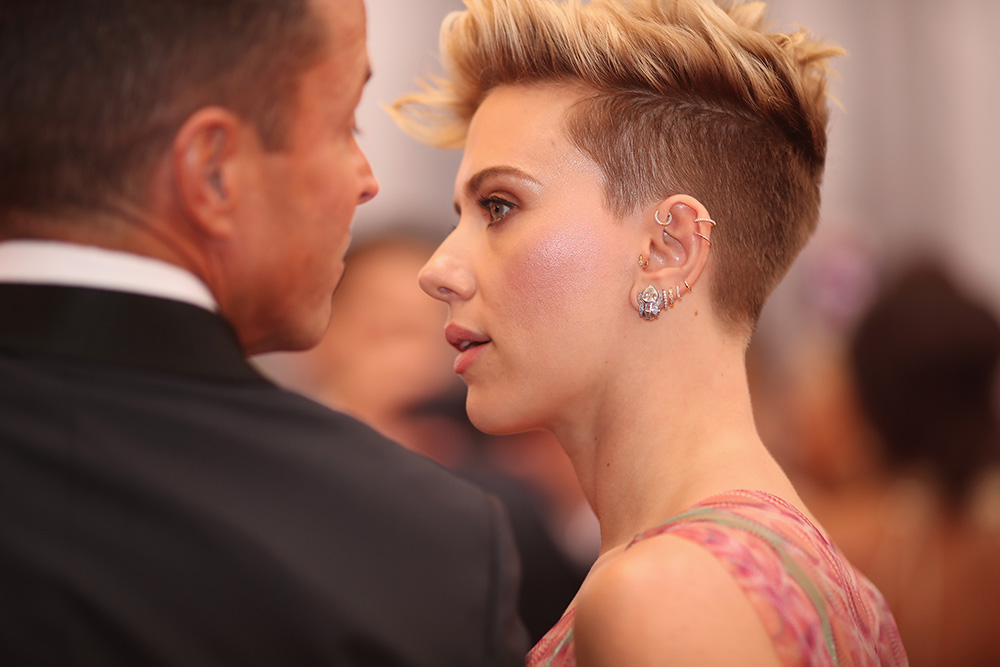 Nipple piercings seem to be having a comeback.
Different things sort of get attention depending on, for example, nipple piercings right. We didn't see much of it after the 90s, but then Kendall Jenner gets it and there's a resurgence in interest in it.
Earrings called the daith has also recently gotten a lot of attention because someone published an article talking about how it helps cure migraines. There was a slew of interest in it. It really doesn't because it's one spot, but no one pierces the same spot every time. Like acupuncture, you can be off by one millimetre.
Do you think you've changed the way people look at piercings? Do you consider yourself a trendsetter?
If you look at old Indian weddings, multiple earrings has been around for a very long time, but as Westerners, we pushed it even further by piercing the tragus, the ear head, you don't really see these in old Indian pictures. So we did push the envelope, partly due to technology, we needed curved needles to get into some of these places. So we brought suturing needles from the medical field in.
Can you tell me what a dermal anchor is?
This came into prominence maybe five years ago. It was developed for places that couldn't heal like a traditional piercing with an entrance and exit channel. They should be thought of as temporary because they can be quite temperamental. They had a bit of popularity but they weren't permanent. We brought some here because there was request for it.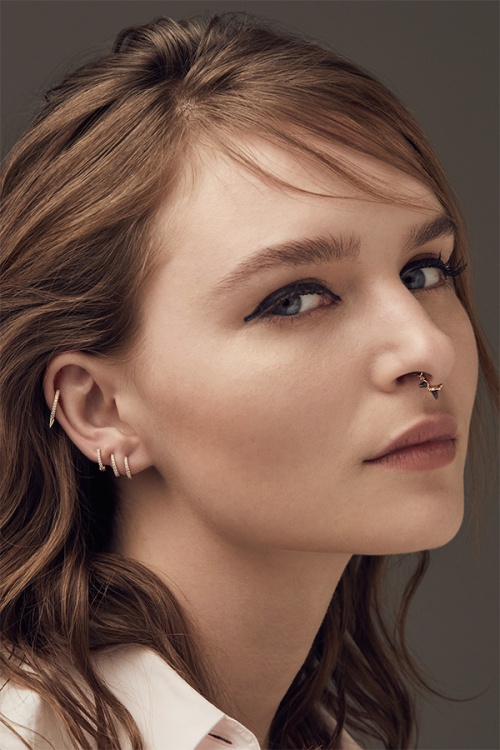 Do you think people have become less extreme in the way they pierce? These days it feels like it has gone back to the ear.
Yes, it's like using the ear as an artistic vehicle. It's part of your face so it's important. The other stuff is more like, quiet and has sexual overtones. So it has shifted. But not everyone getting genital piercings in the 90s then were punk rock. It was an era that was very experimental and liberating. But I think as I evolved, there was nowhere to go if I was still using steel rings and beads that were industrial and heavy. It was fun but after a decade, what else could we do? People like to collect beautiful jewellery. So it became about that and how we can implant them in the body without using such big holes.
What's some crazy stories you can share with us?
It's amazing what people entrusted me to do. I started out in an apartment in Manhattan and strangers would come over to my apartment and get a clitoral piercing. I'm like OK! You have to take a leap of faith, and say OK I can do this. But the first one I ever did, I didn't tell my client it was my first one, right? I did it. It was OK and it was good. I remember it was a large woman and we didn't have a reclining chair. I was at my boyfriend's apartment. It turned out great, but honestly I had done piercings on other parts of the body and watched a bunch of videos and leaped. Not everyone can be a piercer. You can't be squeamish. You have to enjoy… I don't know how to explain this. It's almost like a pimple popping enjoying type of person [laughs].
Shop the looks:
A private consultation with Maria Tash can be reserved at Lane Crawford ifc mall and Lane Crawford Canton Road. Her jewellery collection will be available in stores until April 17.