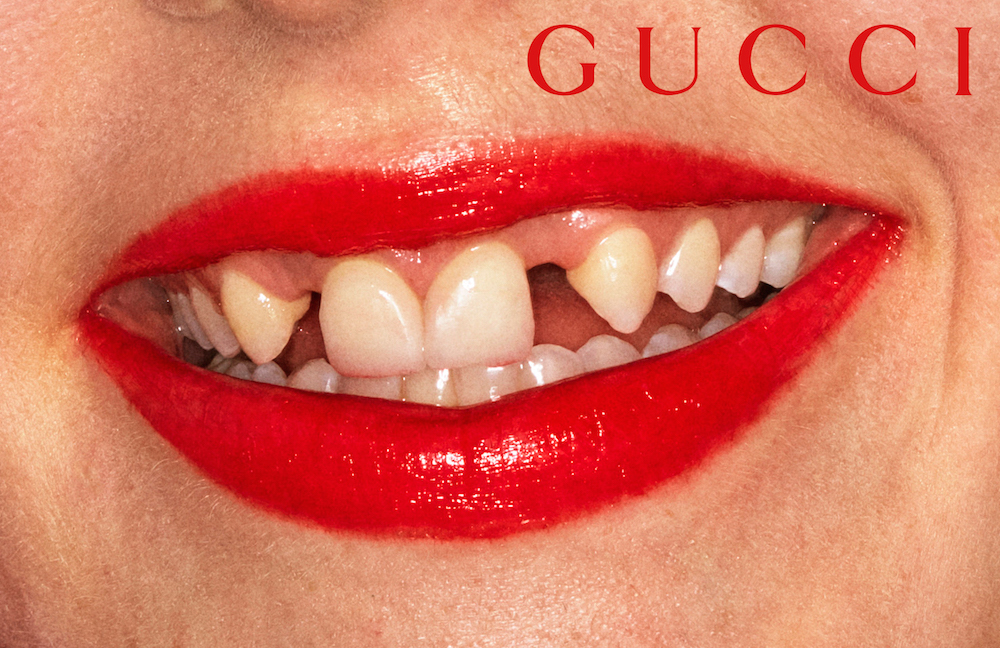 Gucci has recently launched a new lipstick collection that's been praised for its bold campaign images and message, which reinforce the brand's inclusive stand on beauty and personal empowerment. 
The new Gucci Beauty Line begins its journey with a 58-piece piece lipstick collection and 3 formulations including Lip balms, satin and sheer. Ideated by the one and only Alessandro Michele, the creative director describes this collection as a manifesto of beauty as he sees makeup as a tool to help express a person's inner character and personality. 
" Makeup is something poetic and fleeting that you can add to your face, changing or highlighting something about yourself. I find it an almost magical language, strongly linked to the other details I use for the expression of the self, such as jewellery and a hairstyle. Of all these aspects needed to emphasise or underline an aspect of ourselves, makeup is the most immediate and the oldest way, making it the most fascinating," Michele recently said of the collection.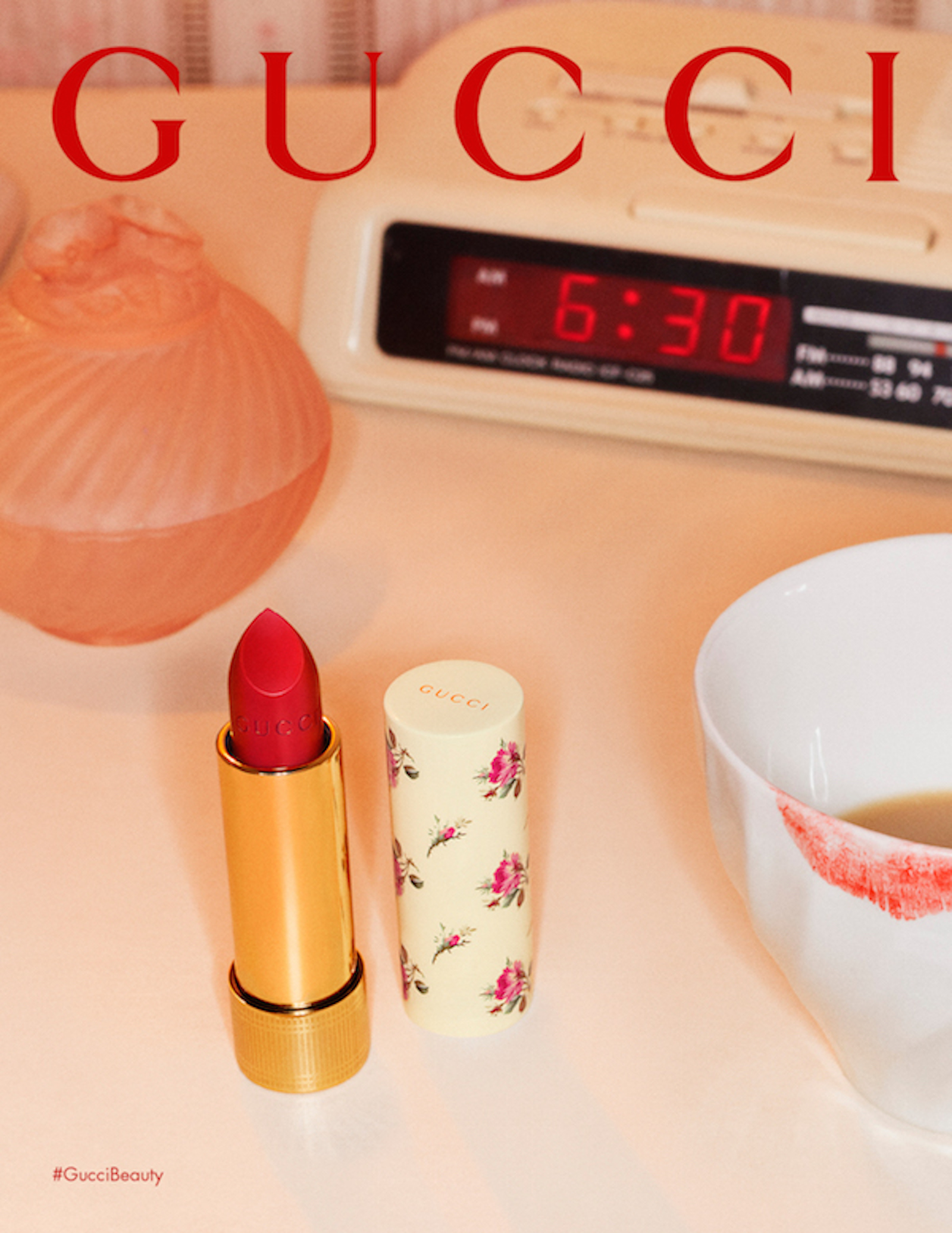 Inspired by the golden ages of Hollywood, Michele's vision is presented on women's lips, with a mix of 80s aesthetic and playful and quirky elements."I thought back to the lipsticks I saw in my life, when I was little, my mum's lipstick, who was always inspired by the 50s, and I wanted to give it the most powerful meaning, that of the Hollywood divas and the mythology of cinema, which first put the lips in the spotlight," he said of the main influences behind his creations.  
The new line includes pretty much everyone's go-to lipstick shade and some more eccentric options a là Michele.  Let's be honest, with so many options, it's hard not think of a Gucci's Pre-Fall 2019 collection piece that could best accompany the new lipsticks and that complete the Gucci aesthetic that the new creative director has already made iconic. 
Here's our selection:500 Odalie Red, Rouge à Lèvres Satin LipstickThis shade is a perfect match with the fab vivid red wool coat and the matched black beret and shoulder bag.  
700 Crystal Black, Rouge à Lèvres Satin Lipstick

Gothic-chic anyone? Nothing can go wrong with an all black outfit. With a 1980s London punk-inspired vibe, this look is paired with a black graphic tee tucked into a black pant with gold button detail on the side.
108 Cimarron,  Rouge à Lèvres Satin Lipstick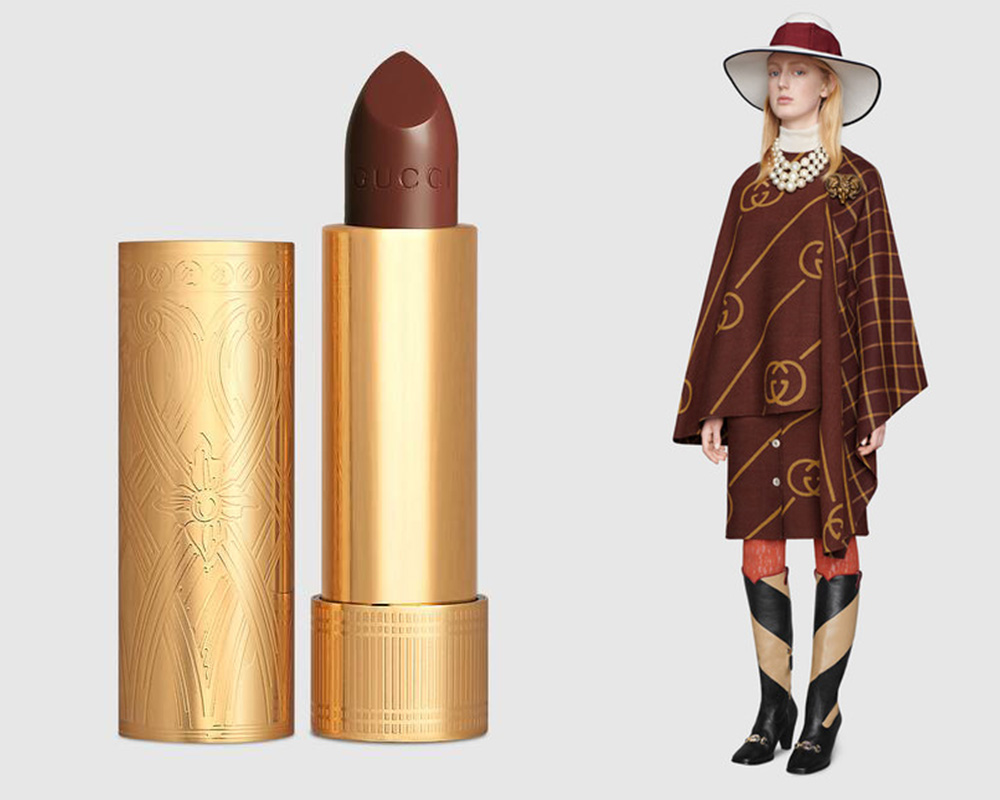 This beautiful chocolate brown matching coat and skirt set paired with diagonal stripe knee boots are just perfect for the chic lipstick shade.The hat and pearls bring back a little light to help complete this look that scream England.
4 Penelope Plum, Baume à Lèvres Lip Balm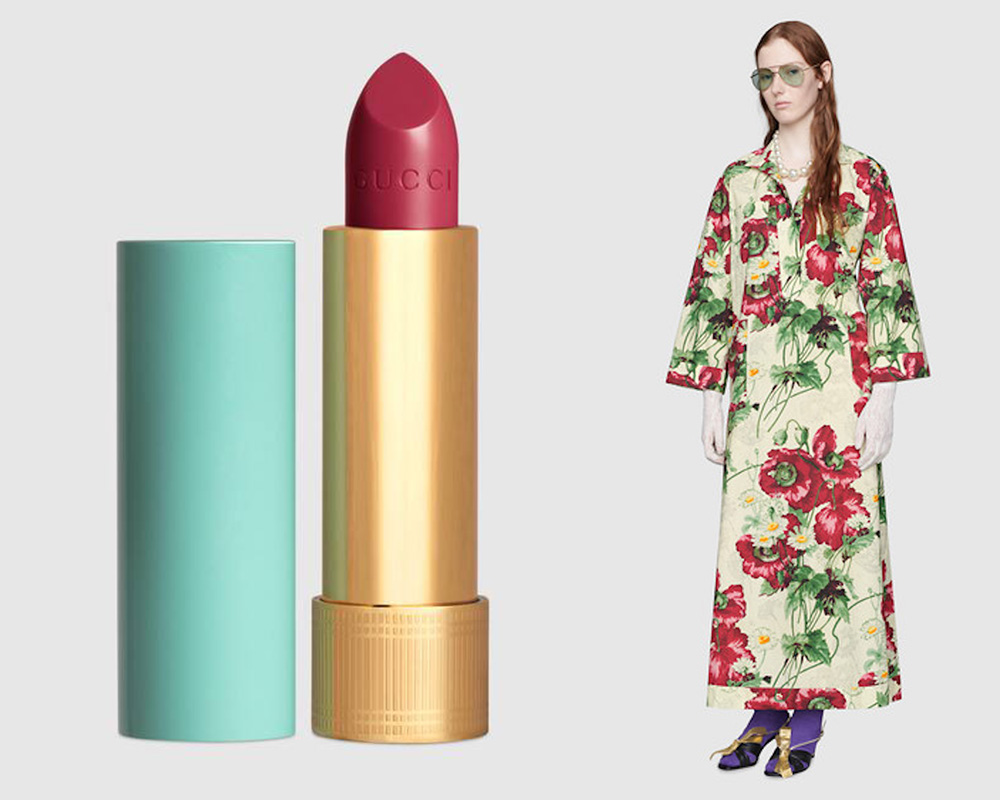 A classic belted dress with the print of poppies, paired with an elegant pearl necklace, sandal heels with a bow and a playful aviator sunglass. The outfit is pretty much an ode to the aesthetic and theme of the lipstick line's packaging and it obviously has a perfect shade to go with it.