Sun's out, buns out. And just about everything else is out too. The transition from spring to summer marks that time of year when the human race collectively ditches boots and sneakers in favour of something more comfortable and breathable. As the weather gradually permits the showing of one's toes in public, brands are doling out their take on a streetwear staple: slides. The round-up for this year's summer slides is in so it's time to show off those feet:
Nike Fanny Pack slides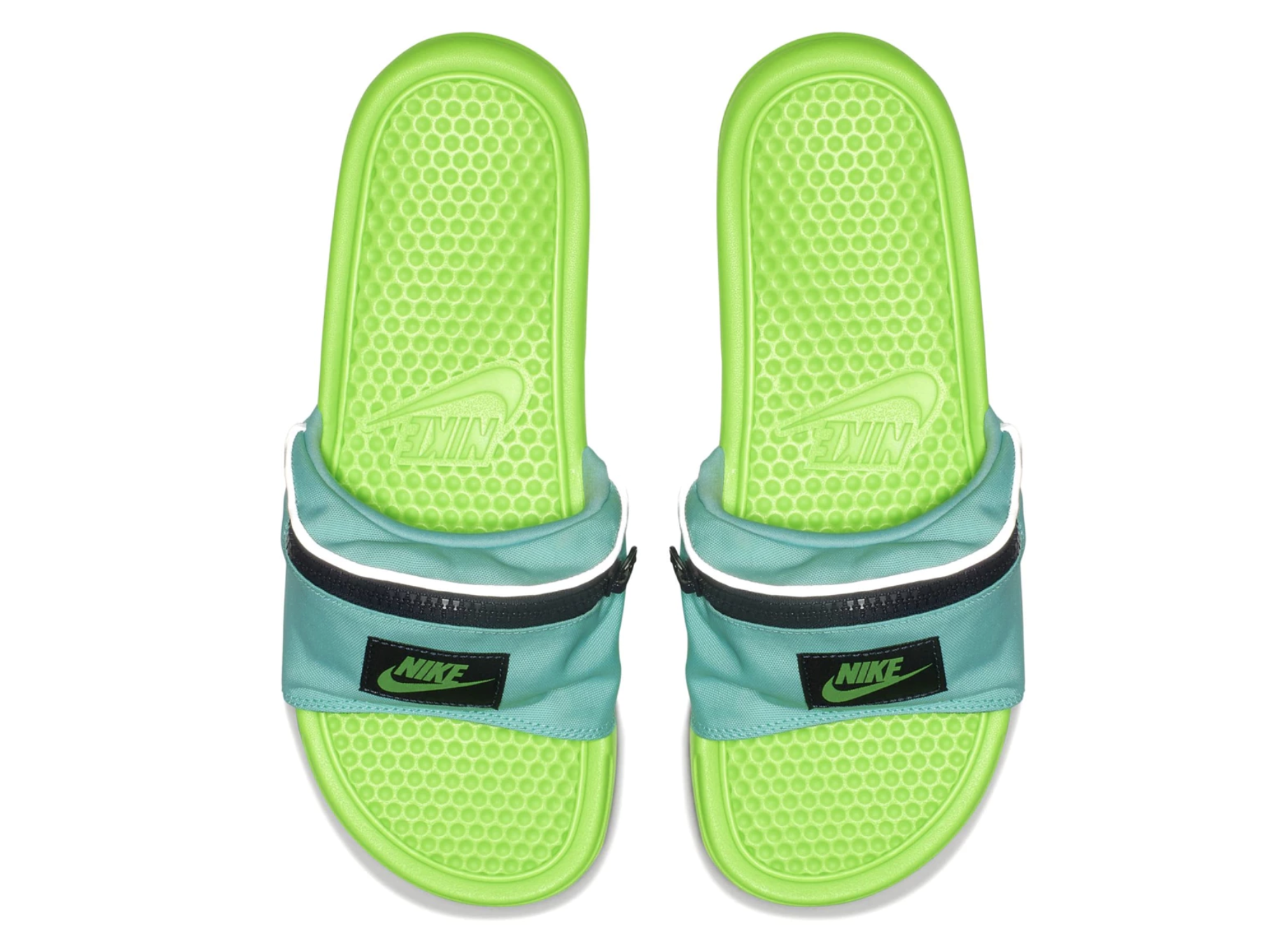 Fanny packs are back – and not in the way you'd expect. Prototypes of Nike's latest slides sprang up overnight, and this time they're a doozy. This shoe-pouch hybrid features a fanny pack in lieu of a strap atop the classic Benassi JDI slipper. As convenient as they are comfortable, three varying colour combos – black/pink, black, and green/teal – means you can wear them just the way you like. These are ideal for going hands-free at your next pool party. Don't worry about losing your wallet or keys. There seems to be enough storage space for all that and more. News of their actual release date is still unknown, but our guess is they'll be here in time for summer.
Valentino Moonwalk slides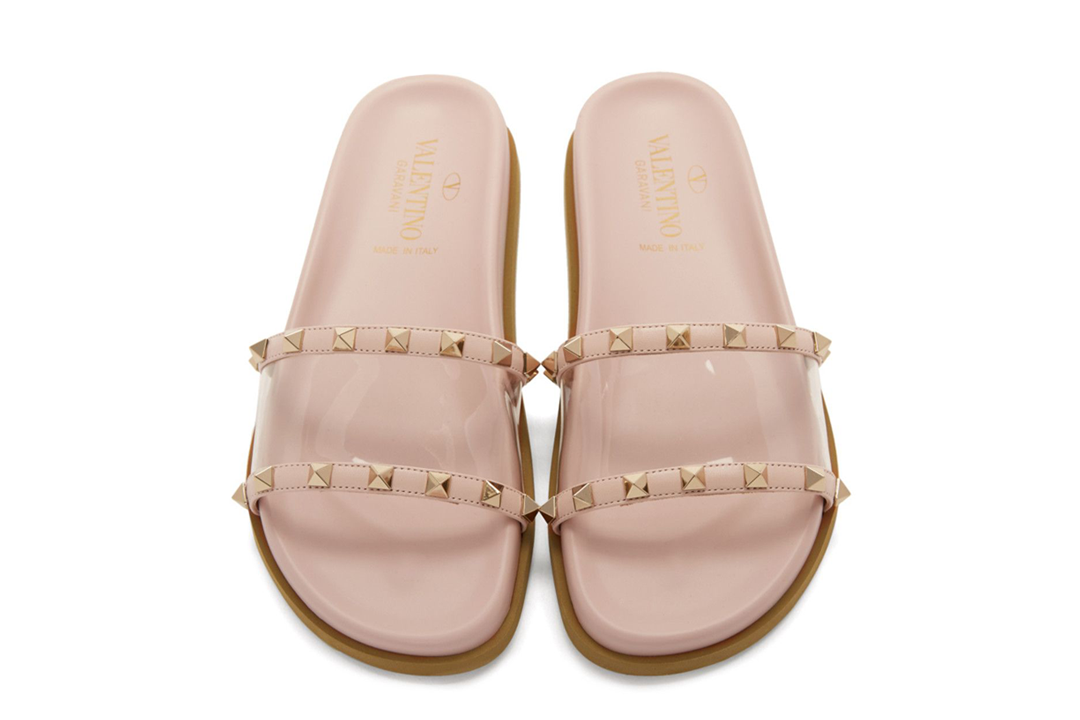 PVC shoes first became a hit when Kanye dropped season three of his Yeezy line. Slowly, translucent footwear seeped its way into the works of other designers. Chanel's Spring 2018 show and most recently Balmain's Fall 2018 collection both showcased designs with plastic accents. While the trend is projected to continue well into next year, Valentino's take will help set yourself apart as an early-adopted. The brand's very own version of PVC footwear comes in four colour options, pink, black, gold, and silver, and features a clear plastic strap across the top. Both sides of the strap are outlined with two strips of leather adorned with the brand's signature "rockstud", of course.
Fendi Fur slides

Fur slides seem to be here to stay. Fendi's love of animal hide has landed the brand in hot water with animal rights groups and activists in the past, but that hasn't stopped them from using their most notable feature as a means to get their hands on a slice of the streetwear cake. The fur-adorned straps on these slides spell out the brand's moniker in varying colours, and while fur seems to be the antithesis of summer, this pair of Fendi slides will have your feet looking fly.
Rick Owens X Birkenstock slides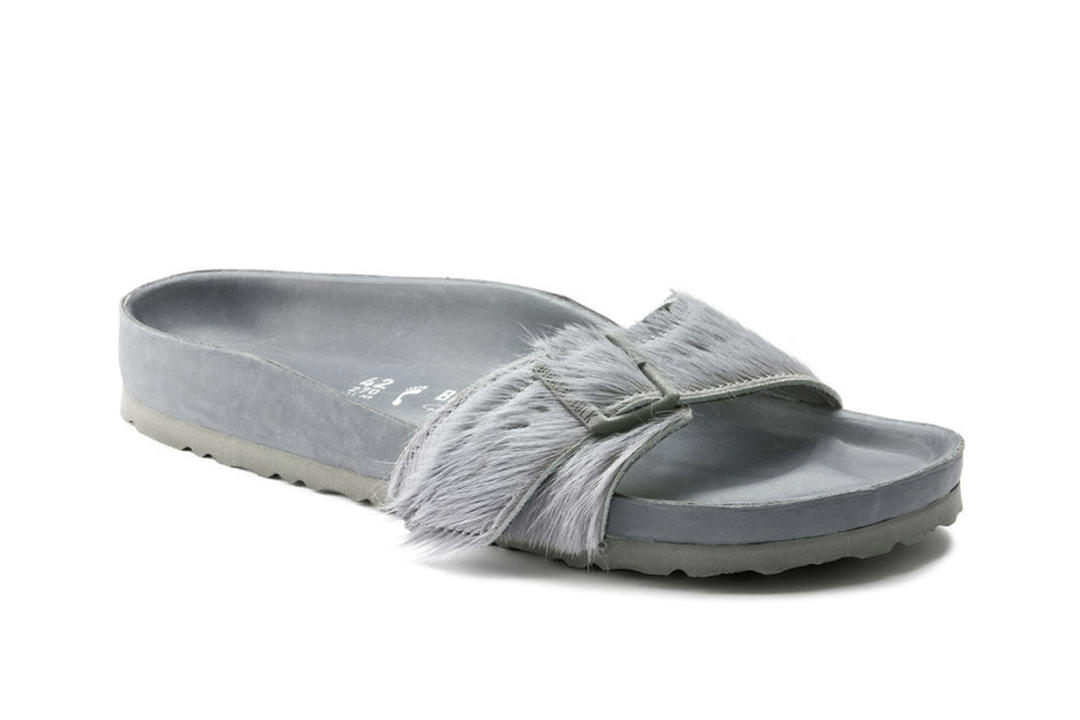 Fashion loves a good crossover to keep the wheels of creativity turning. In a first ever for Birkenstock, Rick Owens and the German footwear company collaborated on a collection of sandals featuring the fashion designer's unorthodox aesthetic. The shoes themselves are a subtle nod to Owen's love for disproportion and outrageous shapes. Showcasing an exaggerated strap comprised of fur, this limited-edition slide is available in two colour tones on the Birkenstock website.
Versace Tribute Logo slides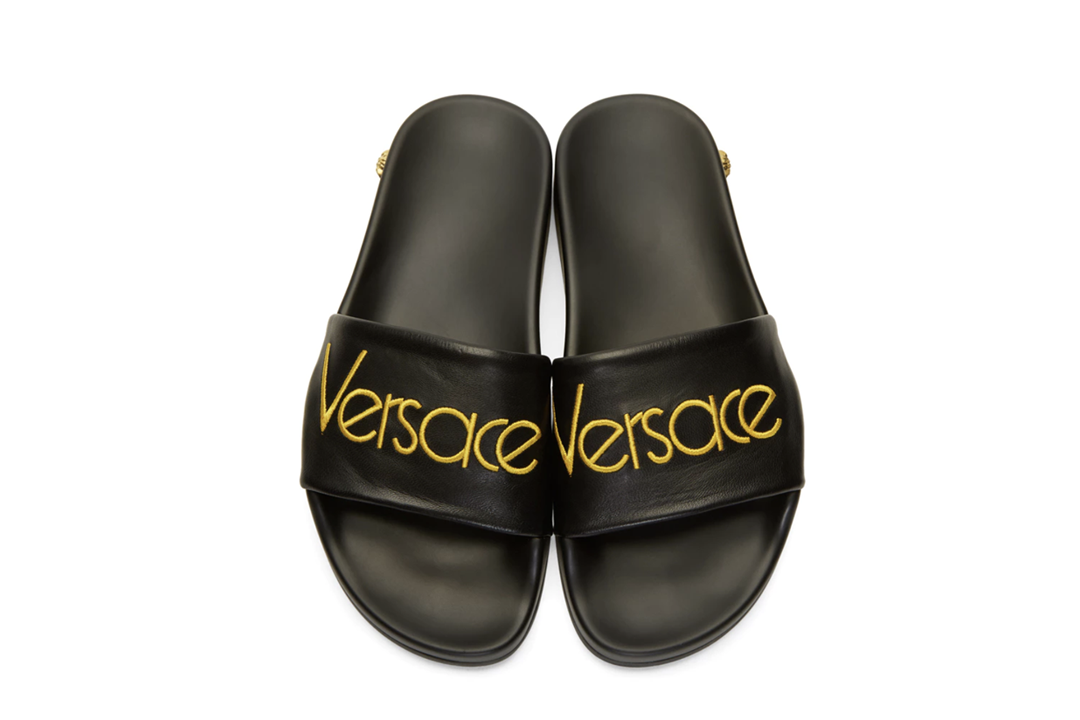 Logo mania is set to make a return after monogram clothing and accessories resurfaced on the runway last year, though logo-laden slides have been in circulation since the collision of high fashion and streetwear. With the rebranding and digging into archives at Versace, their latest footwear releases are a reflection of just that. Donatella Versace brought her brother back from the dead in a sense with a summer 2018 collection aptly titled the Tribute Collection. In it, Donatella pulled inspiration from her brother's archives, including a vintage logo that was discontinued in 1990. It's now been rolled out onto the likes of slides for your feet to enjoy.
Balenciaga Bernie Sanders Logo Slides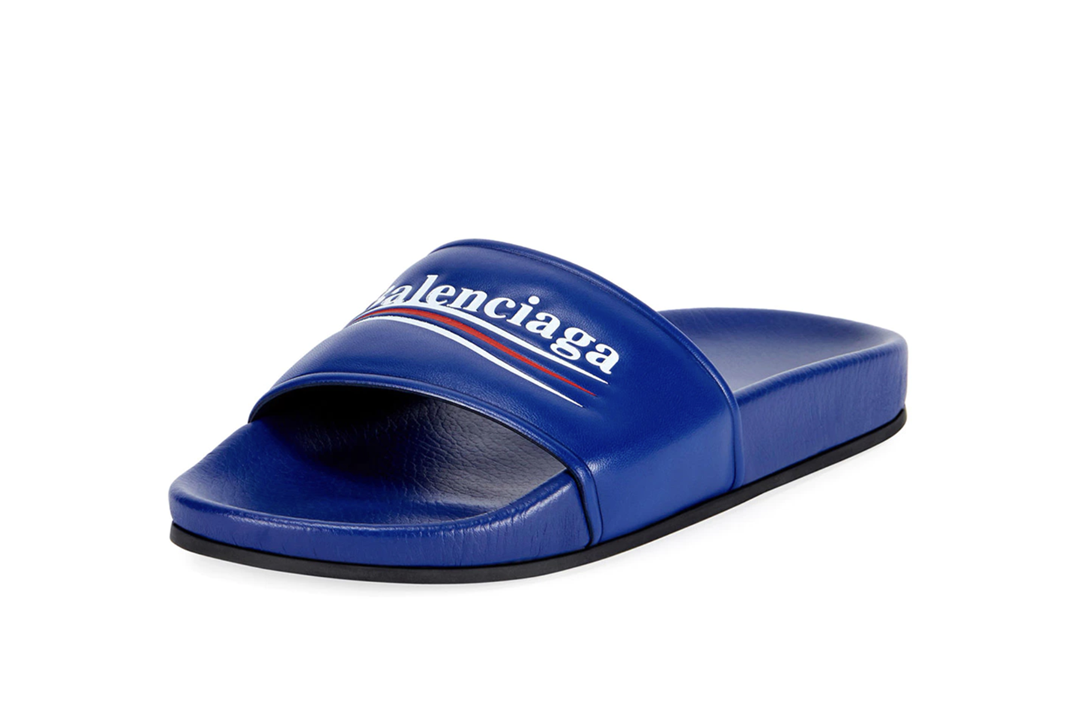 2017 was the year fashion took a political turn. In an ironic attempt to reference corporate culture, Balenciaga designer Demna Gvasalia took visual cues from Bernie Sander's presidential campaign artwork. Needless to say, the joke was a hit among fashion circles globally. What's missing from the revamped pool slides is the 2017 timestamp present on all their previous pieces from the collection. Perhaps it's a move on Demna's part to reintroduce the pair into 2018. Regardless, the slides made their debut in March this year as part of the brand's spring releases – meaning they're perfect for your summer feet.
Fenty Puma Espadrille Slides
The espadrille has come a long way from its humble origins as a hand-crafted shoe made from naturally found fibers. Originally a flat shoe, it's varying stages of metamorphosis include transforming into a heeled version woven by the hands of Joseph Altuzarra. Now it's Rihanna's turn to revamp the style just in time for summer. Taking a lesson in colour theory, Fenty PUMA's latest drop comes in three colourways: yellow/blue, grey/teal, and black on black. Each version boldly features the brand's name embedded on the front, making for a contemporary pair of summer slip-ons.
Gucci "Guccy" Logo Slides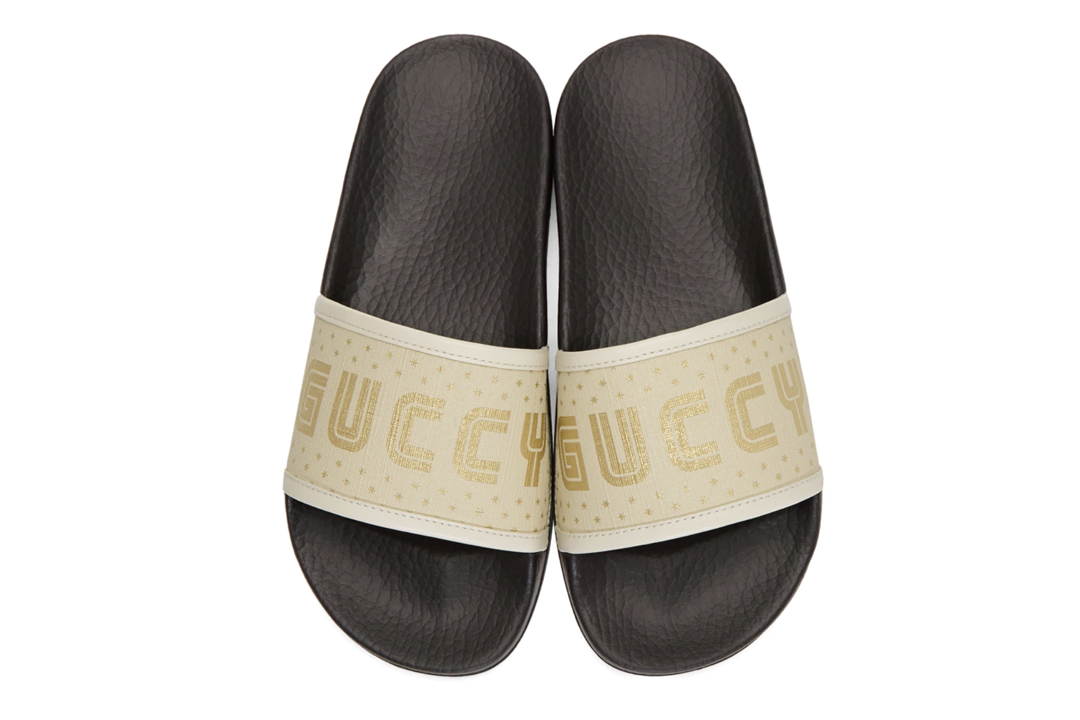 Ever sine creative director Alessandro Michele has taken the reins, the house of Gucci has taken measures to connect with youth culture and play around with its image as a luxury brand. The new "Guccy" logo first appeared in the 2018 Cruise Show in an apparent attempt to poke fun at the brand's history of counterfeit and fakes. The design of the logo itself is an homage to video gaming culture, bearing a striking resemblance to the SEGA logo. It's safe to say that these slides were created with the intent of getting you from your front door to the nearest pool.