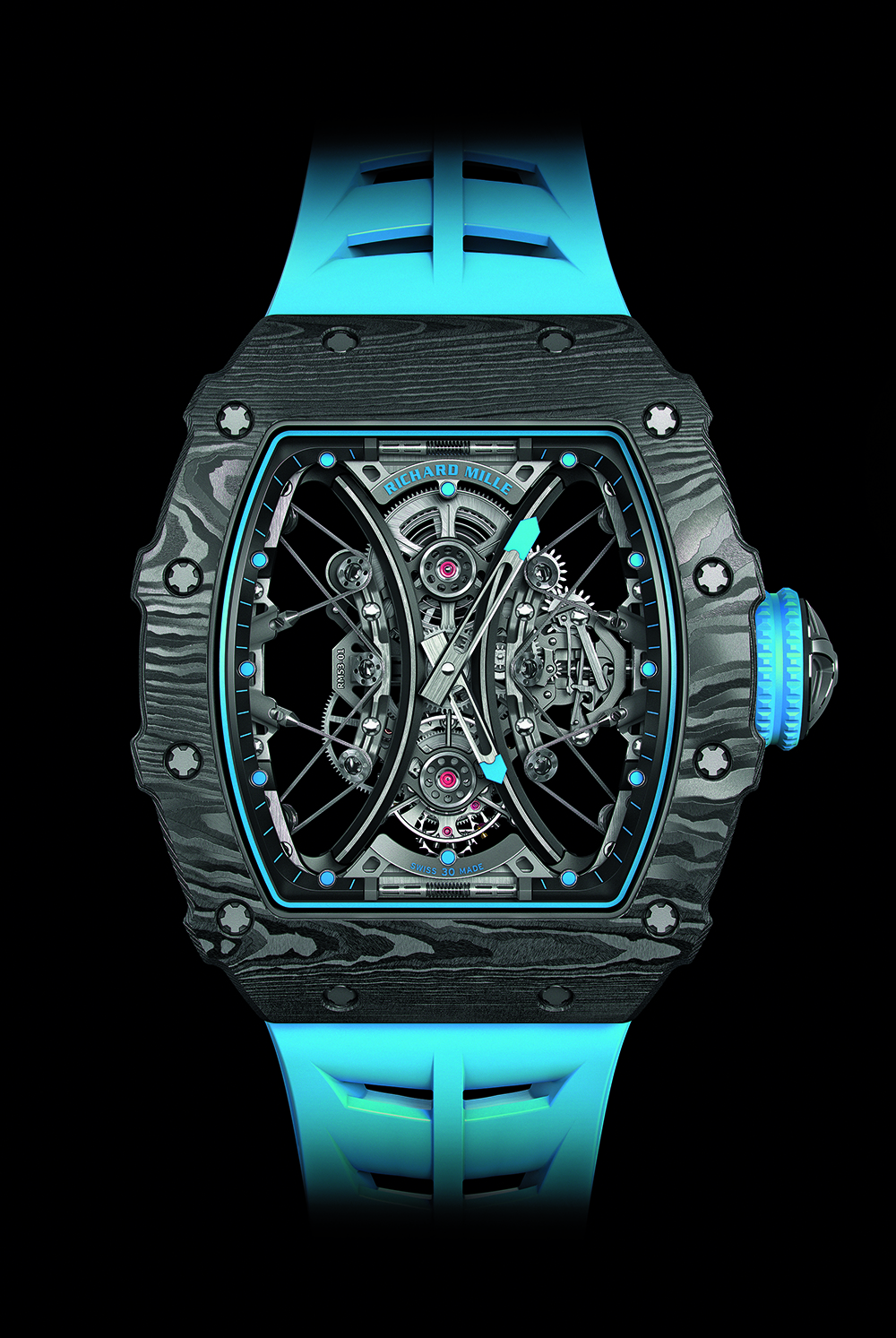 Polo is widely seen as a leisurely gentlemen's sport enjoyed by the upper crust on the weekends, but apparently this is far from the truth. According to Richard Mille himself, it's an elegant game, but still a contact sport. And if you've seen polo icon Pablo Mac Donough in action – or if, like me, you saw the horrific MRI scans of his polo-related injuries earlier this year at Richard Mille's SIHH booth – you'd probably agree. Polo is surprisingly violent; being hit by a ball or a mallet and falling off your horse are very real risks. If your bones can't hold it together during a match, it's pretty certain no mechanical watch will, either.Of course, it wouldn't be Richard Mille if the man wasn't up for a challenge. This marks the second time the brand has partnered with Mac Donough in creating a watch. The first, which came out in 2012, was the RM053, a unusual, space-age-looking watch with an angled dial and manual-wind tourbillon positioned in a shallow cavity to protect the movement from being destroyed during the game.
The latest collaboration brings us the RM 53-01 Tourbillon Pablo Mac Donough. Instead of having angled movements and a protective titanium carbide case, the new watch is designed with all the usual Richard Mille codes. The tonneau case is in carbon TPT and features an open worked movement: the RM 53-01. The unique detail of the movement lies in the tourbillon at six o'clock, which is suspended from the sides of the case by a system of steel cables and pulleys (much like a cable-stayed bridge) that helps with shock absorption. To further protect the model, Richard Mille didn't use regular sapphire glass for the watch. Inspired by the use of laminated glass in the automotive world, the brand collaborated with Swiss sapphire specialist Stettler to create the world's strongest sapphire glass. It's composed of two sheets of sapphire glass separated by a thin polyvinyl film, and is so strong that it will only crack in the face of the strongest shockwave, though it still won't shatter. Mac Donough wouldn't have to worry too much about his watch if an opponent smashed his mallet right across the face of the timepiece – his wrist, however, is another matter entirely.
Richard Mille takes its partnerships and brand ambassadors very, very seriously. Case in point: the brand's ambassadors don't only wear the watches for press appearances; they wear them on the playing field. Tennis champion Rafael Nadal has worn multiple timepieces on the court, including the RM 27-03, which is shock-resistant up to 10,000 Gs. Golf star Bubba Watson also recently wore the RM 38-01 at the 2018 Masters. Mac Donough, too, continues to go to matches with Richard Mille on his wrist. The RM 53-01 is limited to 30 pieces.