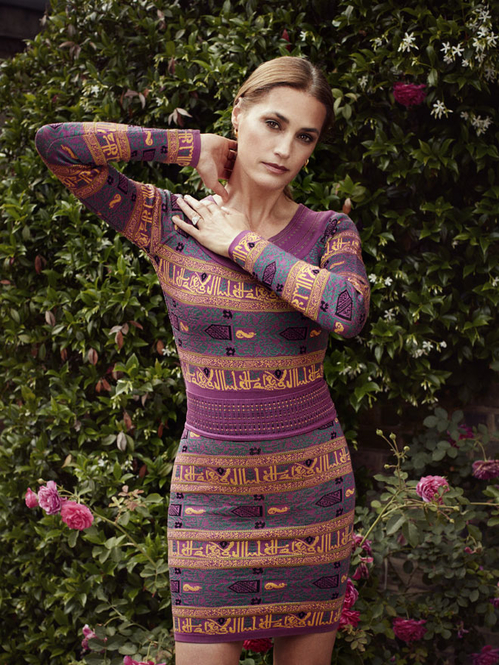 Yasmin Le Bon is opening up her closet through Vestiaire Collective. A curated selection of special pieces will be available on the website on July 19. Yasmin is part of a circle of friends that coined the original term "Super Model." (This would be in reference to Naomi, Christy, Linda, Cindy.) It's not every day that we can dress like a super model. These looks will go fast so best get clicking.
We speak to Yasmin Le Bon about her sense of style and the story behind the pieces she's selected for Vestiaire Collective:
You have been a model for how long?
Over 30 years now, I signed to my agency just before my 18th birthday! Ok, so, what…34 years.
If your closet could speak, what kind of things would it tell us?
Who bought these hangers?? Help..we are all too squashed in here! Let us out! Let us out! Right, that is why it is time to let go. I love clothes, I love telling stories with them and expressing my mood, but if I can't find a way of wearing them any more then some one else needs to have a go at letting them out and creating their own stories. I think my closet would also tell me that I am basically bonkers.
What do you collect personally?
I don't like to think of myself as a collector, that sounds far too serious and calculated. I love fashion, and have amassed some rather nice things. Yes, I have a weakness for Manolo Blahnik shoes, and I find it incredibly difficult to let any of them go, they seem more like characters in a play, I like to make up stories for them. i have always loved art and photography, I am lucky enough to have a few Irving Penn, Horsts and Baileys, and paintings by my now deceased friend Albert Irvin, a wonderful abstract expressionist. The family love all of those pieces, but I think the teacup, saucer and cake plate collection is driving them mad, and I have promised to stop collecting them, they take up quite a lot of space, and to be frank, nobody likes cleaning them all!
There are some exquisite pieces that you are making available to the Vestiaire public, I am sure there are stories behind when you acquired some of these gorgeous pieces. Can you share some with us?
The Giorgio Di Sant'angelo dress is So beautiful, I have so many memories doing Giorgio Di Sant'angelo's show. It was one of those shows that we looked forward to, it was fun, his clothes were so expressive. I remember one show where we had the most glowing make-up by Mary Greenwell and none of us wore shoes, we walked barefoot in these gorgeous multi colored dresses. I think he has been so underrated for so many years, his clothes are like jewels.
Chanel gave me this black dress to wear when they asked me to accept a lifetime achievement award on behalf of Karl, I don't think I'd ever accepted an award before so I had a complete Derek, Zoolander moment, I'm accepting on behalf of Karl but really started to say thank you on behalf of myself thinking I was Karl in my dream world!
I wore this Alaia shirt during one of his shows in the early 90's, matched with a beautiful scooped neck blue dress. I used to travel so much for work back then Alaia white shirts really became my travelling uniform, I always felt ready for anything wearing one of his shirts.
There are Manolo Blahnik style that I have never seen before…. And I know shoes because I was in the business of shoes. What year are they from?
I wore these to the launch of Manolo World at Liberty's in London in 2010. What can I say about Manolo, I've been buying his shoes since I was 19 and I very rarely let go of them, I feel attached to them. I used to joke about buying Manolo for purely medicinal reasons, because they just fit so well, and they make me feel so special.
 Without a shadow of a doubt he is my favorite shoe designer, no one comes close. He has a unique take on design, and what's inspired him, he's a real artist, but makes real shoes to be worn, I could collect Manolo forever.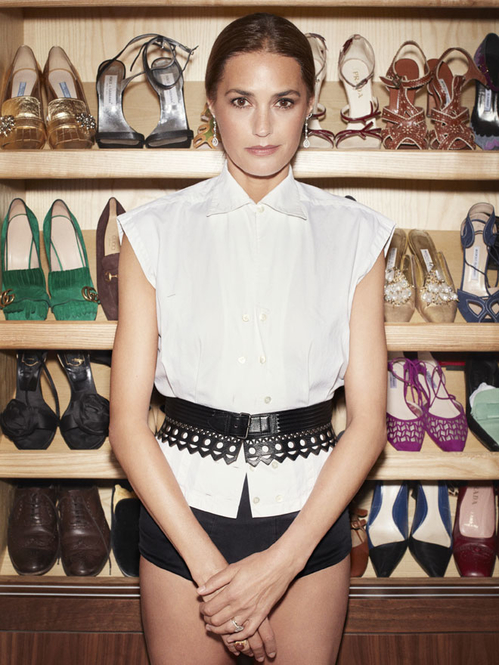 Where did you get that Stephane Rolland dress? Do you know there are designers that collect them specifically?
This is just a fabulous dress, I was going to the Harpers Bazaar Women of the year awards, we had done a 9-minute DuranDuran film called 'Girl Panic', me, Naomi, Cindy, Eva and Helena, where we pretended to be the boys. They gave a lifetime achievement award to the band and we thought it would be funny if we accepted the award on behalf of the boys, it was confusing we weren't sure who the award was meant for, so they just gave us all awards! I don't think I could ever top this dress, it was made for me for this special occasion and I had a rip-roaring time in it. My body has changed, someone else needs to rock this chick out now.
Tell me about your Alaia pieces. Personally, I love Alaia cotton poplin. It is one of the greatest things outside Charvet shirts for cotton.
Any Alaia piece has huge history and means so much to me. I feel powerful and strong, like I can face anything wearing Azzedine, it's like armour to me.
Working with Azzedine was amazing, he was completely consumed by his work, he didn't like to leave the atelier and you always came to him as the party was there. He taught me a lot about integrity and sticking to your guns and what you believe in. The black knitted Bardot dress is steeped with memories, I've worn it so much it was a real moment in time in my life. Azzedine was such a craftsman, you are right he made cotton poplin do things no one else had thought to do.

Do you remember the first Chanel item that you ever acquired?
I think it was a small brown suede bag and a bright pink suit, with a super short skirt that I made them take up even more. I still have that suit, pure eighties!!
What is one trend from the 80s that you hope never makes its way around again?
People talk about the 80's and a lot of people have a lot of regrets about the things they wore, but I really don't feel that way! I was only wearing Comme de Garcon, Levi jeans and Azzedine Alaia.
Was there a particular way that you cared for the items? They are in fantastic condition.
I've always keep clothes well but I'm not super protective of them, I don't keep them in an acclimatised room or anything like that! To me my archive isn't a museum, I want to really wear my clothes, they should have a life. They're living art, fashion is art but with function. Nothing is packed away, I think I have a couple of dresses in tissue in boxes but it doesn't mean they won't be worn. Everything should be worn. Saying that, use acid free tissue paper and keep only your black clothes together if laying them down, dyes drop eventually so never put light colours in with dark items when storing, lesson over.