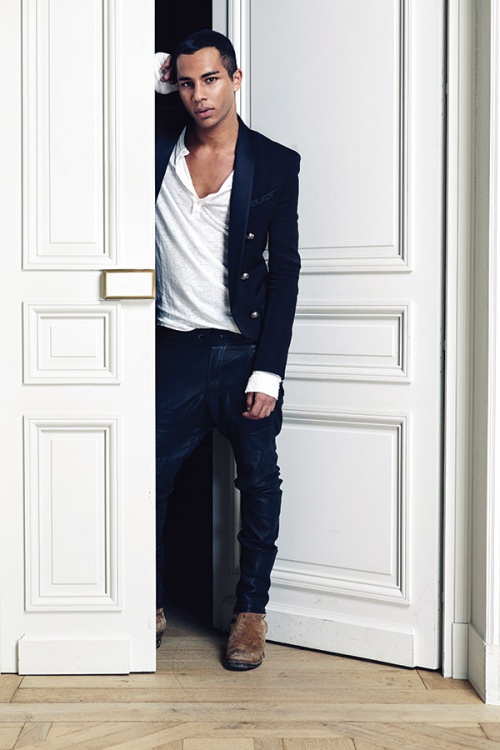 When Olivier Rousteing gets on a roll, which is much of the time, the words flow in a garrulous torrent. Whether the topic is his celebrity pals, formidable work ethic, admiration for Michael Jackson and Yves Saint Laurent, affinity for Balmain blazers or growing up black in Bordeaux, the designer holds forth with a passion, eloquence and animation that are mesmerising.
Rousteing's unbridled enthusiasm for living life to the full – and working, in his own words, "like a psycho" – is refreshing to behold. At 30, Rousteing is the creative head of the French fashion house Balmain and yet totally unfazed by the responsibility, heavy workload and pressure from delivering multiple collections.
"My bosses believed in me when they gave me the job," Rousteing says. "I had been working at the house for 11 years and they could see that Balmain was my passion. But it was a gamble for them: winning totally or losing. I want to make sure I can make Balmain bigger and stronger and more global than ever," he says. "I have a strong discipline. I sketch on time and have eight collections a year. I don't find it so much pressure. I discover things season after season."
There speaks a man with confidence and more than a little insouciance, as shown by his sometimes risqué Instagram postings. At one point, after a magazine cover depicting nudity appeared, executives asked if he could tone it down – advice that does not seem to have been heeded. In his defence, Rousteing could point to his 3.7 million Instagram followers, all potential purchasers of Balmain apparel.
"After they realised it works, they accepted it," Rousteing says with a grin. "Sales are amazing and we are opening stores. They were worried and conservative, wondering where we were going with that. But they have now realised luxury doesn't mean you have to be closed-minded. You can put luxury on social media. It is just opening more to the world. If you don't open it to the world, fashion will die. It is the new generation who use social media and those are the people you want to sell to. Why can't we believe in the next generation?"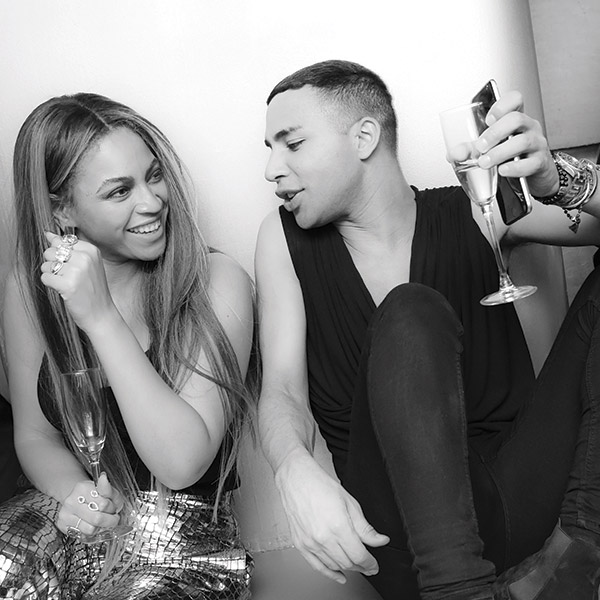 Rousteing has rewarded the trust placed in him and borne in a sterling manner the responsibility bestowed upon him. Fashion was not at first part of the Frenchman's career plan when he was growing up. But it was clear that the star student, with his gift for languages, would be a success at whatever occupation he chose. "I wanted to be an international lawyer," he says.
Yet he was pulled in a different direction. "I love sketching and love fashion and love clothes and freedom of expression and realised that I wanted to have a career in fashion," he says. "I didn't know that your passion could be your job."
Adopted by a white couple, Rousteing developed a steely side, and the ability to shut out or ignore racism. "Growing up black in a white family in a closed-minded city was not the easiest thing in life," he says. "You have to fight against narrow-minded mentalities at school and at college and that was tough. But what has been amazing is that it made me stronger and more powerful, and less scared."
One of Rousteing's role models, American civil rights leader Martin Luther King, would certainly have approved of the designer's commitment to including more models from minorities in Balmain's shows and campaigns. "What I am trying to do, in my own way, is to show that fashion can be more open-minded," he says. "It is so shocking when, in 2016, they say, 'Your casting is so different. You have so many black girls and Asian girls.' Yes, it is amazing but it is sad that only I have such a different cast. It should be that all fashion houses have this kind of casting."
Rousteing remains close to his adoptive family, although the names of the superstars he mingles with may not have too much resonance in suburban Bordeaux. Among his closest pals are Kim Kardashian and Kanye West, Rihanna, Justin Bieber, Kendall Jenner, Kylie Jenner and Kris Jenner. All are fans of Balmain style.
A new acquaintance, Chinese singer Lu Han, the singer du jour in the mainland, was added to Rousteing's circle during a whirlwind promotional trip he made to Beijing. In just a couple of days, the designer inspected Beijing shops, attended a Vogue China dinner along with other A-list celebrities and socialites, and partied hard. Inevitably, his Chinese trip was documented in some detail via Instagram – as is most of his life, in Paris or elsewhere.
"I enjoy social media because I can share with people my vision," Rousteing says. "I don't have to wait for the next issue to show my clothes and promote my brand, promote myself and explain who I am. I didn't want to wait for interviews. I thought I could show myself in one click. I got a few [followers] at the beginning and in almost three years I have almost 3 million," he says.
Rousteing likes promoting his brand. "The part of the process I like the least is waiting between sketching and production," he says. "I hate waiting." That means Balmain would be well placed should it decide to follow Burberry's lead and begin selling clothes as soon as they are shown.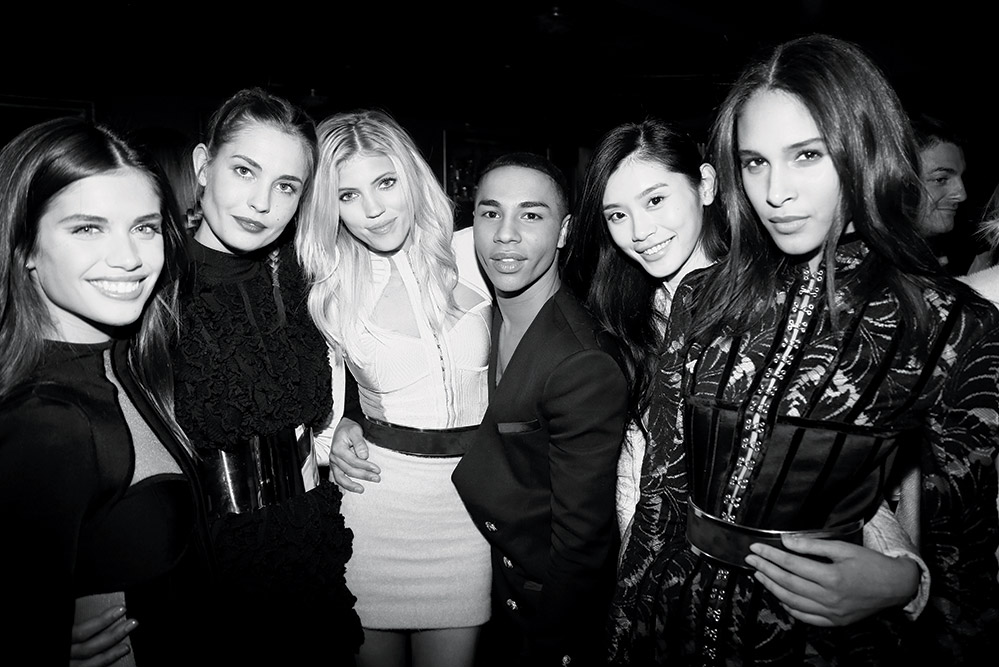 There is no danger of Rousteing running out of ideas or burning out any time soon. He is on a creative roll, fizzing with energy and inspiration. "I think my discipline is finding inspiration where I get emotional," he says. "It can be travel, tradition from a culture, MTV, a new album of Kanye or a champion in sport. It can be pop culture, architecture or jewellery. I am really open-minded. A lot of the time it is music. Music and fashion, I can't live without either."
One of the people the designer admires most is Yves Saint Laurent. "I think the way that he dressed, his suit and how he presented himself was so glamorous," Rousteing says. "I am impressed by his vision and how he put a lot of colours in his brands. For me, he is a big name, and a big man in France and the entire world." As a pop and fashion icon, Michael Jackson is another object of Rousteing's admiration. "He is always in my mind. He was my inspiration for fashion," the designer says. "All my shows are about him in a way: the jackets and skinny leather pants. He is a big, big, big inspiration."
The fashion world is hardly awash with black designers, least of all among the more conservative and longer-established French and Italian houses. Balmain is a prominent name and Rousteing is expected to be a force for many years to come. "People say I am young. It is my 11th season at Balmain and I am still younger than the other designers," he says. "I am happy to create the clothes but also it is important, the meaning behind them. I love talking about my vision and my aesthetic. My style is couture. It is glamour. It is confident. And it is tailored."