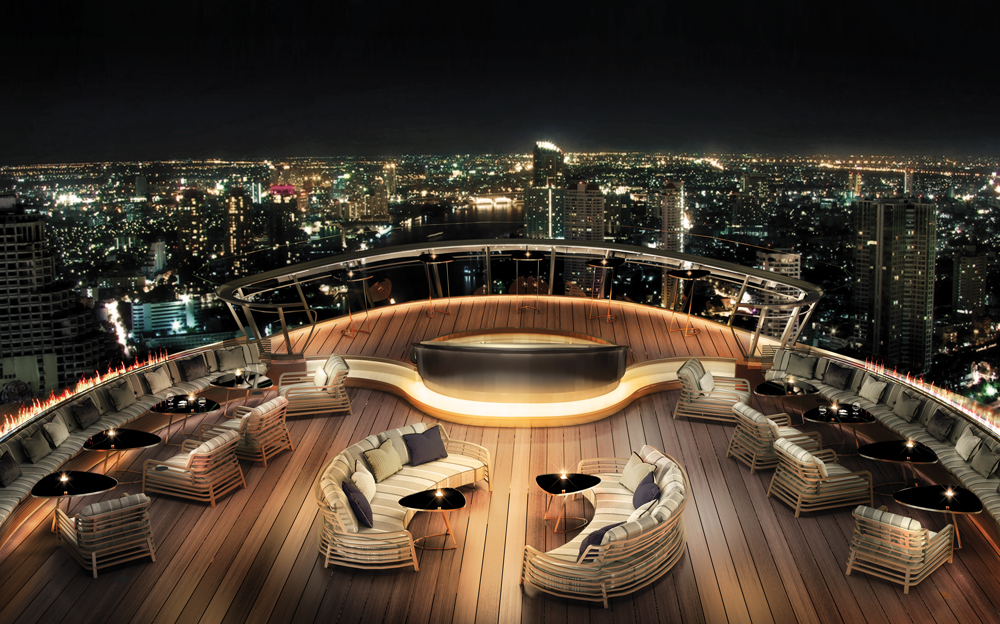 The first time I drank something that was called whisky, I was on the grittier side of Koh Samui, straight out of high school and about to get drunk on a concoction of Red Bull mixed with a local brown spirit. What the Thais affectionately call Thai whisky isn't however made from malt. I was too young to understand that. It was a deeply unpleasant experience and it was sufficient to turn me off any brown liquor for years to come.

In a rather more pleasing turn of events, the launch of the Alfresco 64 - A Chivas Bar sees me at the Lebua Tower Club, high up over Bangkok, thinking about real, sensational whisky.
The opening was making a lot of noise in the media, rooftop bars are a signature for Lebua in Thailand, but not only that, it was garnering a lot of attention from overseas press as well. Journalists came in from New York, Sydney, London and Hong Kong to celebrate. They had two reasons: it was a whisky bar, and the highest in the world at that, and, significantly, the bar's opening also meant the release of one of the world's most exclusive whisky blends from the legendary Colin Scott, master blender at Chivas Regal.
The Chivas Exclusive Lebua Blend was created to commemorate the fifth anniversary of the partnership between Lebua and Pernod Ricard in Thailand. Lebua Hotels and Resorts first partnered with Pernod Ricard on the opening of the Tower Club's Perrier-Jouët champagne bar.

"When I first approached Colin Scott about the collaboration, he asked me how much passion I had. He said if I had more passion than him for whisky, he would do it," recalls Deepak Ohri, chief executive of Lebua Hotels and Resorts.
The resulting creation is the definition of luxury. Only 96 bottles are available and once they're finished, they're gone. Scott had selected the finest whisky distilled in 1985 or earlier for this project. "That's all there is," says Scott. "There are four releases over four years of 24 bottles. When it's gone, it's all done and we can't replicate it exactly because what's unusual here, for this Lebua blend, is that we've taken the blend and rested it in our First Fill Sherry Butt casks for nine years. The whisky is finished for nine years in our sherry casks."
Two years is the industry standard when it comes to finishing and maturing a whisky blend. Nine years is highly unusual, even unheard of, and is unlikely to be copied any time soon. "If someone was to copy this idea, you'll have to get some 30-year-old whisky and you'll have to have started to finish it nine years ago," says Quentin Job, managing director of Pernod Ricard Thailand. "No one can copy exactly."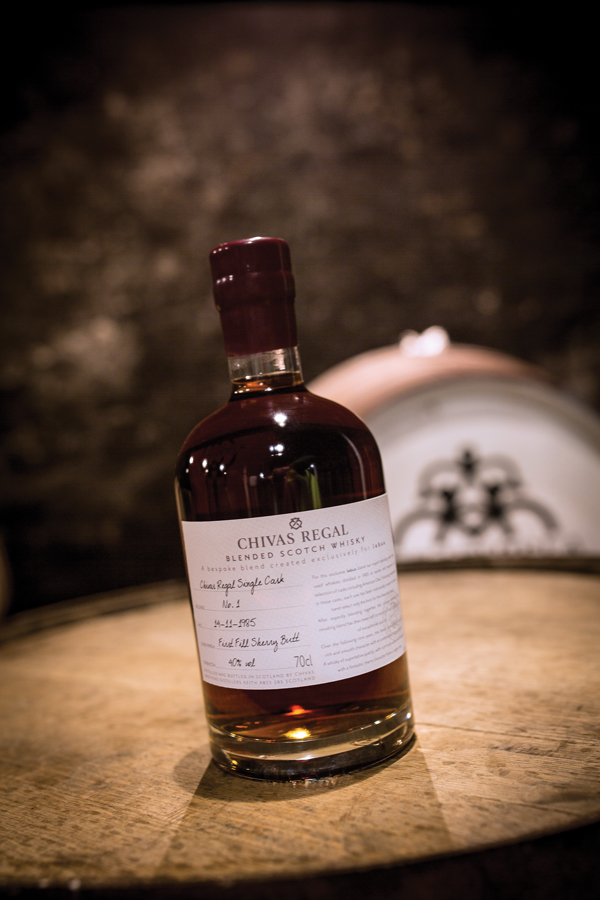 Not only is the whisky rare, to get your hands on a bottle, or take a sip, you'd have to pay a visit to Alfresco 64 in Bangkok. Why Thailand? "Whisky is a huge market in Thailand actually," says Ohri. "Thai people, they drink lots of whisky. And, of course, the whisky market is going up, but it's not at the top level, not at the luxury level."
Ohri is a man who lives to create experiences and create new trends. He brought the concept of sky bars to Thailand when there were none, and if there were no luxury whisky to be found in the country, he's not afraid to be the one to introduce it. His vision for Alfresco 64 is for the bar to define luxury, and to introduce luxury whisky to its visitors and to the Thai. Wine bars are going to become passé, according to Ohri. "The days of sitting in a luxury bar drinking wines will be gone. It will very soon be the whiskies, the bourbons, and that's why we need a whisky bar. I want us to be trendsetters," he says.
We had our first peek of Alfresco 64 just before the official launch party because Ohri, Scott and the Chivas team couldn't wait another day to share the new concept with us. The place was a true gem. The sun was just setting as we stood on the yacht-inspired terrace, bathed in the last of the daylight while below us, Bangkok slowly twinkled to life. The much anticipated blend was opened and poured. Lighter-coloured whisky tend to signal a whisky that has been stored in old bourbon casks, or that it is a young single malt while darker coloured whisky usually indicates that it is an old whisky, or that is has matured in sherry oak casks.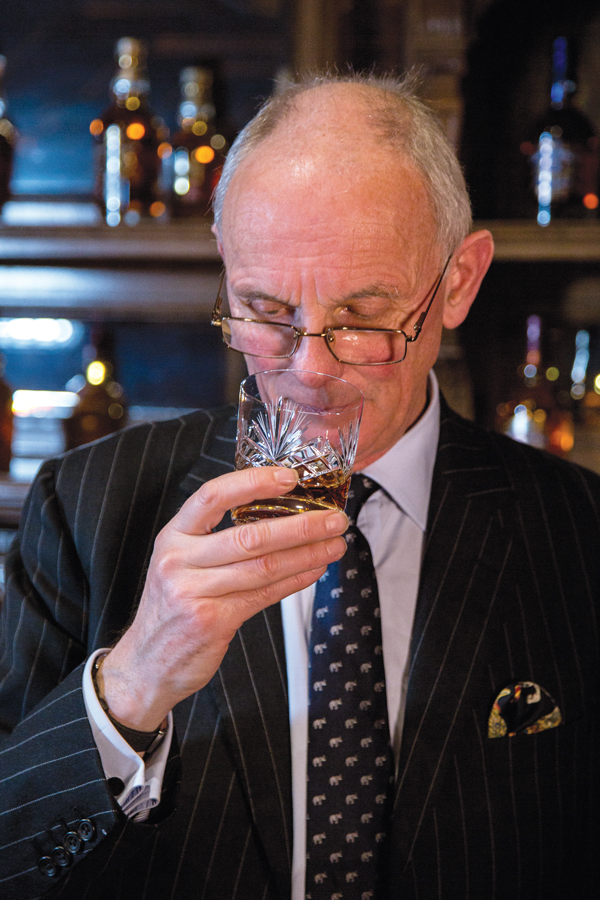 The Lebua Blend, old whisky that has been additionally aged another nine years in sherry oak, is dark and appears almost black, apart from where the light hits and it takes on a rich, ochre hue. The whisky swirls thickly around the nosing glass as we take our first inhalation and our first sip. It is sweet, with a touch of peach, maybe apple, richly spiced and has a smooth, creamy finish. It tastes like a warm Christmas pudding. I don't have an aversion to whisky anymore, but if this is what all whisky aspires to be, I'd make it my go-to drink in an instant. 
The Lebua Blend is too precious to drink much of, but Alfresco 64 is a Chivas bar, and serves other equally superior Chivas Regal blends. The Ultis is the first blended malt Scotch whisky from the House of Chivas, and captures the essence of Chivas Regal in five of the group's most precious, signature single malts. Hand-selected malts from Tormore, Longmorn, Strathisla, Allt A'Bhainne and Braevel were used to create the Ultis, which pays tribute to the five Master Blenders of Chivas Regal since 1909.
They say the key to tasting Scotch whisky is to drink it in along with your five senses. You take in the colour of the libation, the aromas on the nose and the taste on your palate. But more than that, your environment can help heighten your sense of taste. Countless research has mentioned how flights, combined with noise and air pressure, can render food tasteless. Our favourite foods are usually grandma's pie, mum's spaghetti, because of the recollections we associated them with in our heads.
And on a warm night, standing above all of Bangkok's city lights, I can't think of a better way to enjoy the Chivas Regal whisky blends. Long after the last golden drops were gone, we continue to sniff at our glasses, reminiscing every flavour profile: the hint of sherry oak, the tart fruitiness, the creamy rich notes, the spicy aromas.