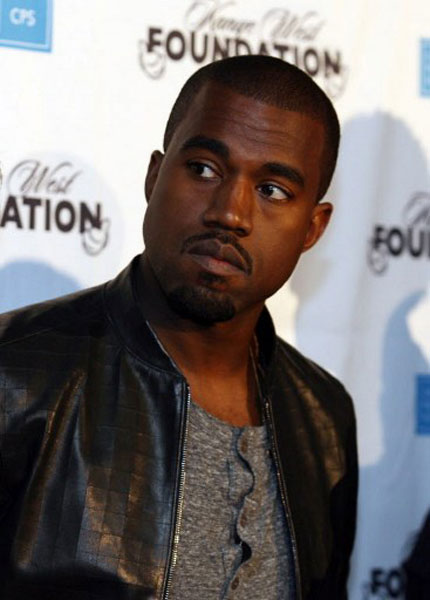 In general, Kanye's relationship with the fashion world is as good as 2016 was bad, and 2017 is only making matters worse.
The rapper once again failed to organise his Yeezy Season 5 debut through the Council of Fashion Designers of America (CFDA), which exists to prevent timetable conflicts and allow lesser-known designers their moment in the spotlight. As a result, he clashed with the Marchesa show and ruffled some feathers.
CFDA President Steven Kolb described West's actions as to Women's Wear Daily as 'not acceptable' and went on to say that West's behaviour, 'should not be tolerated by the industry.' As a result, the CFDA would not be listing West on their official schedule, but would, however, work with him to find a new time for his show. The weirdest thing? The slap on the wrist worked. West personally called Kolb, insisting he had no intention of competing against designer, 'once he realised Marchesa was in the time slot, he immediately looked at alternative options.' The CFDA is apparently looking forward to working with the designer 'far in advance' of seasons to come.
But of course, it's not just about one scheduling conflict. West's Season 4 show was an unmitigated disaster that drew backlash from many in the industry. In an recent article titled ​'Is the Fashion World Done with Kanye? Allure Fashion Director Rachael Wang said, 'I cannot support a company that doesn't seem to care for its models appropriately and uses racially charged language', referring to the show's controversial casting of 'multiracial women only'. Wang isn't alone. Katharine Zarrella, Editor-in-Chief of ​Fashion Unfiltered is also taking a stand against West's repeated inconsideration to others. His Season 4 show notoriously overshadowed Parsons MFA fashion show, while Season 3 clashed with both Marissa Webb and Adam Selman, and Season 2 conflicted with the then-new designer Anne Bowen. According to Zarrella, 'If Kanye really loves fashion, he should support young talents within the industry, not take attention away from them.'
Conversely, Chief Fashion Critic of The New York Times, Vanessa Friedman, is taking a neutral, professional stance on the matter, 'There's a lot of interest to our readers in what he makes, and it is my job to report that to them. Whatever my personal politics are, they do not come into my job.' Her statement can be seen as a reference to Kanye's endorsement, and subsequent un-endorsement, of controversial American president, Donald Trump.
While the Yeezy line may not be breaking records, his Saint Pablo tour merch and infamous signature Adidas Yeezy Boosts have been consistently selling out before even touching the shelves. In fact, his selling power is so immense that sneakerheads and streetwear fans have coined the term 'The Kanye Effect', meaning that anything Kanye wears will sell out thanks to the hypebeasts. To quote the man himself, from his decade-old song ​The Glory, 'but with my ego / I can stand there in a Speedo / and be looked at like a f**king hero.'
Maybe you can Kanye, but we hope you don't.