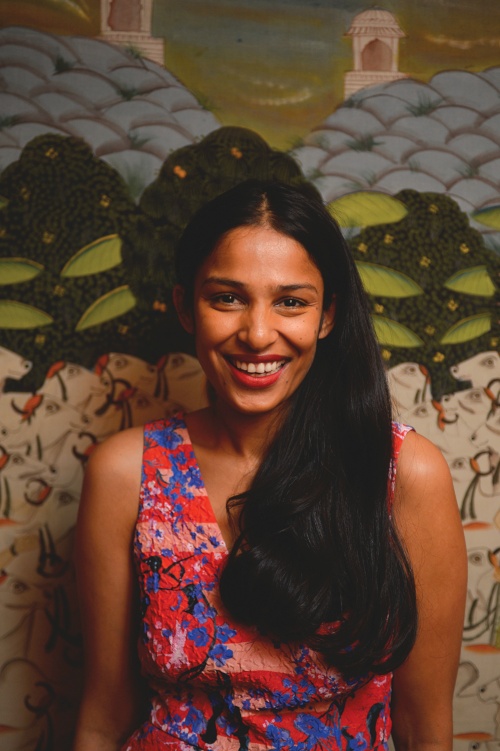 You can hear her laughter from the next room: a joyous, throaty cackle that immediately reveals facets of the character behind it. Tall and lanky, with a flowing mane and striking features, fashion designer Saloni Lodha could easily be mistaken for a model. She's the designer.
Lodha grew up in India in a Marwari family. Fashion was far from her mind when she was being brought up in a traditional household just outside Mumbai. Fashion was still far from her mind when she moved to Mumbai at the age of 19 to pursue an aspiration to be a ceramics artist. The endeavour didn't last long. "I tried it for over a year for my foundation course, but I just wasn't good enough," Lodha says.
She met her husband, who was moving to Hong Kong, in 2001. She followed him with no idea of what lay ahead of her, equipped only with a sense of adventure. It was here that she "accidentally fell into fashion", as she puts it. Finding Hong Kong's fashion scene dominated by big and expensive brands, she wanted colourful and affordable clothing to match her taste.
As fashion tales often go, she began making her own clothes, using bits and pieces of fabric from colourful saris that she had brought from home. The compliments came and commissions followed. "I remember going back home and finding beautiful textiles and saris and cutting them up and making them into one-off pieces, and my friends in Hong Kong were, like, 'Where is this from?'"
Relocation to London sparked an even greater interest in clothing and fabrics. A friend connected her with a lady who was looking for someone to go to India to confer with artisans. Given that Lodha speaks three Indian languages, she was the perfect fit. "I had to work with different artisan groups in different places such as Jaipur. And this was pre-email, so you just had to be physically there and work with them. I realised that there was so much potential, and I wanted to bring this spirit and colour of India, something that felt unique, to the contemporary world," she says.
When she began hatching plans for her label, she still had a day job in consulting. But this worked in her favour because she had been continually visiting India to look for ways of doing printing or embroidery. All the while, the entrepreneurial wheels were whirling furiously in her head and creative ideas were simmering.
When she produced a collection of 10 cotton shirts, Harvey Nichols came knocking, saying it would be keen to have the collection. Lodha was incredulous. "I was like: 'Really? Do I want to have a fashion brand?' " She did. By the summer of 2011, she had her first full collection, a small but well-received presentation at London Fashion Week. People loved her feminine style that was lively and bold. It was unique in making use of beautiful fabrics, hand-picked in India. Her Indian heritage often shone through, though not overwhelmingly so, in the silhouettes of her dresses and in her judicious use of colour and patterns.
Interest in the Saloni label grew quickly. After two presentations, the label had about 20 stockists, including London retailer Matches Fashion. "Twenty was quite a big stock to supply for and I needed to find the language of the brand. I want our woman to be able to easily integrate the product into her daily life. I wanted to do something really fun with it," Lodha says.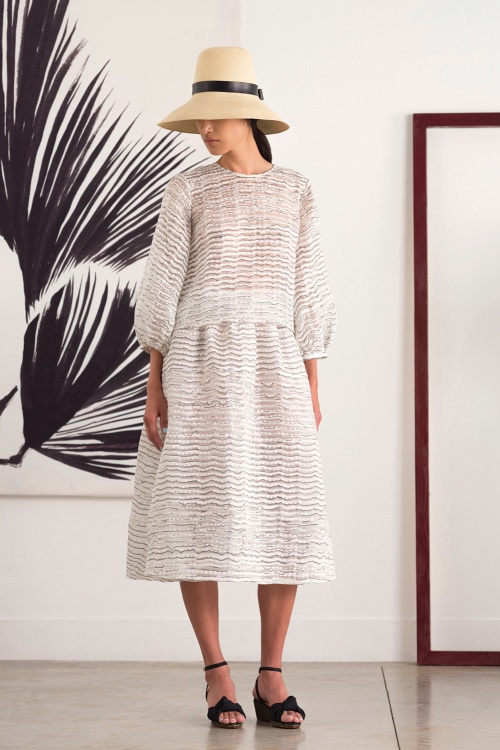 Never short of ideas, Lodha decided, for a lark, to collaborate with photographer Ellen von Unwerth on a short film to present autumn 2012, inspired by old photos she owns of Jackie Onassis's visit to Rajasthan in the 1960s. One thing led to another, and the storyboard for the film unfolded into a production that was as improbable as could be.
A five-minute film was the result, a riot of colour and sound that included elephants painted in the collection's print patterns and 150 extras, including dancers and snake charmers, in the majestic Mehrangarh Fort in Jodhpur. "When I get fixated on an idea, I don't take 'no' for an answer," Lodha says.
Her label was no longer a fledgling, but had taken wing as a fashion brand beloved by legends including Jennifer Aniston, Emma Watson, Naomi Watts and Jessica Alba. Lodha says they discovered the brand themselves or through their stylists. "We have never had external public relations for the company and this is how we have always had press, through this army of supporters. So, in a way, marketing has happened very organically, although now we increasingly have to think about it strategically," she says.
The label now faces the happy conundrum of keeping up with demand. The brand produces four collections a year, each taking up to six months from concept to final product. Everything is created from scratch: it makes its own lace and denim, paints its own prints and designs its own embroidery. "Sometimes I haven't even had time to wear my resort collection and the summer line has arrived," Lodha says.
The design philosophy is to create separates that can easily be combined. "We will think: 'Can you wear that winter print with five other seasons?' We try to design pieces that can be integrated with your wardrobe and that are not just a trend statement that can only be worn that season. It shouldn't matter if it's from spring/summer 2011. You can still build on a wardrobe of beautiful prints."
Lodha returned to Hong Kong last year. With so much to churn out, she is constantly at work, even while jetting between countries. On a 13-hour flight, she can put together a mood board for a collection, with sketches or print patterns, and send it to her team. "My entire company is on Google Drive," she says. When she goes to the London studio, a 17-strong team presents the shapes she has sketched, which she models and cuts to her liking. "I practically destroy the pieces and they start all over again," she says.
Lodha is confident enough to expand into new product categories for her label, such as denims, knits, T-shirts and leather wear. "Our bread and butter is silk and jersey dresses, which work for our retailers, but the modern woman has different facets to her life," she says. "We want to give options to our women to mix and match. They can't always just wear a Saloni dress from eight in the morning to eight at night. But we make sure the DNA of the brand doesn't change."
In this rapid roller-coaster ride that has been her fashion career, the standout was the year that both Samantha Cameron and Michelle Obama wore Saloni. "Two First Ladies. That was pretty insane. Recently the Duchess of Cambridge wore a royal blue dress which sold out online overnight," she says, perhaps with a hint of glee.
Lodha remains focused on clothes for now. "For the last five years we concentrated on dresses before we went into separates, and I want to make sure we are good at this before we diversify again. The focus is important for everyone," she says. With wisdom beyond her years, the would-be art student has created a commanding presence in the global fashion stratosphere.