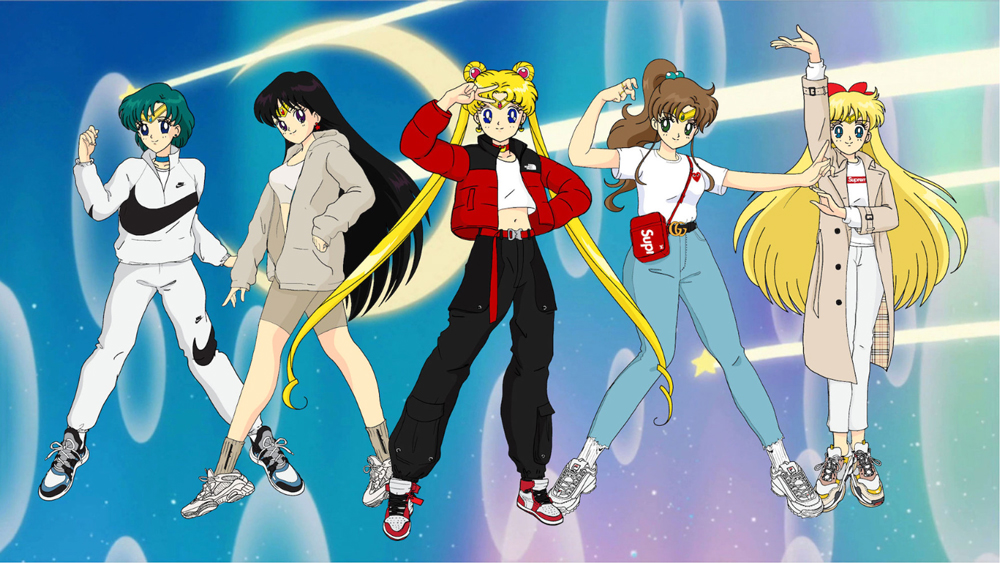 Remember your favorite childhood manga series, Sailor Moon? Well, the heroines are back and are looking fiercer than ever. In collaboration with Hypebae, Vancouver-based illustrator and designer Esther Park has created a series of exclusive illustrations of the Sailor Moon squad.
Not only is the teen warrior defending the earth and galaxy, Sailor Moon and her squad are also taking on some of the newest streetwear trends. In the illustrations you can see them dressed head to toe with the coolest contemporary brands, such as Supreme and Nike. While combining luxury and streetwear brands together, the squad is spotted wearing the latest sneakers, from the Louis Vuitton Archlights, YEEZY 500 "Blush" to the Balenciaga Triple-S and Virgil Abloh's Nike Air Jordan 1's.
Sailor Moon is undoubtedly one of the most influential anime of the last three decades. Thanks to its iconic characters and storylines, it became a gateway to the anime universe for girls all over the world and developed a cult following internationally. As the world's most famous bishoujo (a Japanese term that refers to young women in popular culture) and girl franchise-turned-empire, Sailor Moon's popularity peaked in the 90's, when the anime phenomenon started expanding outside the country.
Today, Sailor Moon, Mars, Uranus, Venus and Jupiter, are still regarded as iconic, especially with the increasing fascination for revivals spreading across industries. We couldn't be any more excited to see some of the most influential characters of our childhood rocking contemporary styles.