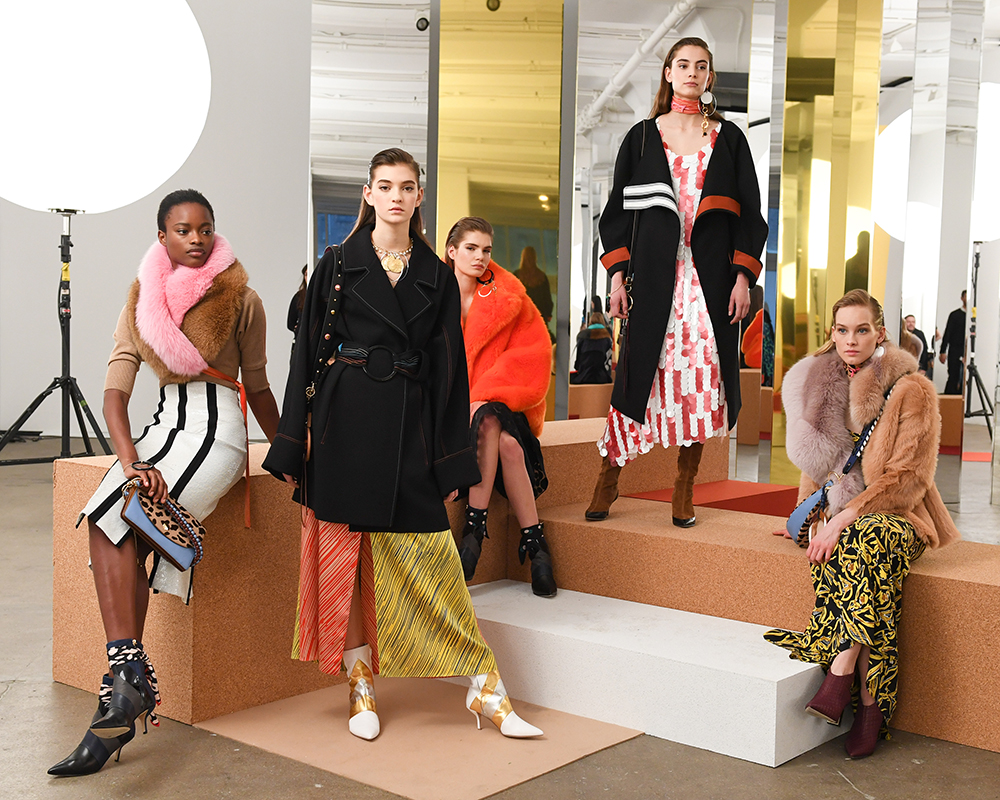 #legend attended fashion week in New York and Paris; here are our notes from the runway shows.

DVF
In his first collection as DVF creative director, Jonathan Saunders delivers his familiar codes: bright and happy colours, snappy prints and dresses, dresses, dresses. He brought in Katie Hillier to work on the bags and she has brilliantly incorporated silk prints. Let's see what retailers have to say.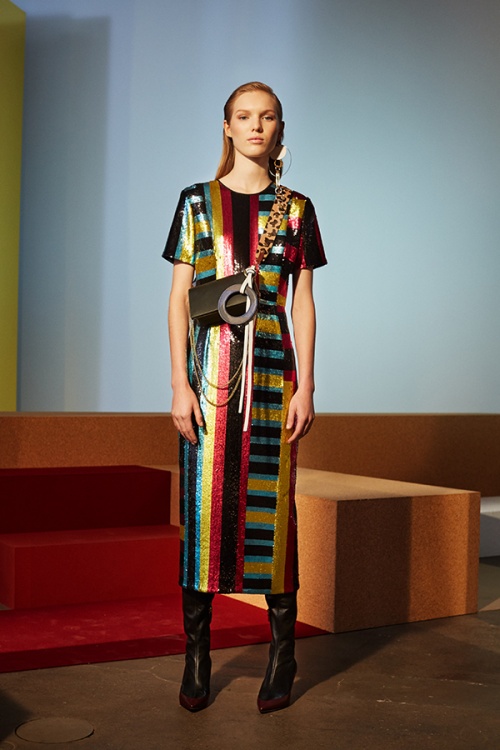 Attico
For their third collection, Giorgia Tordini and Gilda Ambrosio wanted to portray a new, powerful femininity. They use vibrant hues, colour combinations and lush embellishments in the shape of flowers, leaves, moons, unicorns and dragons. The effect is enchanting. The signature robe dresses are there but they are also worn with masculine trousers, making the Attico suit. It is fluid, glamorous and cool. The footwear collection is to be coveted.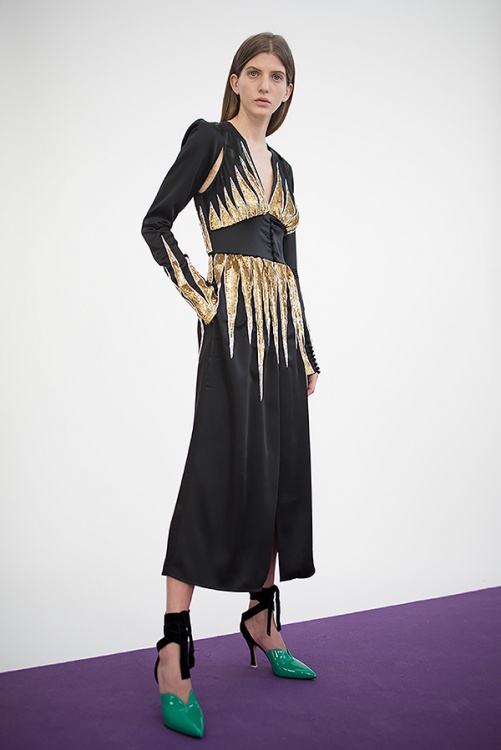 Balmain

Nirvana's Smells Like Teen Spirit and Rock You Like a Hurricane by Scorpions captured the exaggerated sashay of Balmain; Balmain women are not effortless, I-just-threw-this-thing-on people. The collection is inspired by the Sahara and a spirit of adventure, seen in the desert-earth tones and full crocodile suits, complete with tails. The designer wanted to show off the atelier's mastery of knitwear, intricate beading and weaving. These garments merit intimate inspection.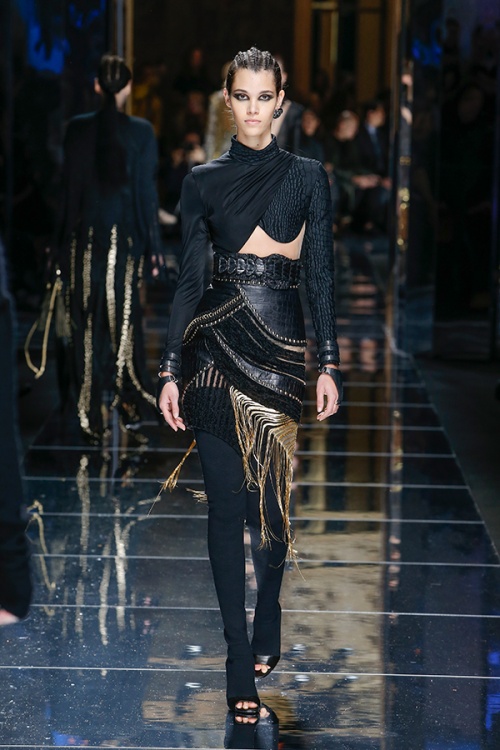 Calvin Klein
The most eagerly awaited collection at New York Fashion Week was the Raf Simons debut for Calvin Klein, where Americana was given a European interpretation. Add a New York flavour and we have a collection that refers to another European in New York, one who has had a cult following since the 1990s. The Champagne moment came with coats that had a detachable layer of clear plastic.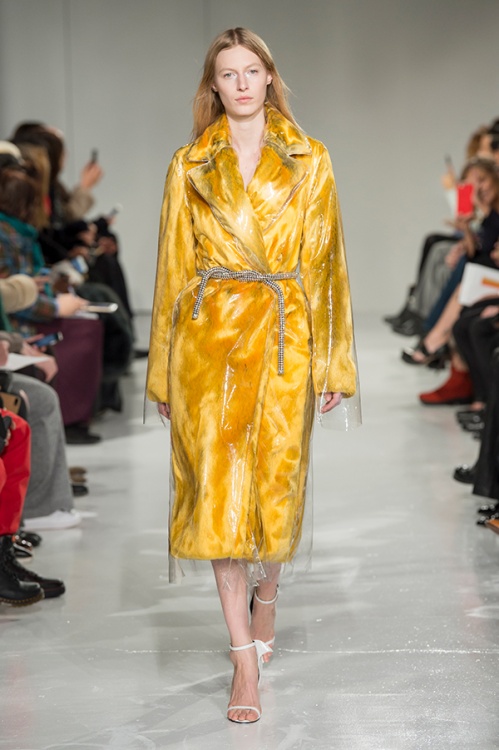 Chanel
Given the maelstrom around us, blasting off to space and into the new frontier sounds like a grand idea. It was also the spectacular premise for this show, which could have been taglined "the tweed of the future". We saw the fabric worn as Bermuda shorts and a gilet, long skirts, boat neck shirts with standup collars, all in modern straight cuts. Shoes, too, but only sparkly boots of the signature Chanel boot cap variety.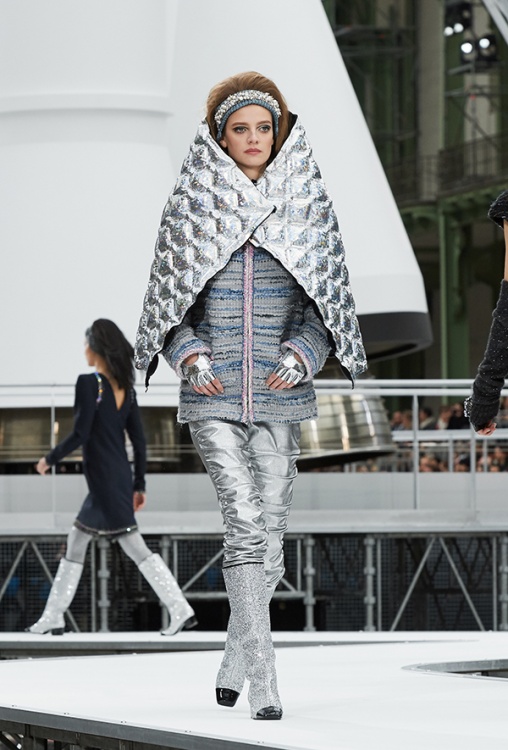 Chloé
Clare Waight Keller's last collection for Chloé was the perfect ending to her stewardship. She has been consistent, giving her clothes a 1970's vibe and a breezy, what-is-it-about-her allure. This season's Chloé girl can look forward to easy, mod frocks with butterfly wing-collar blouses and pussy-willow bows, fur coats about the same length as the dresses, hip-hugging slouchy slacks, and dreamy wonderland prints. The dress lengths are youthful, ending above the knee. The designer will be missed.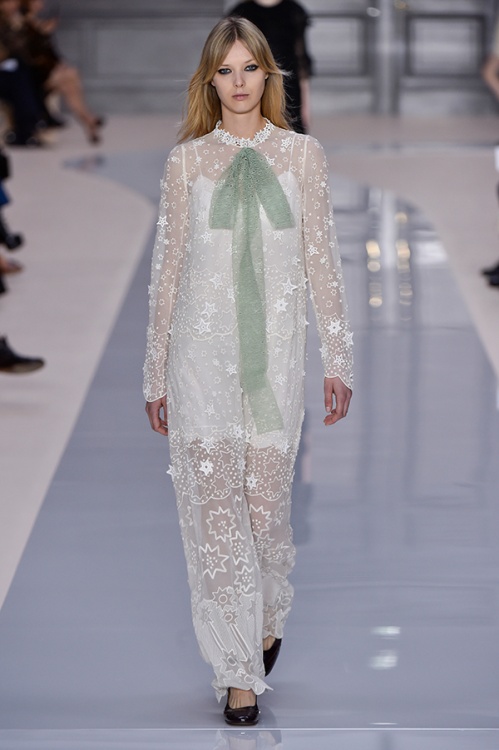 Creatures of Comfort
Creative director Jade Lai, originally from Hong Kong, gives an easy, cool and especially refined sensuality to this collection. All the looks, the jumpsuits in particular, provoke a desire to possess them.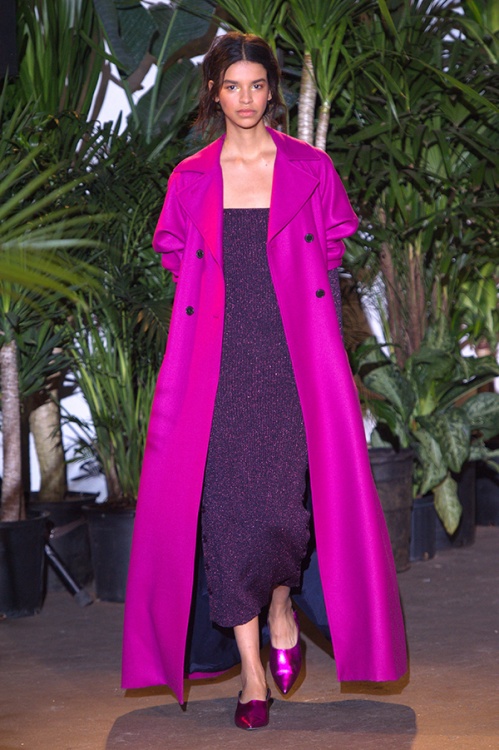 DIOR
With incredible conviction, Maria Grazia Chiuri showed a very narrow colour palette of mostly navy and black, with a touch of white. Bustier dresses present, Grazia expanded into more sportswear/streetwear items with denim. A utilitarian feeling pervaded the collection, with coats and tailored wool cape-like jackets to covet. With the power of the Dior brand name, and an interest in streetwear, the cult-like possibilities seem endless.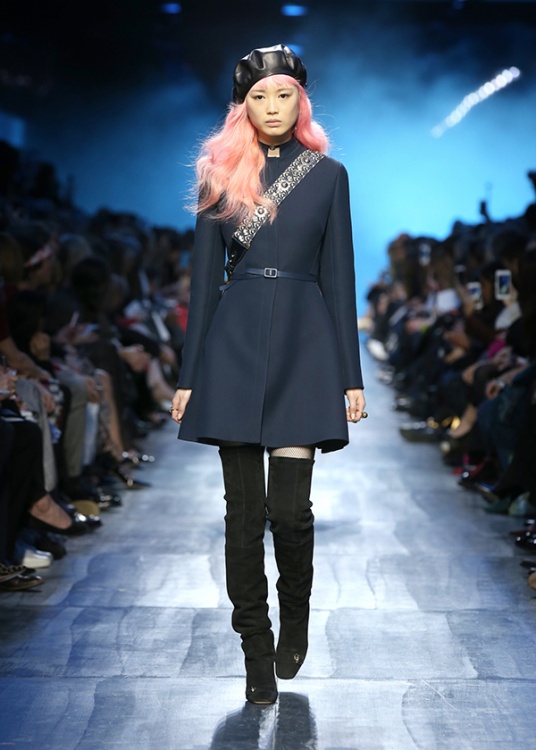 Ellery
Kym Ellery showed in a tiny space in the Palais de Tokyo, and the fashion A-list packed it. By A-list, we mean the girls being snapped by street-style photographers because they look cool. Ellery owns the super-flared trousers, mixed with sleeves that have their own personality, and they were served up in this collection, along with some new elements. Noteworthy are the cropped flared trousers in white patent leather and off-the-shoulder looks that feel tailored.
Gabriela Hearst
Gabriela Hearst isn't about tricky silhouettes. We can always count on her designs having languid and elegant proportions, but she gives a hefty amount of care and attention to fabrication too. The designer has given customers of Céline and The Row another option but one with a little more sensuality and ease. The coats, the long dresses with soft necklines and the modern double-breasted suits with skinny trousers are nothing short of the loveliest.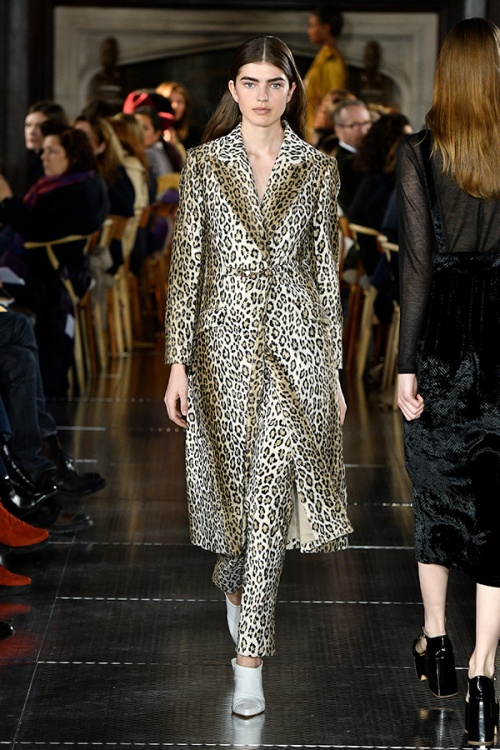 Giambattista Valli
We expected dresses, pretty ones that delight and inspire women to arrange occasions to wear them. So it was quite a surprise to see black Nike leggings shown with beautiful ruffled blouses. Could this be a hint of future collaboration? Fans will be happy with the fluttery dresses and printed chiffon jumpsuits.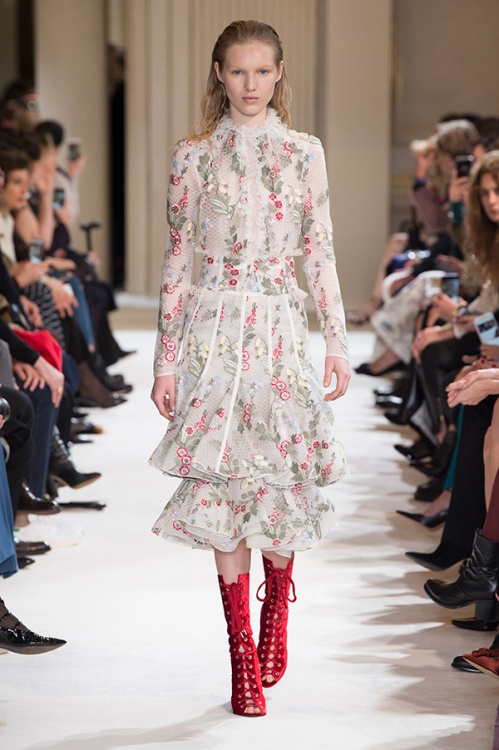 GUCCI
No new story here, this season. Nope. Alessandro Michele doesn't believe in creating a new narrative for each season. He wants to promote reflection. It's counter to what's going on in the industry but so is his insistence of only using "real faces". The collection reflected his vernacular of long dresses and suiting that draw on the visual elements holding his fascination; Italian gardens, English countryside and butterflies. The genius moment came with a Gucci T-shirt shown with a crystal bodysuit and denim cut-off shorts.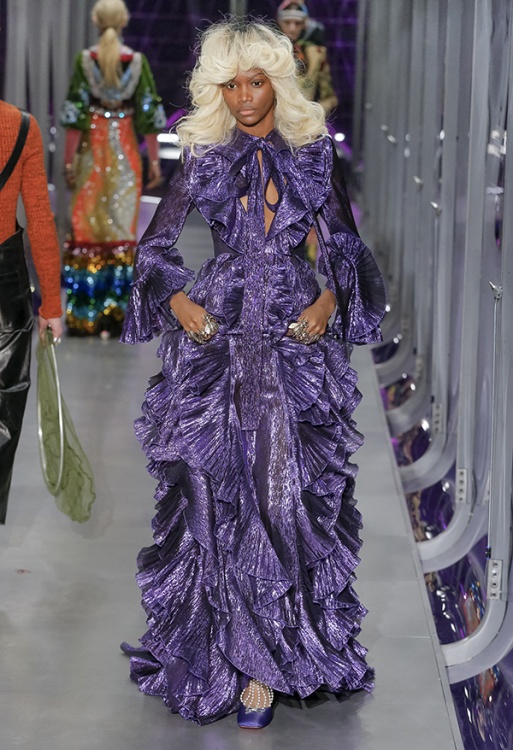 HALPERN
Newcomer Michael Halpern had his eye on the giddy, rebellious disco years of the 1970s and the flamboyant illustrations of Antonio Lopez. Lustrous sequined flared jumpsuits, boasting a rainbow of colours and a half-and-half play of patterns, featured under satin corseted tops with ankle grazing swags. Some pieces boasted 12,000 hand-sewn sequins. It was glamorous and skipped the "glamazon" clichés with off-kilter cuts.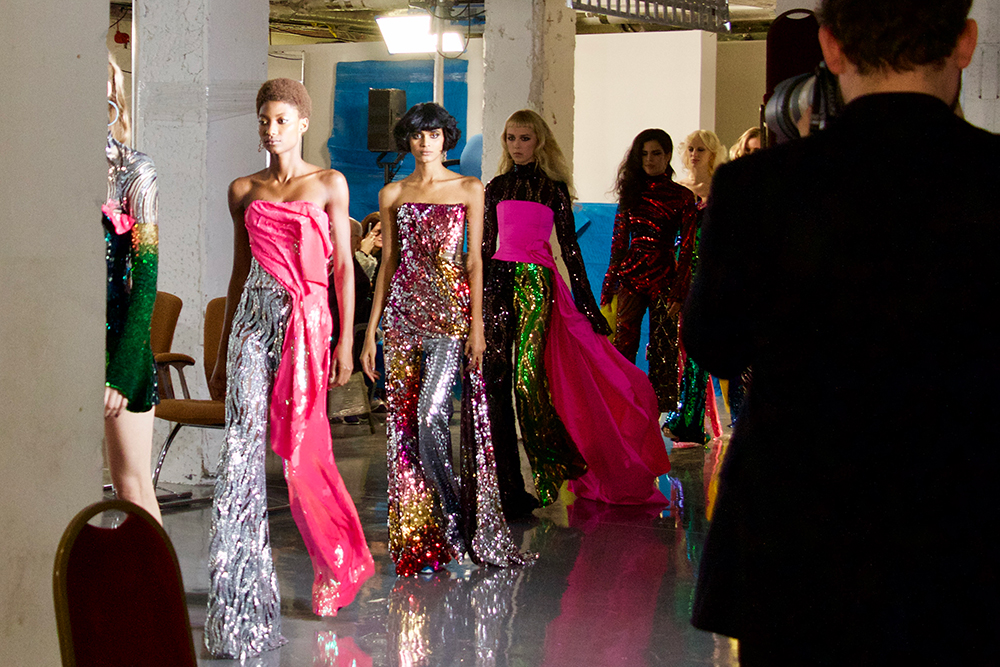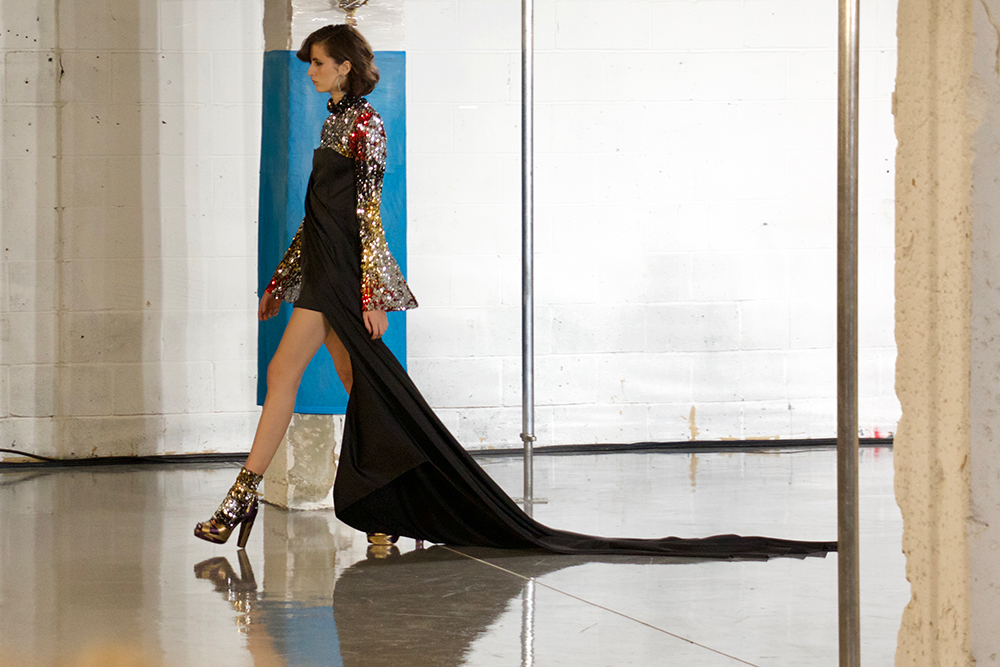 Hermès
Hermès inspires an inexplicable need to touch its clothes. Is it due to the quality of the materials and the precision of the cuts, even in a soft silhouette? This collection had wearable style in addition to customary ease. There were leather craftsman aprons fashioned into dungaree dresses and waistcoats – utilitarian style but in an ultra-feminine shape. The delicious greatcoat in chalk-pink leather will no doubt have a waiting list.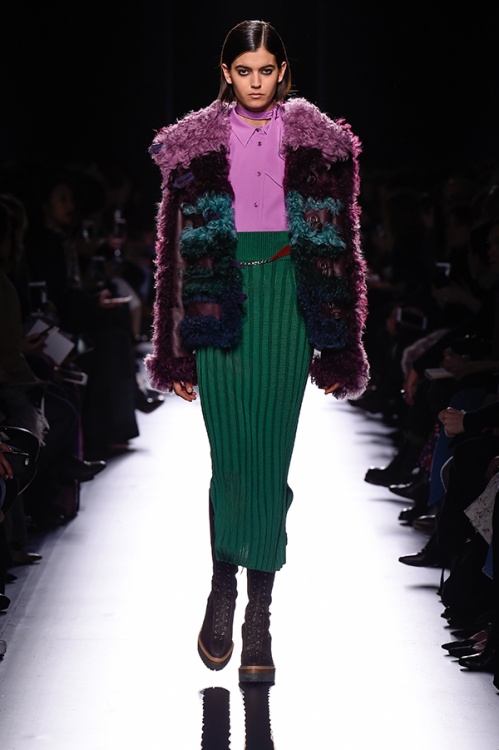 LOEWE
This collection was a continuation that reflects Jonathan Anderson's fantastic ability to curate an experience, a brand and an individual garment – almost as an artist does. Our heroine this season is an adventurer. Her costumes are less organic but highly technical; a polka-dot oversized coat that is waterproof and insulates. Most of the floor-length dresses are manipulated and reconfigured allowing for things to be detachable and fluid without fuss.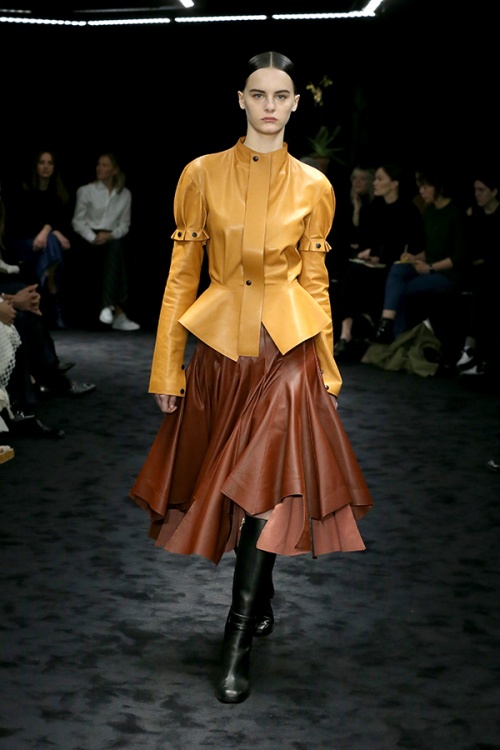 LOUIS VUITTON
Nicolas Ghesquière wanted to do away with frontiers altogether and focus on a democratic nomadic spirit. Hence, the collection was shown at the Louvre, the world's most visited museum. With the power of Louis Vuitton behind him, Ghesquière delivered a collection that was cool in essence, but the technical wonders of fabric construction and material deserve to be studied. Slip dresses, which are on trend, are works of patchwork art. None of the silhouettes were notable or new, but all of the looks can easily be plugged into what the cool girls are wearing now.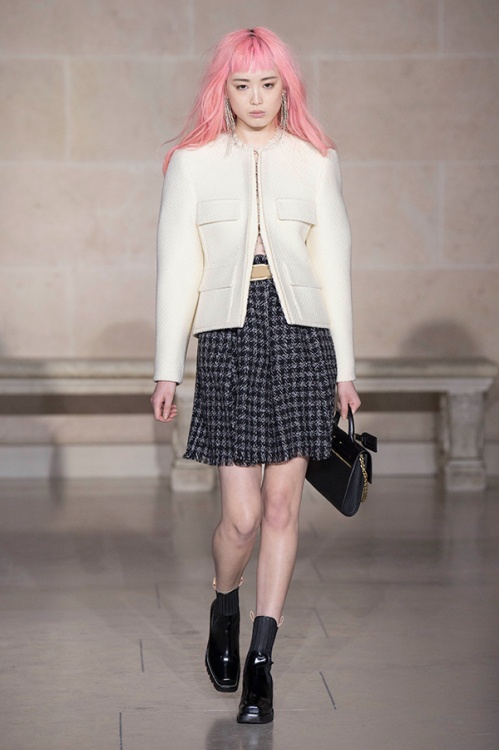 MARQUES ALMEIDA
Following the success of Marques Almeida has been fun. Their romantic punk-rock take on denim has created a legion of copycats. For a small brand – this is quite an achievement. Fast forward to the most recent collection, which was mostly the graphic relationship between black and white. It was less about the jeans, and more about sweatshirts and skirts with slits fashioned into knotted hems. Two fur coats in black and white check would have Cruella De Vil swooning, along with the rest of us.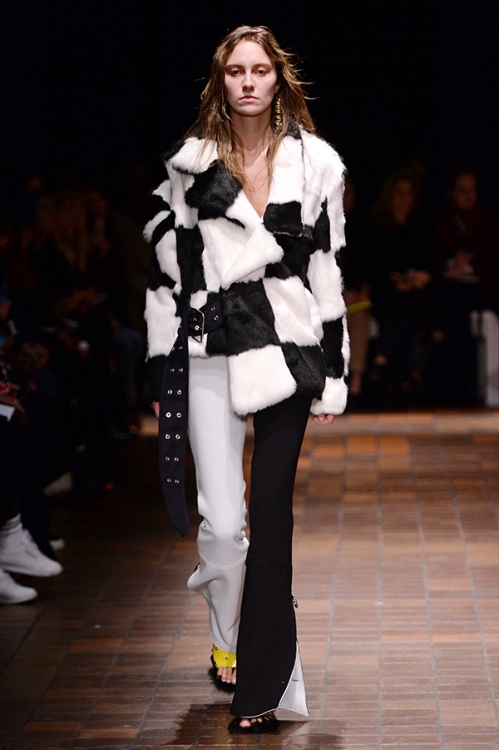 MARY KATRANTZOU
The show was called Fantasia, after the style of improvised musical pieces, and the notion of free association and cross-pollination is what Katrantzou does so well. Thus, M.C. Escher inspired geometric repeat prints were juxtaposed with vibrant florals in zipper-front sculpted velvet and jacquard dresses; a swan motif pattern adorned peplum jacquard tunics and cropped pants, scattered with crystal; and tech-age flapper dresses emerged in degradé velvets, covered with scintillating sequins and flurries of marabou feathers. What might sound cheesy was, in fact, delightful.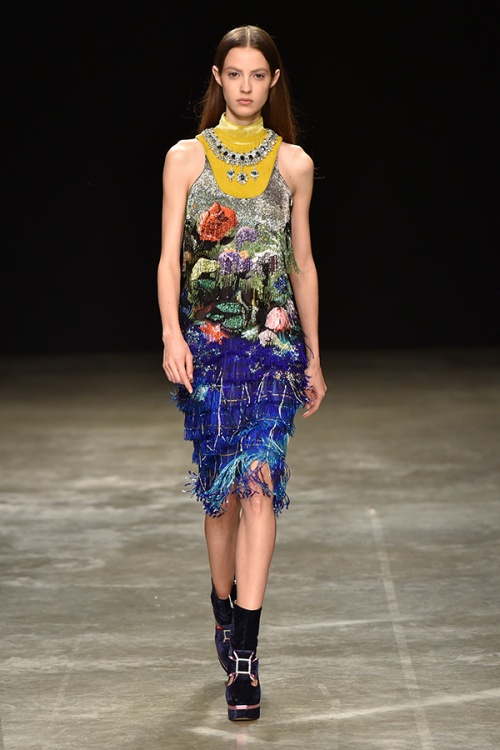 MIUMIU
The entire venue for the Miu Miu show was covered in bright lavender-coloured curly faux fur; the seats, the grand staircase, the pillars – all of it. As the collection was revealed, Miuccia Prada continued to make the audience feel good with big fur hats and shoes. The massive paillette numbers had all phones upright. Oversized bomber jackets worn over beautiful slip dresses and big chunky sparkly accents on everything were notable propositions.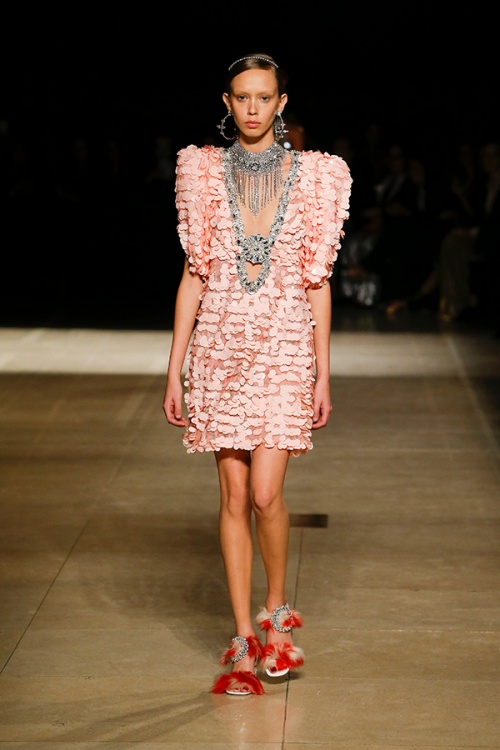 NINA RICCI
Guillaume Henry revisits the cowgirl codes of the American West with touches of rodeo and the circus. By adding the sophisticated sensual essence that is Nina Ricci, we have a convincing collection. The bolo ties; suiting cut with slim, slightly 1970s pants and sharp shoulders; and pants fastened like chaps that revealed a French lace bodysuit had us leaning in for a closer look. Henry proffered his take on cut-outs in the dress, sequins, and fringe in an elegant manner.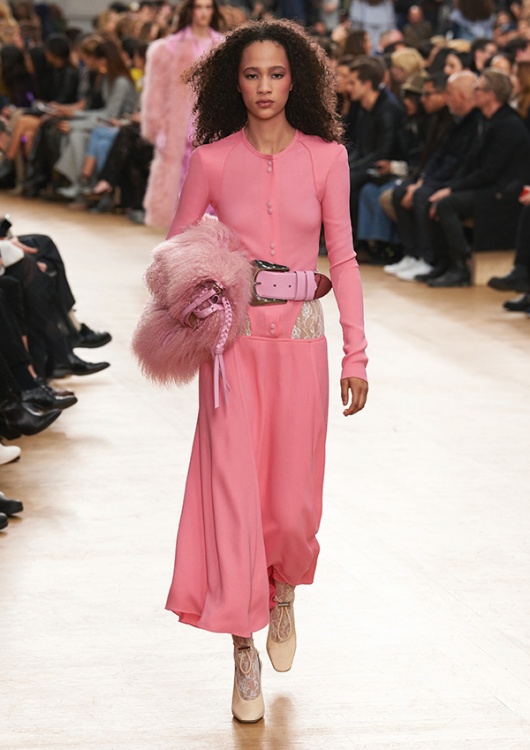 N°21
Alessandro Dell' Acqua presented a collection that started with actor Anna Magnani, followed her to the United States in the 1940s and then back. There were varsity inspired jackets, collar-baring dresses suitable for both day and night, and glamour throughout. Every look was neatly waisted, definitely feminine, and ending with a series of chiffon dresses that flowed to the mid-calf. Before we cue the topless Cadillac, we should applaud Dell' Acqua on his ability to modernise something that could look overly retro and congratulate him on the ability to inspire desire.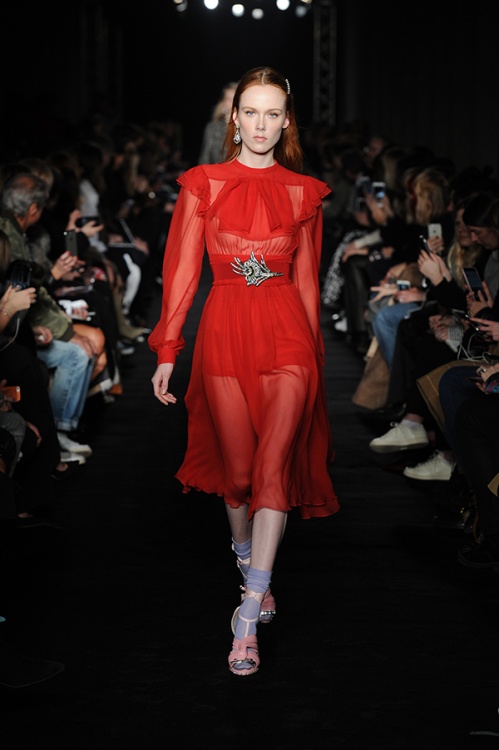 PETER PILOTTO
In the gloriously retro surrounds of The Palm Court at the Waldorf Astoria New York, Peter Pilotto and Christopher Vos envisaged an aesthete, striding through a domestic set, peppered with hand-knotted sherbet coloured rugs, art by Francis Upritchard and plenty of artisanal objets made by like-minded friends. The collection boasted craft techniques and striking silhouettes in the shape of flared sleeves, asymmetric fastening, quilted crosshatch tweed jackets, slim wrap skirts with giant pockets and embroidered calf-length riding boots by Viennese cobbler Ludwig Reiter. Striking fringed Peruvian rug knits made up sheath-like dresses in azure blue, olive and orange.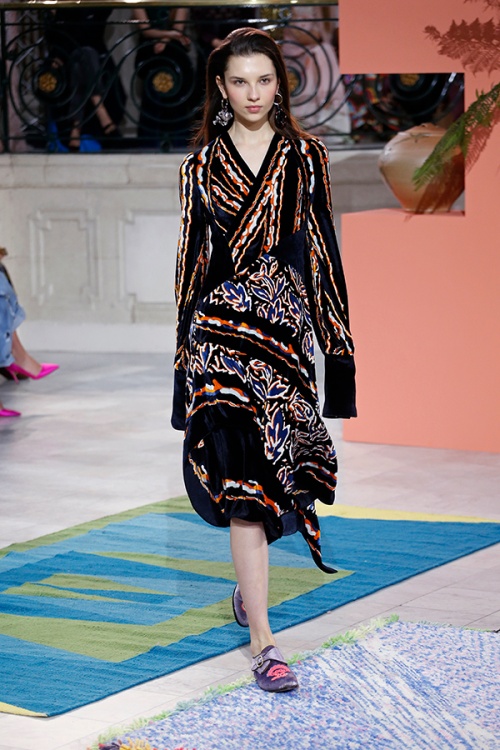 PUCCI
Dazzling. Glaring. Fast. The elements are: decoding the Pucci colours from the prints and giving them a hyper boost by showing full looks in the colours. Breaking up the prints by patchworking them with the solids, we have graphic dresses with a Pucci feel, yet totally new and exciting. Fringes that flutter and touch the floor, utterly glamorous. Dazzling. Glaring, Fast. Bravo, Massimo.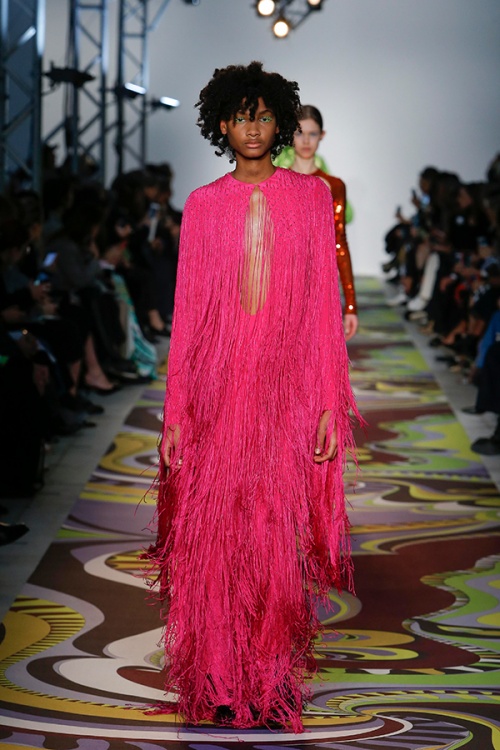 PRADA
Miuccia Prada does not claim to be political but it could be one of those things that are so ingrained in oneself that one doesn't even realise. The collection was a welcomed overview of how Miuccia dresses: feminine, sexy in a girlish colourful hue, magical glamorous touches of plumes dotted here and there, tailored wide wale corduroy suits in rich early 1970s earth tones. The waiting list frenzy for the fur Eskimo boots in wild colours, captured the emotion that "I have to have it, now".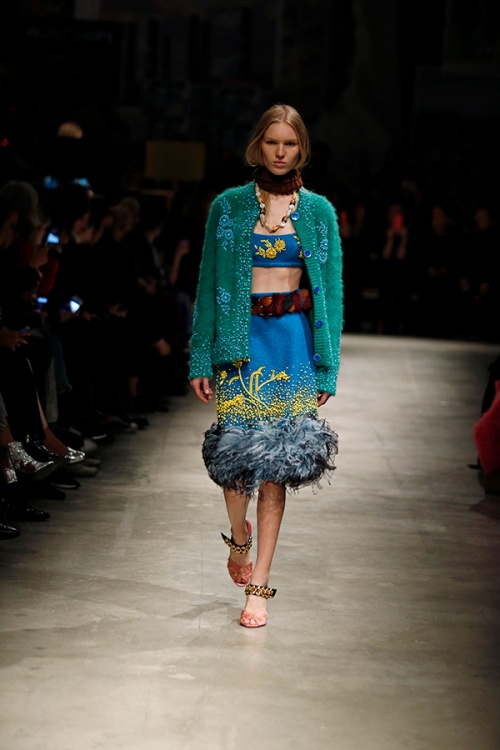 Sacai
What Chitose Abe does best is take something we thought we knew, then slice and dice it, and turn it into something that we need all over again. A case in point is her use of a Levi's Type II Trucker Jacket and 505 jeans recalibrated with lace and zippers and a street couture vibe. The bejewelled ski sweaters and rustic tartan shirts turned into a chiffon evening gown are adorable.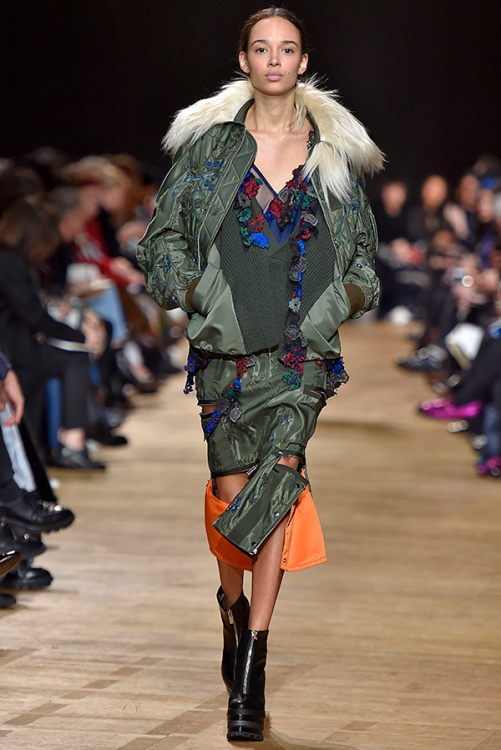 VICTORIA BECKHAM
Victoria Beckham is not into fuss. That much is apparent in the collection of sporty tailoring and comfortable chunky knitwear. She is on the go and wants to look chic. Cue trackpants worn with a smart coat, cropped cuffed trousers with a wool puffer jacket, or the silk shirtdresses with dropped waists. Women could do well to follow her lead to look stylish and be appropriately dressed for daily life.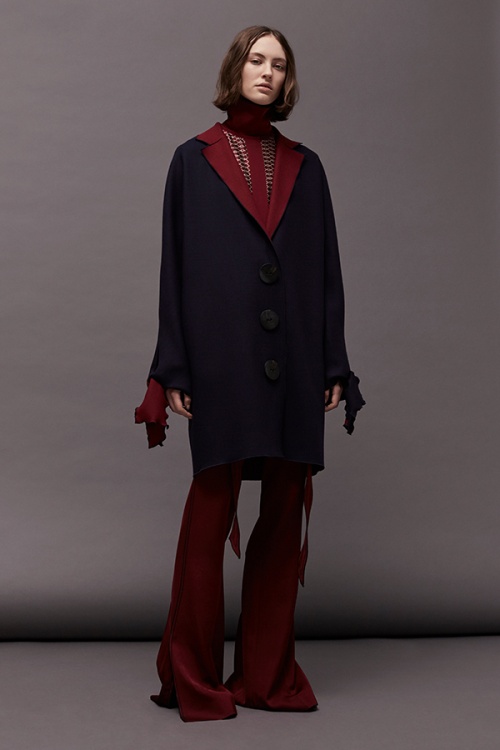 Photography / Calvin Wang