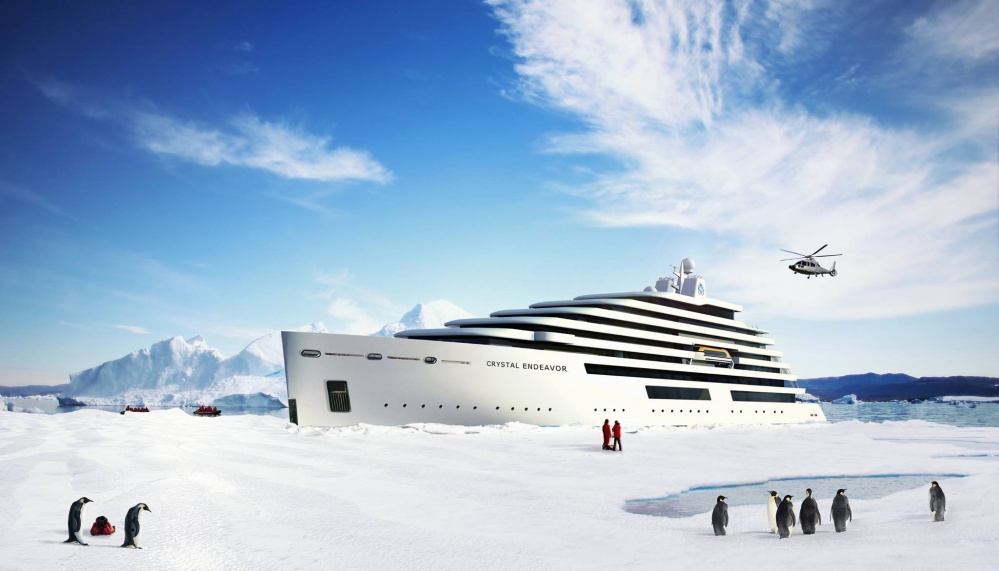 When complete, the world's biggest megayacht for the megarich will feature everything from two helicopters and landing pads, a pair of 7-person submarines, wave runners, zodiacs and jet skis.
Its Owner Suite will span a whopping 3,122 square feet (290 square metres) between its master bedroom, two guest bedrooms, private conservatory, and outdoor Jacuzzi and gym.
And its Palm Court will offer 270-degree panoramic views for whale catching and wildlife viewing.
In short, the Crystal Endeavor by Crystal Cruises will be the kind of yacht that will be boarded by the world's one per cent.
Built specifically to sail along the ends of the earth, the world's first polar megayacht will travel to the Arctic and Antarctic and follow migratory whales along the coast of the Americas and Europe during winter.
Stops along the way will also include remote tropical islands in the Atlantic and Pacific Oceans which are inaccessible by cruise ships.
Its target demographic? Aside from the comfortably wealthy, travellers who are particularly "daring" and value luxury amenities as much as "life-changing adventures," said Crystal president Edie Rodriguez.
The vessel will be equally capable of floating atop coral reefs and sending guests 12,500 feet (3,810 metres) underwater in Remote Operated Vehicles to behold sunken warships, and passenger ships like the Titanic.
Measuring 600 feet (183 metres) long, the 25,000 gross tonne vessel will accommodate up to 200 passengers in 100 suites, with standard guest suites measuring about 400 square feet (37 square metres).
Two Owner Suites will also hold the title for the largest guest suites of any megayacht.
Guests sign up for an all-inclusive experience that will include access to a full-service spa and wellness center, conservatory, 200-seat theatre, and computer centre.
And to top it off, the crew to passenger ratio will be 1:1, with 200 crew members and butlers who will be made available to cater to guests' every beck and call.
The Crystal Endeavor is set to make its debut in August 2018. Booking for voyages will open later this year.