​Phillips in Association with Bacs & Russo present Rolex Milestones: 38 Legendary Watches that Shaped History today, on November 28. An evening sale, it illustrates Rolex's celebrated history, innovation and originality, and demonstrates their superior craftsmanship. The auction will include models manufactured from the 1920s to the 1980s, and will feature every landmark reference ever manufactured by the brand. #legend spoke briefly with Sam Hines, Head of Watches at Phillips, on the eve of the sale. 
How do you assess the market/appetite right now here in Hong Kong and China? 
For current production of contemporary pieces the market is soft, because brands have been over manufacturing and a lot of brands put all their eggs in to the China basket and of course, it's not absorbing anymore. Also, if you look at Japan, their sales were up during the same time, and I think that shows that the mainland Chinese are not coming to Hong Kong anymore but going to Japan or even further away to make their purchases. The appetite for collectors' watches is still very strong and it just gets stronger due to the lack of models you can buy. I think the watch market in Asia has matured very quickly, and they've become very selective. 
What's now the best-selling watch brand in mainland China? 
Well the most popular is probably Patek Philippe or Vacheron Constantin. Mainlanders like Vacheron because it was one of the first to have a luxury boutique there. Rolex is up there too, of course. In the mainland, there's been a big increase in demand for independent watchmakers, because of the rarity, particularly for Philippe Dufour. It's evidently the opposite problem which most brands are facing as they've made their products so easy to get. 
I've heard there's a Rolex club in Bali.
Yes. We just had a meeting this month [November]. It's called the Vintage Rolex Asylum and it's a group formed by Indonesian Rolex collectors. There were 80 of us comprising people from all over the world – you have to be invited. The first meeting was in Jakarta in December last year, and so we went. Basically, collectors bring their watches, take them off, and leave them on the table, and collectors walk around trying on the different watches and it's quite an institution. There are many different Rolex clubs around the world, but the one in Indonesia is the biggest. What you find is that collectors tend to stick together in different areas and regions, so when one of them buys a Paul Newman, the rest want one. Look at Richard Mille in Malaysia, one of his biggest markets. He has friends there who are collectors competing against each other. Richard Mille is the master at marketing. I have a client in Hong Kong with more than 30 Richard Mille watches alone.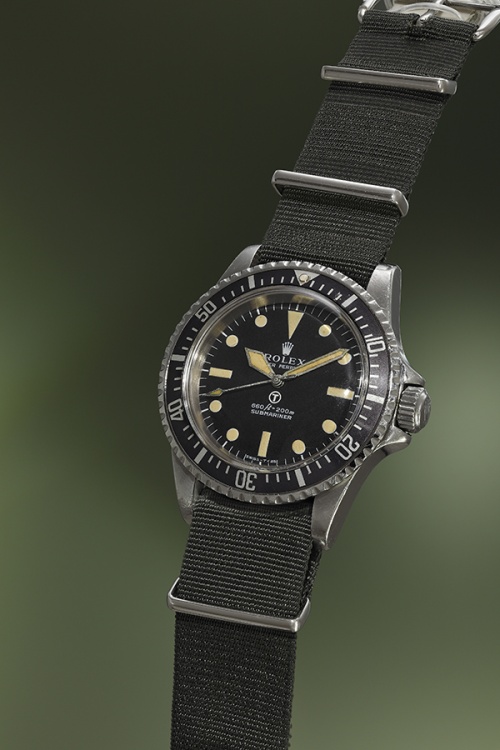 You're auctioning a Military Submariner and already people are eyeing it up in numbers. I had no knowledge of that product. 
Yes. It sometimes called the Milsub. This was made specifically for the British military and given to SAS agents. They made some subtle differences, for example, you've got these fat sword hands so you can see the time at a glance, you have the bezel which is calibrated all the way, whereas in a Submariner it's just from 12 to 15; there's the fixed bar lugs, as where in others you can take them out; and they finished the sides of the case differently, so they wouldn't shine, so no reflections from shining lights making a target; and on the back you've got the unique issue number, and then the soldier number. Because of the history, collectors are embracing these. They have really gone up in value over the last five years. 
Was it just a British thing, the Milsub? 
Yes. Although, there are other – some say Rolex made watches for Australian and French forces but there is no concrete evidence to support that. Rolex have also made watches for the Italian police force.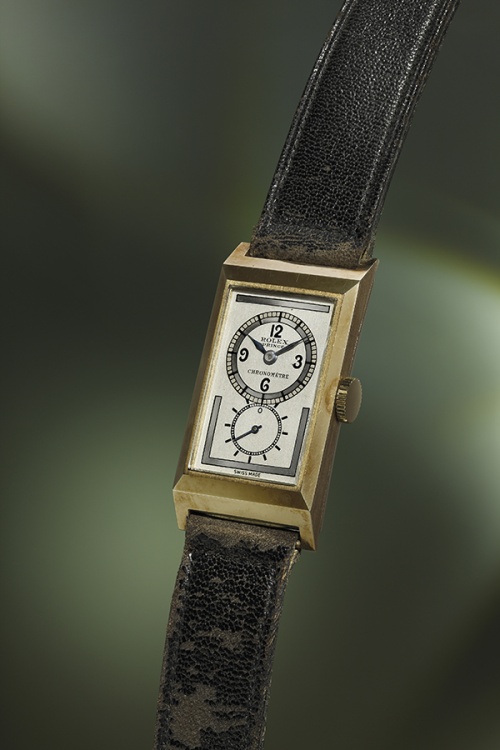 And this? I've never seen such a Rolex before.
This is a Prince from the 1930s. Just the condition alone, look at that. It's 80 years old. It's never been polished, and we still see all the case numbers. This watch, the Prince, was known as the doctor's watch. Rolex marketed their watch to doctors, because a lot of patients would buy their doctors a watch, if they'd had successful surgery, or so forth. 
The red? 
This is from the 50s. A GMT-Master with bakelite bezel. And, it was in production for only a couple of years when Rolex realised it contained high level of radium. So they recalled a lot of them and changed them to metal. Those that survived are highly sought after. The watch is fitted without lugs, as Rolex realised it was common for divers to knock the crown off, so they fitted lug guards onto the watch. But you can see the condition is still very strong here.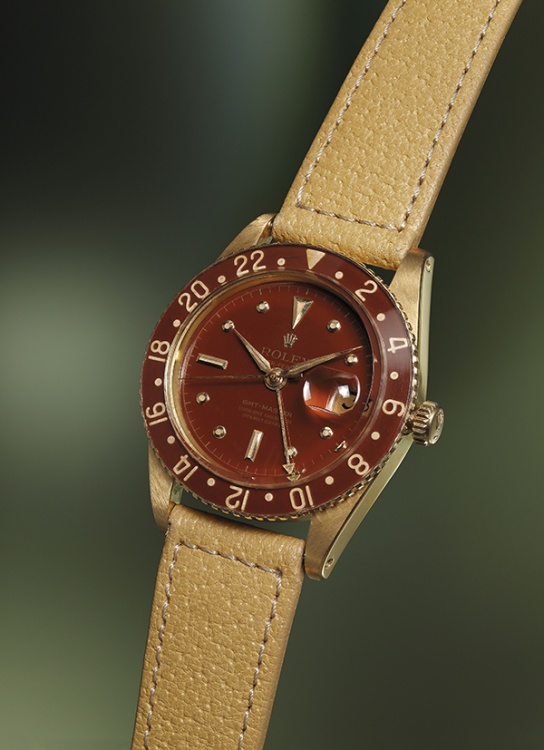 What's the Rolex Milgauss? 
The Milgauss is a tool watch which Rolex made for factory workers in high electro-magnetic environments and it has a honeycomb dial, from the mid-50s. That was hard to get and we had to turn a few examples away before getting it. 
Tell me about Ref. 6265, the Cosmograph 'Cappuccino'. 
Yes, we call this a tropical dial Daytona, there's also the Daytona 'Brown Compax' ref. 6239. These registers left the factory black. Rolex were using parts not as expensive as Patek for example, so they would defect over time. So it's a flaw in the making, but these are incredibly fashionable now. In turning brown, it increases the value by about 100 per cent. This is US$60-80,000, but without the brown it would be US$30,000.