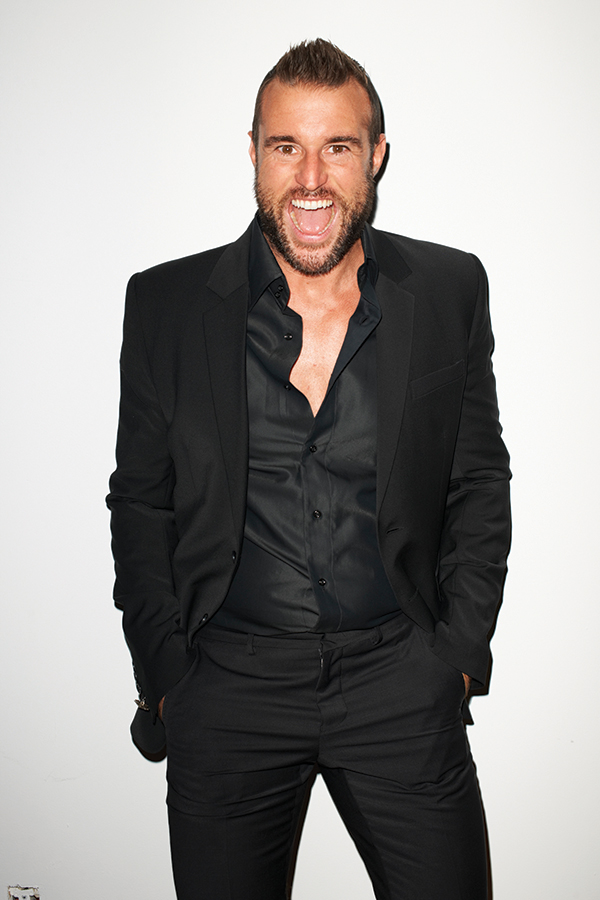 ​"First rule, no rule," says German designer Philipp Plein of his soon-to-be-launched athleisure brand Plein Sport. You had best make no mistake, it's not a diffusion line of the main Philipp Plein label. "It's an independent brand that wants to reach a different target group. You won't find any Swarovski or studs," says the flamboyant fashion impresario. "I want to keep it simple and basic, and each piece has to be functional and perfect for action."
Plein will launch Plein Sport by opening stores in Milan, where many of his products are made, Paris and Amsterdam by the end of the year. And what of Greater China? "We are opening one store in Hong Kong, three stores in China and one in Macau in 2017," he says.
Plein and action are symbiotic. The 38-year-old took to Instagram last month to announce the Plein Sport news, posting a red-and-white logo and the caption: "#PLEINsport is going to be the first luxury ACTIVE SPORTSWEAR BRAND in the market!!! Next week we will officially #UnleashTheBeast and start the global distribution of this NEW and 'independent' brand".
Plein has often produced sportswear items for his eponymous label, which he set up in 1998 but which didn't become a fashion label until 2004. After many years studying the market and observing the Nike and Adidas duopoly, he's decided to charge out of the blocks with his own offering on the strength of what he sees as a niche for something new. "The luxury brands have not really explored the territory," he says. He adds that he feels their products are not very active and are very expensive. "I want to fill the gap," says Plein. "My product is for action and performance but at the same time it has a luxury touch and the price range is between Nike-Adidas and the luxury brands."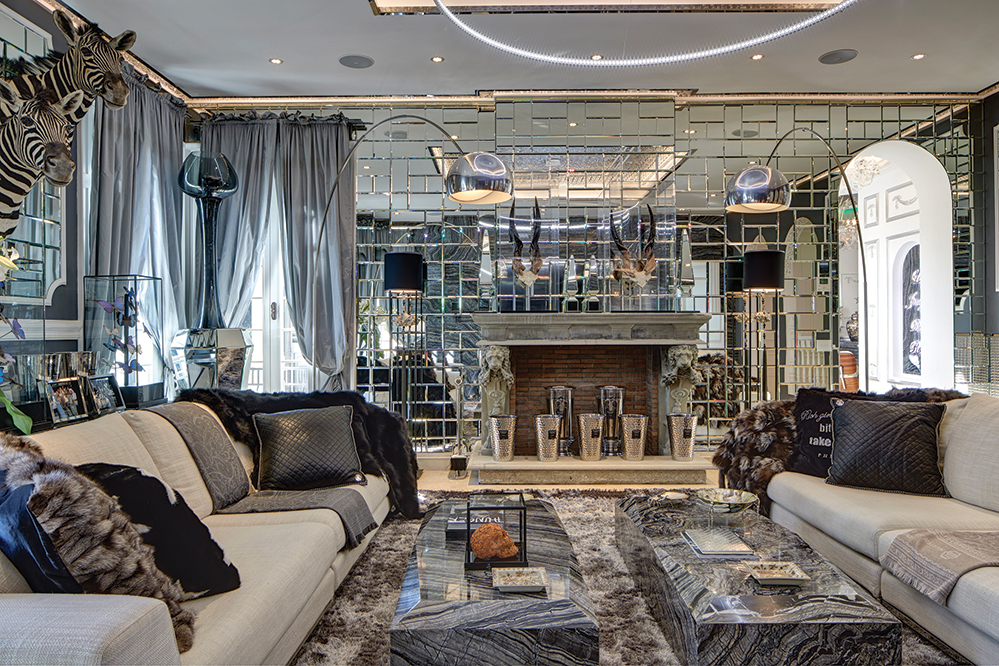 There's also the cultural point about customer habits in matters of recreation. "Activewear is extremely successful because there is always a high demand for it. People are doing sports and they are taking care of themselves and their bodies more than ever. Everybody keeps buying activewear way more than they buy couture."
The observation mirrors Plein's previously held thinking about furniture and fashion. Trained not as a fashion designer but at a law school that did not overly enamour Plein, he began to design luxury furniture, largely constructed of stainless steel, in Berlin. "It was a completely different look and feel from the Philipp Plein brand today; it was Bauhaus-style, clean lines and steel. It was a passion." Plein touted his luxury wares around trade shows in Europe, developed a niche clientele of interior architects working on hotel projects, private houses, planes, boats and restaurants, in which everything he created was custom-made. His small business became a "two or three-million-euro turnover" entity in as many years, so he bought a house in Munich at the age of 24 with the aim of growing the business.
The fashion came more or less by mistake. "I was starting to work with leather, covering furniture with it, and then, with leftover leather, we made some bags and belts and sold them at trade shows. I started to realise it's easier to sell a pair of high heels for €1,000 than a chair for €1,000. And how often does a woman buy a pair of shoes compared to a chair? So I saw big potential."
Plein had a fashion epiphany. His clothing, accessories and interior design collections interpret his version of the new contemporary luxury lifestyle. Mostly made in Italy, his innovative designs are constructed from the finest materials with meticulous attention to detail. "I found a niche market with something special, strong and loud. With this niche, we created a demand and a market for our product."
Plein's an oddity in the business – as unusual as the trademark Murano glass chandeliers and Swarovski crystal-studded macro-skulls that distinguish his stores – and an outsider; the most famous and seemingly profitable designer you've never heard of. Yet he works alongside photographers such as Terry Richardson, Steven Klein and Francesco Carrozzini to create original images for his advertising campaigns and the brand is a favourite among celebrities. He's closely bound to the music industry and has hired emerging talents such as Angel Haze and Iggy Azalea, along with world-renowned artists including Rita Ora, Grace Jones and Snoop Dogg, to perform at his fashion shows.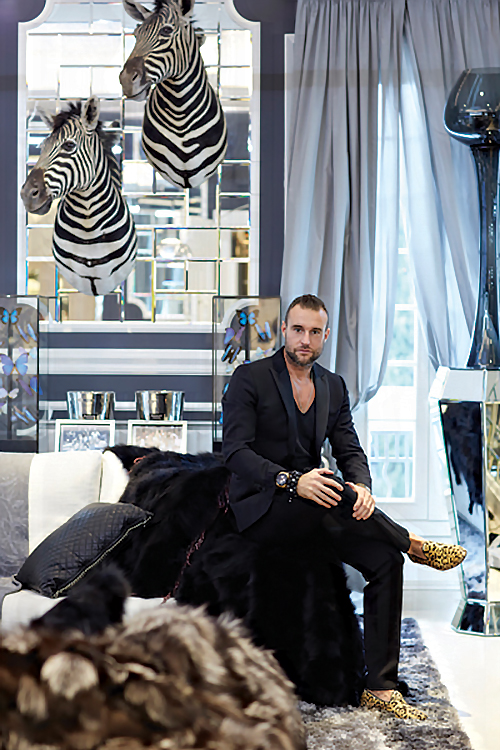 Counting more than 100 employees around the globe, the Philipp Plein brand is available at the world's most prestigious boutiques and in such exotic locales as Casablanca, St Petersburg, Montenegro, Saint- Tropez, Marbella, Seoul and Miami.
Plein's not one to toe the line, either. His mindset and mantra are always distinct. "Most of the time, someone who's successful on the market is someone who did something different from others. The biggest secret is not to be on a level with others. You will always lose. So, be out of range, then they cannot compare you. If you are different, they cannot say you are better or worse than others because you don't give them the possibility to compare with others." His cadence at times is redolent of former Chelsea and now Manchester United football manager José Mourinho, and much like two icons of the fashion world – Karl Lagerfeld and Tom Ford – who speak in paragraphs and chapters. You don't so much converse with Plein as listen to him speak.
Here's Plein in full flow. "People always like to judge, especially when they don't understand. They are always sceptical. It's important to have an open mind. Ninety-five percent of people are followers, who follow trends; so what magazines say is right, and what the blogger says, they are not able to develop their own style or their own taste themselves, so they are followers. On the one hand it's easy because people like to get manipulated and this is what they are doing, manipulating people. This is what the industry does. Tell them what they want to hear, give them what they want to have and make them feel. The cosmetics industry is the best example. We like to believe. We like to dream. When we are in a bad situation, we like to believe."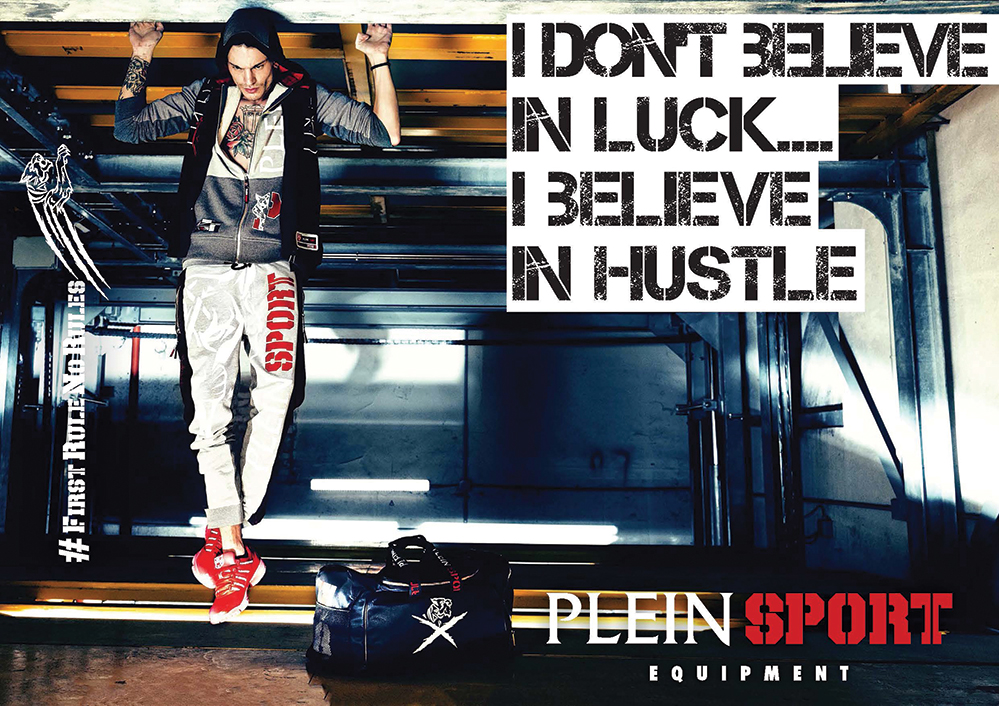 Plein cites two examples of retailing that he finds inspirational. "Selling is about psychology," he says. "Look at Apple. Steve Jobs didn't invent the telephone, it already existed. The market was already saturated, and touchscreens were already in the market. Nokia, Motorola and BlackBerry already had that capability. What did Steve Jobs do? He sold a phone with emotions. He created an aura around a normal telephone and made it a luxury object, and with all these kinds of emotions he transformed something normal into something special. It's all about emotions. I respect brands and people who have this kind of possibility."
And then he singles out Louis Vuitton. "I am not a fan, but I think it's really impressive what they have built because they are so, so huge. They became so commercial on the one hand, yet they still make people believe that they are luxury on the other hand. But luxury and commercial don't fit together. Everyone has something from Louis Vuitton. The taxi driver, the cleaning lady, the manager, everyone has something. This doesn't fit anymore, in my opinion, with the luxury image but still people believe it's luxury. So they build the dream, they build the brand and they build around the brand the dream which makes people believe that they buy luxury, even though it's commercial. There is success in what they're doing. I really look up to that."
In which case, who best represents the Plein Sport man other than the ubiquitous Herr Plein? "The man that perfectly represents the brand is the anti-hero, extreme athletes who push their minds and bodies to the farthest possible and that are not famous but have many followers." Plein himself is no slouch in matters of fitness. "I love working out in the gym, I always work out wherever I am in the world and I also love swimming in my pool in Cannes." Plein's primary residence is Lugano, Switzerland, but he has vacation homes in Cannes and New York, and is currently building a new house in Bel Air.
"We are selling dreams," he says. "We are working in the dream factory. It's like movies. People like to find, live and believe the dream, because we are all dreamers and dreams make people get up and go through hard times and survive." And, in his case, prosper. Be it Philipp Plein fashion, sport or interiors, it's always Plein time.