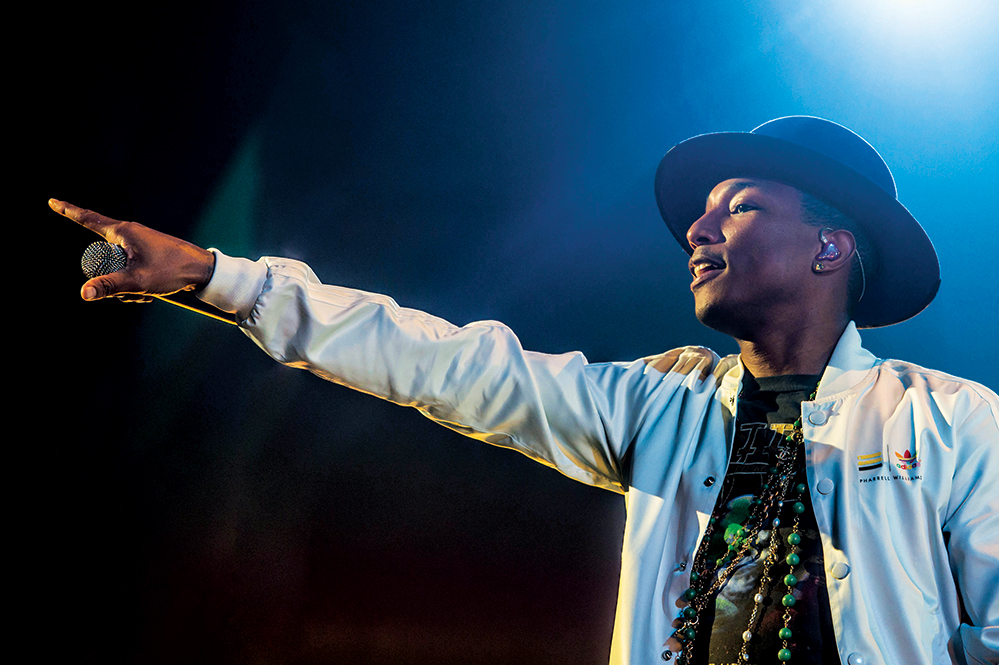 ​It's hard to imagine anything Pharrell Williams touches not turning to gold. The music hit-maker has cranked out shelves-full of chart-topping, award-winning, can't-get-it-out-of-your-head singles and albums, spanning genres and boasting the results of collaboration with artists ranging from Britney Spears to Jay Z to Snoop Dogg to Daft Punk. Williams and his Neptunes production partner Chad Hugo stamped their imprint on pop classics of the late 1990s and early 2000s such as I'm a Slave 4 U, Hot in Herre and Harder, Better, Faster, Stronger. In 2013, Williams left his mark on the planet by contributing the vocals to Daft Punk's Get Lucky, jamming with Robin Thicke in Blurred Lines and by getting everyone – toddlers, teens and grandparents - to clap along with Happy, that year's anthem.
Ventures by Williams in fields other than music have proved equally successful. His Billionaire Boys Club clothing brand has flagship shops in New York, Tokyo and London. He's been an executive film producer, an artist- in-residence, a coach, a creative director and a collaborator with many brands, including Louis Vuitton, G-Star RAW, Uniqlo and Adidas.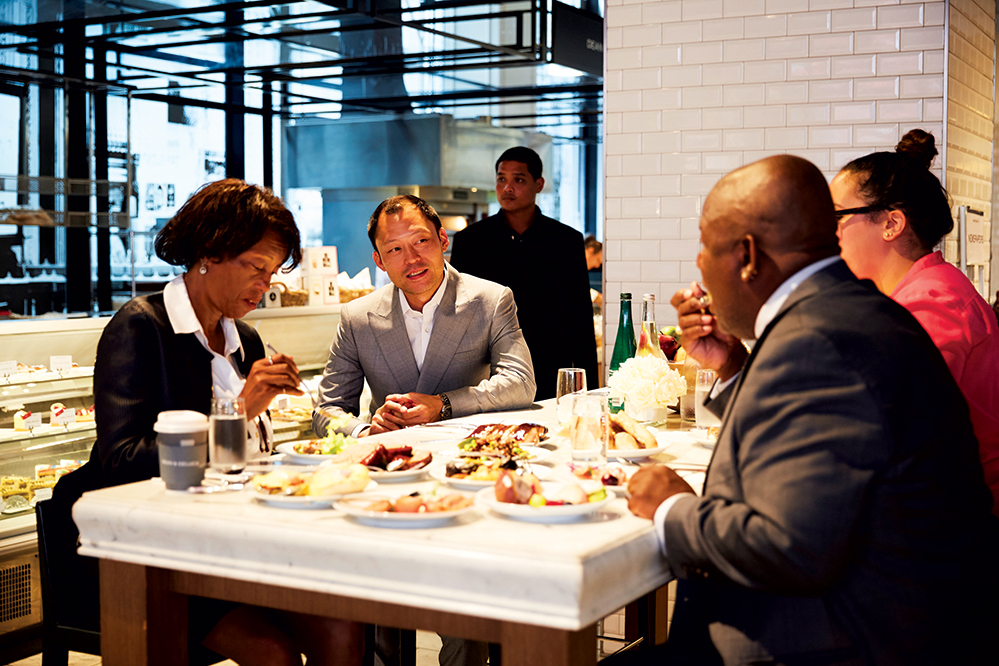 Given all the notches in the belt of this present-day cultural impresario, it was a surprise when, last year, he revealed in an interview that he had been fired three times from various jobs at McDonald's. Yet these days he is in partnership with Dean & Deluca, the purveyor of gourmet food, promoting sales of a line of products called The Williams Family Kitchen. "From Mickey D's to double Ds," Williams recites lyrically in his baritone, provoking an eruption of laughter.
Williams has moved into the food sector even though he acknowledges that making a good "peanut butter and jelly" sandwich is the limit of his own skills. The secret ingredient in his venture with Dean & Deluca, he says, is his parents. "Growing up, my parents, especially my dad, were always in the kitchen. His recipes are so good. My whole family is addicted to his cooking, and our kitchen was always where my friends and family would come and hang out to eat my dad's cooking," he says.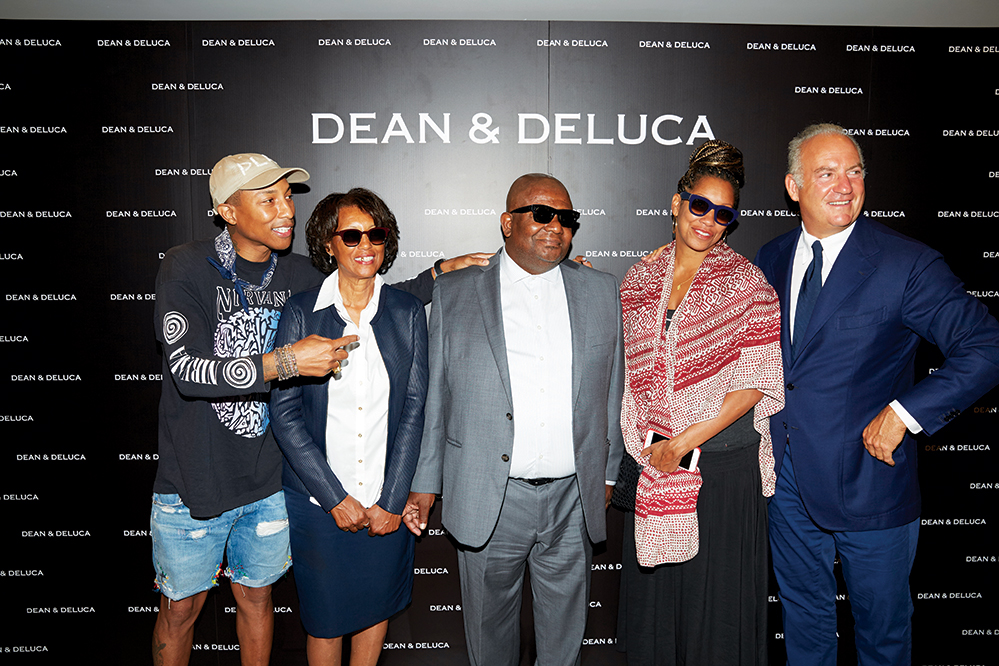 "I'm super-proud of my dad and my family for taking this step. It's something he used to do as a pastime," Williams says. "He didn't see it as a business." Williams admits it took some persuasion to get his father involved in the venture. "He just saw it as something he put love into, and all my family and friends would come over and enjoy, and it'd be something to talk about," he says. "The idea that we could screenshot that energy and put it back into something that works for him makes me extremely proud, as his son."
It was Dean & Deluca vice-chairman Charles Finch that approached Williams with the idea of a partnership. Finch says the founders of Dean & Deluca imagined their business as the supplier of premium food to shoppers all over the world. "We thought, who would be the most innovative, modernist, extraordinary impresario to partner with? And this guy's name came up."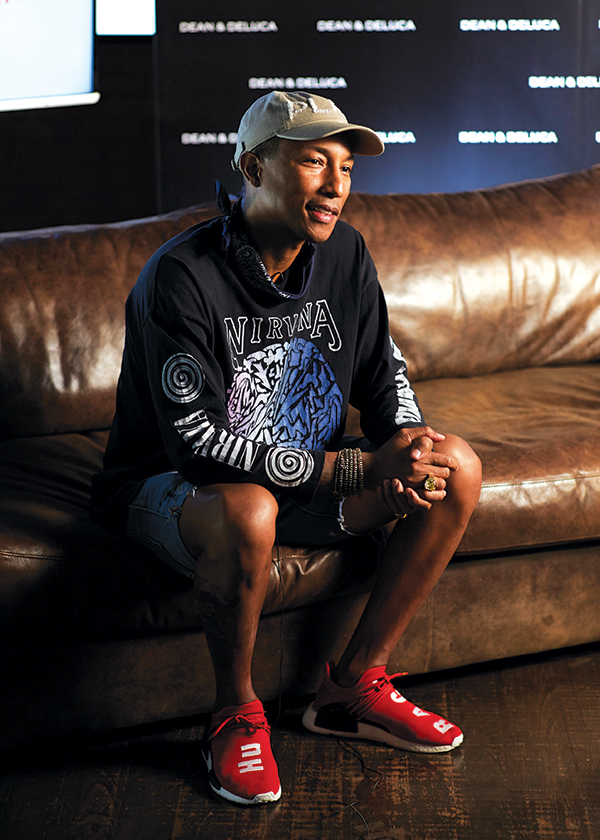 Williams immediately appreciated the potential of a line of special products derived from Williams' family fare. "Dean & Deluca is top of the top and best of the best in terms of an epicurean experience," he says. "They're the best in show. There's nothing to think about."
Details of the products in The Williams Family Kitchen line are shrouded in secrecy. Asked what sauce would go best with his father's special ribs, Williams winks and answers: "Tricky, tricky." Williams is modest about his contribution to the venture. "My day job is still music. Food is not what I do," he says. "I'm really here to support my dad, to punctuate and be the exclamation mark to his sentence." But the record of his successes in the music and fashion businesses indicates that Williams will turn out to be a force to be reckoned with in the food business.