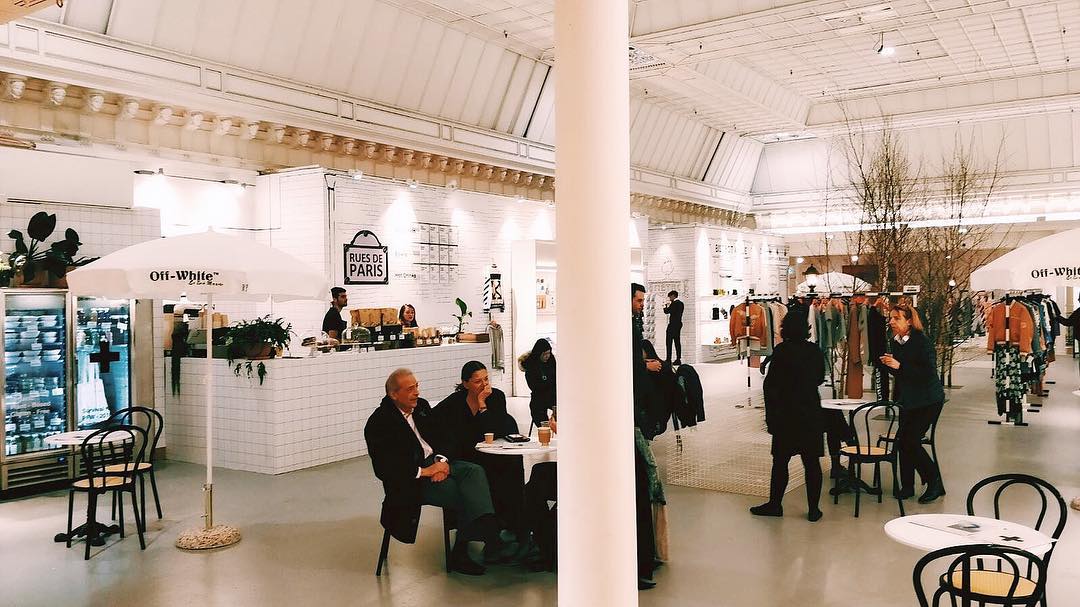 Unexpected collaborations are a big part of both OFF-WHITE and Virgil Abloh's DNA. There was the announcement of their line with Ikea and most recently, the drop of OFF-WHITE's ultra-cool yet sleek collection with Jimmy Choo.
Just in time for Paris Fashion Week, OFF-WHITE have teamed up with Le Bon Marché and Wild & The Moon Café to create a pop-up café selling healthy snacks, shots and drinks to provide the stylish set with the energy they need to survive Fashion Week. In fact, they even have a Paris Fashion Week survival kit, which comes with three shots, 'Black Lemonade', 'Hangover Cure' and a matcha bar all packaged in a pristine white and black OFF-White x Wild &The Moon tote.
Known for its organic, cold-pressed and zero-additive juices, Wild & The Moon have worked with Virgil Alboh to create "Blue Magic" which contains trendy blue majik (read: a form of spirulina packed with antioxidants and nutrients) and thyme flower concentrate as well as "Better Than Botox", a mix of apple, cucumber, aloe vera, mint, Swiss chard and pomegranate.
The pop-up will run from now until March 31.
OFF-WHITE x Wild & The Moon Café, Le Bon Marché, 24 Rue de Sèvres, Paris, France