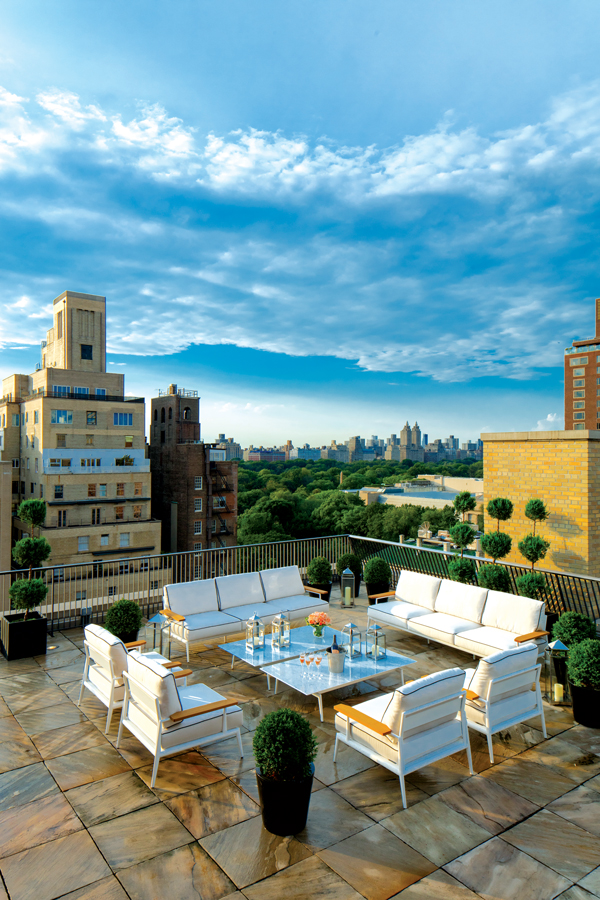 ​The Mark Hotel in New York has unveiled its Grand Penthouse, a veritable palace in the sky. The penthouse assumes the top two floors of The Mark, a space that covers more than 12,000 square feet, including 2,500 square feet of rooftop terrace. The suite comprises a living room with 8-metre-high ceilings that can transform into a ballroom (a grand piano stands at the ready), a dining room that seats 24 people, two wet bars, a library lounge, five bedrooms and a conservatory. The crowning glory is the upper level, boasting a sky-lit pavilion and the rooftop terrace that delivers breathtaking views of The Metropolitan Museum of Art, Central Park and Manhattan's leafy Upper East Side, and the city beyond.
The Mark has become a showcase for French interior designer Jacques Grange. His style is at once classic and modern, and the grandeur and artistry of the penthouse are instantly recognisable as his work. Custom-made furniture from Grange adorns the suite and come together in a stunning, yet comfortable, interior. At US$75,000 a night, the Grand Penthouse may be the world's most expensive suite, but The Mark offers guests a level of service and amenities that match the price.
Whether sitting on the terrace enjoying the fare from the exclusive menu from Chef Jean-Georges Vongerichten or being fitted at midnight for a suit made by Bergdorf Goodman's tailors, guests can expect royal treatment in a palatial penthouse.