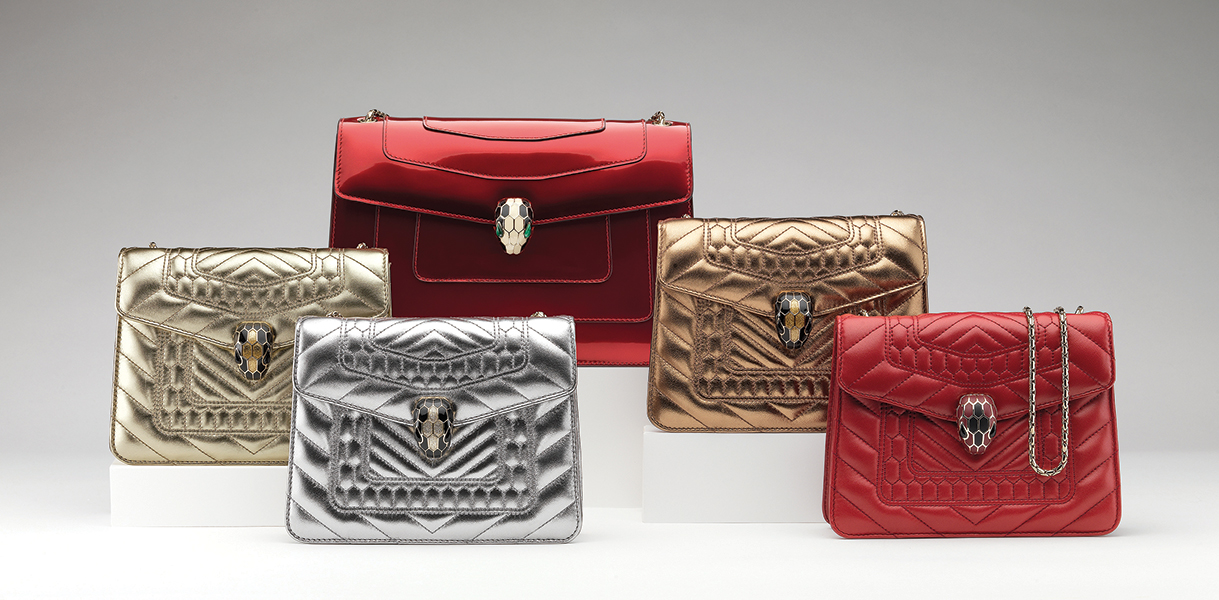 Silver and gold, rich reds and deep quilted finishes; Bulgari has captured the symbolism of Christmas and wrapped it in a custom-designed selection of holiday-themed bags. The house's 2016 Winter Holidays Accessories Collection is a final celebration of magnificent colour and grand creativity, timed for the end of year festivities on the party circuit.
The holiday hues of the quilted Serpenti Forever shoulder bag take Bulgari's snake theme to another level. Referencing the Scaglie Bag, the pattern of the scaglie, Italian for scales, are quilted in a distinct formation pulsating outwards from the middle of the frame and culminating in a directional feel that points to the future. The house has also reprised the pared-back styling of the original in a limited-edition release of the shoulder bag in medium and small sizes.
In both end-of-year releases, Bulgari's famous Serpenti motif also appears in the centre of the handbag, this time in the form of the glittering snake head clasp, coated in enamel and finished with eyes of coloured stones, such as onyx and malachite. The sinuous brass light gold chain also picks up on the theme, with its mottled appearance reflecting a python's camouflaged skin.
The inspiration for this chic accessory may well have been the heritage contained within Bulgari's snake, but the colouring and finish of these limited-edition bags is a vision of the high jewellery bracelet-watches in multicoloured enamels from the 1960s.
The process to deliver the metallic finish is the essence of luxury. There are 16 colouration steps to take the leather from its nude, neutral tone to the striking candy-coated colours in the Festive Season release. Bulgari calls the lengthy process the Nuvolato effect. Taken from the Italian word for cloud, nuvola, the treatment attempts to imitate the intense colours of the Roman sky in capturing a finish that is never dull nor flat. The final stage sees a coating spread, rather than laminated, to add a resilient lustre that protects the bag.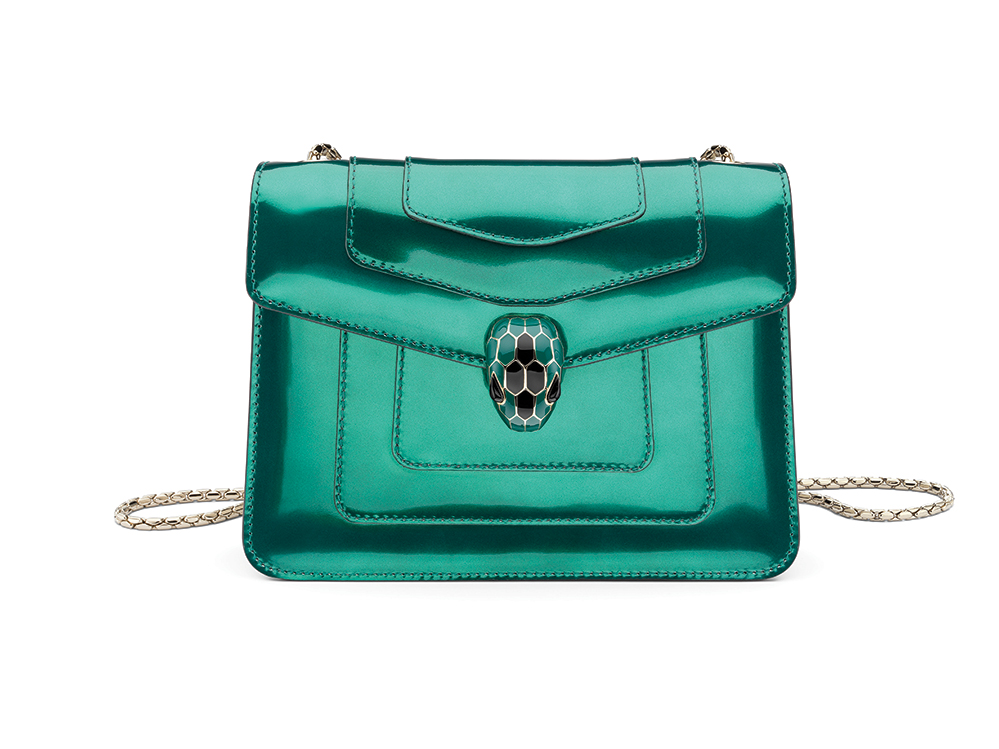 In the limited release for Greater China, the Nuvolato treatment is used to full effect – inside and out – on the Serpenti Forever bag. The fold-over design of this shoulder bag continues the theme of an outer leather finish in metallic hues. Available in brushed metallic calf's leather in ruby red and emerald green, in both a medium-sized hobo style and smaller models, the opulent nappa gold lining sets the bag apart.
In drifting towards the recent past to reinterpret its own history, Bulgari's Winter Holidays Accessories Collection combines the best of the house's own craftsmanship flourishes with an up-to-date style to create modern leather accessories.