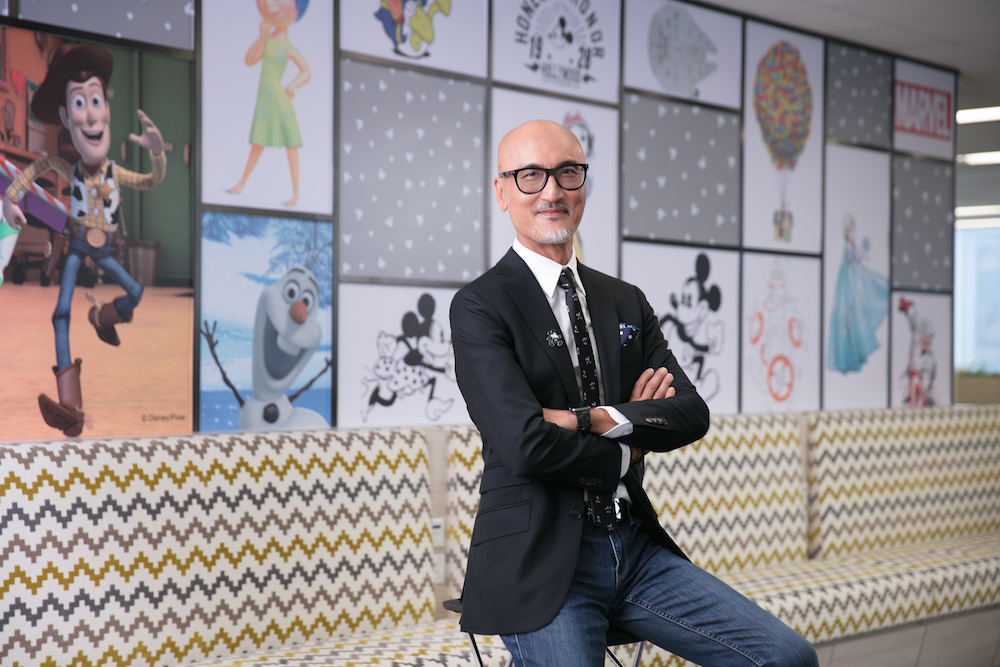 It's Mickey Mouse's 90th Birthday on 18 November so you'll probably want to head over to Disneyland Hong Kong this month. Since Mickey's first appearance in an animated short film named Plane Crazy in 1928, this remarkable cartoon character has captured the hearts of people of all ages. Recently, we sat down with Allen Au-Yeung, Vice President, Creative of The Walt Disney Company, Greater China. He talks to us about the mouse's upcoming bash and collaborations with some of the world's top luxury fashion brands.
Why do you think people are so fascinated with Mickey Mouse?
Mickey Mouse has been the true ambassador of our company. As you know, this year we're celebrating Mickey's 90th year. He's one of the most amazing pop culture icons. If you look back, John Lennon and Michael Jackson – they both wore Mickey T-shirts. Mickey represents fun, adventure and being optimistic about everything. Most importantly, he represents hope. I think everyone is so fascinated by Mickey is because he's been around for so long. When I was four or five years old my sister had already dressed me in Mickey and Minnie [clothes]. I think everyone around the world is touched by Mickey whether it's in a small or big way. Mickey can be a classic character, an astronaut or a super hero. To me, he's definitely the most positive characters we have within the Walt Disney company. He can be fashionable, too. That's why people love him so much.

Tell us about the various brand partnerships to celebrate Mickey's 90th.
We have so many. We've had a lot of global brands. You've probably seen some of the stuff that they've already done in the past. Dolce & Gabbana – they are a big fan of us. I worked with them when I was in Europe. They are just cool. All they need is one little piece of art and they can expand it in such a big way. Gucci has collaborated with us in a big way, too. You've probably seen the piece with Donald Duck and Snow White. Next year is Donald Duck's 85th year celebration. Besides that, we're also very close with the I.T group here. It's the year of the mouse in 2020 so we're going to own the whole world with Mickey.
What have been some of the most memorable Disney collaborations in the past?
They all are very memorable. What I love most is when we work with a partner and they grow. After we collaborate with them, they become hotter in the market and other people look at them so we'll bring a brand a lot of value. Those are very rewarding partnerships. Disney will always look for a win-win collaboration.
Are there plans for Disney to collaborate with more businesses in the future?
Yes, absolutely. We actually kicked off Shanghai fashion week – not last season but the season before – with Mickey's 90th and we invited 15 different Chinese designers to create 15 different designs. That was a big launch for us. Local culture becomes such an important thing for us to explore. At Disney, we do understand and respect the local culture, religion and different ways of looking at design and art.

How do you promote a Disney character?
We don't promote a character. We try to tell people the story behind it because there's a lot more depth to it. Now Disney are making a lot of live-action movies based on the classic animation stories. We don't just try to push the character but we try to extend the stories. Hopefully people like all of the characters.
What are the future development plans for Disney HK?
Disneyland is going to create the biggest Mickey Mouse party in the world. As you know, Mickey's Birthday is on November 18 so within the month of November we're going to make something big. Besides that, we try our best to make sure that all our consumers, fans and audience will enjoy our Disney stories. We're doing a lot more research from our side to understand the Chinese consumer of today. The digital aspect is one of the most important parts so we work with a lot of KOLs in China, too. We understand that that young adults will be future parents so they will influence their kids to love our brand and the story that we tell. We're very sensitive about what's happening digitally. We try to get people to love us as much as possible.