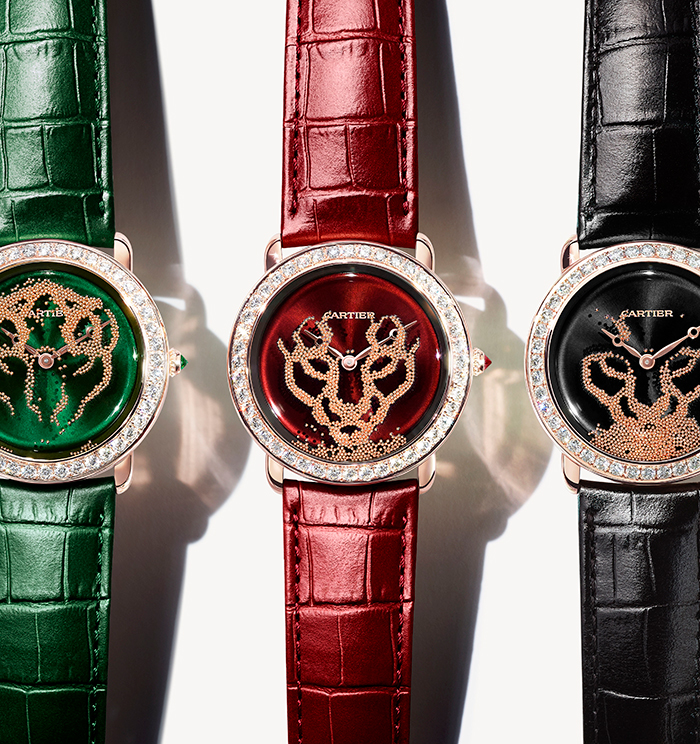 Watchmaking has always felt a bit like magic to me. The imagination and skill it took craftsmen and watchmakers of the past to come up with creations that can tell time, tell the phases of the moon, is impressive enough - it still amazes me today whenever I turn over a watch to see the intricate details that makes up a watch's movement.
The watches of today have gotten even more impressive than ever - the thinnest, the biggest, the smallest, the most complicated - we've seen a lot of world firsts and new records at both SIHH and Baselworld. But nothing quite compares to seeing the Cartier Révélation d'Une Panthère. If you wanted to see magic, this is it.
The focus of the Révélation is on the dial. The lacquer dial itself is unmarked, there are no hour markers apart from the Cartier logo at 12 o'clock. Suspended over the dial however, are minute gold beads that float in a liquid between the sapphire glass and the dial. When you hold up the watch, the beads tumble across the dial to reveal the magnificent head of a panther, just for a fleeting moment, until the beads reach the other end of the dial and disperse.
The watch is extremely fascinating to play with, and took Cartier five years to develop. The maison currently holds two patents for the timepiece. The watch comes in three versions, in a green lacquer dial, a red lacquer dial or a black lacquer dial, with the green and red versions limited to 100 individually numbered pieces. All of them are at 37mm, cased in 18k pink gold with a bezel set with brilliant-cut diamonds. Inside the watch beats the manually-wound calibre 430.