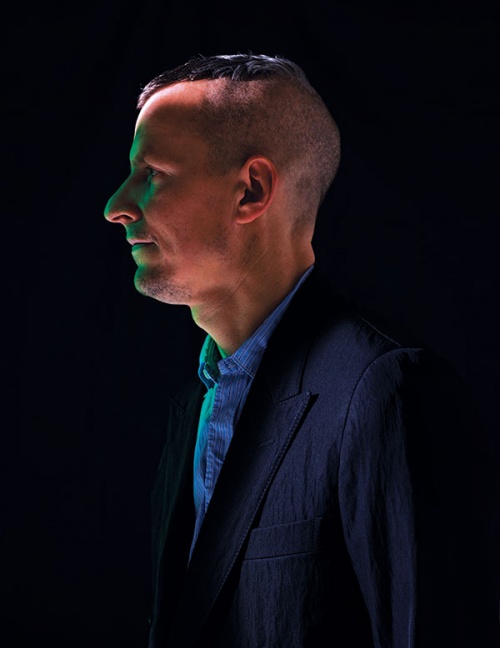 "The Lanvin man and the Lanvin woman are more like brother and sister than husband and wife," says Lucas Ossendrijver about the synergy between Lanvin's men's line and its women's line. Ossendrijver celebrates this year 10 years of working for the Paris label, having been taken on by the creative director at the time, Alber Elbaz, to come up with a full line of menswear. Until then, Lanvin, the oldest couture house in Paris, had done only classic and bespoke menswear.
Ossendrijver was born in 1970 in the Dutch village of Amersfoort and grew up in the countryside around Utrecht. He often went with his father, who ran a builder's business, to lumberyards and construction sites. The young Ossendrijver loved building things with wood, and knew that he wanted to work with his hands when he grew up. At the age of 17 he wavered, unsure about whether to go into architecture, interior design or fashion. Fashion seemed unlikely. "I didn't know anybody in the industry, so it was kind of a fantasy that was far away," he says.
Ossendrijver studied at the ArtEZ Institute of the Arts in Arnhem, trying his hand at everything from drawing to fashion to sculpture. In his final year he bought a second-hand, tailored men's jacket in a flea market and decided to open up the seams to see what was inside. All the horsehair, canvas interlining, ribbons and stitching intrigued him. It made him want to make clothes for men. 
"At that moment, fashion just felt like such a natural choice," Ossendrijver says. "I always knew I wanted to do something creative rather than taking over my father's business. And, in particular, what made me want to get into fashion were Helmut Lang and Jil Sander. I adored those designers at that time."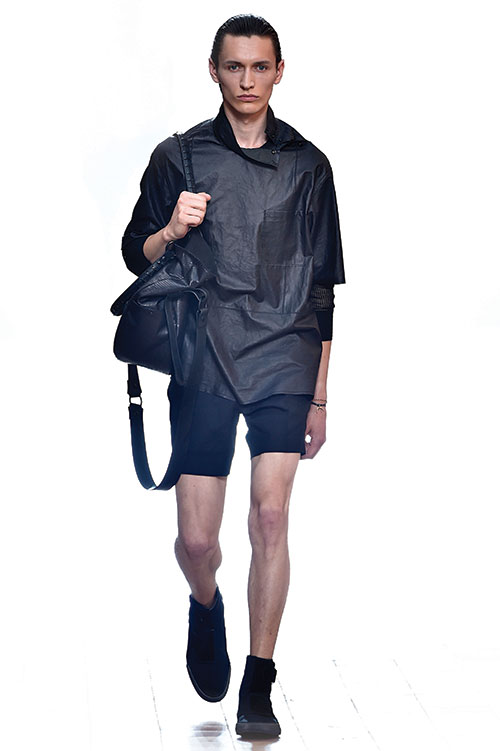 Ossendrijver began by working for clothes makers such as Kenzo and Dior Homme, where he gradually developed the clean, pared-down look he is now known for. He attributes this look to his northern European culture, which impels him to boil things down to their bare bones. But he says this is just one manifestation of his aesthetic sense. "Inside, I am highly attuned to the frivolity of French elegance, with its improvised look, less codified than in Italy or northern Europe, but nevertheless carefully designed," he says.
Arriving at Lanvin, Ossendrijver set about putting Lanvin menswear on the map by making clothes and shoes that were fashionable. His sneakers, for instance, were a sell-out hit and became a design classic. He denies that Lanvin influenced his work. "The funny thing is that there is a huge archive for womenswear: books with embroideries, sketches, fabrics, everything. But for men's, there was zero. For me, that was very liberating. You could start from zero. The only thing that was there was the made-to-measure department, which I'm really proud of. So when I started, I would go up to see the tailors and see how they worked," he says.
The designer is unlike most others in that he hardly ever draws a collection. Instead, Ossendrijver usually works directly on the clothes. He simply explains what he needs to his creative team or the fabric manufacturer. He must see and touch the fabrics so he knows whether or not they are right.  "When I start a collection, it's all very abstract. It's much more about technique and intuition," he says. "When it comes to fabrics, I want it to speak. You have to find the right colours. Every fabric has its own colour and they are all different. There is never the same navy for every fabric. There are always tonal differences, which I think makes colour much richer in the end."
Ossendrijver considers innovation and the use of technically advanced fabrics to be among the most important aspects of his job. He is unabashedly passionate about fabrics. New materials mean new possibilities for him. "I never get blasé. It is all very tactile, about touch, weight and feeling," he says. "It's funny, also, how your opinion changes from season to season. One season you love flannel, till you have used and seen it so much that the next season you hate it. It's cyclical."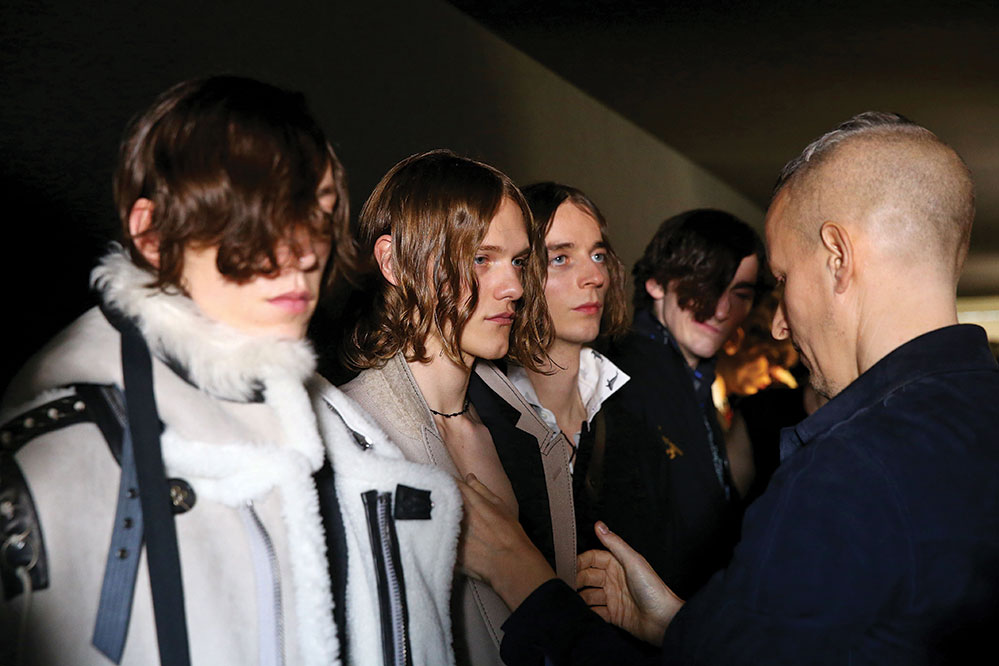 The designer declines to comment on Elbaz's recent departure from Lanvin. Ossendrijver describes his working relationship with Elbaz at Lanvin as trusting and open. "It is good to have someone to talk to when you have doubts," says Ossendrijver. "We really learned to appreciate and respect each other. I think it is rare in fashion that men's and women's designers are so close. I love Alber, and I respect him a lot. So it was very fruitful."
Ossendrijver attributes the length and productivity of his time at Lanvin to the way the house goes about its work, to its values and to its heritage. He says much research and effort goes into Lanvin clothes, every seam and stitch being thought through. He says the way the house works with colours, which are often muted or in-between tones, is unique. And he sings the praises of the textures the house develops for fabrics and knits to give its collections depth. 
"Nothing is taken for granted. Everything is considered," Ossendrijver says. "All that work you see and feel as a customer when you see the clothes up close is real. That intimacy is very important to me. It is also how I judge clothes. How are they made? What makes it stand out? I love craftsmanship. It never bores me, even after all these years. I am still very passionate about that. Sometimes I feel more like a tailor or architect than a stylist. I love making clothes, the whole process behind it. That is also why I love the made-to-measure department, where everything is done according to the highest standards, all by hand."
Ossendrijver appreciates his colleagues at Lanvin. He says designing is a team accomplishment rather than an individual endeavour, and that it requires engagement with the factories, the media and the customers. "Step by step we have been able to build a business that still grows," he says. 
"I never thought about how long I would stay, but it has proved to be a great environment to work in, with a lot of freedom and possibilities," Ossendrijver says. "And, of course, I feel a lot of affinity with the brand, given what it stands for and what it represents as one of the oldest couture houses still functioning today."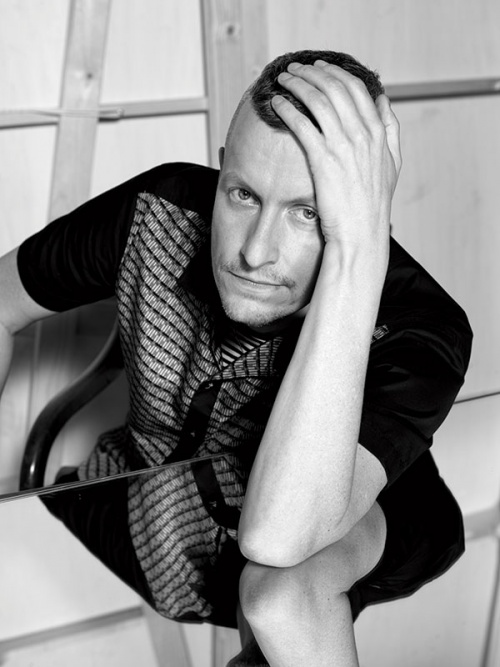 Ossendrijver has been praised not just for revitalising Lanvin by creating a menswear line, but for doing it by creating a menswear line that has come to define the era. His penchants for fluid lines, muted tones and clothes inspired by sportswear bridged the gap between formal wear and casual wear. His classic Lanvin sneakers, for instance, by epitomising casual elegance, elevated the status of ordinary trainers. The designer says he just wanted trainers that were simple but luxurious and interesting, without being over the top. 
"People often talk about sportswear, but it has nothing to do with sports," Ossendrijver says. "For a lot of men, it is easier to relate to things that are less formal. I don't know a lot of people who wear suits. They wear separates – a jacket with jeans, a coat with a sweater. Men can more easily relate to a parka or a blouson. But it is more about informal attire than sportswear. Nobody goes jogging in our jogging pants. That would be very decadent."
Asked if there is a Lanvin muse, Ossendrijver replies that there is more than one kind of Lanvin man. He says Lanvin proposes options for men of all body types, which the wearer can mix and match, and so dress to underline his personality. "Clients come to us for a specific point of view. There is a story behind the clothes. It is not just basics. They are special, and there is a lot of detail. They appreciate the quality of the fabrics and the variety of the offer," he says.
Ossendrijver laughs when he talks about his own style. He describes his clothes as a uniform. "I have a lot of light blue shirts, jeans, tailored jackets and tailored trousers, and I always wear the same thing," he says. "It is the opposite of what I try to do, because I don't want to think about what I wear. It is about what I make. It is about the customer and about choice."
Even so, aspects of the customer's freedom to choose have begun to wear down the designer. Ossendrijver feels everything in the fashion industry is moving too fast, and he hopes things will calm down a little. He says designers of menswear now have to come up with four collections a year now, putting them under a lot of pressure.
"People are consuming so many images, so much information," Ossendrijver says. "Sometimes I think it is too much: reality shows; famous people. We are so eager to have news that's not news. You don't have the time to think. As a designer, you don't necessarily have something new to say every three months. But people get bored. I wish we could slow down."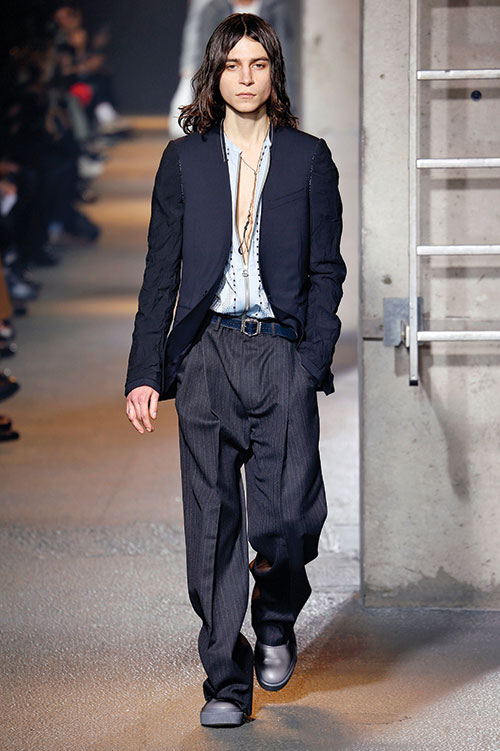 That said, Ossendrijver acknowledges that he is impressed by the changes in menswear over the past 10 years, which he attributes to changes in men's lifestyles. And he acknowledges that he is impressed by how men are more impulsive and outspoken about fashion. He detects growth of interest in fashion in general, and interest in men's fashion in particular.
"The way we live now means that all the information about fashion is immediately available worldwide, no matter where you are," Ossendrijver says. "Fashion has become democratic and everybody has an opinion about it. You have to deal with those things. It also creates new opportunities for us. You have to adapt. That's what I love about fashion: the constant questioning of things. It is less elitist than it used to be."
The designer laments the present lack of mystery about fashion, expressing nostalgia for the days when one had to  search for information because it just wasn't immediately available. Ossendrijver recognises the importance of the new media, without liking them. He does not use Instagram, and feels no need to communicate all the time. "Social media does not interest me. My work is important. That's the way I communicate. My private life is mine. In a way, it makes you think more about your own position and way of living – what is important and what is not. But it is purely personal."
The most important part of designing, Ossendrijver believes, is balancing innovation and necessity or, as he puts it, balancing fantasy and reality. In his work, he begins with ideas that weigh heavily in the fantasy scale. During the fittings he loads up the reality scale by asking himself just who, if anyone, might wear what he has created. He then goes about softening edges, elongating hems and otherwise adjusting until the scales balance. 
"In the end, we make clothes, not art," Ossendrijver says. "They are for real life and not just for the picture on the catwalk. You want to make people who buy the clothes feel good about themselves, to give them confidence, underline their personality and not take over. That is the hardest thing: to be in the middle without being mediocre."